Better Luck next time CLEVELAND
---
I was so upset after the NBA Finals, I couldn't believe the sweep game between the Golden States and Cleveland Cavaliers. Lebron James have nothing to do about the momentum of the Strengthen Numbers. I am a die hard Cleveland fans since before because my idol wherein I salute very much was in their, King James. I always their play and lend money even for that expecting that they could win.
From the first game it was, I thought they could get the winning piece but then Smith have gone wrong on her moves. I was so sad and regreted about what he did. Well, ut's just a fair game and we have nothing to do. There are lot of chances still for them to get the winning game. During the second game, I was so excited who will win but then again Golden States got it twice. However, it was the home court of Golden States so I thought it would be their advantage already for the third game unexpectedly they were still defeated and their I concluded that they have no match between the stars of Golden States namely, Stephen Curry, Kevin Durant, and Thompson.
James wasn't able to save their team until they were sweep out into 4-0 standing. I lost $10 on that game well it's a part of life. Lossing will never be denied by everyone, what to do is just to accept the failure and continue to strive harder to reach the success.
After the match, I think of something to do to show my devotion to my idol Lebron James. Eventhough they loss still I made him a portrait of his face wearing his Cleveland jersey. This is just a sign of how die hard I am to him interms of basketball. He is the best player for me, the king and the beast of every battle.
Continue and Enjoy my Portrait of King James.
---
My Artwork for Lebron James
---
I don't what to do when I don't think first on making a portrsit I wanted to message him on instagram but I don't think he could see it so I just made this portrait for him for the strong support on her career. Lebron James is a very good player and the best among the Cleveland team. He scores above 30 every game of his career. He was one of the asset of Cleveland for them to win. He is wearing a jersey 23 since he started playing in nba. He was a rookie before of Cleveland and directly click during the entire season. Until he rise through a star and joins the all star game.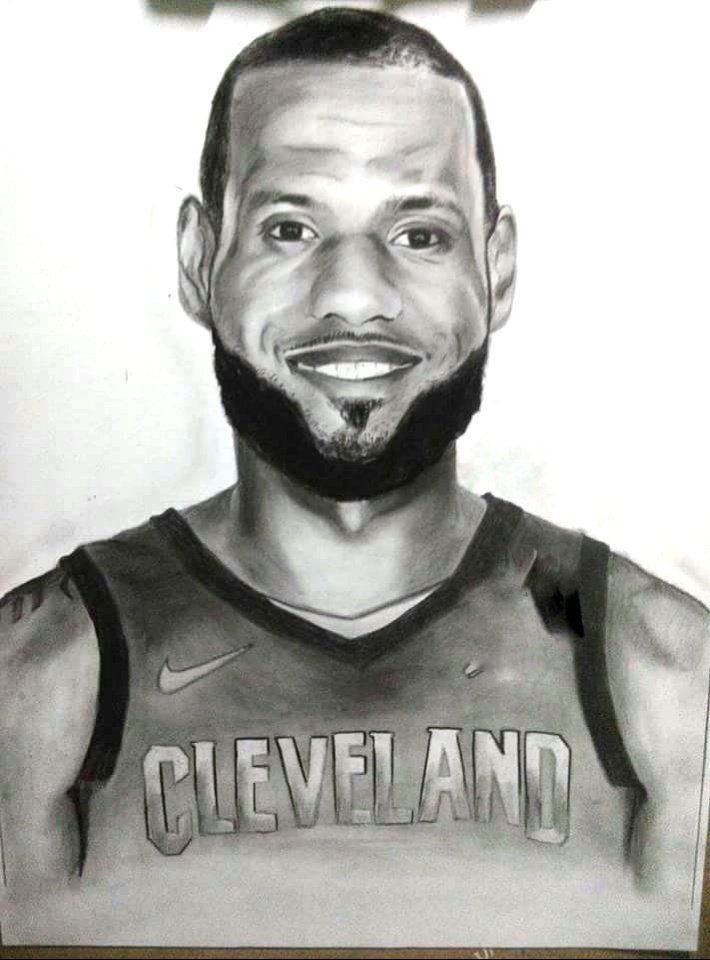 ---
Materials Used
---
Charcoal Pencil
Charcoal brush
Oslo Paper
Ordinary Pencil
Ruler
Charcoal eraser
---
The Process of my Work
---
First thing I did was to outline his face using pencil. It was so funny after finishing the pencil work because it was too far from the real face of Lebron. Hence, I immediately used charcoal to beautify and adjust ecerything that have gone wrong.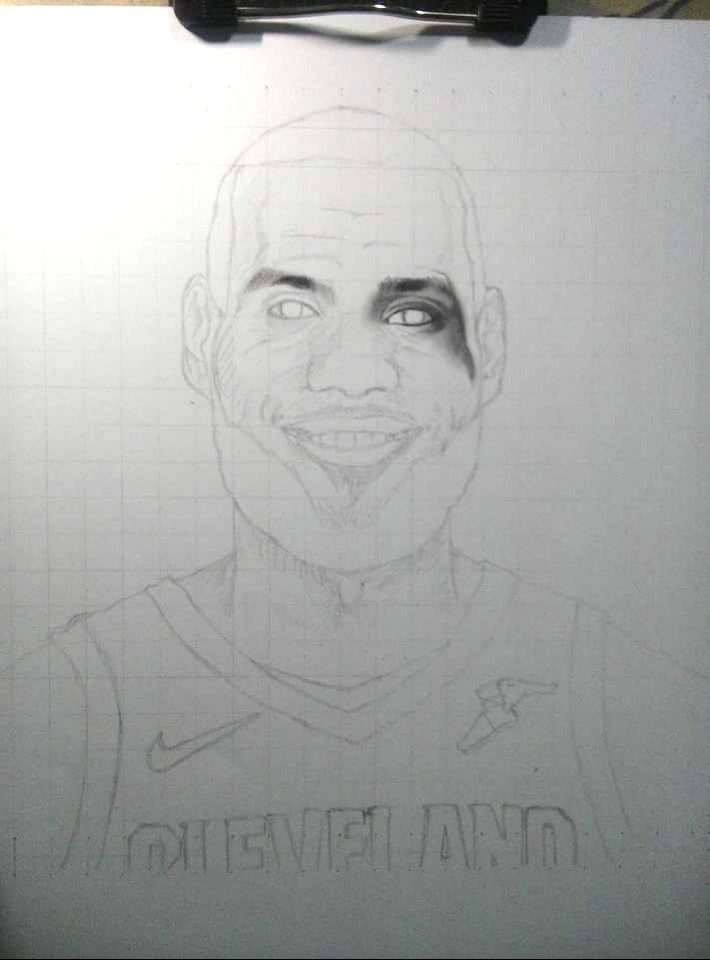 Next, I then started to shade his right face fill with charcoal. I properly managed my shading in order to coined correctly the face of King James.
Note: In using charcoal for shading, just grab a small particles from the charcoal or powderized charcoal and then used charcoal brush to support the shading. Visit to my last charcoal work to know what I mean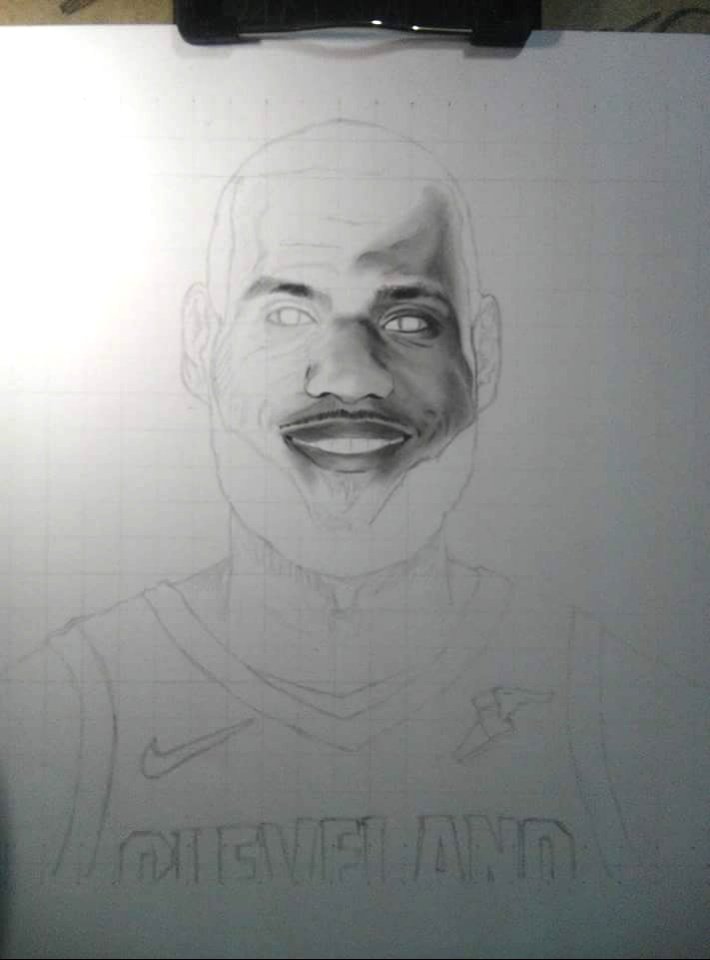 Afterwards, I directly followed the left part of the face to cover the whole with charcoal as well as his ears. I was so happy after seeing my work that it was already coming up to the true face of James.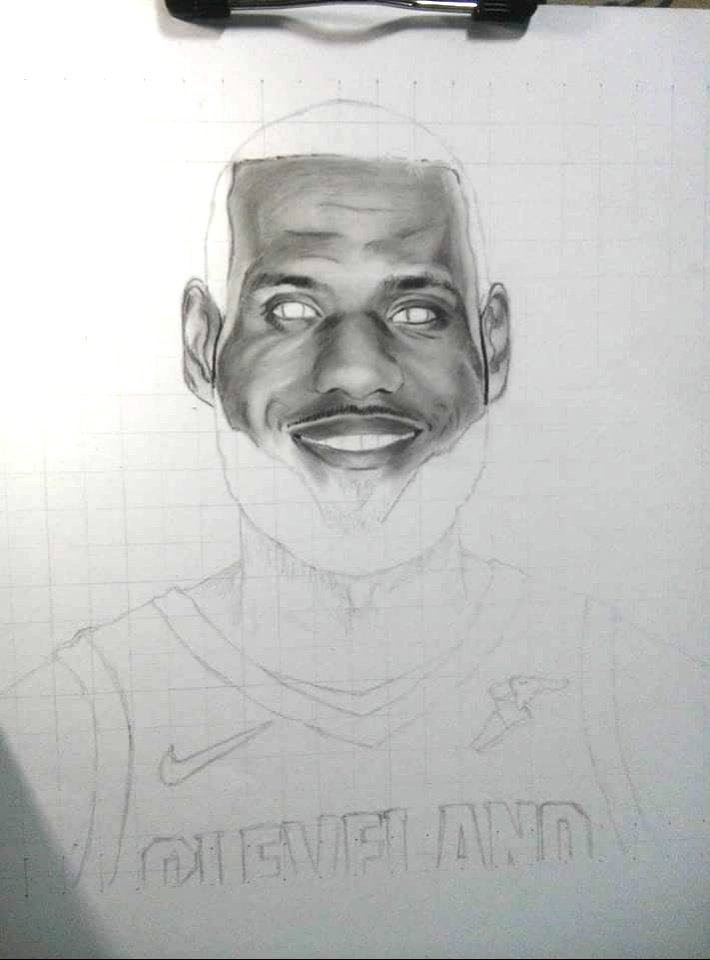 Then, I followed the hair of the portrait. I adjusted the shading color to a darken black to emphasize properly the difference of the hair and the face. From here I didn't shaded all throughly the hair but rather colored it with charcoal pencil and shaded it quite only.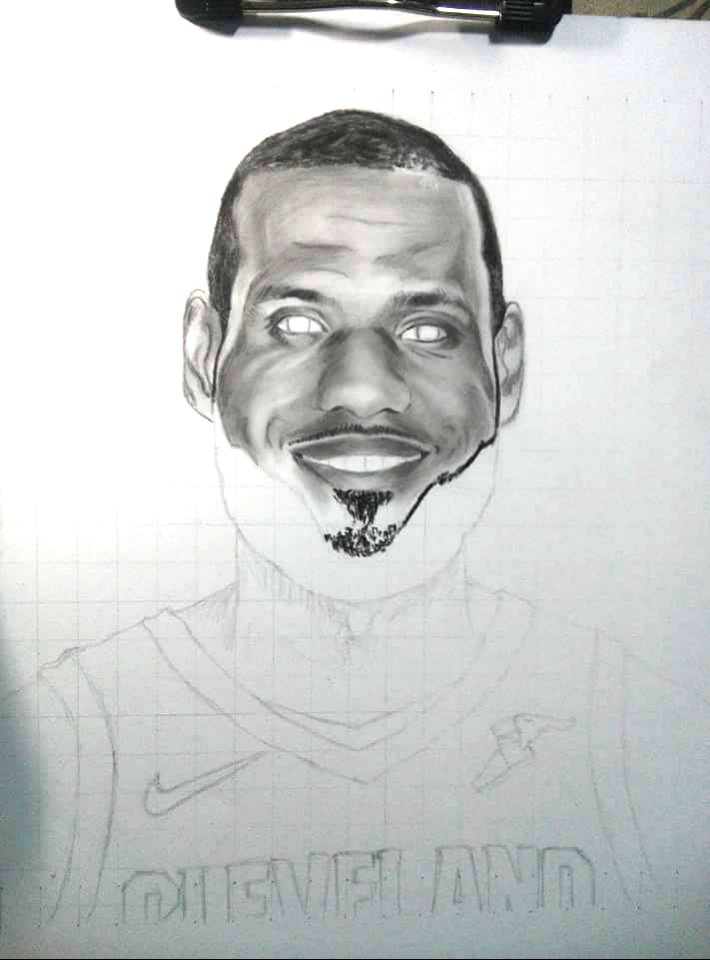 After, I then started to outline his beard so that the face will be completely formed. Still I used charcoal pencil to support the proper feature of the beard same as the hair. It is really dark compared to the face which is done by shading only.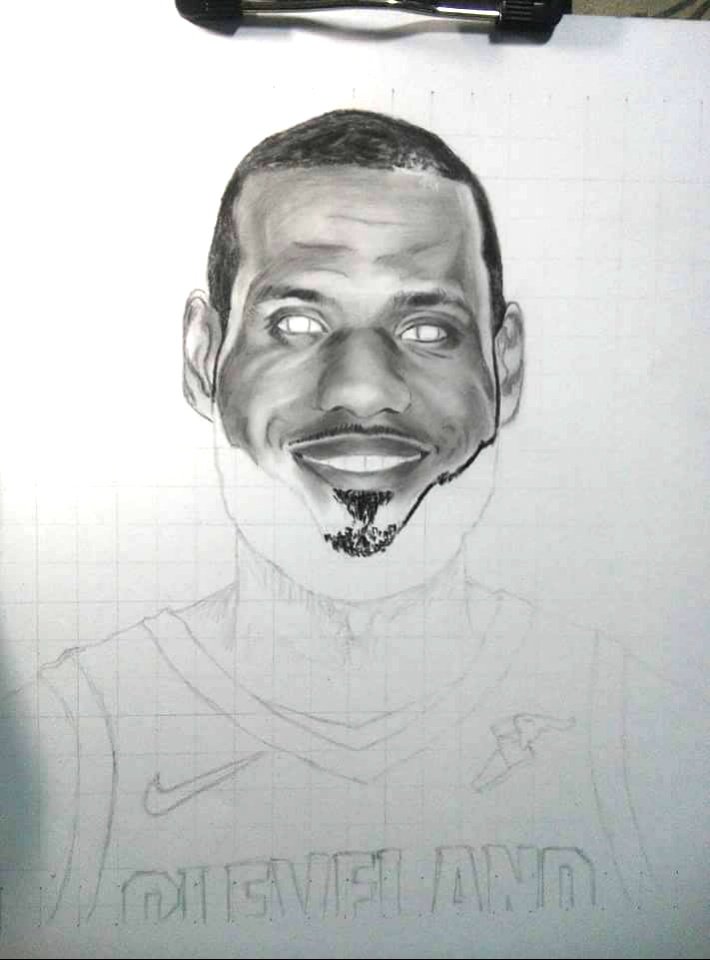 Next, I then finished neatly his face and so happy that I made it successfully. I then quickly started to outline his jersey in order to form King James in my portrait work.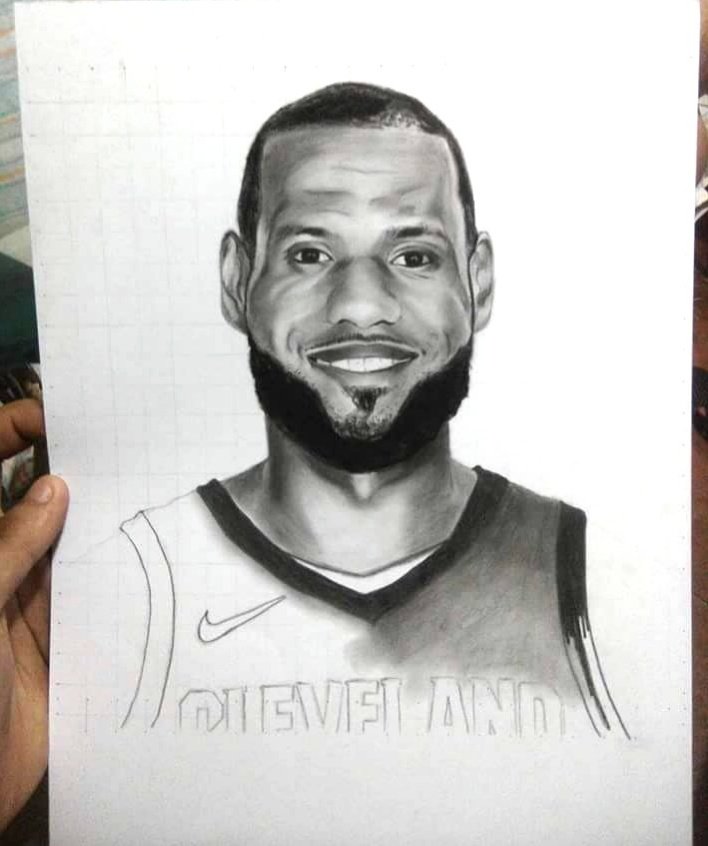 I then continued to make his jersey, to emphasize the design of his jersey. I shaded the outline with dark one and the inner part was shaded lightly. You can see how it was done clearly below.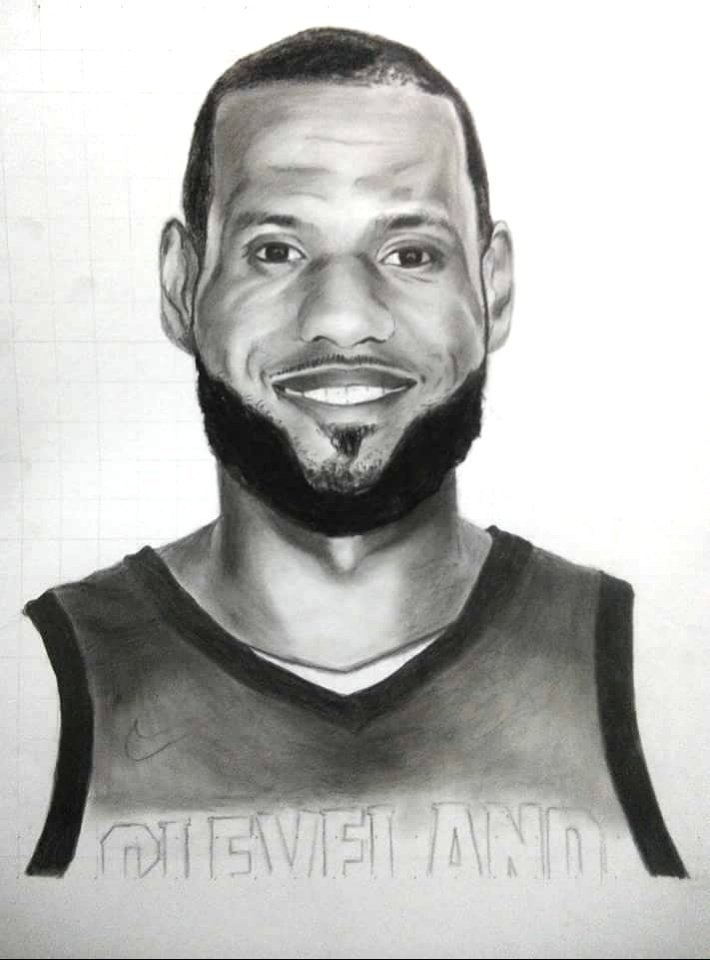 Lastly, is my finished portrait for Lebron James, who is smiling from the picture proudly wearing his Cleveland jersey.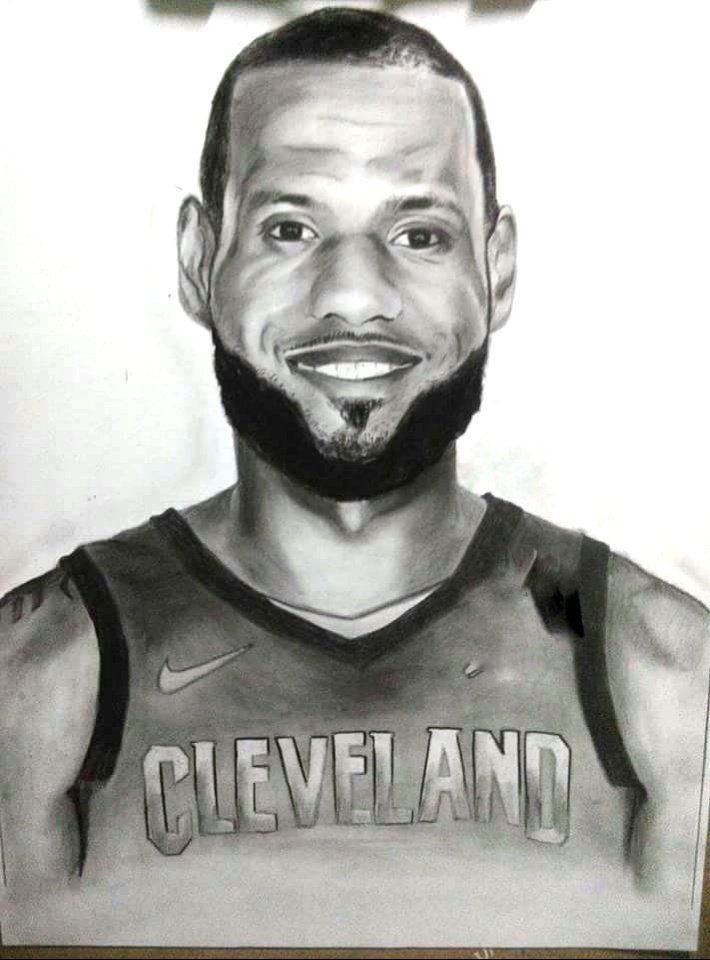 I hope someday King James will appreaciate my effort about this art. I am so happy that I successfully made it. I am a proud Cleveland fans and a devoter of Lebron James the man. I hope someday I could see him personally. He is the greatest player I knew after Michael Jordan. I salute you sir Lebron James. You are the star sensation. Continue your determination to get the chsmpion, never stop from lossing just chin up and fight for it.
It was a very grateful day for me after I made this one. I am planning to framed it to disolay it in my bed room. I will collect more portrait from my idol. Keep following me for more portrait work guys. I just have this time for me to draw because I have no costumer for my tattoo and I am very happy that I used my time for this.
Thank you everyone for continuing and appreciating my work always. I will never fail you for my next art series. Hence, I am planning to start the portrai for my niece as I promised to draw him for my birthdsy gift.
---
Always your enthusiast artist, @johnartist