After buying any new computer, for example, we treat it with all the comfort and do not make anyone to approach it, but all this attention quickly fade with the passage of days, and becomes this computer Kalitim neglected, especially after long use when the speed of its performance is different, In the days of "youth" and this is quite normal, but sad in this matter is that we intentionally or unintentionally forget that we were even cause the slow of this computer and change its performance to the worst because of our mistakes. Therefore, in this post we will remind you, God willing, some basic errors that can destroy your computer, and we will provide you with some quick solutions that will improve the performance of your device.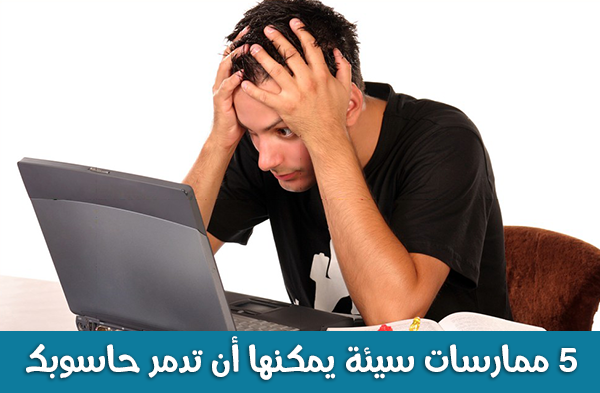 # Do not remove bloatware bloatware
Are those programs that come preinstalled on new computers and are frankly useless. So if you want your computer faster, the best thing you can do is to rid yourself of these programs without mercy. This is not enough. Many people do not realize how useless programs they have installed. They simply consume the resources and space that a computer can use. For other things. There are many ways to get rid of these programs.
The solution :
You can use special programs to detect and remove these programs from your own device. Or you can also remove them manually from the control panel.
# Lack of concern for updates
There are updates that are released regularly on both Windows and Mac. These updates are not just accessories; they are important and essential patches to fill gaps and protect in general and also solutions to some vulnerabilities in the operating system. So if you do not install any of these updates, you may be at risk. This includes software updates that are installed on your device, including the browser.
The solution :
It is very simple, operating systems usually require us to get permission to download these updates. The main problem is that the proportion of users simply do not pay attention.
 # Neglect Antivirus Control
 Security threats in computers are obvious, and you do not need to be highlighted. However, many people install anti-virus software and forget it properly to do a comprehensive scan, or they remove the firewall ... So, it's like leaving your door open for both.
The solution :
You install a good anti-virus program, do not forget to update it, and do a comprehensive scan periodically.
# Do not cancel and delete programs that we do not use
 A huge array of applications, programs and tools are accumulating in our computers, but it is obvious that we only used these programs once or even once! These programs occupy a lot of space, and worse yet, they operate in hiding or taking off with the system and do not know, and thus consume the resources of the device, which means a decrease in performance.
The solution :
To do a short visit to the control panel, to see which programs you are using and which you have not used for a while. You can therefore declare war on programs belonging to this second group. You can even download a special program to detect which programs you have not used in a long time.
# Do not get rid of excess files
Although there are different storage options today, such as external hard drives, cloud storage services, and others, many still prefer to save many files on their personal computers. This will reduce the performance of the computer. This is in addition to system files and other software remnants. And temporary files that are stored while browsing the Internet
 The solution :
 In addition to removing applications we do not use, you can choose to save files in cloud services or on another disk. For example, photos and videos can be stored in Flickr or Picasa, and so on with all file types. Finally, do not forget to delete and clean the device from the remnants of programs and temporary files, and there are many programs that perform this task and personally use the Wise Care 365 program.