This summer I finally made it down to SODO - Seattle's industrial district - to check out a new public art project: SODO Track. SODO Track is intended to be a color-filled 2-mile-long public transit corridor that brightens the day of people entering and exiting the city. Right now, the project features 62 artists and 50 walls of art!
---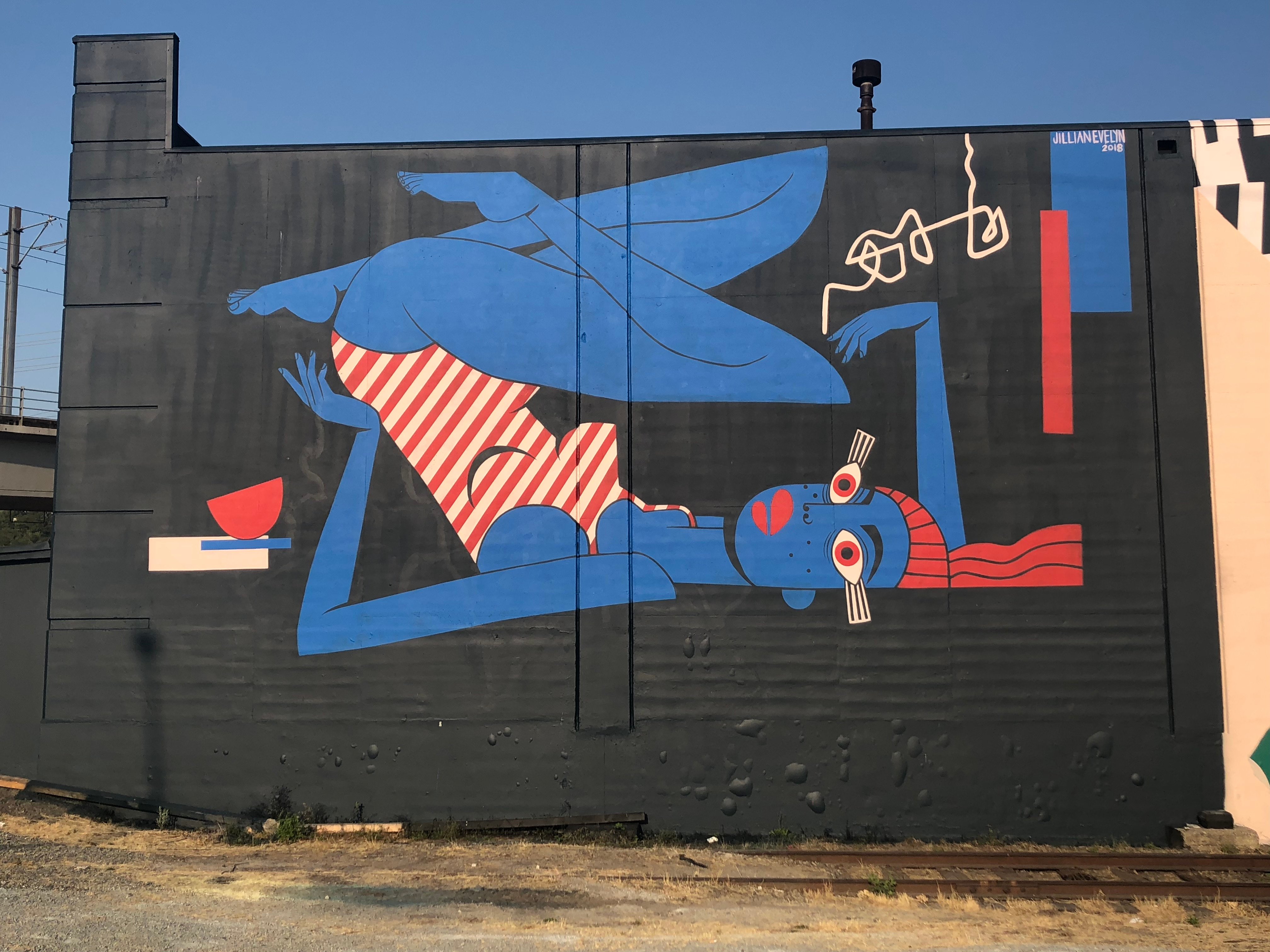 ---
Living just a 10-minute drive away, I'm stoked that I finally took a walk along the corridor to see all the amazing art that artists created on the basic theme of "Motion, Speed and Progress". What I love about this project is that many folks (including me!) might not readily know it was there - drivers will likely not take this route - making it a unique experience particularly designed to delight transit goers. It's a wonderful way of promoting public transportation, while making our city more beautiful and I'm all for it!
Today I'll share a few of my favorite murals that I was able to get a good angle/shot of. Then I'll share a few photos from other photographers capturing some of the trickier designs. :)
Up first - here's a map of the track - this one is a little outdated but there doesn't appear to be a new one on the Sodo Track website yet. At any rate - this gives you an idea of the geographical layout of the project!
---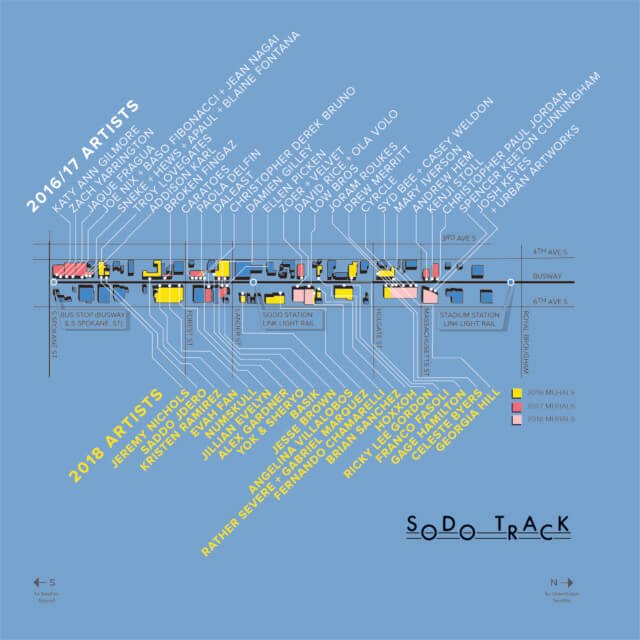 Source
---
Here's a colorful mural that stretched for hundreds of feet by Elliott "Numskull" Routledge.
I like this shot - specially with those green Chuck's as a color pop on the railroad tracks. The guy wearing them isn't bad either, but we all know I'm biased when it comes to @ukuleletutorials. ;)
---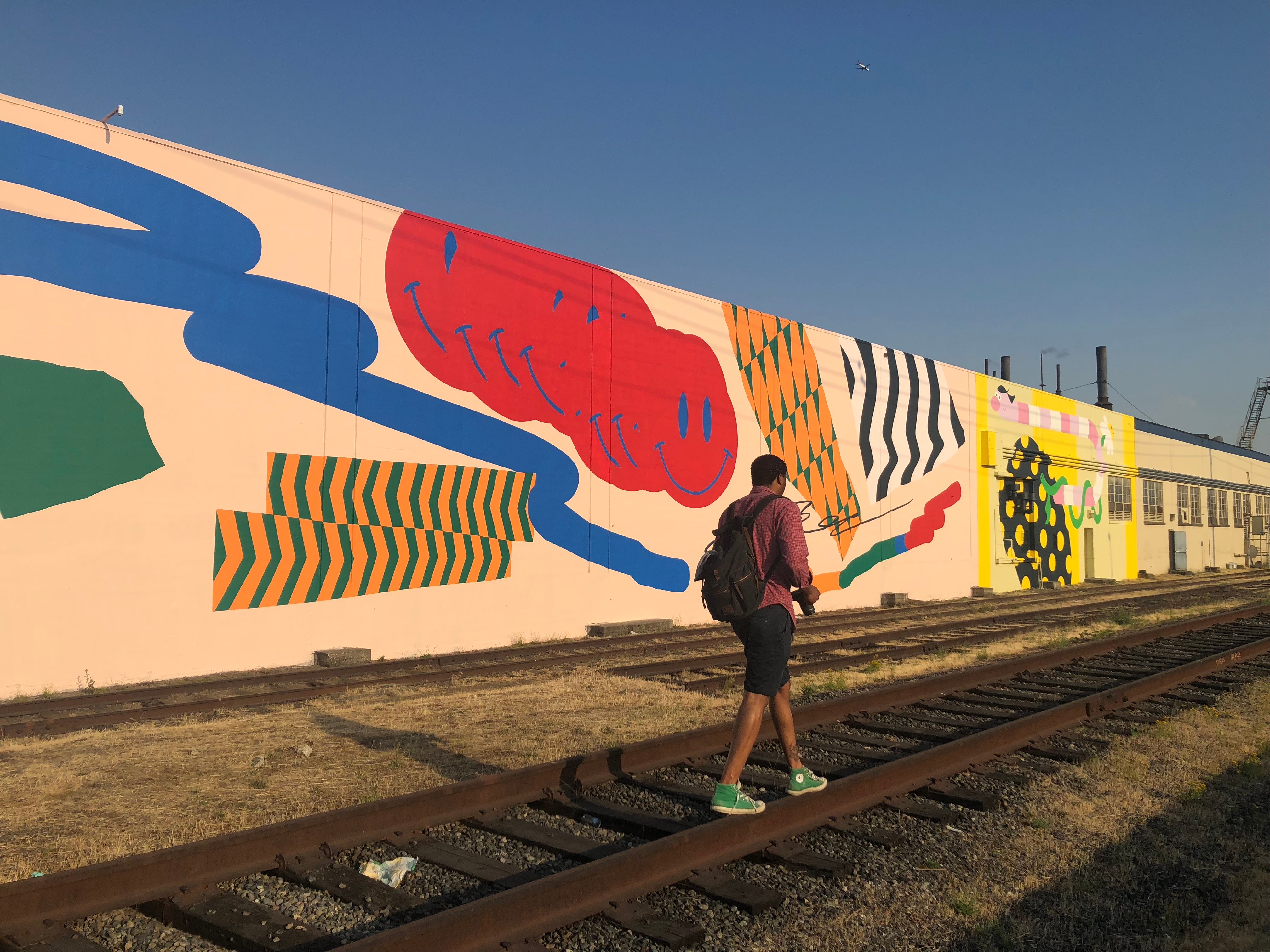 ---
As I said, it was super long, so here's the other end!
---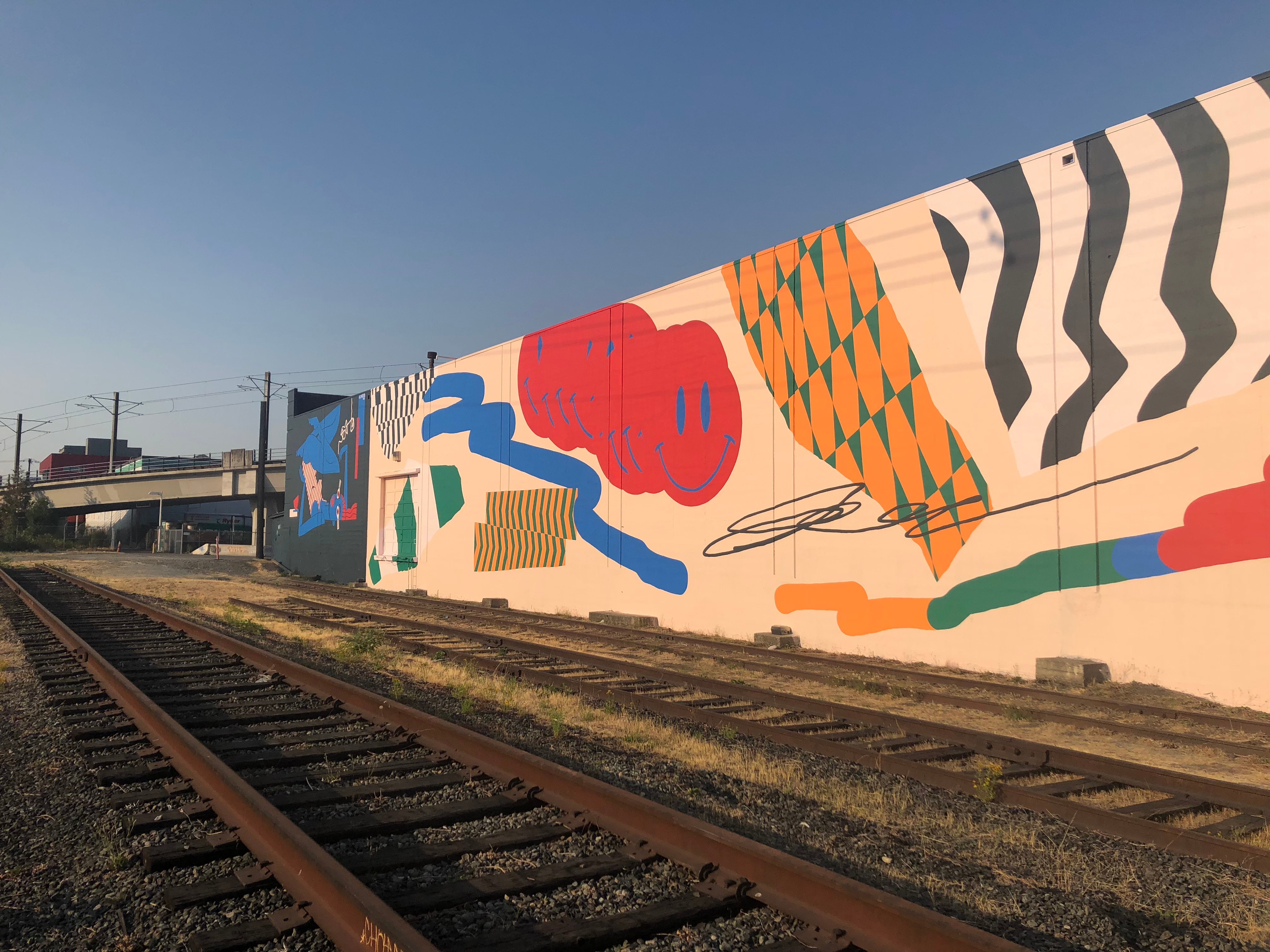 ---
Next up is my favorite piece on the track - an amazing pink kitty piece by Syd Bee + Casey Weldon.
This one is amazing - featuring a crowd of people in business garb fleeing from Mt. Rainier as pink cats fall from the sky. For those of you who don't know - Mt. Rainier is a prominent landmark in the Seattle skyline on a clear day, and also technically an active volcano! Enjoy these three snaps. :)
---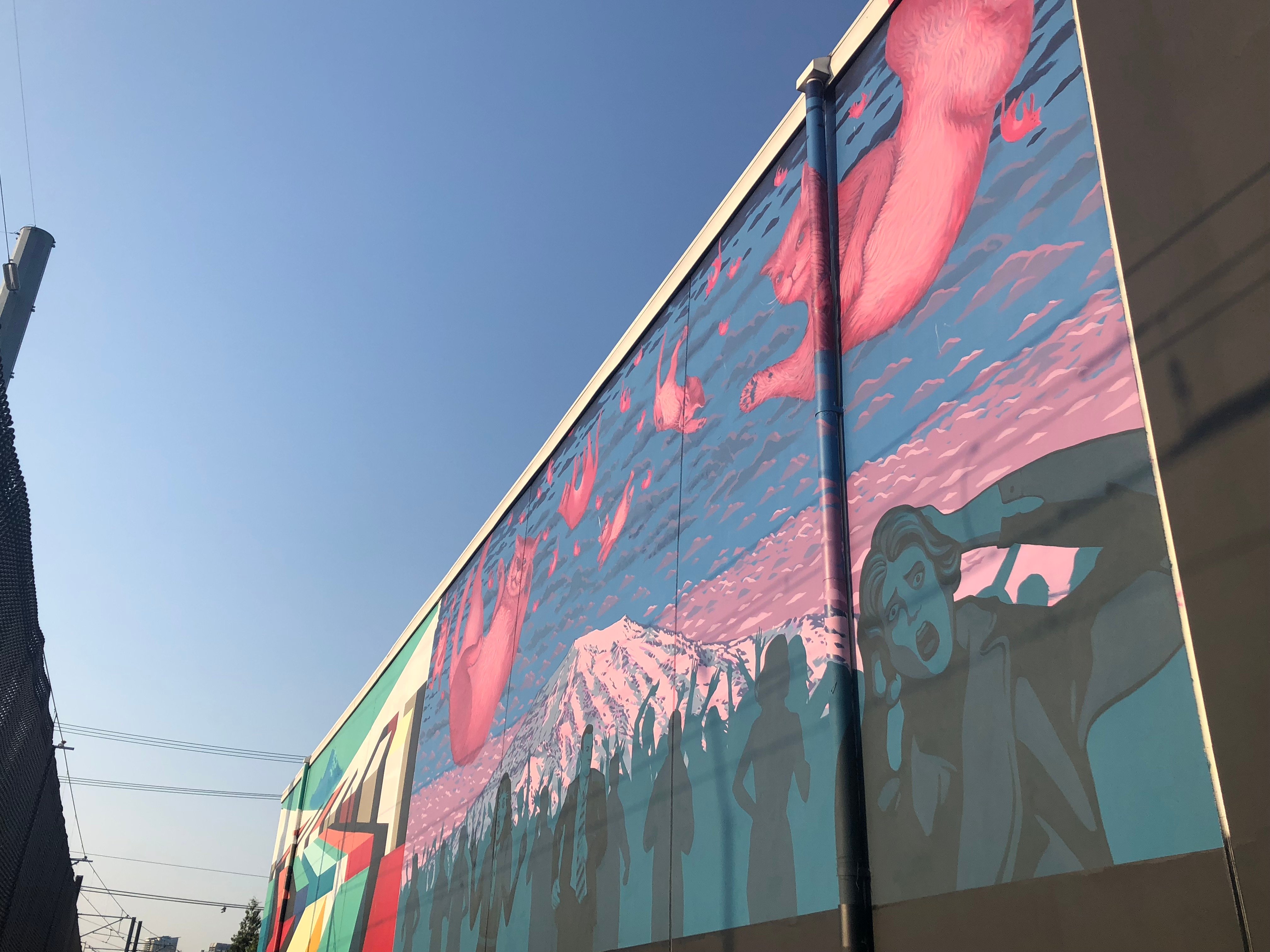 ---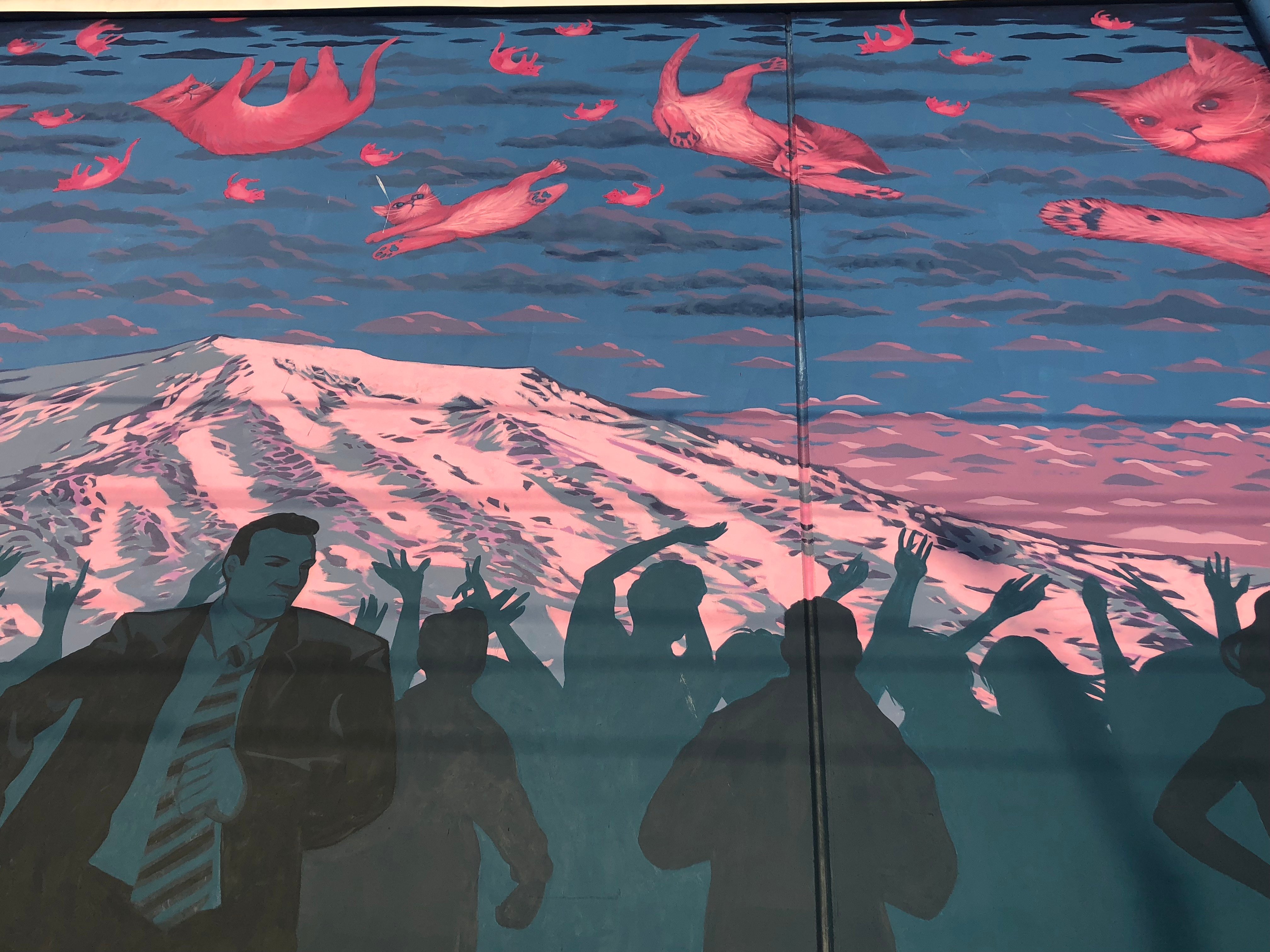 ---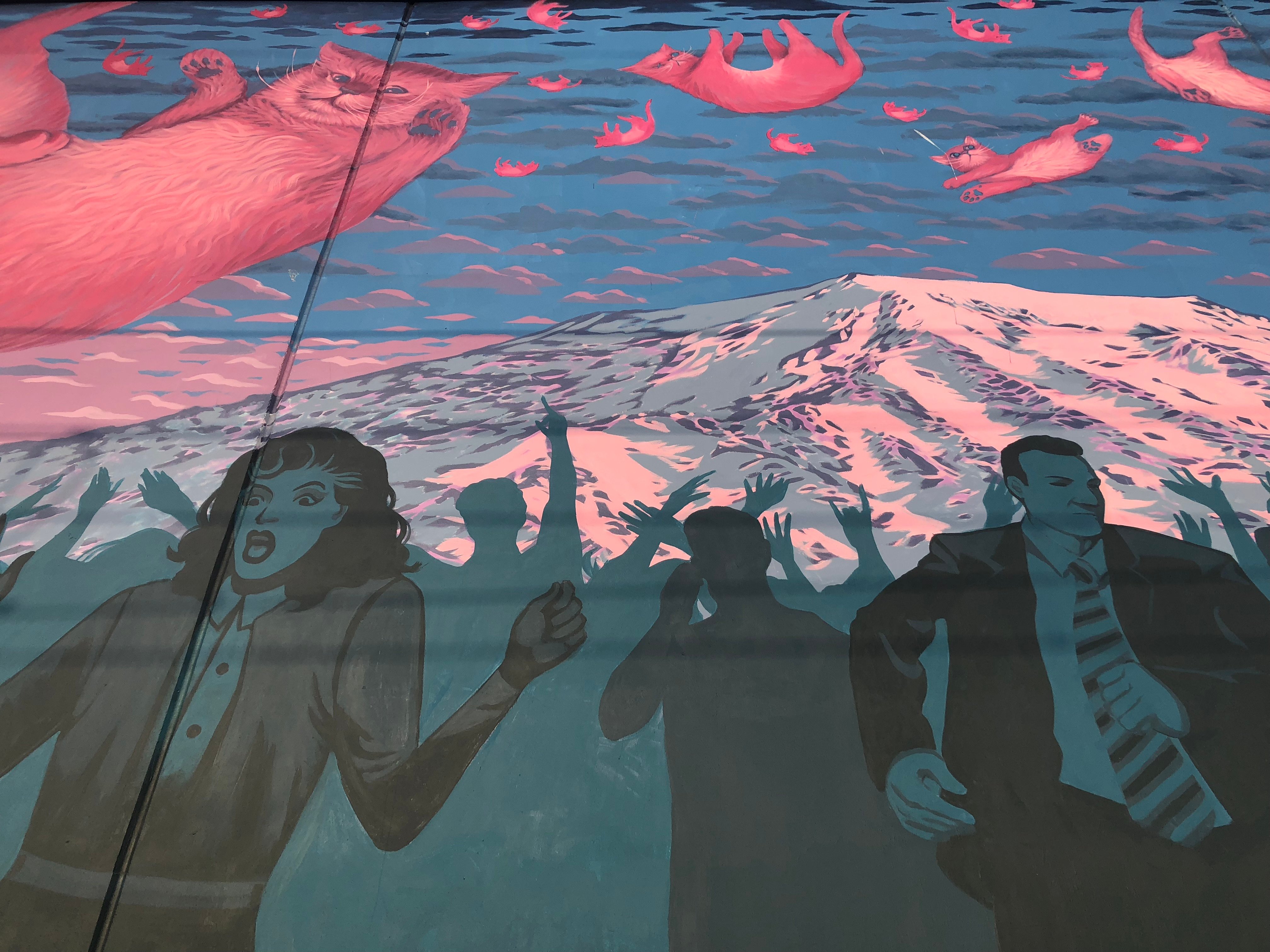 ---
This piece is created on a building off of an abandoned lot which serves as a homeless encampment along the corridor. In this snap, you can see a tent in front of the mural.
---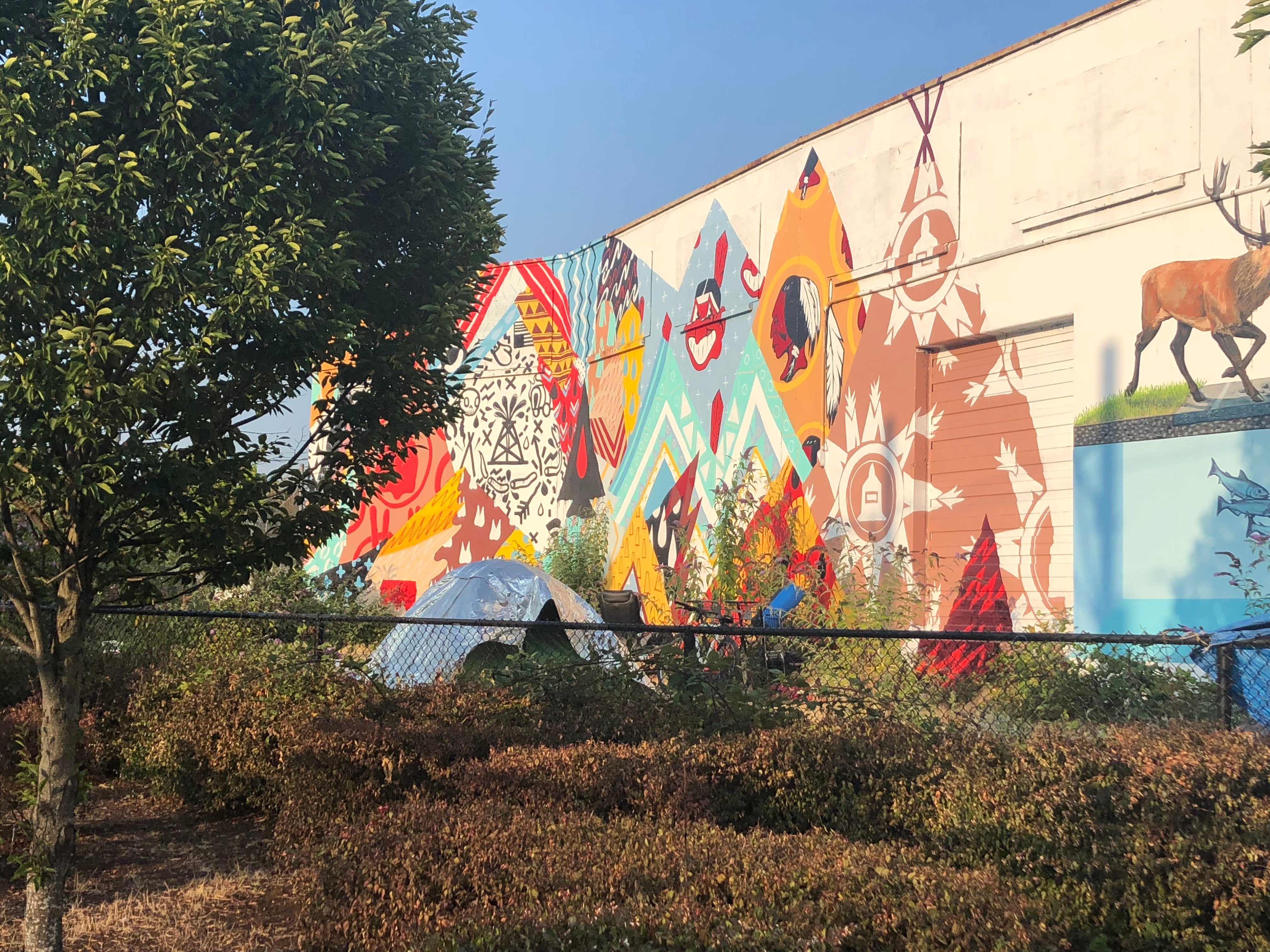 ---
And now, for a few murals I couldn't get the right angle on that I really love!
I love the rainbow colors, and how the shape of the design is suited to the architecture of the building the mural is worked into. On a grey day, this rooftop stands out, and I always love to try to spot it while driving over the West Seattle bridge.
---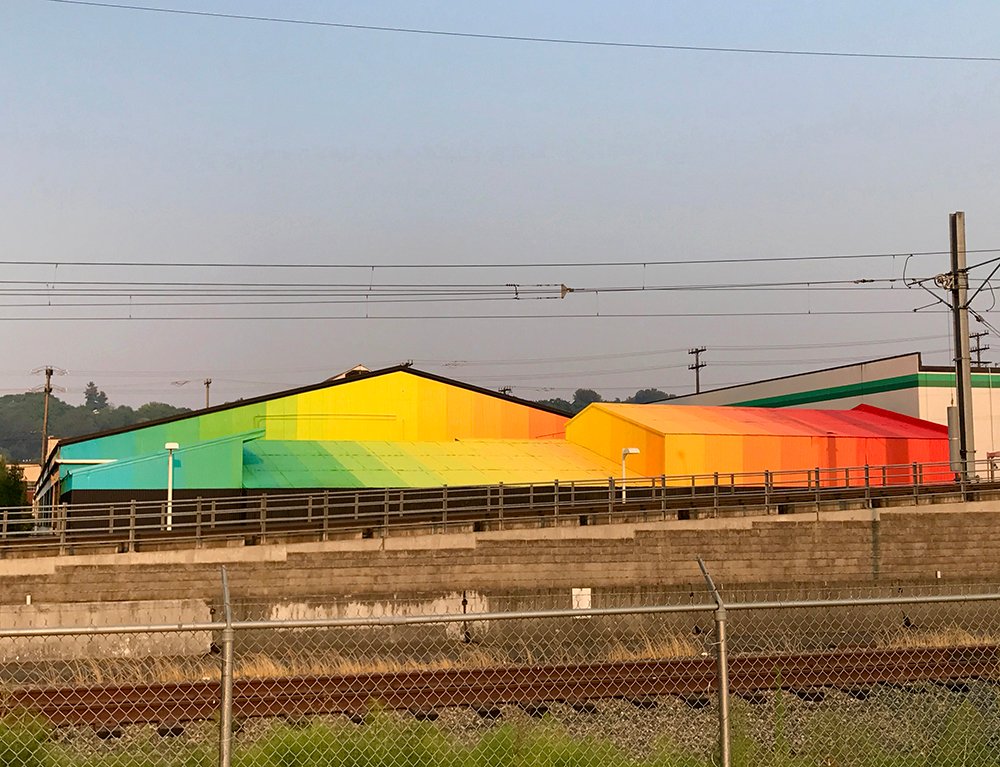 Source
---
Another worthy piece is this lovely pastel work by Damien Gilley.
I love when artists convert an entire building into an art piece - working in a way that makes the building itself a part of the final product - and Gilley totally achieves that here.
---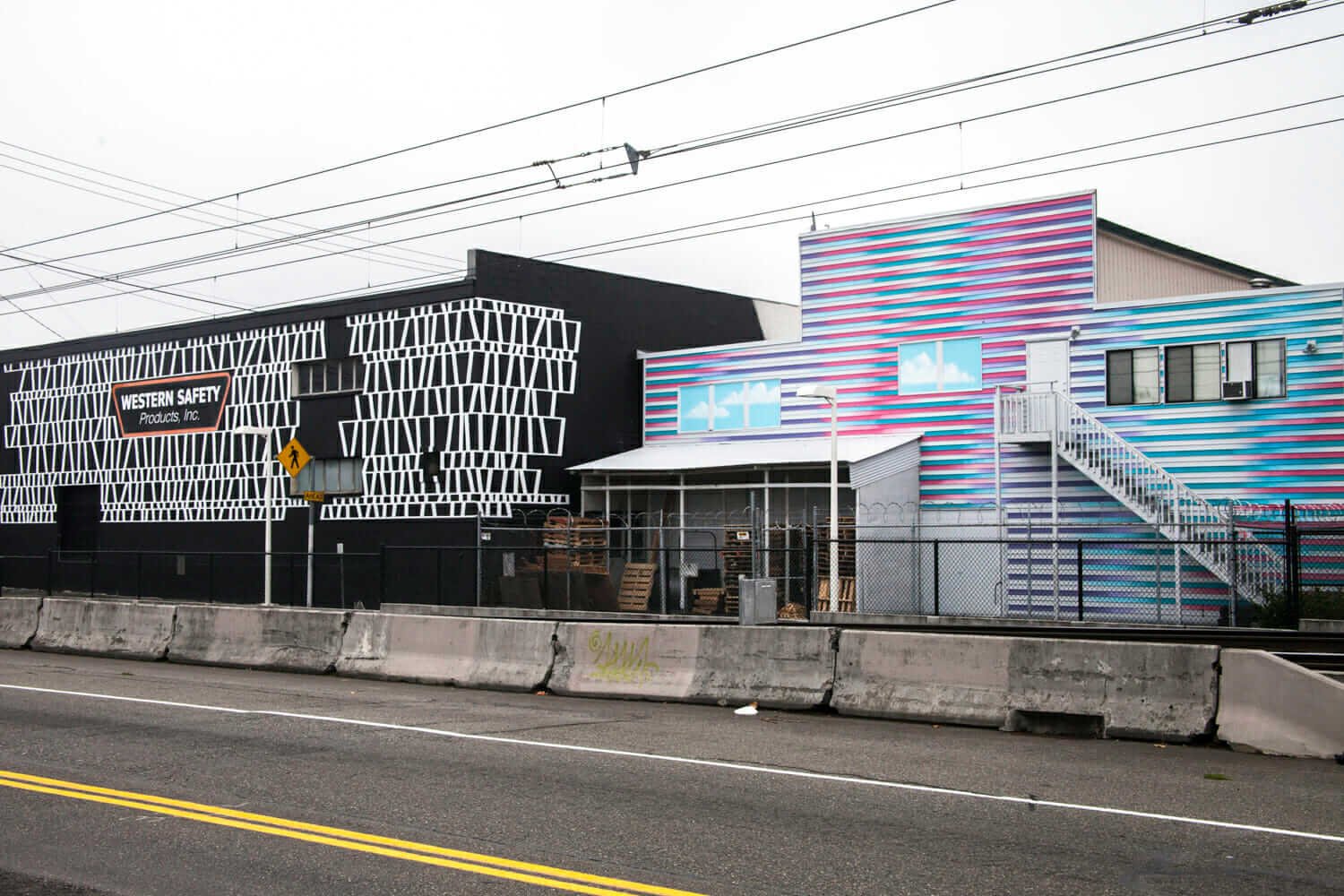 Source
---
The simple graphic work is bold, striking, and catches the eye. This piece is another one that I can spot while droving over on the bridge, and the fact that it's so impactful even from a distance speaks volumes I think.
---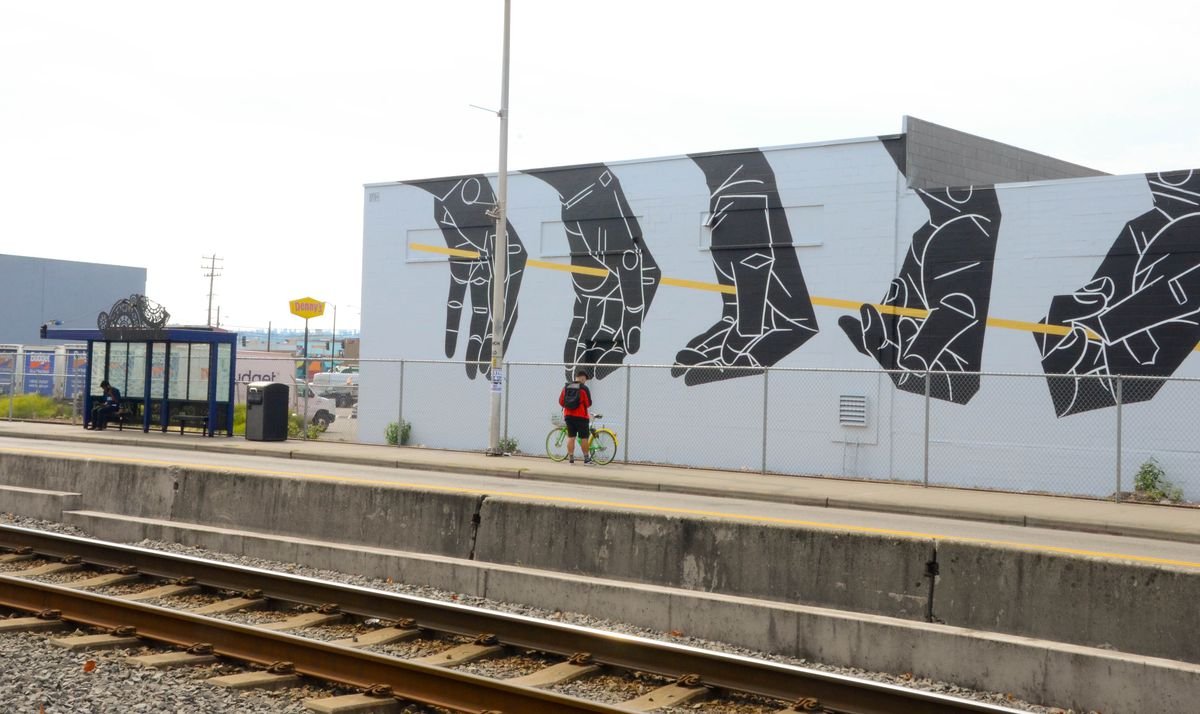 Source
---
I'll end this SODO Track feature with this lovely creation by two-man collective, Cyrcle.
Seattle is a place that rains. A lot. And when it doesn't rain the sky is often overcast or cloudy. We have a real appreciation for the sun here in the Pacific Northwest - so much so that this HUGE mural seems like an important reminder of sunny days to come!
---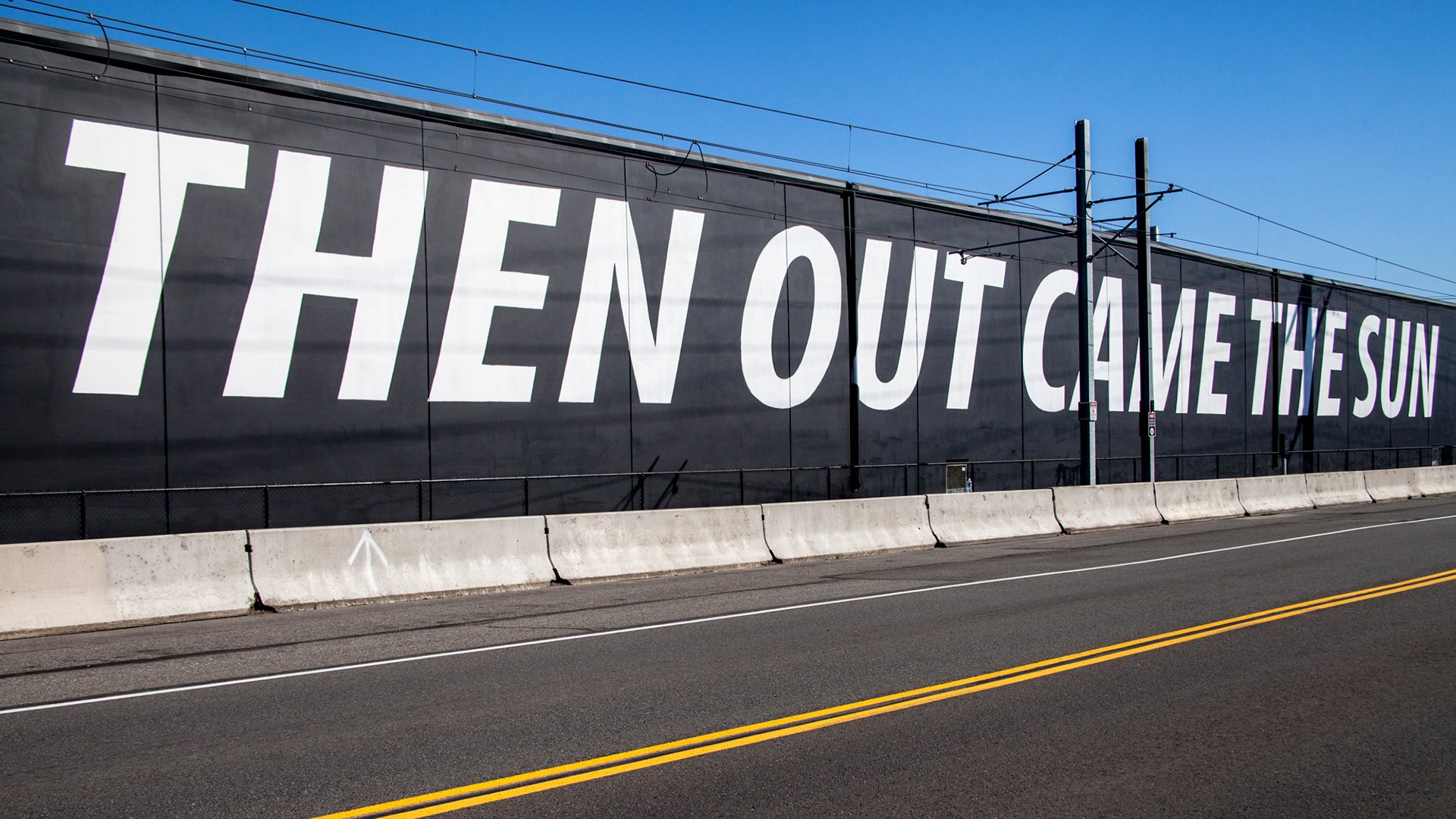 Source
---
In sum: If you're ever in Seattle, hop on a bus or the train and go for a ride along this corridor.
I think the creators of the Track will be adding more art, and continuing to run some public programs alongside the murals in upcoming years. It's a cool art project to watch out for! Hope you enjoyed a little snapshot!
---
Check out more of my work @lilyraabe and below:
Burning my Bum in Budapest | Steemitbloggers Contest
Lucha Libre Volcánica: professional wrestling in the Latinx tradition! | Photo Album
Cash, as in Johnny | Photo Album of A Well-Traveled Pup
Exploring Lake 22 in the Pouring Rain | Photo Album
My Sunday Rituals | What are yours?
I've Been Teaching Theatre in Prison for 8 Years
The Future is Female: U.S. Election Results - many firsts!
Chasing Wild Horses in South Dakota | Photo Album
Making Terrariums | Photo Album and Tutorial!
Salty Dog | Entry to @Axeman's Seascape Contest
Exploring Yellowstone National Park | Photo Album
Two for One | A QUIET PLACE Movie Review (entry for Steemitbloggers Contest) + Halloween Watchlist Results!
Exploring the Lewis & Clark Caverns in Montana | Photo Album
I Have a Long-Term Relationship with Marijuana
Quick Trip to Franklin Falls | WA State
Exploring Crater Lake - one of the 7 Wonders of Oregon | Photo Album
Exploring Ruby Beach on the Olympic Peninsula | Photo Album
---

---

---


Join us @steemitbloggers
Animation By @zord189
---
All unsourced photos by me. Follow on instagram @lilyraabe!
---
Thanks for stopping by!
BIG LOVE, Lily