Life kept me out and about for most of yesterday but I still managed to get in a little of what I love to do and had to do. My normal art time, when I really focus on drawing and getting things done, was taken up by a friends backyard music show. Being a Saturday night, and a friends event, I decided to to go. One thing I've come to realize is that I've got to get out more.
As good as it is to be focused on a specific goal, without the other parts of life, goals, rather, attaining them, becomes a bit pointless. At least that's what I think. I mean, if you don't have friends, loved ones, experiences on the way to where you want to go, then who will you celebrate with and looking back on all the work you put in, where will the smiles be for all those other little moments that filled the gaps in the between time. Besides, life to me is a journey, not a destination, and goals are just milestones on the way to the end.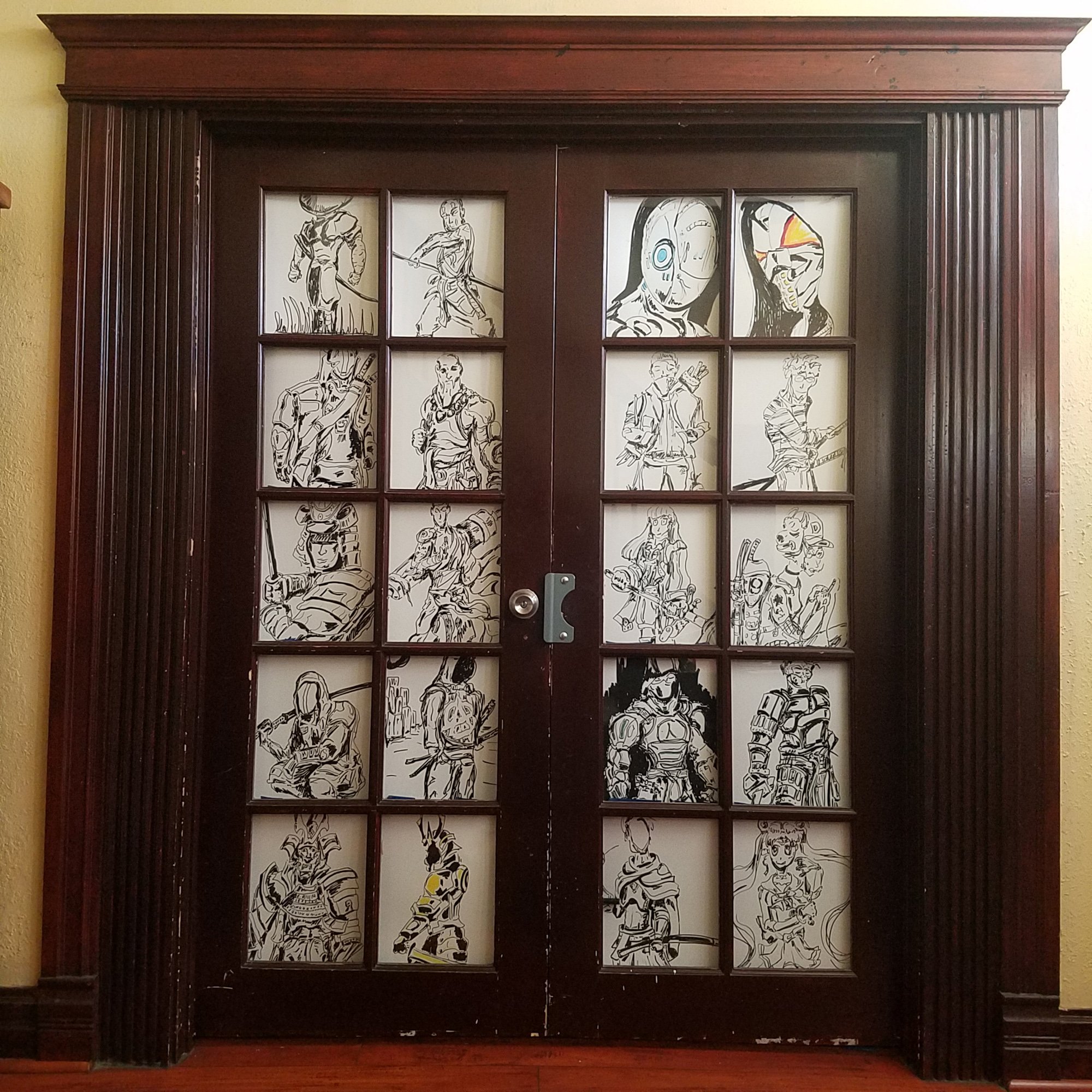 So, before I headed out last night I finished up my Door of Drawings. I decided to capitalize that to make it all dramatic, hehe. Basically I needed to cover the window panes on my doors so that people couldn't see in. Sure, I have blinds and they work okay, but wind from my fans moves them around, and, they don't quite reach the floor. My living situation isn't ideal at the moment...or maybe it is.
I live in a house with a bunch of people, well, I think 7. No longer in that other apartment. I'm never sure between people's friends and significant others. It's a regular comedy show some days for what all goes on. But, the people are good, so I can't complain too much. That, and I finally have windows in my room. Six months of living in a small closet that fit my bed and a shelf...but now I live in what used to be the living room of a house. So...upgrade? Lol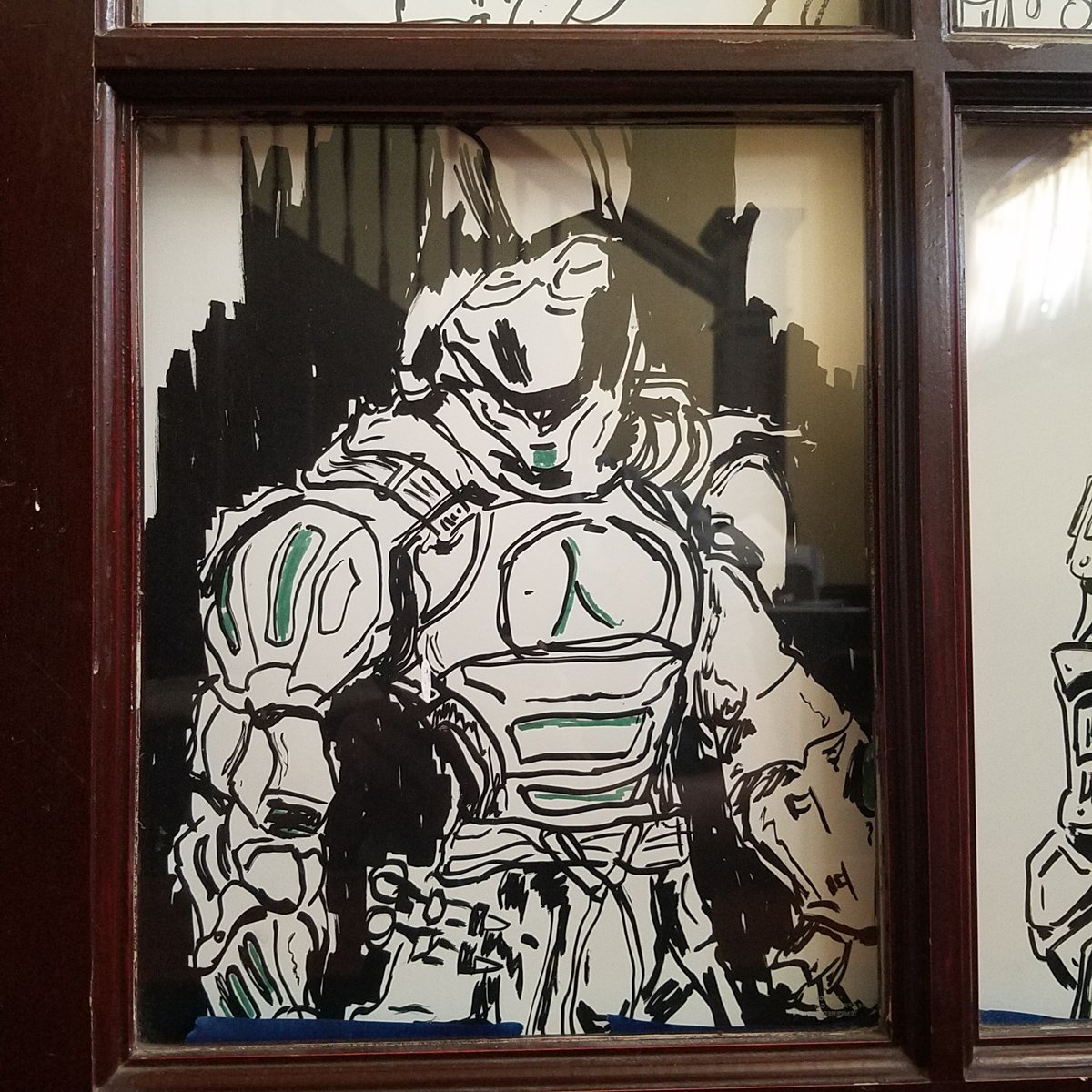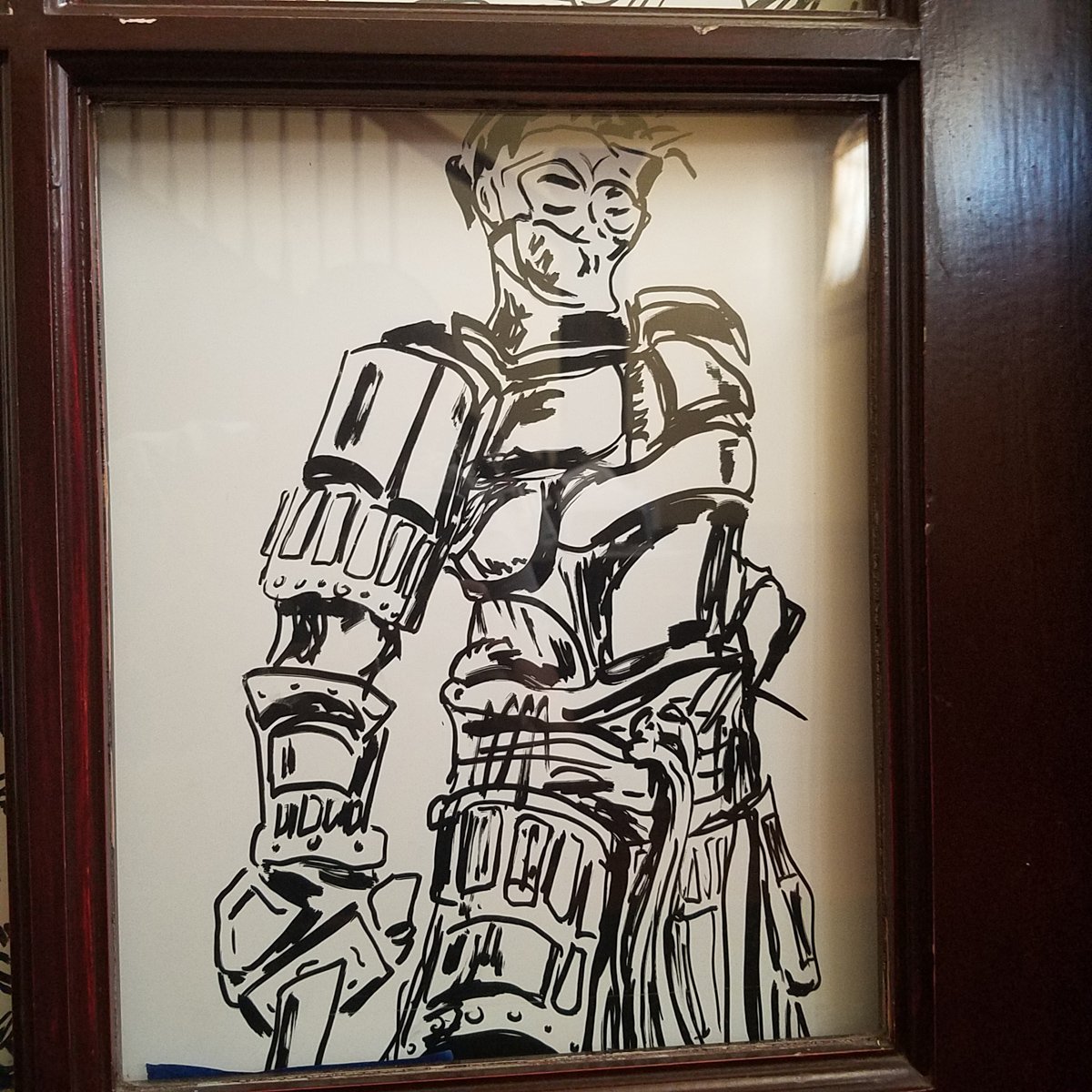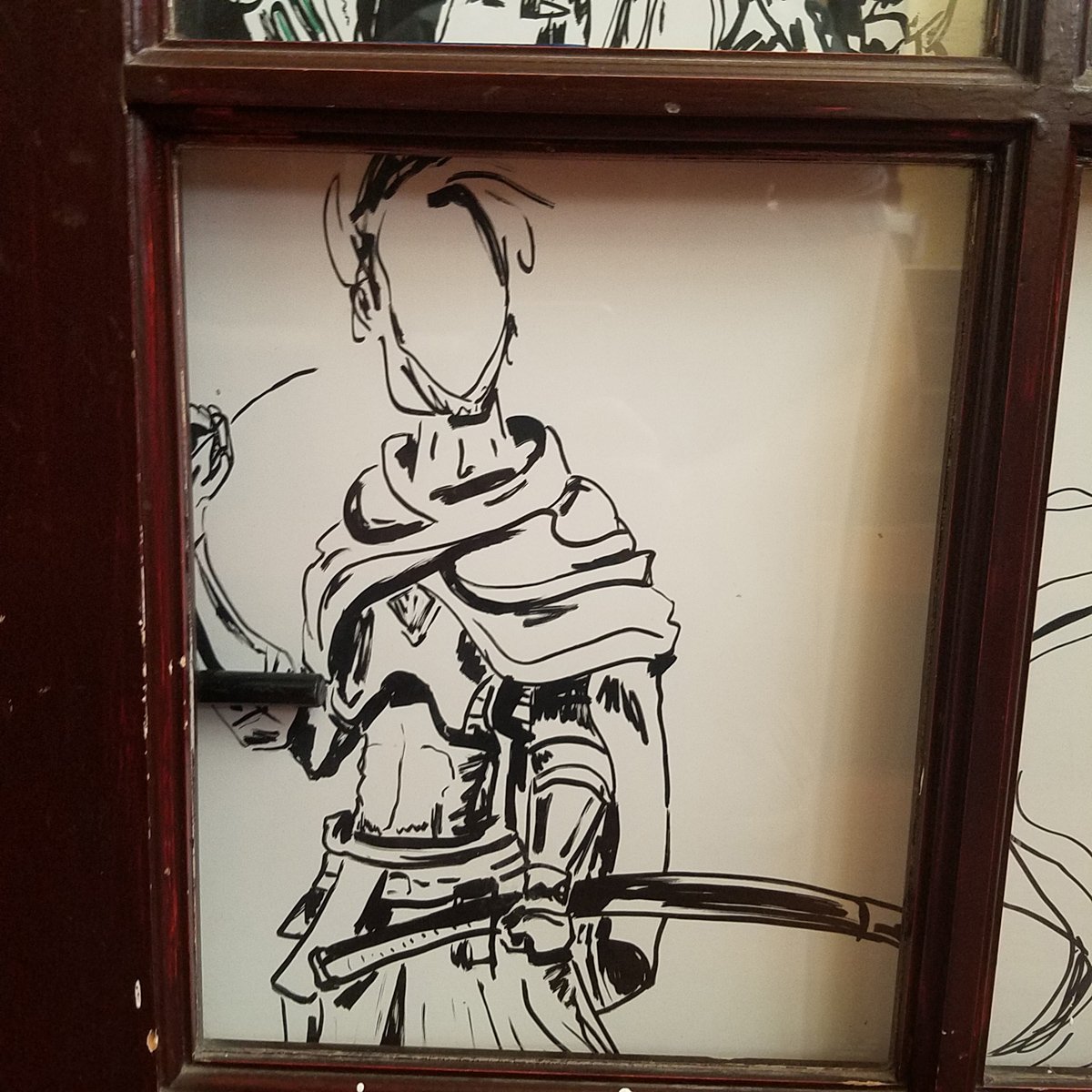 Three drawings is what I got done. Nothing crazy complex, even though now the pieces I do take a minimum of 30 minutes...the price of getting better I guess. Perhaps it's the gradual understanding of the basics and application of new things that's getting me more and more focused on details. I'm kind of scared of the future when they could take hours, days, weeks, months, hehe. But, that will hopefully mean that they're that much the better for the time invested in them.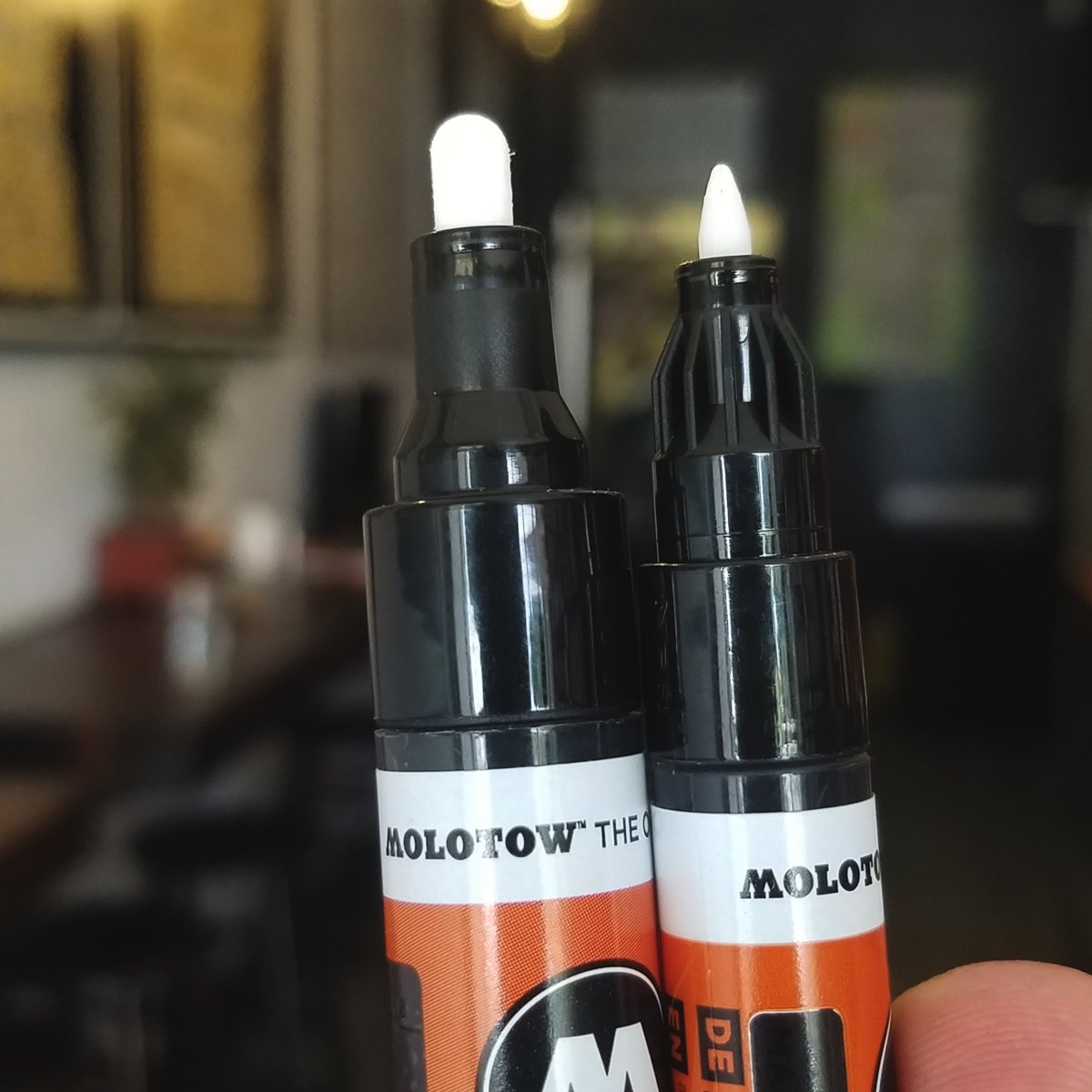 I'm really loving these Molotow markers. In fact, I picked up a couple others sizes today. I noticed the edge of my chisel tip I bought the other day was starting to wear down, just like the Pilot marker, so I figured it might not be a construction issue, but a usage one. So, a couple finer points are now in my collection. I was tempted to grab some colors as well, but my sense told me not to as I still have oodles of the Prismacolor markers my friend gave me a while back and I would just be wasting money.
I also decided to institute a new rule for when I buy art supplies. If I get something I have to use it the same day, or have a damn good reason for not using it. Otherwise I have this creeping feeling that suddenly I'll have all these unused supplies, bought not because I need them, but because I want them. I've always been addicted to buying creative tools. Heck, even as a kid I collected pencils that had cool designs on them. ...back in the days of buying things from those quarter marches at supermarkets.... But the things I buy now aren't 25 cents...they're expensive, hehe. And, as someone who is not making lots of money...gotta be smart. If I can hustle what I do with the tool, then I can buy more :)
On that note, I just sold another small piece of my work. Which was super awesome. They don't know it yet, but I'm going to send them the entire series as a 'thank you.' The rush you get when someone says they'll give you money for something you drew...damn it's a good one. It might dull over the years, but I don't think I'll ever stop being grateful to the people who keep throwing fuel in my creative engine. And, by fuel I mean money and...hmmm, how should I express it...not support, but, interest. Yes, interest.
There's not much art today, so I won't write too much more. Thanks for dropping by and reading my ramblings. @c0ff33a had a brilliant suggestion to ask my fellow Steemians to send me pics of themselves, or rather, leave one in the comments below, and I'll sketch it up. I love the practice, and I love getting people involved as much as I can. Y'all are really important to me :) So, if you want to leave a pic below, I'll do my best to do a sketch of it. I know I'll have to figure a good way to get the message for my sketches out...but, one step at a time.
Hope y'all have a great day!
WESSEL
---
Find me on Instagram at IAMSTONEDWESSEL and watch my new work, videos, and occasional LIVES :)
---