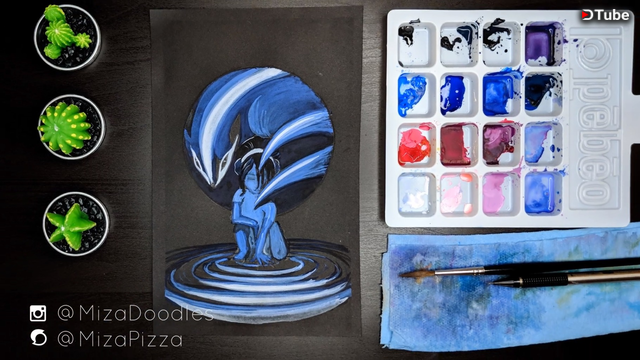 ---
Greetings ✌👽
Here is today's doodle. r/SketchDaily's alt prompt today was "Mole people." I wondered if I knew what a mole looked like, and - naturally - thought of badger moles from The Last Airbender series.
(What, that wasn't your first thought?)
Ok, so I might have just been reaching so I could re-watch The Last Airbender- for reference, of course.
I have some issues with this little piece. If you're familiar with the series, you might pick up on the ideas I was playing with here - The original earth bender passing on the ability to young Toph, who is blind and learns to "see" through the vibrations sensed through her feet.
I decided before I started painting that I would be working in a monochromatic color scheme and settled on blue, really just because it was already in my palette. A little way through I realized green would have probably worked better here - the ripples ended up looking too much like water 😩 Also - drawing people scares me. I'm working on it.
Supplies Used:
Paint - Winsor & Newton Gouache, White, Primary Red, Primary Blue, and Black.
Brushes
Paper
Thanks for watching - until next time!


Other daily doodles:
White Rabbit
A Box of Tissues
Cacti Doodles
Cotton Candy Clouds
Venom Doodle
Skele-Hand Body Paint
---
▶️ DTube
▶️ IPFS