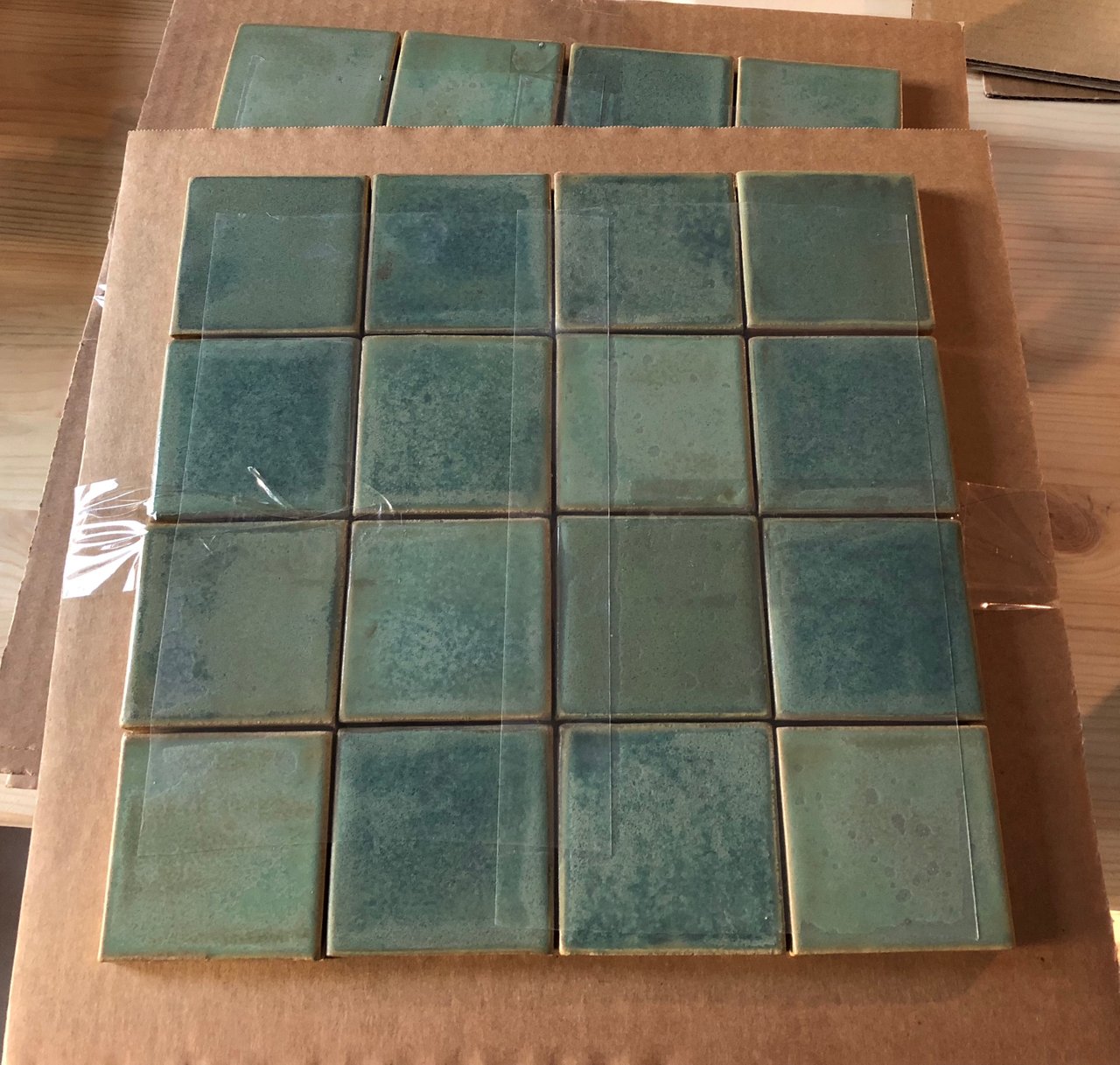 These days I love tile projects that are meditative and don't ask too much of me creatively. This might sound counterintuitive since I'm an artist and after all isn't creativity my thing?
Yes, yes absolutely, but for the past 3 months or so I just haven't had much creativity to give. I've been in a shedding skin time and have needed all my creativity for my own life. Tile commissions require that I dig into my heart and use my artistic eye and to hand create a piece for someone else and this process entails a whole lot of giving of my creative life force.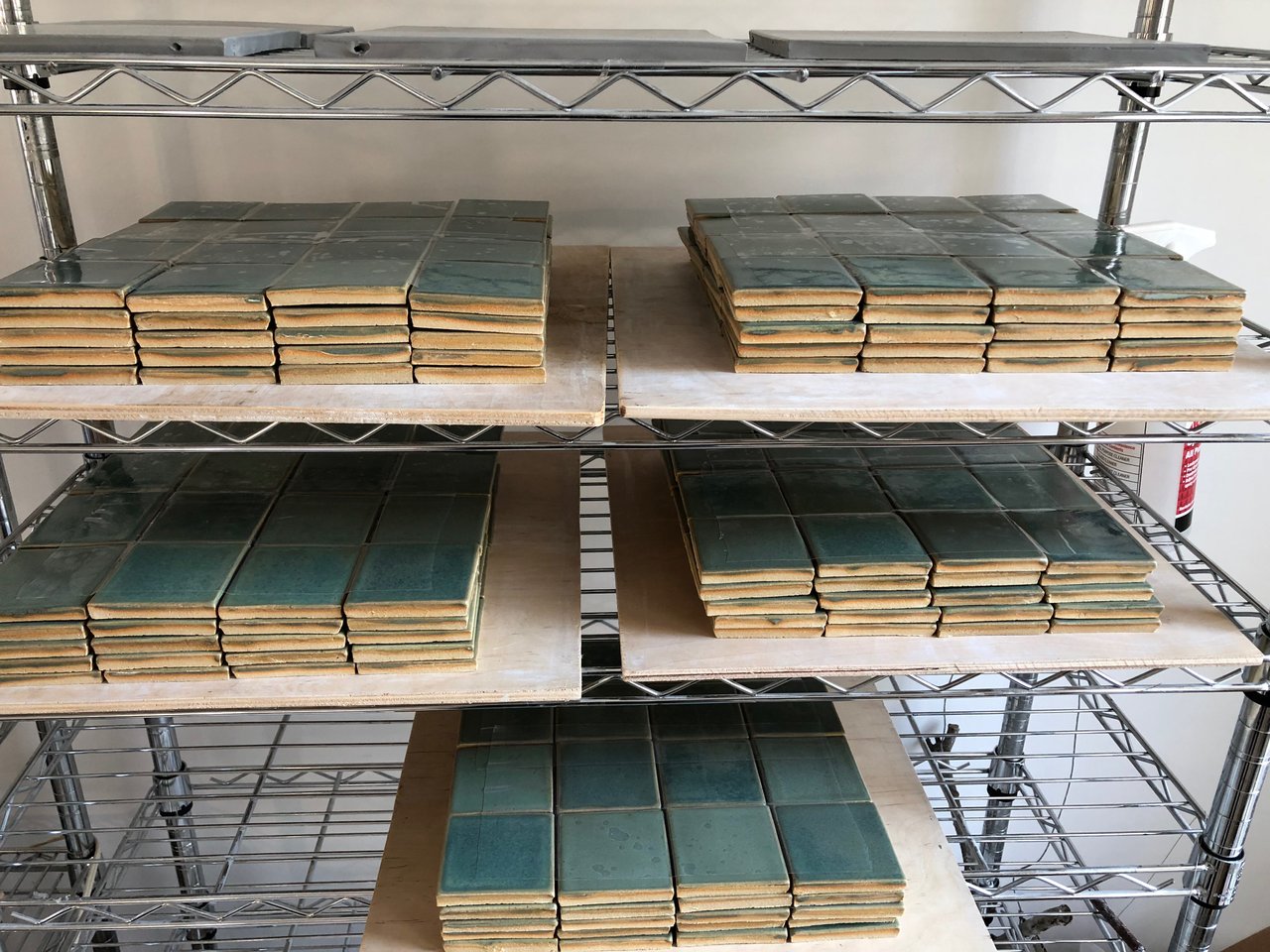 Don't get me wrong, I love commissions, really love them. A meaningful mutually appreciative relationship with the client enables me to give of myself so readily! Being commissioned to put my love of life, of nature, of making into something beautiful that will bring joy for generations is an honor and I live for it.
But for now my innovation, aesthetic curiosity and technical prowess are recalibrating and shifting while I find new and richer ways to give of myself. I'm feeling around for a creative evolution in my work that fires me up more. I've needed to step back to heal some old wounds and go deep to find new rivers of energy within myself to live and work from.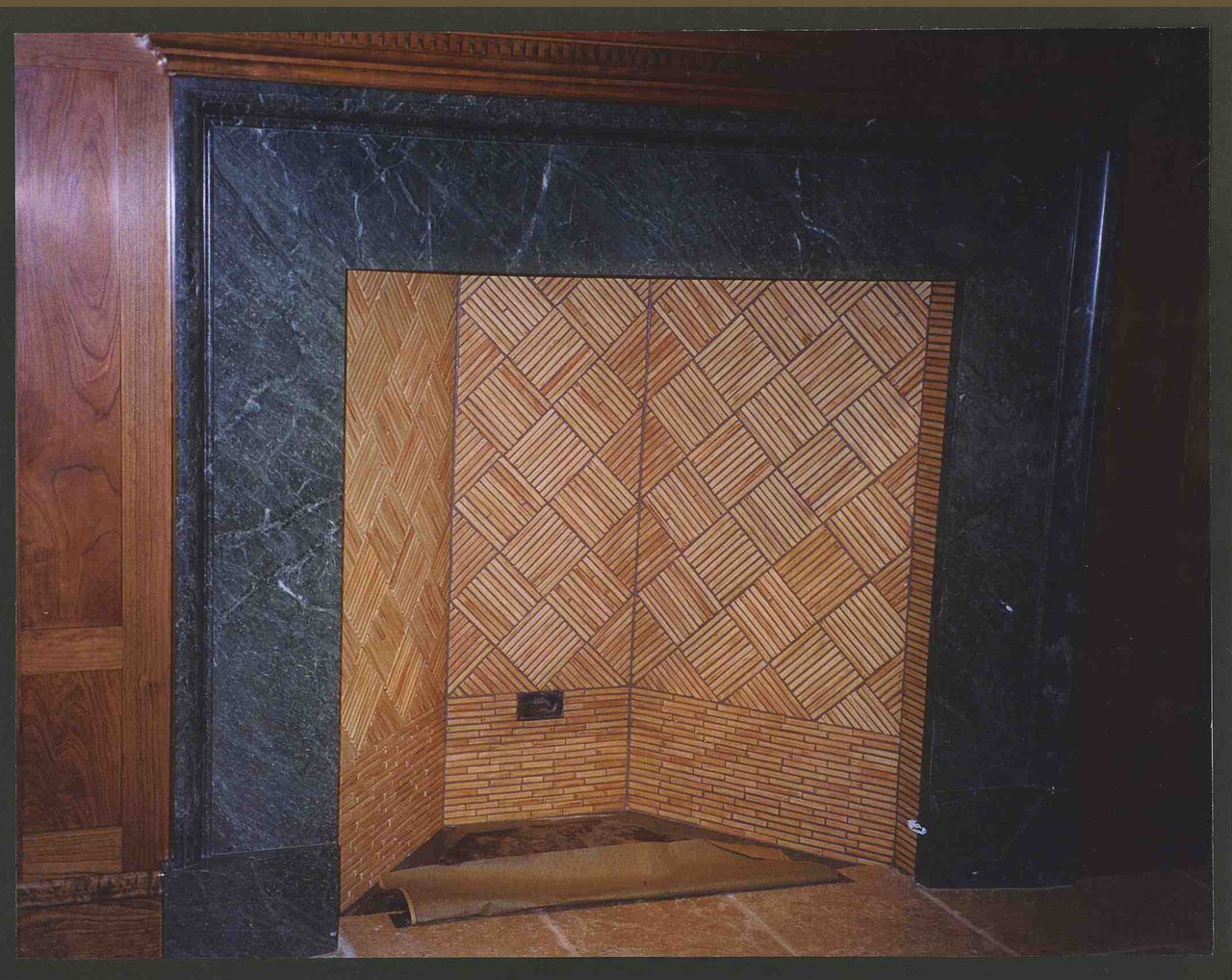 Meanwhile I still need to make a living so, when this Firebox Tile order for a Los Angeles designer arrived in November I jumped up and down "yes, yes yes" knowing it would enable me to make some money doing something I find meditative and enjoyable but still leave my creative energy in restoration mode. A great blessing to say the least.
3" squares of Sage Green glazed Firebox Tiles. What are Firebox Tiles? Fireproof tiles that can be used to line the inside of a fireplace. But why do you need Firebox Tiles, can't regular tiles be used in a fireplace? Nope. Tiles do well with heat if temps are evenly and slowly increased as in a kiln but not with the extreme nor sudden changes in heat in a fireplace.
Think of a stovetop, if you were to put your ceramic mug on the burner and turned it up high to reheat your coffee, the bottom of the cup next to the heat will separate from the rest of the cup as the temperature quickly rises at the base while the top remains cooler.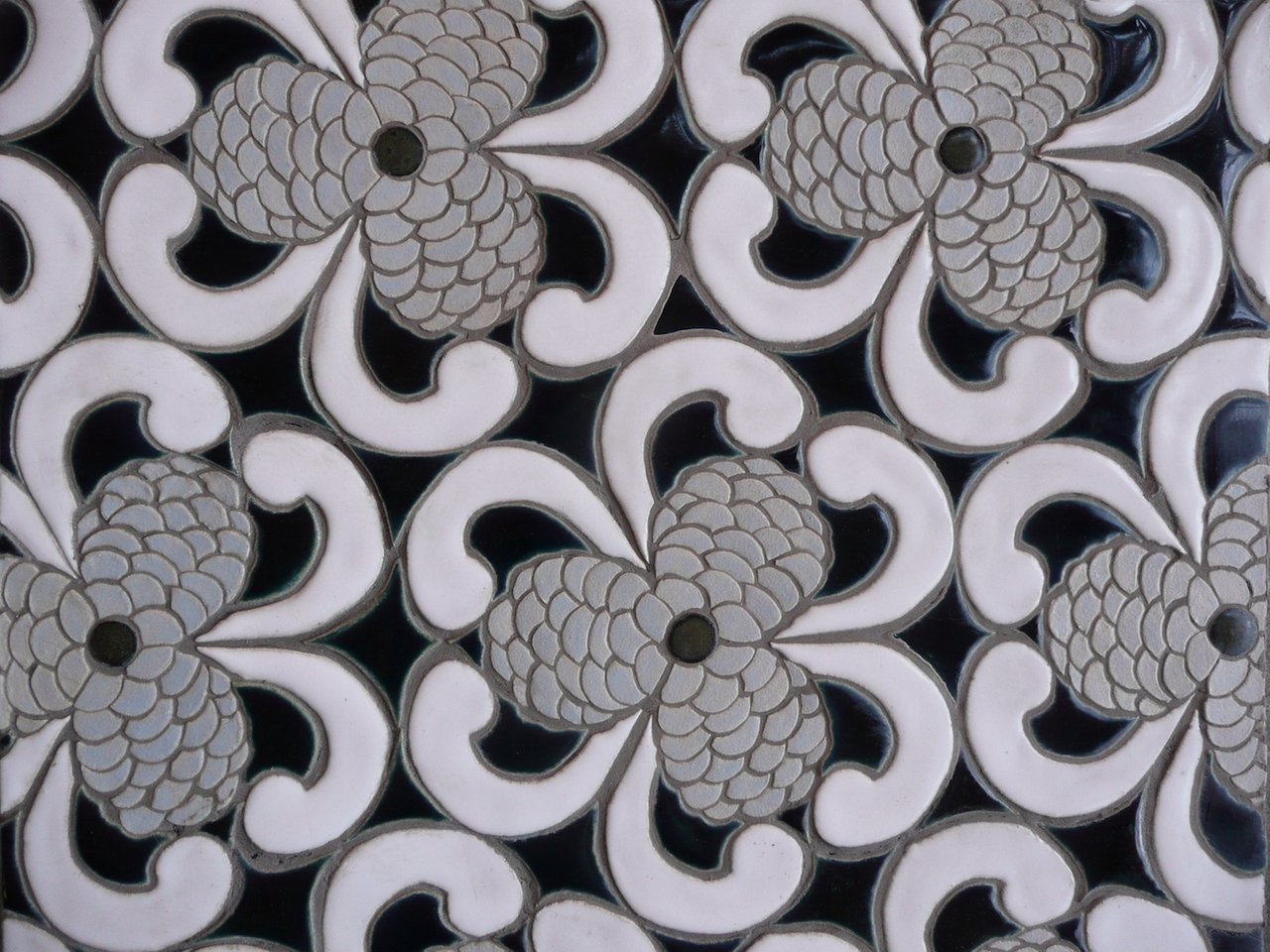 Pinecone Motif
And stovetop temperatures are only a few hundred degrees while fireplace temperatures can go from 70 to a 900 deg F within 30 minutes. Thus I developed a special clay body that has the refractory qualities needed for these conditions. In 1999 thanks to my father's idea, I created a refractory ceramic tile and spent years testing it and then patented it. As of now, I believe mine is still the only product of its kind in the world and you can see more of it at www.fireboxtile.com or in this previous post.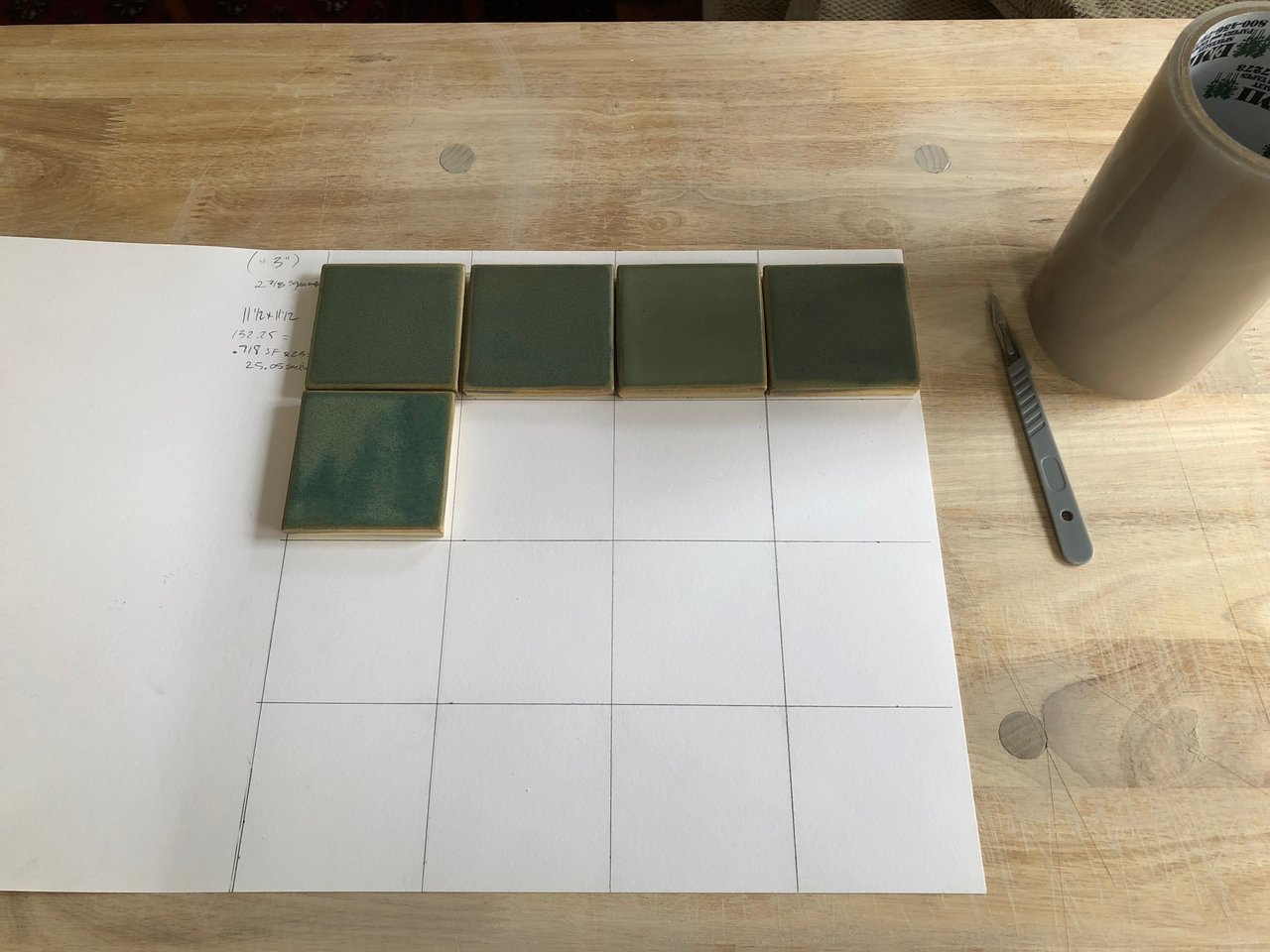 Once the 23 square feet of tile were made, I drew a template and placed the 3" tiles together in sheets using a face adhesive to hold them in place for easy installation by a tile setter.
Here are the tiles before I began carefully packing them up into 4 boxes to ship.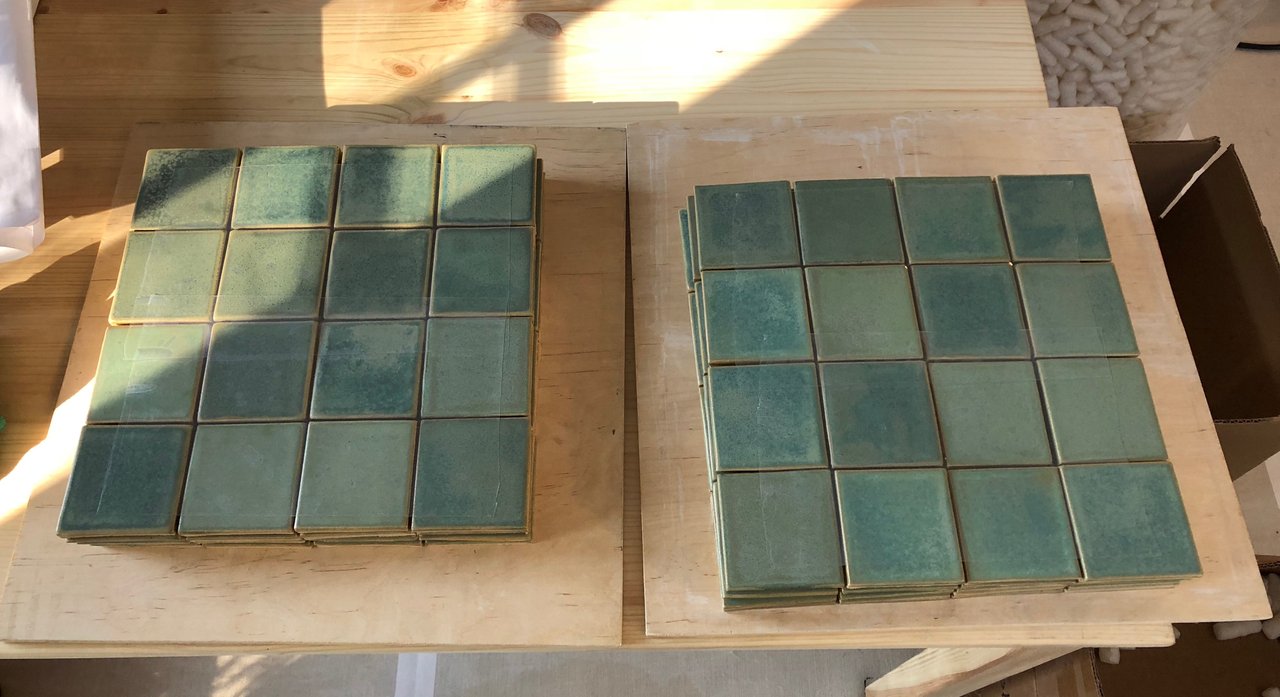 Thanks Steemians for your support, friendship and all the ways you contribute to this platform!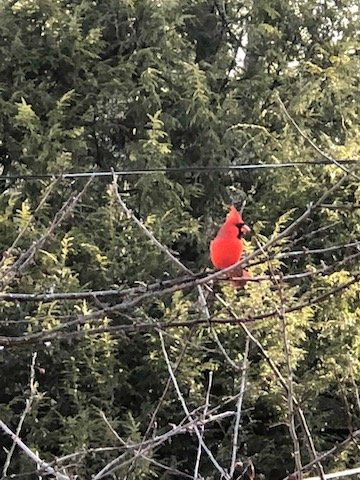 this handsome fellow is often outside my window and often with his beautiful wife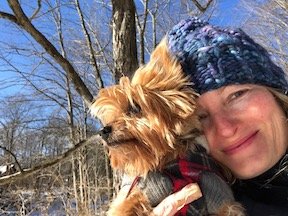 aka Ruth Frances Greenberg, I am a ceramic artist who makes mosaics, tile and all things clay from my home studio in rural Connecticut. I'm here on Steemit to offer my support and friendship to creatives, individuals and projects that I value and want to see more of in the world. The decentralized economy and blockchain technology are promising and I am very pleased to be a part of this exciting new revolution.
Your support means the world to me and enables me to pursue my life and creativity with more freedom and opportunity, thank you! You can learn more about me and my work at www.ruthfrancesgreenberg.com