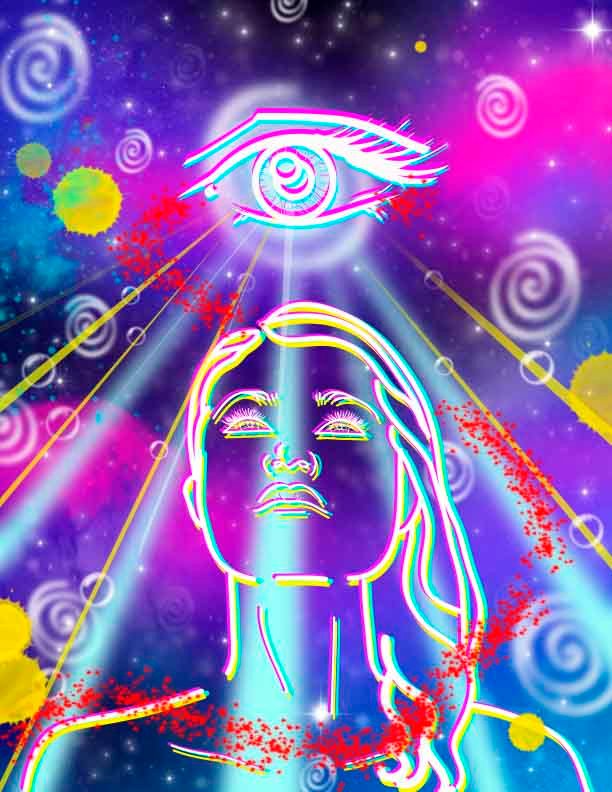 Hello everyone!!!
Again here hehehe, this time to bring my participation in the ART EXPLOSION WEEK contest, whose theme selected for this week is nothing more and nothing less than PSYCHEDELIC.
A somewhat hallucinated theme, I did inspire and think of many colors and a starry sky, well it was my way to get up so I simply made a series of Gif to demonstrate the step by step of my canvas and creative process.

Creative Process
To begin with, I thought simply of a starry sky, a galaxy, and a girl in a very high self-representation. For the girl I made the vectors in the Adobe Illustrator program, the rest of the art I did in the Photoshop program.

Already having my sky ready, I placed the drawing I made previously of the woman (myself) who is looking up, I placed several elements and colors, one eye on, several spirals, in short something quite surreal and high. Giving a meaning of illumination maybe or not, maybe just having a good time hehehehe.


Thanks my friends for going to read me, thanks @juliaksponford for motivating the creativity of the artists on the platform.
We will read each other in the next one.
They are loved, Kisses!
LUCK TO ALL IN THE CONTEST