Changing and Adapting Strategies
I gave up using the Pigma Micron Ink pens for detail work and went with my black gel-pen for shadow work. I cross hatched areas with my black pen and went over the darker area with a white gel-pen, which blended the black into a light gray. I also used my white gel-pen to blend the darker colors because I wanted a pastel spread of colors rather than the darker primary and secondary colors. This lightening and graying of colors with white and black instead of using contrasting colors for shadow worked with the colors in my background. I wanted the color of the fox to be the same as the watercolors I used for my trees and shadows.
I didn't like the way my first rendition turned out using only watercolor. I first decided to go with Pigma Micron pens, but their nibs clog easily from watercolors, gouache, and gel-pens. I've decided to work with gel-pens and watercolor from now on and use my ink pens for strictly pen and ink work.
Native American Mythology
Achomawi Myth, A story about sixty spider-children and the Silver Gray Fox Creator.
The Silver Fox from the Native American tribes of Northern California was a kind creator god. The Apache and Blackfoot tribes tied the sun and fire to the fox who is said to have stolen fire to share with the people from Turtle Island. The Arapahos kit fox brought the spirit pipe ritual to the tribe. The Northern, Midwest, and Plains tribes, the fox was an animal spirit of the intellect and wisdom, which would help people solve problems, find what is lost, or teach the greedy and careless lessons to cure them of their ignorance and pride. The Quechua and Andean tribes found the fox spirit a greedy entity that was a trickster and a sign of bad things to come.
The fox is a common clan animal in Native American tribes, like the Creek whose fox clan is called Tsulagi or Culvlke. The Menominee and Hopie tribes use the fox skin in their dancing rituals and ceremonies. The Kitfox Society called the Swift Fox Warrior was and still is an essential tribal organization of the Blackfoot tribe.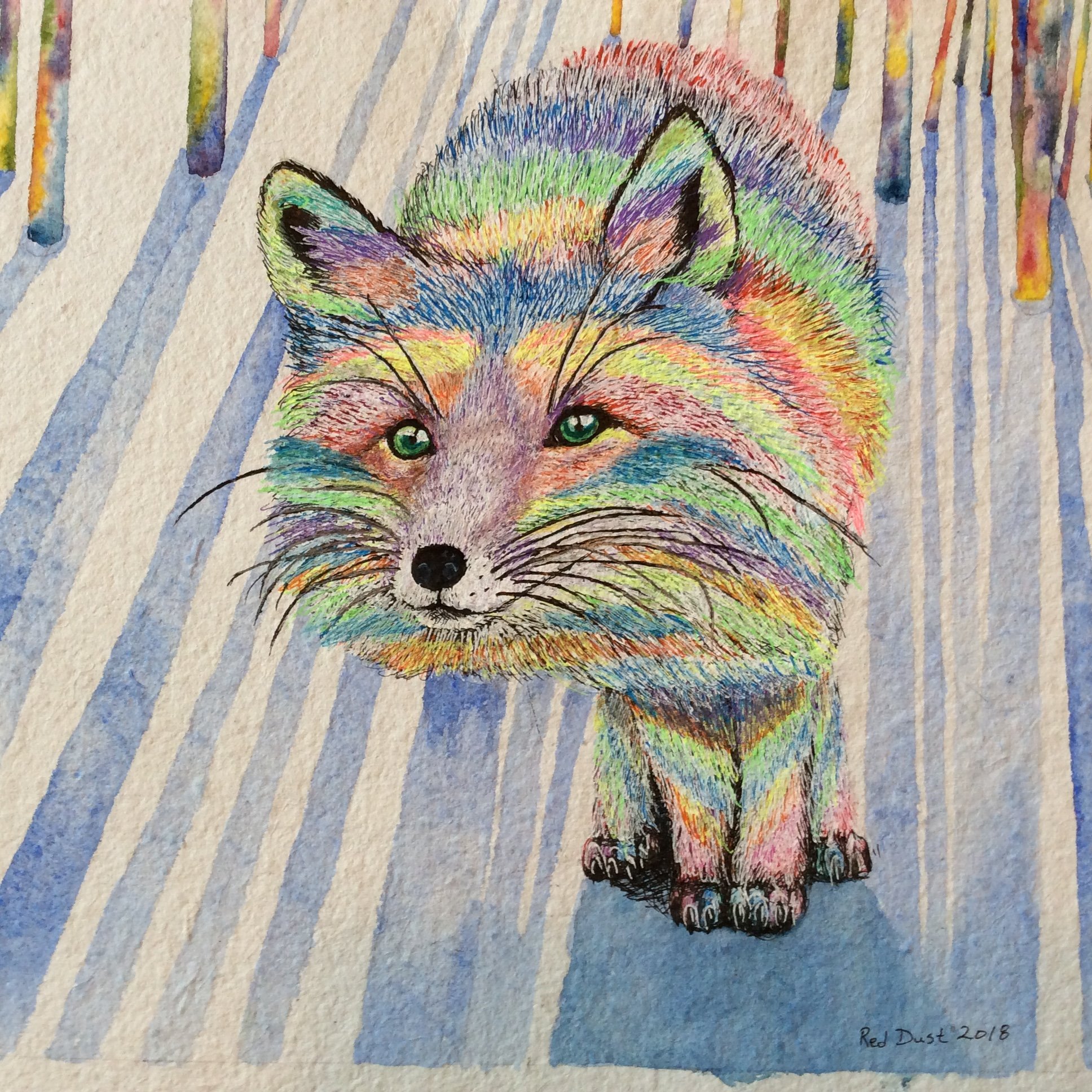 23 x 15.5 inches, Gel-Pens, Micron Ink Pens, Watercolor, and Gouache
Made In India Handmade Cotton Paper Cold Press Rough 300lbs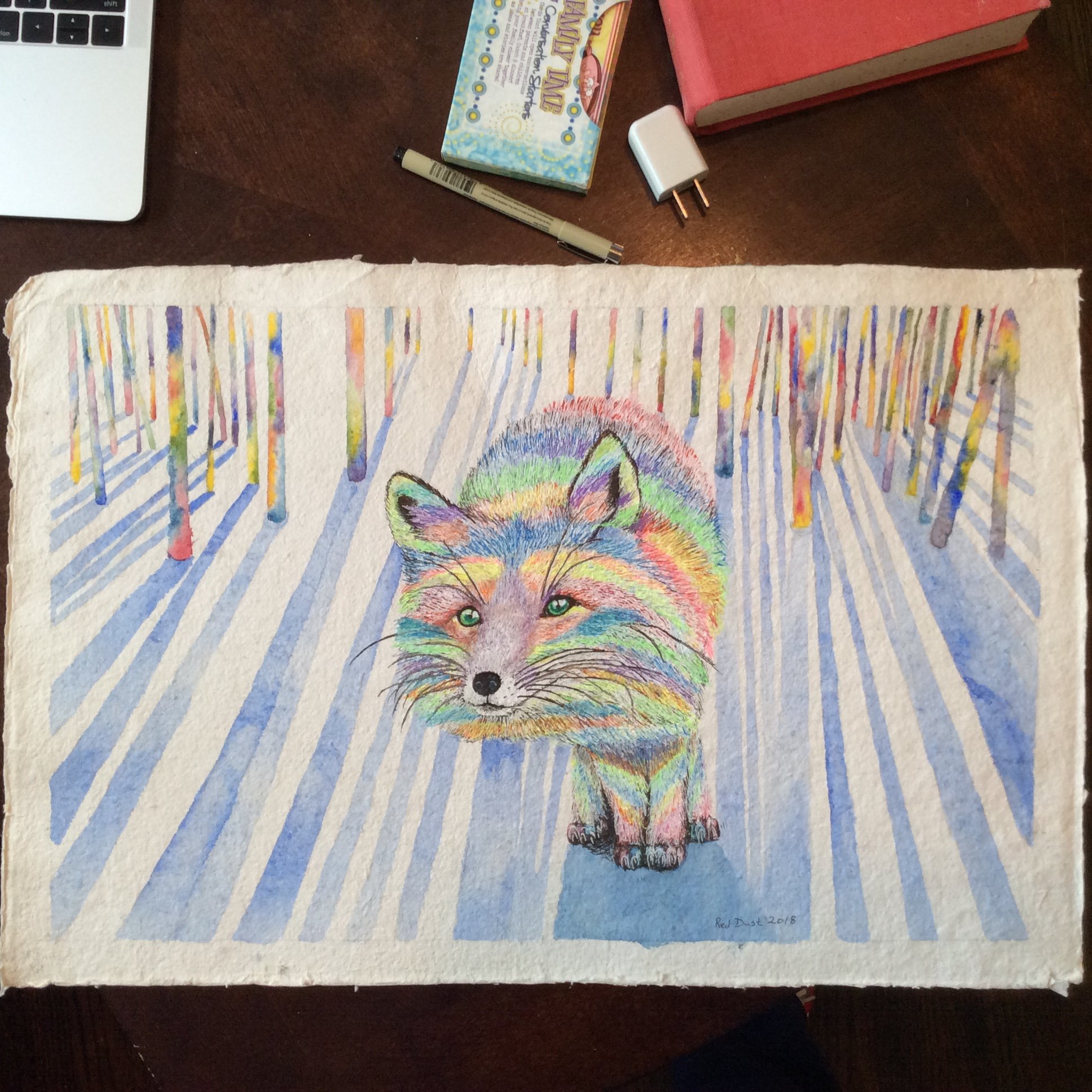 I decided to use only gel-pens over watercolor, gouache, and micron permanent ink pens Gelly Roll gel-pens.
I've been using Winsor & Newton Watercolor, Gouache, and Paint brushes for over 30 years. I've tried other company's products and W&N is my favorite.
The only negative I can think of about Pigma Ink pens is the nib plugs easily. I can get around that easily using the brush tip ink pen which covers a large area with color and if you have a steady hand can be used for line and detail work. I prefer to use the hard nib for detail because my hand isn't that steady. Pigma Micron Permanent Ink Pens.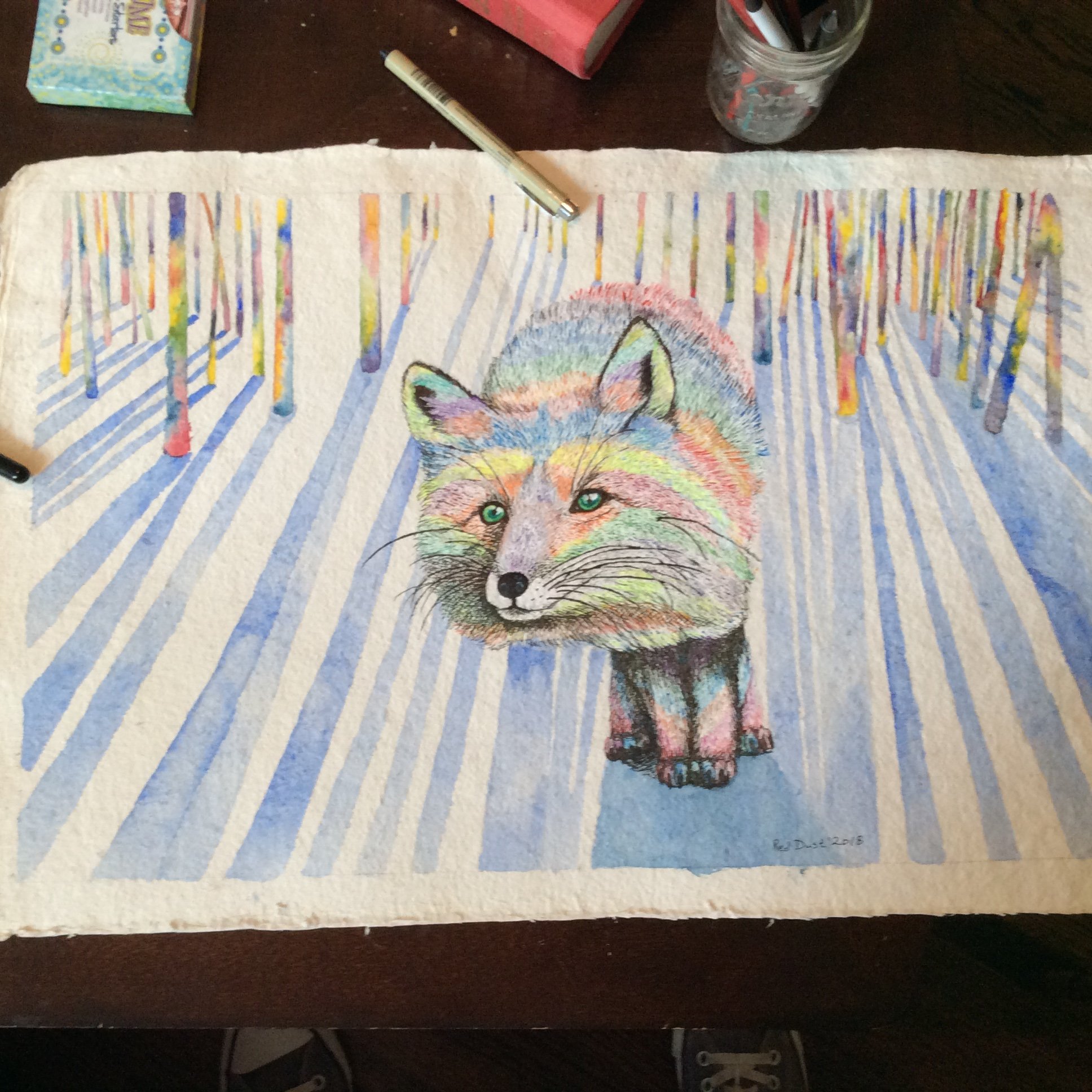 ---
Spirit Fox 1
Spirit Fox 2
---



A link to My Blog