African Foxes and Pink Flamingos
Work In Progress Report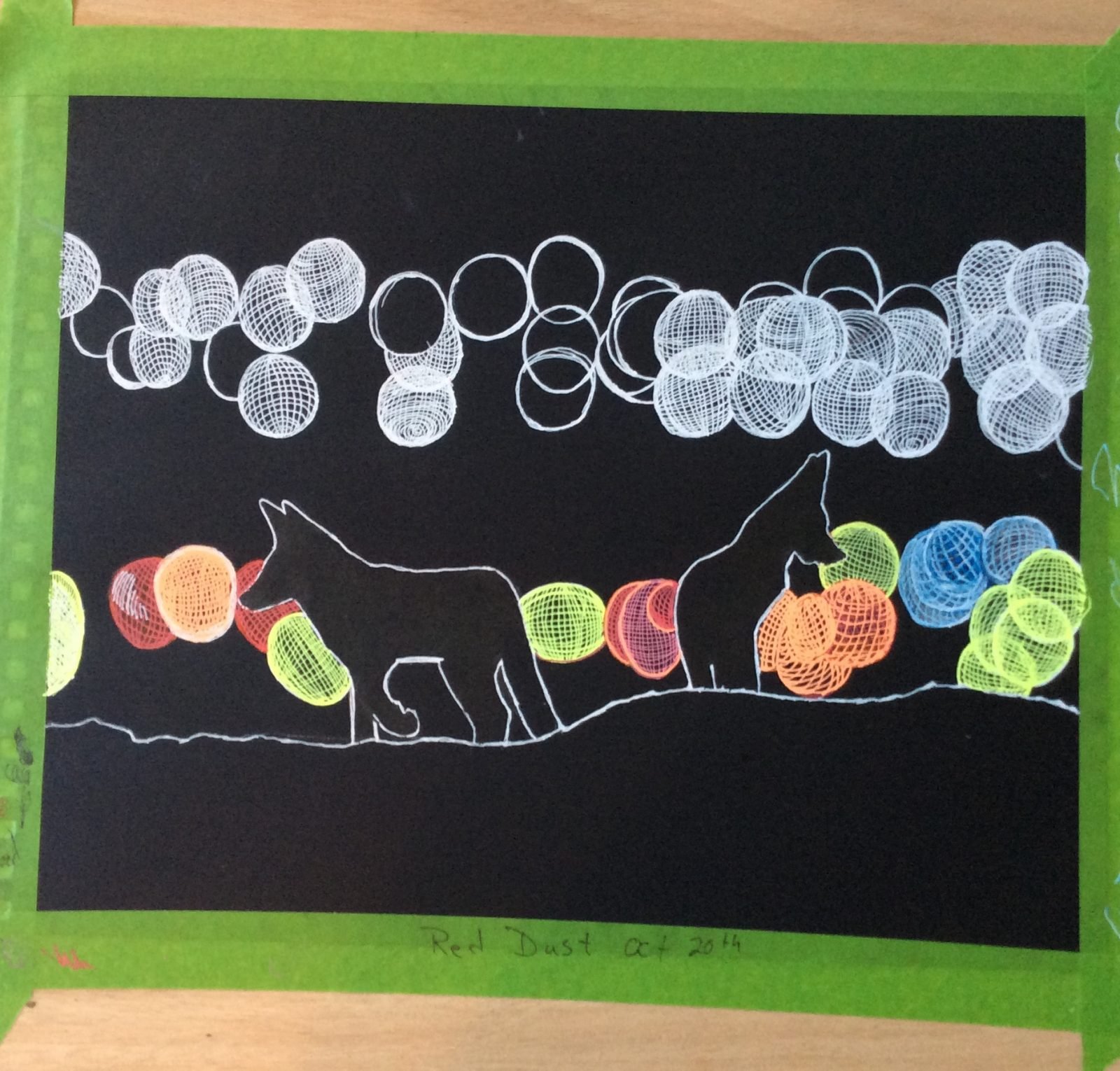 11 x 14inches, black art paper and Gel-Pens
This picture's idea was taken from a photograph I saw in National Geographic Magazine. Somewhere on the outskirts of an unknown African city, the silhouette of two foxes were caught along with the bright lights of the city. I took the idea, and I have been working on translating what I saw into a picture.
I want to continue using my gel-pens and the time I've been offline besides spending more time with family and exercises I've been gathering ideas for painting and drawing projects. When using black paper many of the gel-pen's ink is too dark and blends into the black paper. I have to outline and fill in with white if I want my darker colors to shine.
I have several layers and details to fill before I finish, thankfully drawings go fast, while my paintings are painfully slow. I decided to work on several projects and easy one that is fun, like to fox drawing and difficult ones that challenge my skill level.
I still have several layers of paint to apply to my "Pink Flamingo painting before it's done. The blending and detail work is tedious and boring, but I love the challenge! Working on paintings like this remind me of long meditation retreats or long distance runs. One has to be able to let go of feelings and thoughts of doubt that cross the mind like birds one sees flying through the sky and continue on with the work.
I will be working on a series of wildlife watercolor paintings that will look nice hanging in someone's living room or den. The flamingo painting is a challenge because I have problems painting water, the photo I found this idea the water surrounding the flamingos was a pink color rather than the flamingos.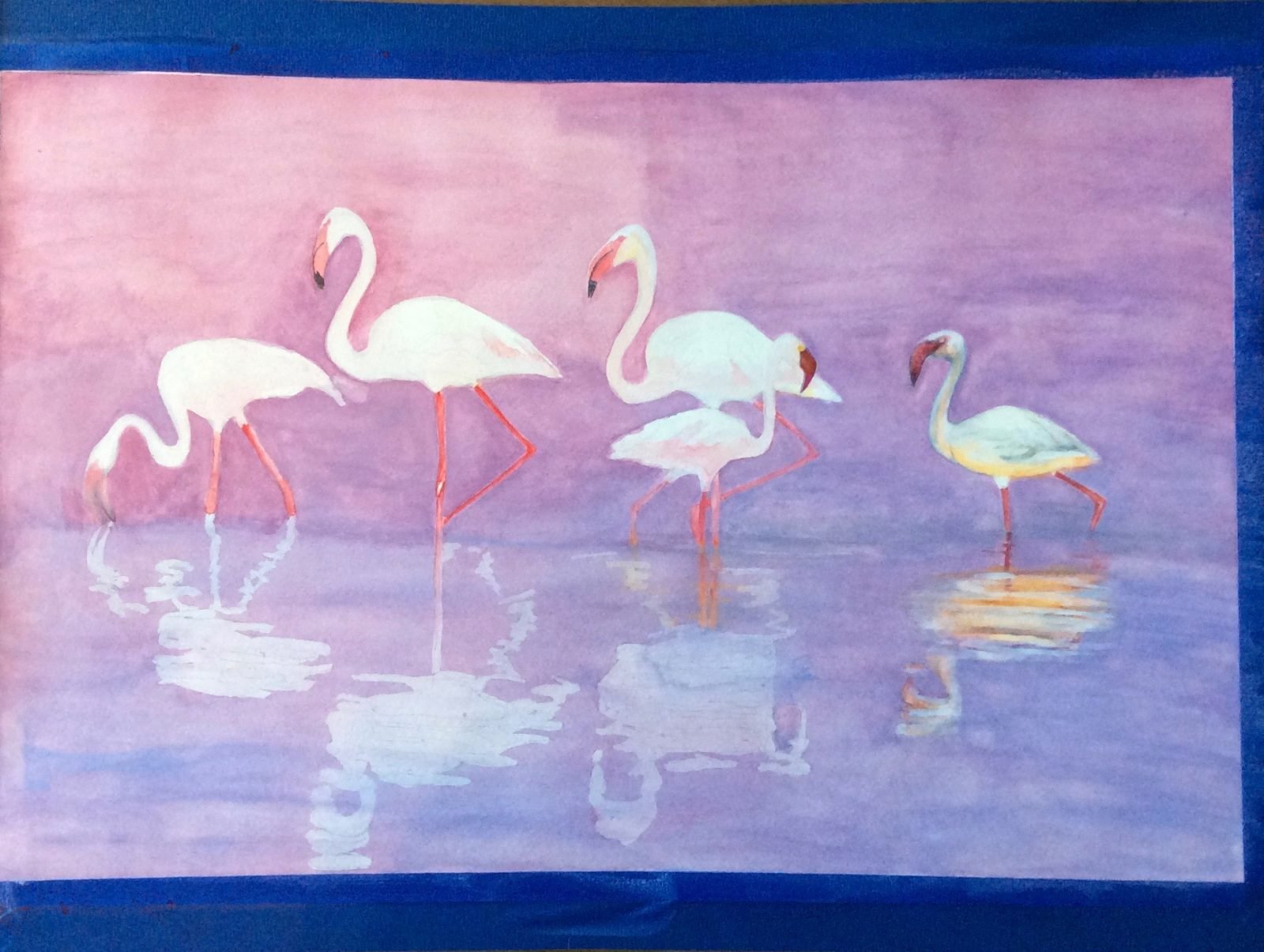 22x 30 inches cold press 300lb cotton paper, watercolor and gouache
I framed this Messi piece for a birthday present to my husband, the picture is hanging in his man-cave. He loves Lionel Messi, I hope Messi's broken arm heals quickly! We were watching his last game a couple days ago and saw Messi go down when he got up I knew he broke something, he had that look on his face that I've had when I broke bones, "I'm going to puke," look!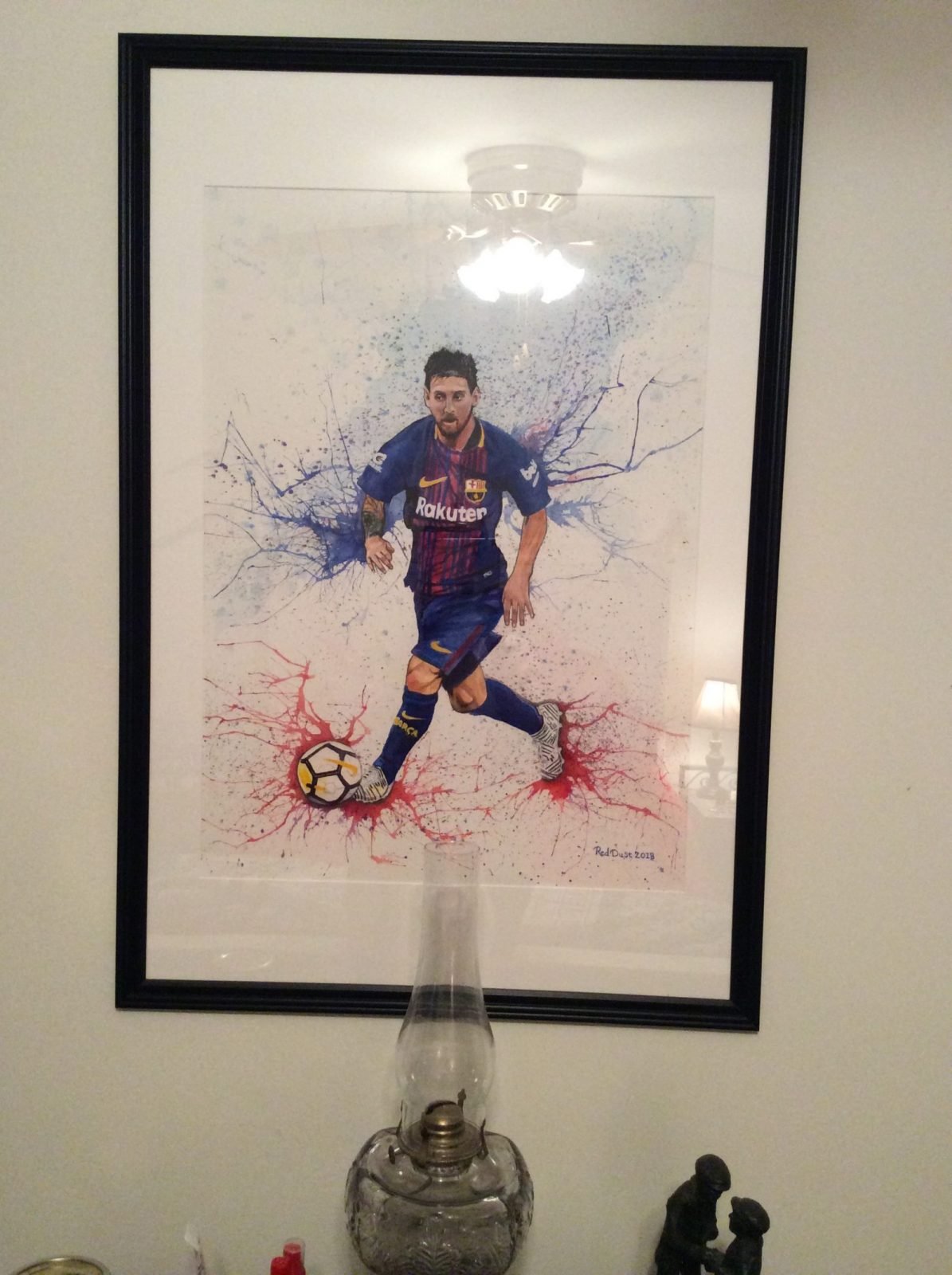 Lionel Andrés Messi Cuccittini, 22 x 30 inches, cold press 300lb watercolor paper, and watercolor.
I will also be working on a series of sport watercolor paintings, my next picture will be of my childhood soccer hero Pelé, whose real name is Edson Arantes do Nascimento
I grew up watching Pelé and was always awestruck over his speed and agility.
Since I started earning cryptocurrency on Steemit I've shopped at Overstock.com, which takes all sorts of cryptocurrency, they don't take SBD or Steem, I use BTC. Sometimes Overstock.com does not have the art supplies I "need," or they are overpriced, and I found Blick Art Store has wonderful prices. Instead of twenty to thirty dollars for a 22 x 30 300lb single sheet of hot press paper I found Blicks.com watercolor paperBlick Art Supplies are competitively priced at $15-something, and the site is easy to navigate. Added plus the company has a social media site for its artists.
My favorite watercolor paper to work with is hot press 300lb, cotton paper, which takes a beating regarding scrubbing and repeated washes but also gives me the fine detail I love. The paper's surface is smooth and does not bleed out when applying colors to its dry surface.
---



A link to My Blog