Dunkel ist dunkel... oder? - "Begegnung"
🇬🇧
---
Really dark, gloomy pictures of me can hardly be found, and if they do, they often mark an incision in my life. In the early 90's I was still very much at the beginning of my glass painting technique and experimented a lot with dark backgrounds.

There were actually some rather gloomy pictures too....
🇩🇪
---
So richtig dunkel, düstere Bilder gibt es von mir eigentlich kaum, und wenn, dann markieren sie oft einen Einschnitt in meinem Leben. In den frühen 90ern war ich mit meiner Hinterglasmaltechnik noch sehr am Anfang und habe viel mit dunklen Hintergründen experimentiert.

Es kamen tatsächlich auch ein paar eher düstere Bilder heraus...
click ☝️🔎
🇬🇧
---
However, it has been shown that the brightness/darkness of my choice of colours does not necessarily allow conclusions to be drawn about the mood of the picture. With a similar (dark) palette, only slightly warmer, I showed a rather funny picture yesterday
🇩🇪
---
Allerdings hat sich gezeigt, dass die Helligkeit/Dunkelheit meiner Farbwahl nicht unbedingt Rückschlüsse auf die Stimmung des Bildes zulässt. Mit einer ähnlich (dunklen) Palette, nur etwas wärmer, habe ich gestern ein eher lustiges Bild gezeigt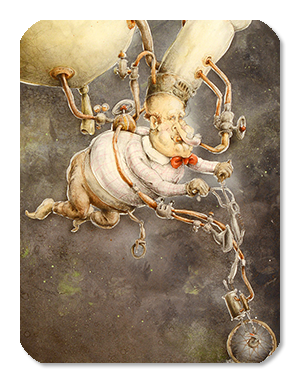 🇬🇧
---
The painting "Encounter" was very personal and thus not for sale. Strangely enough, several clients were seriously interested and very difficult to get rid of. But I definitely wanted to keep the painting.

One of my collectors even came up with quite a strategy, to get the piece. He bought two other ones and didn't want to take them home right away. But it was okay for me that they should stay in my gallery for a little longer. We agreed that my client would get the paintings when it would suit him.

A little later I went on a trip for few days. When I got back home, of course, I stopped by my gallery to check on the situation. I immediately learned, that in the meantime the two paintings had been picked up..... just to see the next moment that the "Encounter" was missing.

My client had told my colleague that it was one of the two pictures he had bought.... well, I had to pay him a visit!

And you don't want to believe it, and as if that's not enough... a year later, another client finally tricked, me to get it. But that's another story!
🇩🇪
---
Das Bild "Begegnung" war sehr persönlich und stand nicht zum Verkauf. Seltsamer Weise gab es doch mehrere Interessenten, die auch nur sehr schwer abzuwimmeln waren. Aber ich wollte das Bild auf jeden Fall behalten.

Einer meiner Sammler hat sich sogar echt was einfallen lassen, um das Bild doch zu bekommen. Er kaufte zwei andere Bilder und wollte sie aber partout nicht gleich mitnehmen. Für mich war es in Ordnung, dass sie noch ein Weile in meiner Galerie bleiben sollten. Wir vereinbarten, dass mein Kunde die Bilder holen würde, wenn es ihm passte.

Kurze Zeit später fuhr ich für ein paar Tage weg. Als ich wieder zu Hause war, schaute ich natürlich auch wieder in meiner Galerie vorbei um nach dem Rechten zu sehen. Ich erfuhr gleich, dass in der Zwischenzeit auch die beiden Bilder abgeholt worden waren.... nur um im nächsten Moment zu sehen, dass die "Begegnung" fehlte.

Mein Kunde hatte meiner Mitarbeiterin erzählt, dass es eines der beiden Bilder war, die er gekauft hatte... naja, da musste ich ihn dann schon nochmal besuchen...

Und man möchte es nicht glauben, und als ob damit nicht genug wäre... ein Jahr später hat es mir dann einer endgültig abgeluchst. Aber das ist eine andere Geschichte!
---
I enjoy reading your comments!
Ich freue mich auf Eure Kommentare
❤
If you like my work, of course I appreciate your upvotes and resteems
---

View all my pictures I posted here on steemit!
Viewer discretion advised, nsfw pictures visible without warning!


Alle meine Bilder auf Steemit
ACHTUNG! nsfw Bilder werden ohne Warnhinweis angezeigt!
---
All photos/scans by me of my own artwork done in my special technique as introduced in What is Hinterglas?