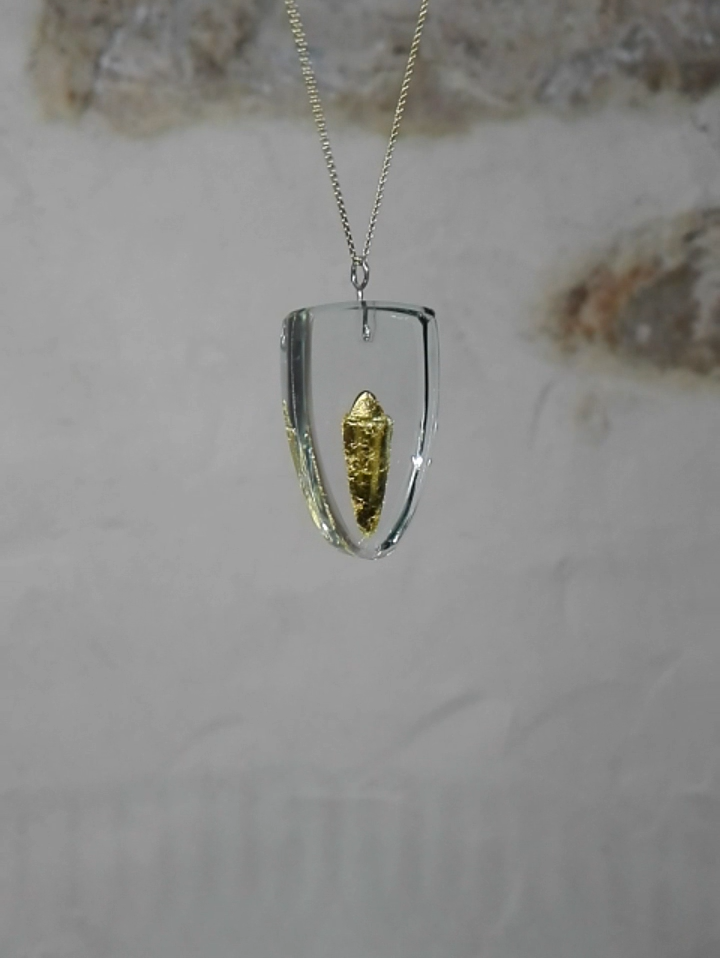 "Harlekin" ist ein Schmuckanhänger aus zwei Schichten Glas mit einem Einschliff, der durch schräges Ansetzen einer zylindrischen Diamantfräse hergestellt und anschließend mit echtem Blattgold ausgelegt ist. Den Namen hat das Schmuckstück erhalten, weil mich der Einschliff an den Spitzhut mancher Clowns erinnert; die Musik für das Video habe ich dann so gewählt, daß sie dem Titel entspricht, also eher heiter klingt.
Video:




"Harlekin" is a jewellery pendant made of two layers of glass, with a carving that is produced by applying a cylindrical diamond grinder and then covereded with 24 carat gold leaf. The name was given to this piece of jewellery because the cut reminds me of the pointed hat of some clowns; I chose the music for the video so that it corresponds to the title, so it sounds rather cheerful.


"Harlekin" es un colgante de joyería hecho de dos capas de vidrio, con un hueco interior creado aplicando una fresa cilíndrica de diamante en ángulo, y luego forrado con pan de oro de 24 quilates. Le di este nombre a la joya porque la forma del hueco me recuerda al sombrero puntiagudo de algunos payasos; elegí la música del video para que se correspondiera con el título, procurando que sonara más bien alegre.