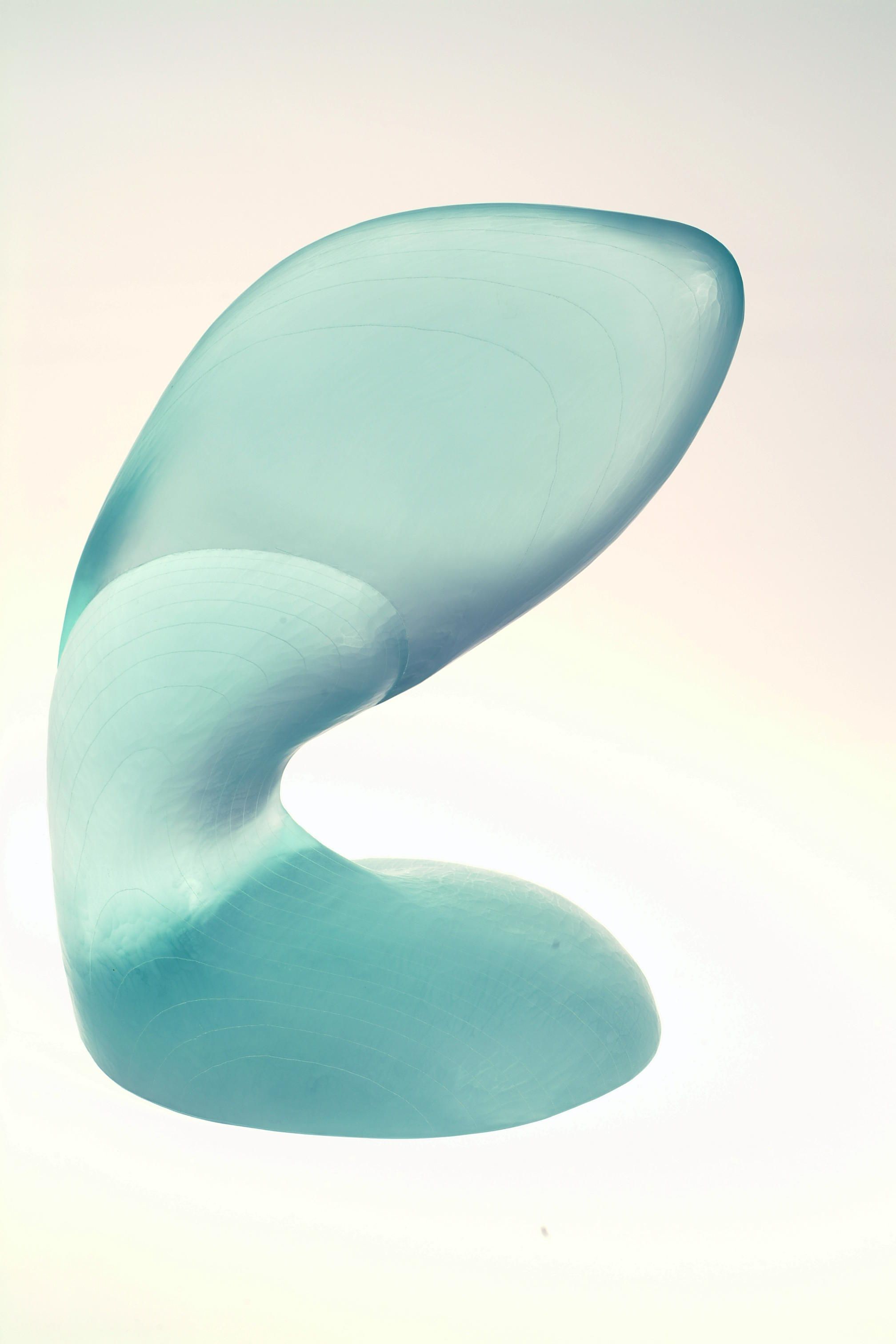 Bevor ich anfing, Schmuck aus laminiertem Glas zu machen, arbeitete ich lange Zeit als "richtiger" Künstler und fertigte unter anderem Skulpturen aus laminiertem Glas an. Die hier gezeigte habe ich 2002 hergestellt, sie nennt sich "Keimling" und besteht aus 41 Scheiben 5mm dicken, farblosen Floatglases. Der türkise Farbton rührt daher, daß "normales" farbloses Glas nicht wirklich farblos ist, sondern nur soweit es notwendig ist, um ein bis drei Scheiben ungehindert durchblicken zu können. Legt man mehr und mehr Scheiben aufeinander, wird ein grünlicher bis bläulicher Ton immer deutlicher sichtbar, bis man irgendwann gar nicht mehr hindurchsehen kann.
"Keimling" soll einen Pflanzensamen darstellen, der im Aufgehen begriffen ist.
Dieses Werk ist 15 cm breit, 17 cm tief, 22,5 cm hoch und wiegt 3,8 kg.



Before I started making jewelry from laminated glass, I worked for a long time as a "real" artist and made sculptures from laminated glass, among other things. The one shown here I made in 2002, it is called "Seedling" and consists of 41 slices of 5mm thick, colourless float glass. The turquoise colour comes from the fact that "normal" clear glass is not really colourless, but only as far as it is necessary to see through one to three panes without hindrance. If you put more and more slices together, a greenish to bluish tint becomes more and more visible until at some moment you can no longer see through them.
"Seedling" represents a plant seed that just germinated.
This piece is 15 cm wide, 17 cm deep, 22.5 cm high and weighs 3.8 kg.


Antes de empezar a hacer joyas con vidrio laminado, trabajé durante mucho tiempo como artista "real" e hice esculturas de vidrio laminado, entre otras cosas. Elaboré en 2002 la que se muestra aquí, se llama "Germen" y está formada por 41 láminas de vidrio float incoloro de 5 mm de espesor. El color turquesa proviene del hecho de que el vidrio incoloro "normal" no es realmente incoloro, sino sólo en la medida en que es necesario ver a través de uno a tres cristales sin dificultad. Si se ponen más y más capas una encima de otra, un tono verdoso a azulado se vuelve cada vez más visible hasta que en algún momento ya no se puede ver a través de ello.
"Germen" representa una semilla de planta que acaba de germinar.
Esta obra mide 15 cm de ancho, 17 cm de fondo, 22,5 cm de altura y pesa 3,8 kg.