Festivals add colours to our life. Ganesh Festival in India is one of such beautiful occasion. It lasts for 10 days, bringing joy and happiness among community members.
However, use of Plaster Of Paris(POP) for making idol and use of thermacol adds to river pollution . That's why my family decided to opt for ECO Ganesha festival.
I learnt art of making Ganesha by Shadu soil, which is an alluvial soil found in Konkan Region of Maharashtra. It readily dissolves in water.
I am Sharing the images:
initial stage


After coloring:


Decorating Idol

4.Finally Lord in Temple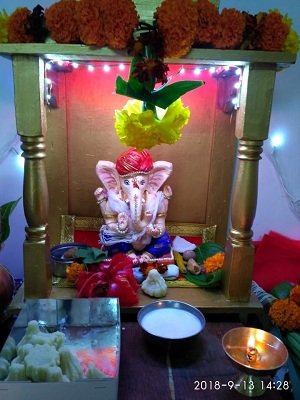 Qqaaq
We tried using paper instead of plastic and natural colors in place of synthetic one. We decided to do immersion in the tank at home, not in river .This way we can prevent pollution and also recycle the soil.
HAPPY GANESH FESTIVAL :)
If you like our content , please upvote, comment, restem and follow us. We are looking for long lasting partnership/friendship. Lets grow together