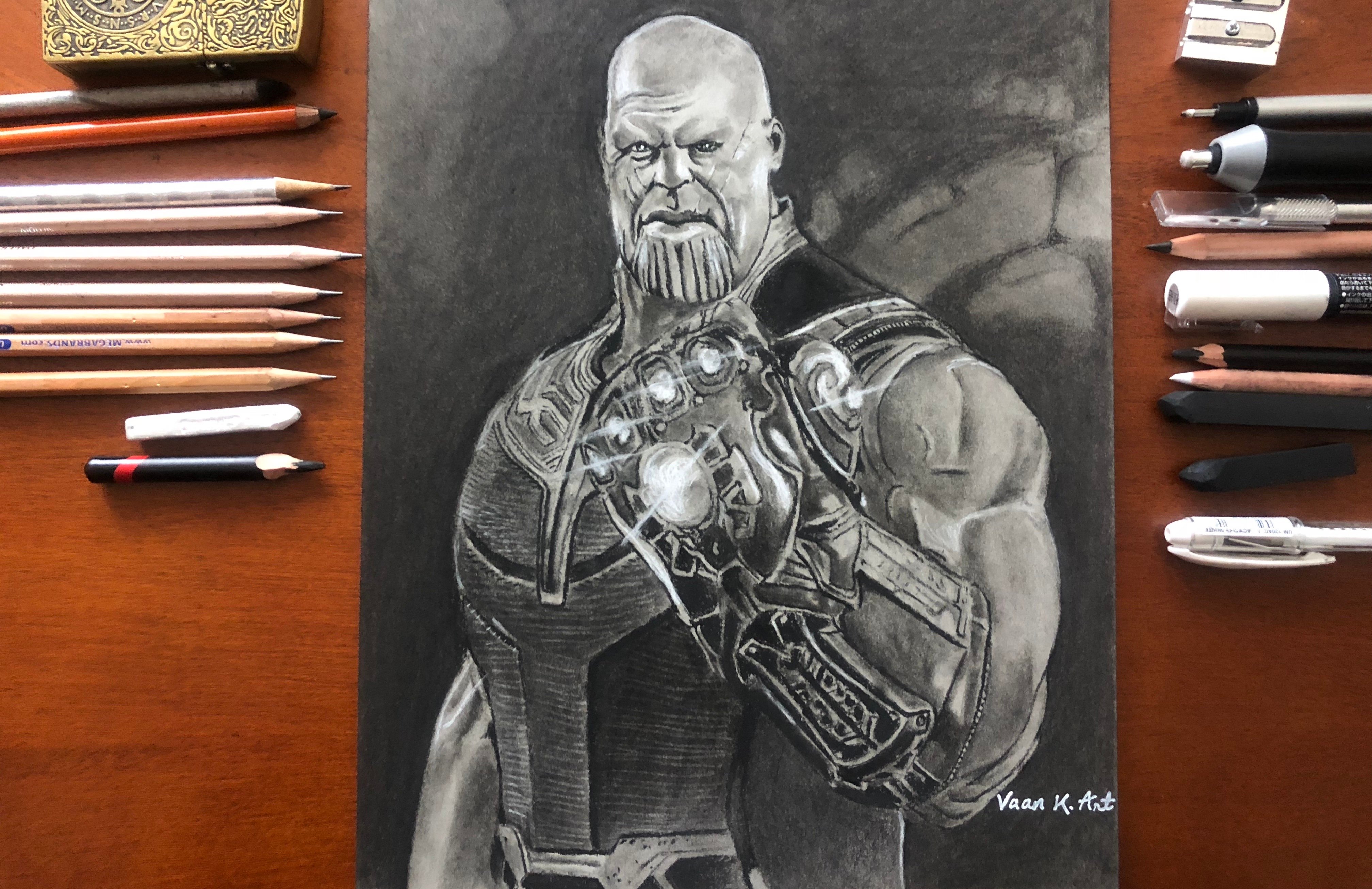 ---
Thanos Infinity Gauntlet Speed drawing - Avengers
Materials: Charbothello chalk-pastel, Charcoal Black Medium,
Strathmore Bristol 300, Charcoal Primo, uni-ball Signo, Tombow Mono eraser
Music: Prod. by Sentient Pulse - Nebula Rush
---
A lot of people when they hear the word charcoal they just want to run away, they think charcoal is a nightmare, they don't want to get involved with it. It's messy, it smudges but I want to change your mind a little bit. I want to show you that charcoal isn't that bad. You don't get that horrible shine that you would get with graphite. You get darker values than you can get with graphite and it's a lot quicker to blend. I like to use for my charcoal drawing so I just use a 2b and a 2h I also use some blending stumps to blend the charcoal out. For the highlights, I love to use Tombow Mono eraser. In my process, I like to block in the darkest values first and I use the 2b pencil for this. The to be charcoal pencil is great
for getting in those dark shadows and just blocking in those dark areas.
Next step, is adding the details and to add the details I love to use the 2h charcoal pencil because it's a lot harder so it's great for those details and then I'm also gonna go in with that 2b pencil and add a second layer of shadows.
Blending stump helps keep it nice and dark and then the next step is to add in the highlights and to do this I like to use my Tombow mano eraser but any stick eraser will do. Contrast to your piece and contrast is so important and its really good and easy to achieve with charcoal because of the fact that you can get those really dark values and it's nice and matte, there's no shine to it. You can also pull up any highlights that you need to. With the blurry background, I'm just layering up some of that charcoal and I just blended it with the blending sticks and I just kept it very soft and what's great about charcoal is the fact that it does blend nicely and easily. To finish off, I'm just adding all of the little details with the white charcoal to add shine and make the drawing pop and give that 3D effect. I hope I've changed your mind a little bit with charcoal. Hope you enjoyed my time-lapse video. Thank you, everyone!