🦋
" In a vast and dark universe,
Young warriors are chosen by fate to protect the light of the stars.
They are destined to burn bright,
but collapse as furiously as they burn..
"-League of Legends' Star Guardians"
⭐🍰⭐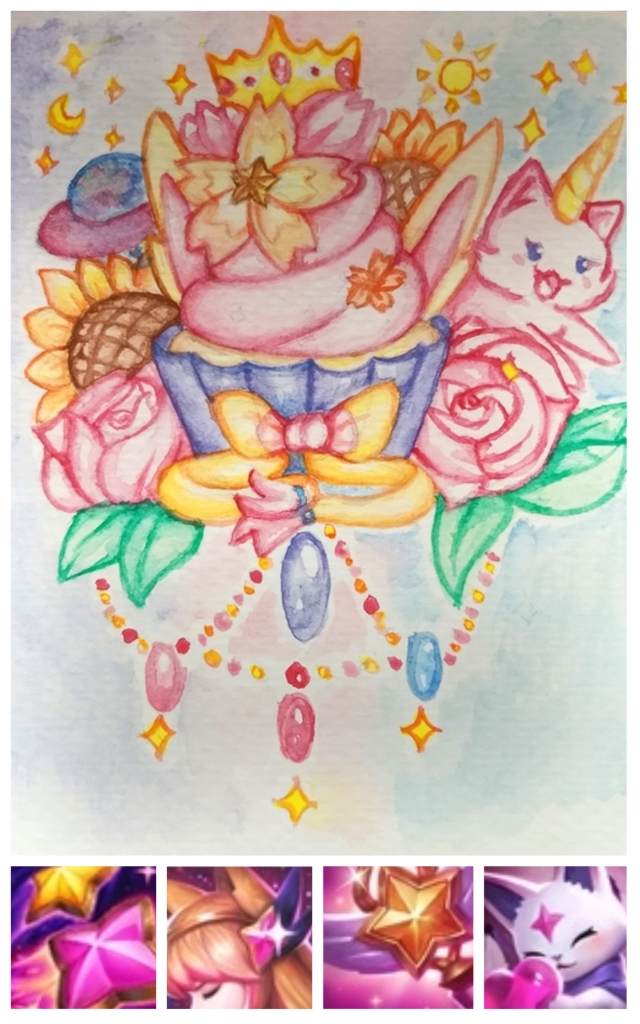 … Allthough sometimes, the Starlight also chooses lucky Star Guardian Cupcakes filled with Magic!
⭐🍰⭐
🌸 Sweet and Magical Greetings, My Darlings (*≧▽≦)/ 🌸
I define myself as loyal Fan and Active Player of League of Legends to the point of considering it as a guilty pleasure. The Game is simply so fun and full of tons of Audiovisual and Written Content! ...And with all its ever-growing alternative universes, it is impossible for all that are part of this community, to not feel our hearts especially connected to one or another.
For me, is the "Star Guardians" Universe!

This universe is obviously a tribute to all Japanese series regarding Magical Girls or Mahou Shoujo as the classic and unforgettable Sailor Moon, Mahou Shoujo Madoka with all the plot-twists, a little of kawaii culture that resembles the well-known and beloved Clamp with beautiful works such as Sakura Card Captor, etc., where the normal rule is that the main characters are girls whose duty is to save the world or accomplish a specific mission… fulfilled by powers, being those of their own, learned or some different medium as technology or given by an entity …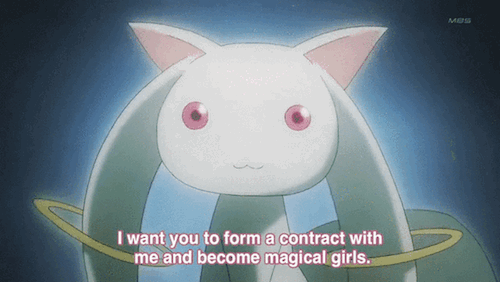 ...Some of them who can be deceptively adorable...
⭐🌸⭐
I know than in the last Posts I said I was planning to be a more constant artist, but lots of situations happened during the last weeks that kept me a little too far away from typing again until a couple of days. The sole action of drawing too detailed images with ink was a very difficult and hard work as well, when my hand was getting tired with nothing but the first strokes of the pencil… I had zero energy, and I was lacking the right mood to work with all the pain.
However, in one of her visits, my sweet waifu @Tesmoforia suggested to me that I shall try Watercolors, which due their consistency and process where the pieces needed time to dry between one layer and another, maybe I would find something to help me to keep myself creative and to decrease my own vivid frustration after such a long time without being productive.
Even if at the start I was very doubtful (as this was a technique I haven't used since my first quarters at College), and fearing the lack of Ctrl+Z, I decided to dive into this unknown waters, saying not to fear and try it! (●´ω`●)ゞ
⭐🌸⭐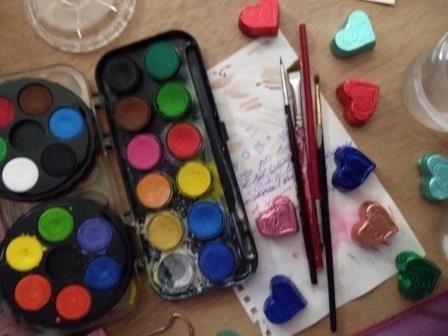 Cheers, so Chocolates will never stop accompanying the Artist! 🍫🖌...
⭐🌸⭐
I'll be honest with you all: I was also lacking the idea I wanted to draw on paper at the moment I took the pencil to sketch softly. This was a terrible stress bomb… What if I draw something I won't like? Or, what if I actually like the sketch but due the misunderstanding of the technique, I do something by mistake and hate it due a terrible mix of pieces? I can be sure that, if I would have been alone at this step, I would have placed all the materials aside and forget about this project …
…That until I decided that I wouldn't know until trying it, and that I would turn the drawing into an amalgam of everything that I just wanted to draw, freely and without many internal conflicts, after all this was for me to have fun, not to behave as a messy customer and the creator of the final product at the same time. Do you remember that amazing time at School, during the Art Class, when we would get the simple task of making a Drawing freely and without any expectation but draw, and we would just take the pencil and sketch whatever would come to mind?
That was totally the case with this Drawing, from the first to last stroke.
⭐🌸⭐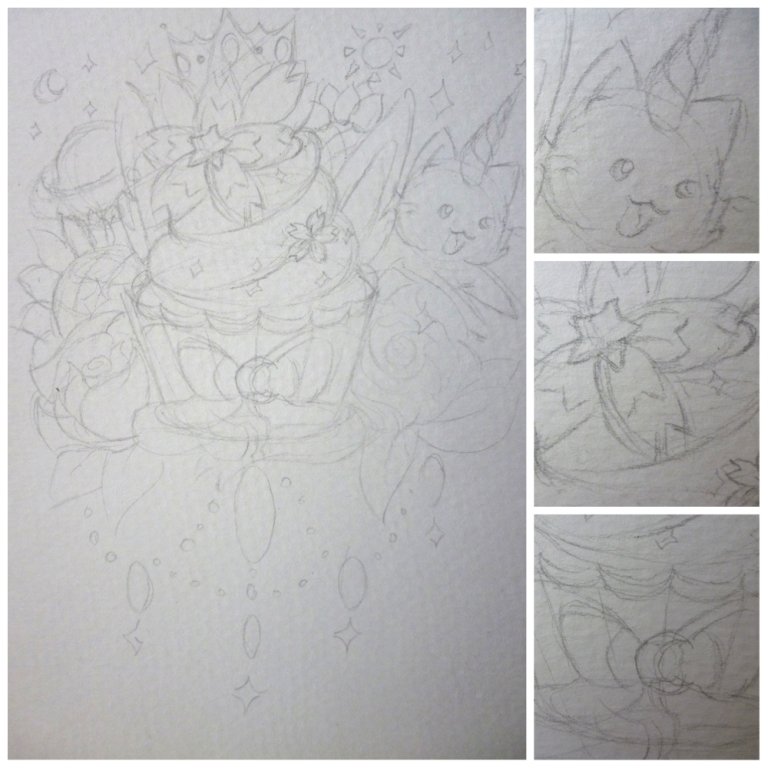 ⭐🌸⭐
I decided to reconnect a bit with that old little Vane, that child who didn't have enough notebooks to fill with drawings, and neither did she have enough crayons. That child who got lost a bit when growing up and having the need to fit in a ton of daily expectations, thinking too much, sizing every outcome to any action or simply adapting to the overall rule of a commission or work.
And at the end, I inspired myself in everything I just like: Fantasy, Magical Girls, the Pokemon Sylveon, Fairies, Star Guardians from League of Legends, Flowers and Crystals!
Little by little, the Sketch took form, and once it was ready… everything that it was lacking was to get some Sugar, Flowers and Many Colors.
೭੧(❛▿❛✿)੭೨
⭐🌸⭐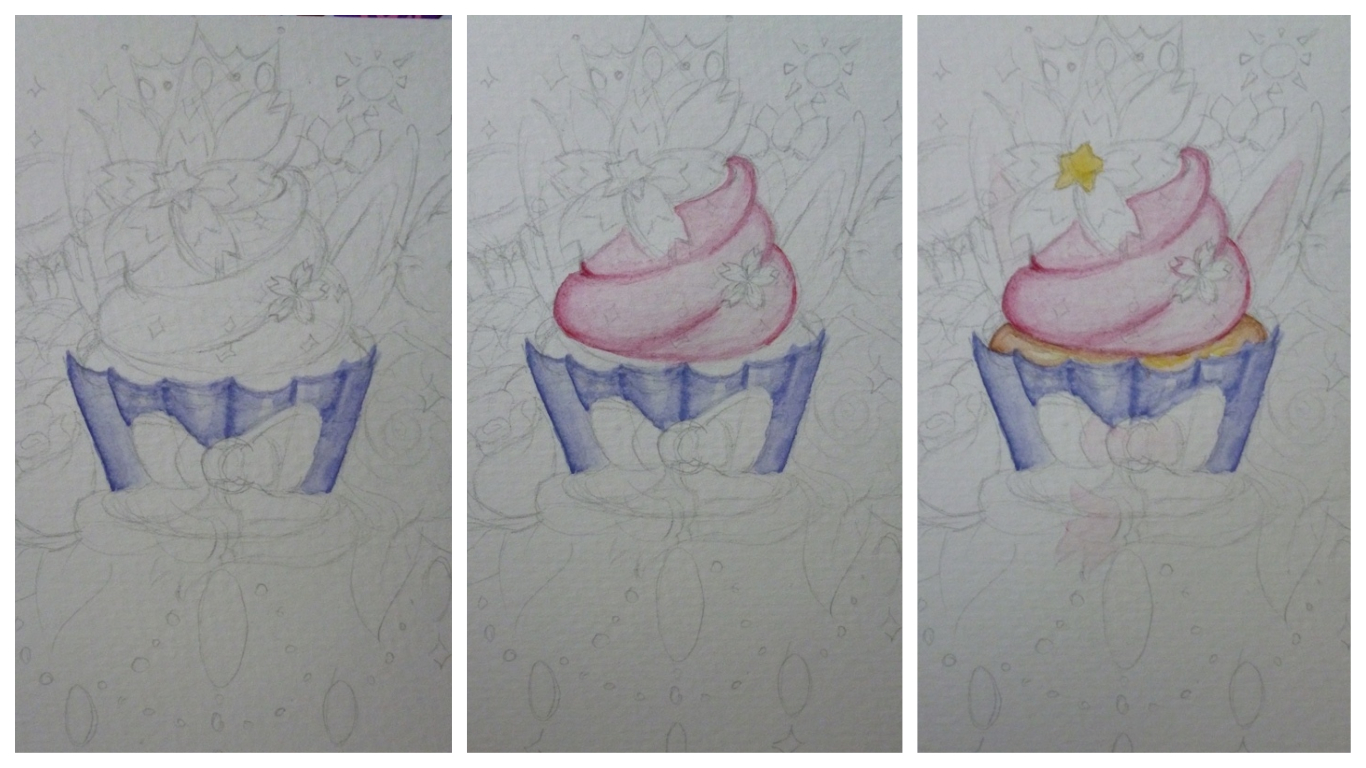 Step by Step, Super Softly ♥...
⭐🌸⭐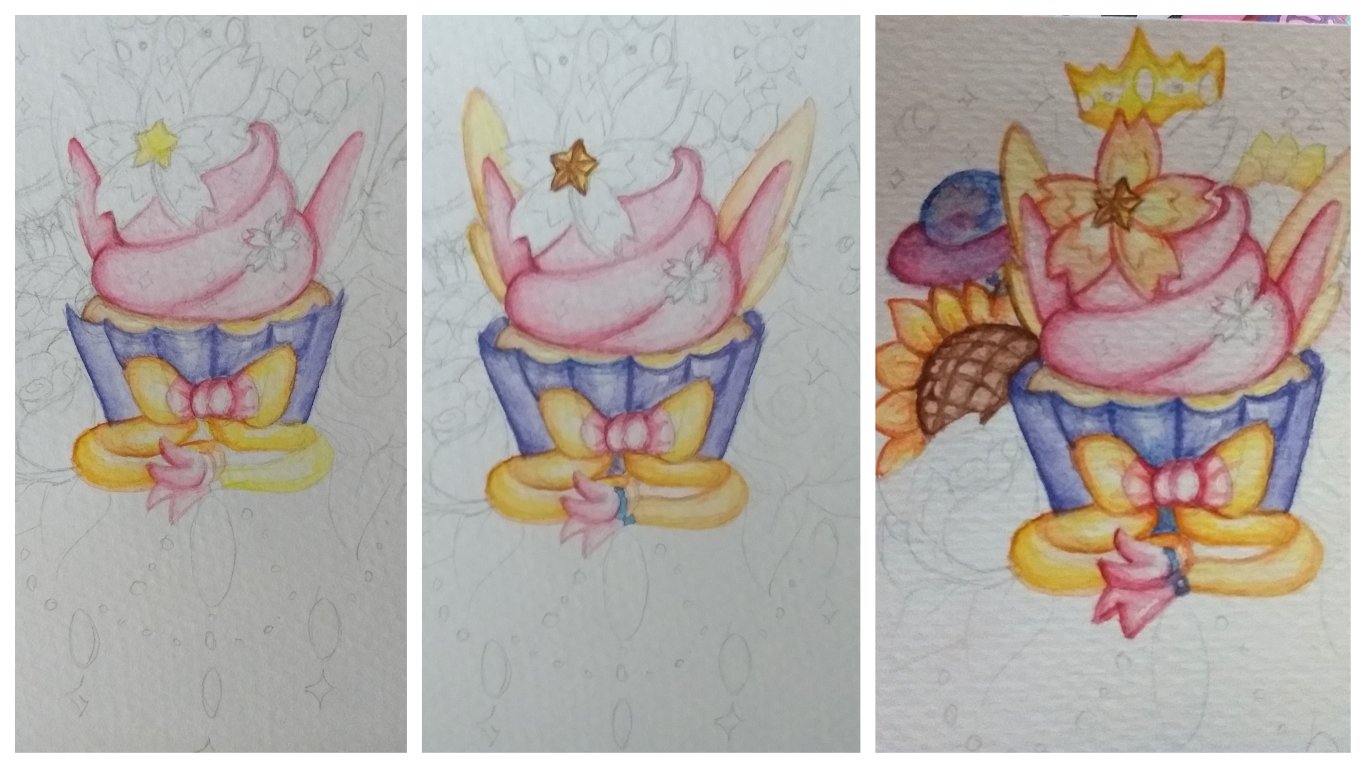 When I noticed Watercolors where so nice to use, I started to forget to take pictures at the middle of the process cause I was too excited of painting more places in the drawing //// ♥...
⭐🌸⭐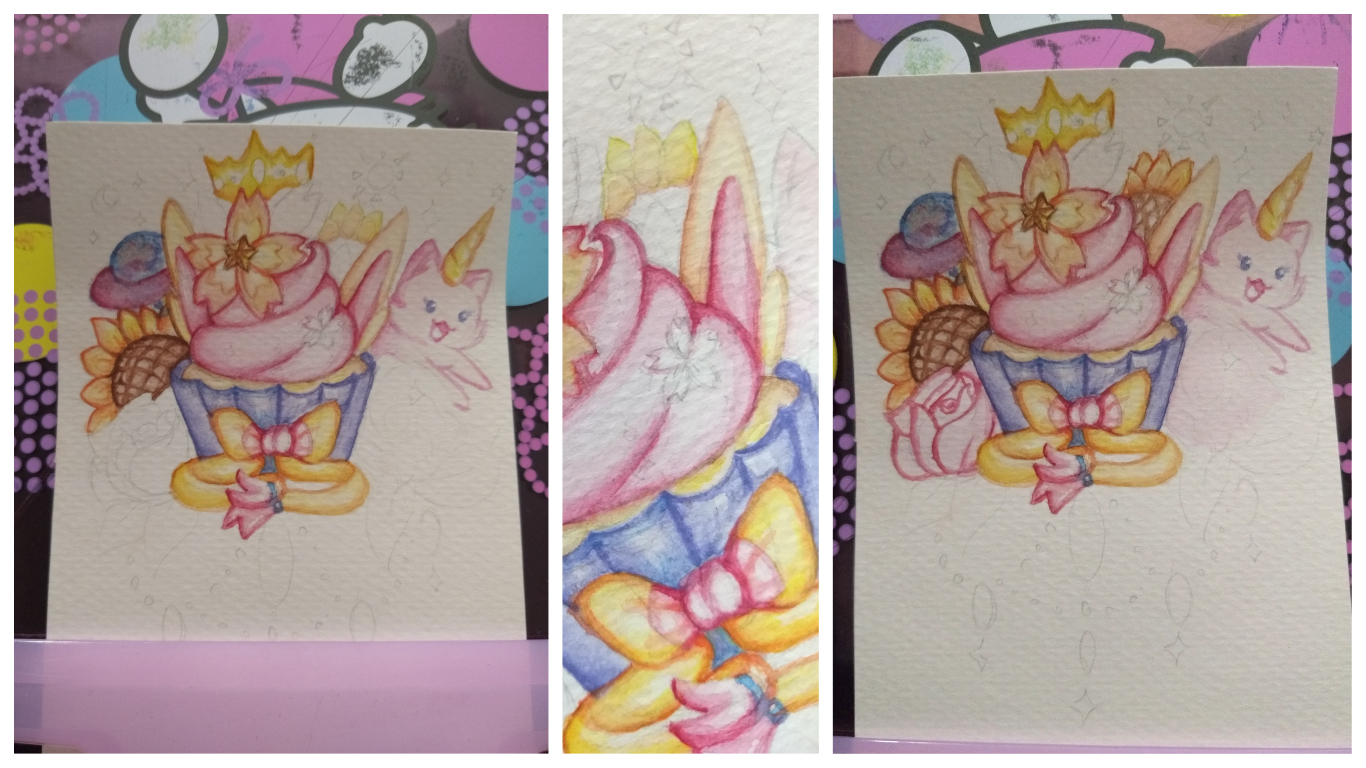 There were some places I got totally confused and this became more Instinct than cause I planned the outcome I had. But as Bob Ross would say: "There are not Errors, just Happy Accidents when Painting" ♥...
⭐🌸⭐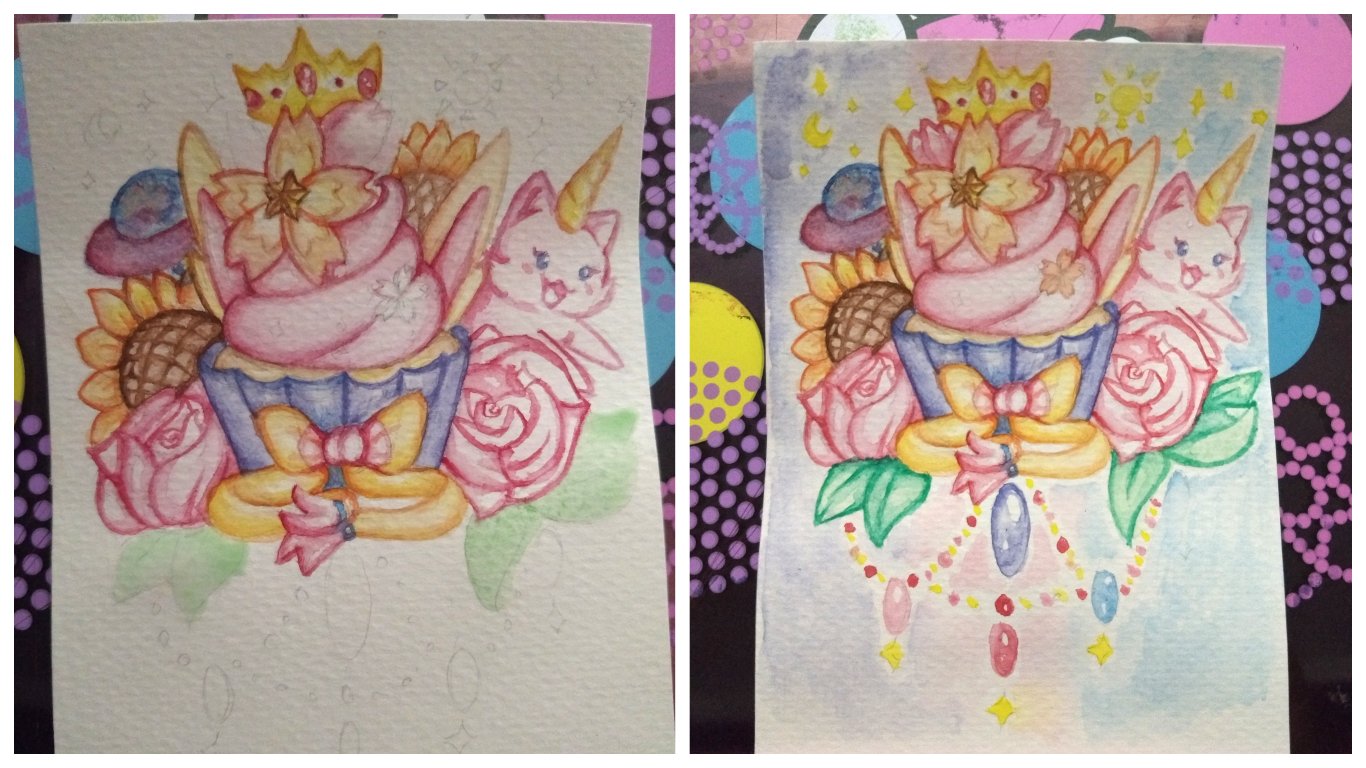 Last Touches!♥...
⭐🌸⭐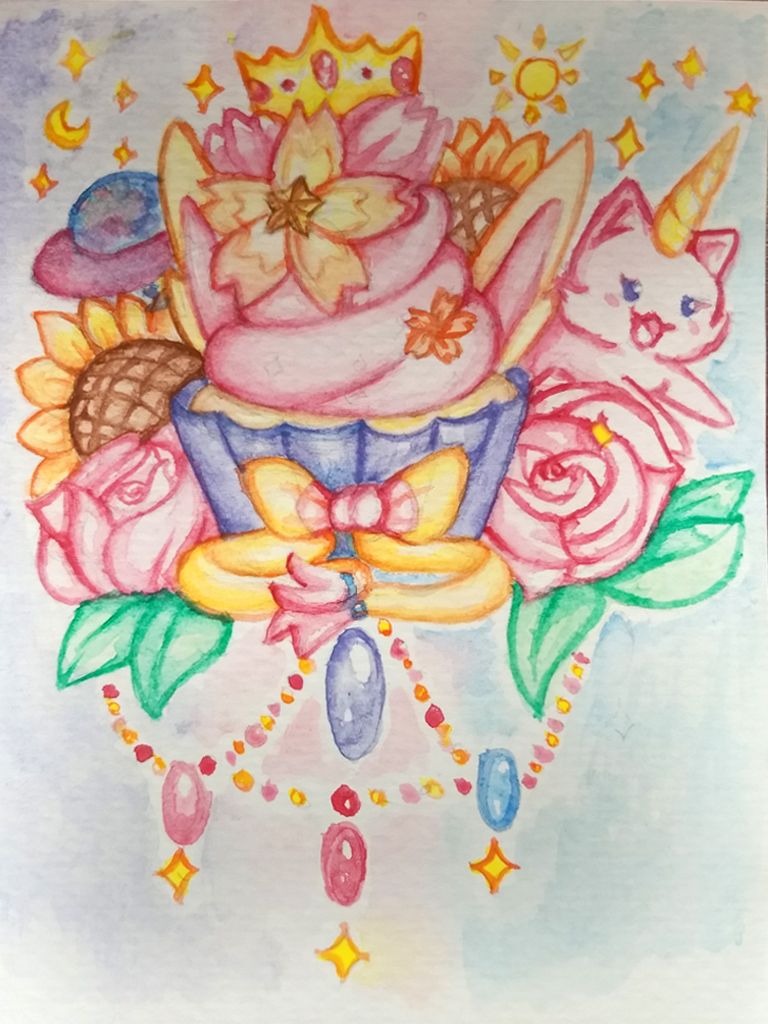 A Star Guardian Cupcake ready to fight for Creativity!♥...
⭐🌸⭐
This painting was, in more than one sense, an emotional scape for me now that I think about it. It helped me to let a lot of frustration flow to a higher level from what I expected to accomplish. I really loved to forget about the world, or the need to have a plan, and instead, to just let my mind go among the colors. Maybe that's what is particularly sweet and especial from watercolor, that is a very gentle process and as it requires less effort in the movement of the hand (for example: in what comes to fill color spaces if we compare it to crayons where there is more quantity of strokes in less time), it causes a higher relaxing mood.
As a Star Guardian would properly do, it saved my world… at least in what comes to Creativity.
Without a doubt I'm in love with this technique now and I won't be able to give as much love as @Tesmoforia deserves for insisting so much for me to try it! I can't wait to paint with watercolors again, and draw more Fairy and Star Guardian Cupcakes!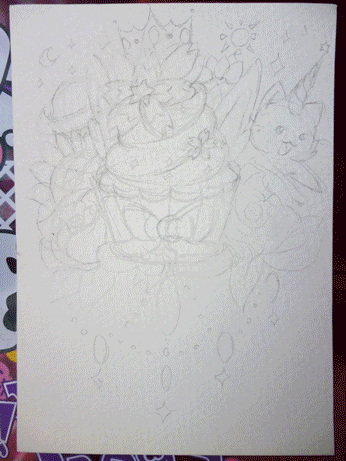 Do you also like Watercolors? Do you have any Advice on how to use them? Or an Art Piece you love the most? Let me know at the comments and Thank you so much for Reading!
🌸 Read You Soon! 💖🌸

🌻🦋🌻
Credits:
♥ Watercolor Piece and Process Photos: @Vanuzza
♥ Star Guardians' Images: League of Legends
♥ Kyubey's Gif: Giphy.com