🐦
"And those who were seen dancing,
were through to be insane
by those who could not hear the music"
~Friedrich Nietzsche.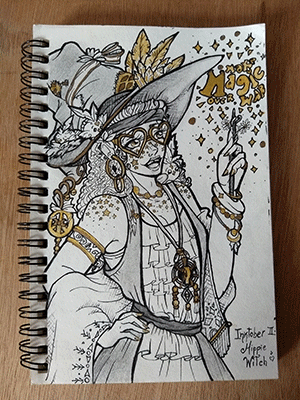 What can we said about Jackeline Star besides that she is the happiest and most easy-going witch you will ever know? She's always wearing a big smile on her face, and since the day she arrived to the Magical Forest she was able to leave a especial mark between the witches of her Coven.
She dances to the rhythm of her own drum, as a free spirit running through the flower fields, becoming one with her surroundings. Some Witches consider her a bit too clumsy and odd, but nobody doubts how her presence is able to bring many good vibes and fade bad feelings, keeping the calm in the forest, with the help of her familiars: Three adorable birds called Peace, Love and Hope!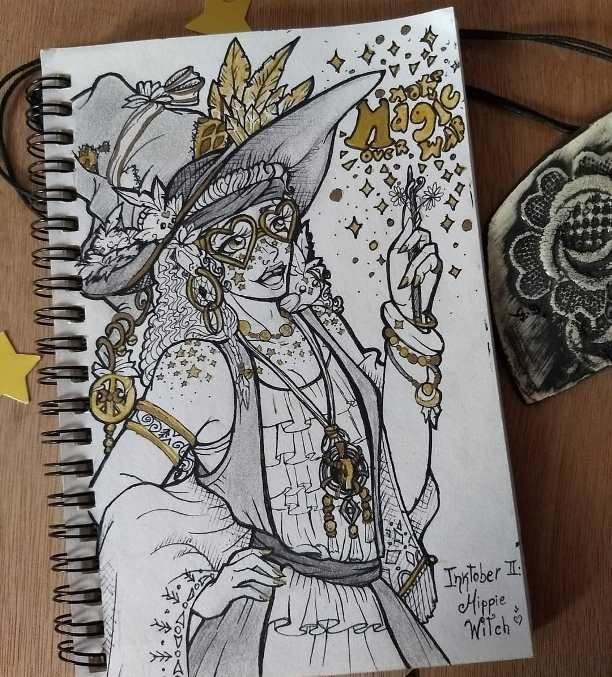 Peace is always paying attention to everything while sitting on her shoulder, with eyes full of wonder while helping our witch with her spells so those would turn excellent.
Love is super curious, she's always looking around from her hat, and it isn't possible to catch her before the sweet bird flies directly into one of her witchy friends for cuddles and hugs.
Hope in the other hand, is sweet and peaceful, she's always nesting on Jacky's hat and never goes too far from her. She may seem a little too sleepy but is really powerful when flying to the front line ♥

✨ Happy and Marvelous Day, my Dear Stars o(≧∇≦o) ✨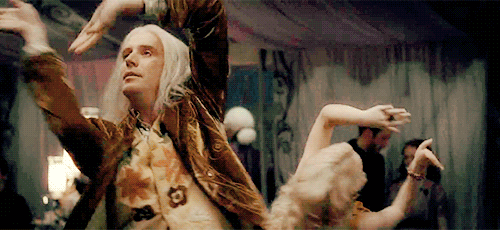 I hope the Sun shines bright for you all, and dance to the rhythm of your own drum!
I honestly admire everybody who gets away from the 'what will others say?' quote and turn themselves into something completely genuine. Those who have been labeled as Insane but have been able to create wonderful things like the clever inventors from the past, or well: those who dare to be honest with their own hearts and improvise their own dance steps as they go through the daily stages of life, following their very own wishes and who they want to become.
• • • But as some say: Listening the advice is Easy, but Actions are the Hard Part. • • •
The world is full of so many prejudices and people who will not wait two seconds to point at you with their fingers, that we just feel afraid of showing our true colors and be different. For example: when you are at high school and the rest of classroom calls you insane for loving Lyrical Rock instead of Regeton. Whatever is trend, whatever is considered to be the canon everybody shall follow at every moment, sometimes becomes such a pressure that hurts, however, in another perspective this situation can turn into the stage where we are mean to glow as amazing people, or also, as characters from great stories or fairy tales…and this was the actual inspiration to make the second topic of the 31Witches...

• • • The Hippie Witch (◕ᴗ◕✿) • • •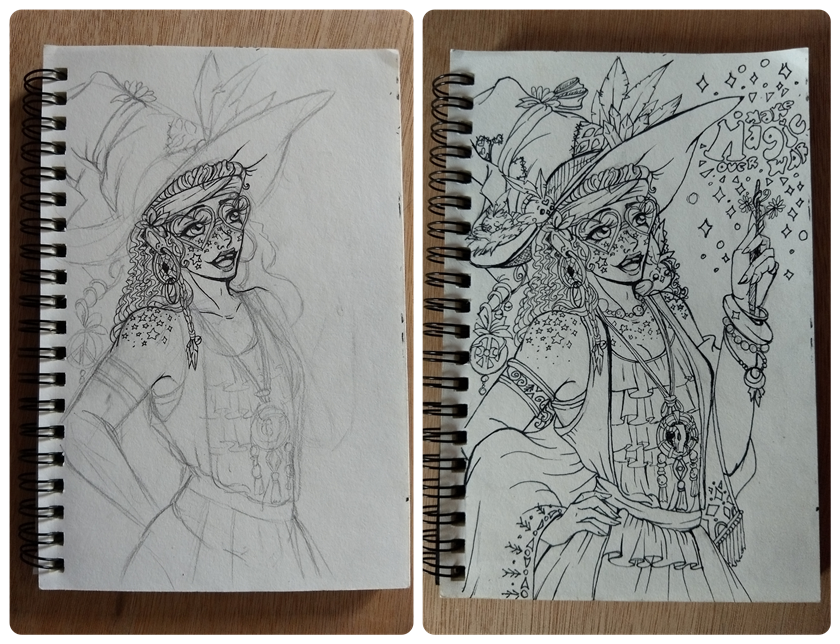 I shall confess that when I started, this wasn't exactly what I had in mind for my Hippie Witch, I was thinking in the usual excuse of a girl with a guitar, super long straight hair, a body shape just as Honey Lemon's, and patters on her clothes that would resemble those colorful banners of 'Peace and Love.'
But as I was sinking in the Pinterest sea for references, my HB Pencil guided my stroke towards an appearance who would take elements from the style wore by the Woodstock Festival's Girls from 1969 (Link in Spanish) with noticeable elements such as feathers, crystals and a long necklace. Besides I wanted to make her a lot more happy, a lot more Care-free, and not so 'thoughtful and meditative' as I originally thought.
I also wanted to determinate a difference between my usual elegant and mystical-try style of characters. My Hippie Witch needed a HUGE smile, clothes that would allow her to move a lot and a big and eye-catching hat. She marks her own tendencies; she doesn't follow others' guidance after all… only her own soul.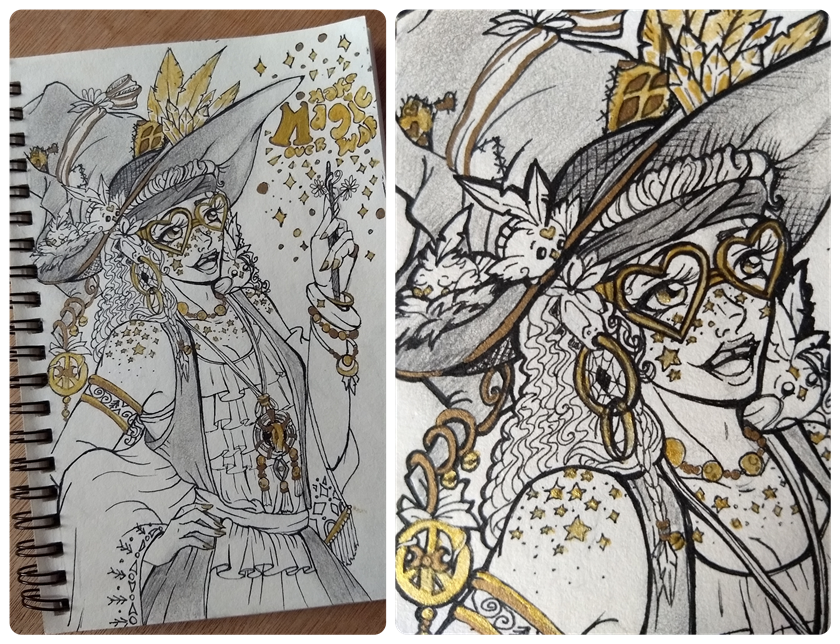 Besides, I had been watching a lot of the Face Off program to the point I'm considering it as Porn for Character Concept Artists. I cry if I miss a chapter I haven't watched before, they are all so good! And something judges say a lot is how the character themselves needs to be able to tell a bit of their stories on their designs, or at least give some clues for the viewer's imagination in order to solve the puzzles and imagine who they are and what is behind each character.
That was partially my intention with my sweet Jacky. I wanted the world to see her with some parts of her story; just as all the glowing star freckles she has ♥ ... What kind of story is behind her? Who is this positive and super active Witch who has committed herself to only "Make Magic, No Wars"?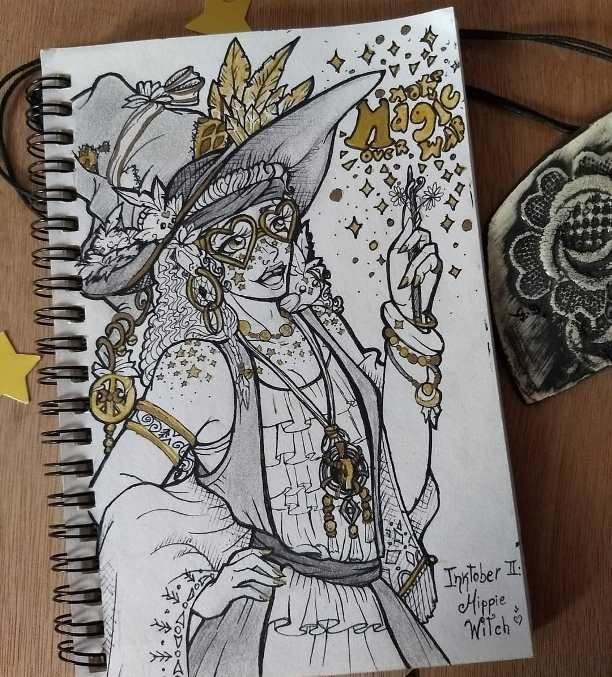 I really, really enjoyed drawing so freely her design with so much love; using values and Golden Paint once again, get out of my comfort zone imitating her big joyful smile and her eyes full of wonder, once again trying to defeat my fears while exploring and learning during the process. More than a challenge this Inktober has becoming in a way to separate my mind from all the excessive need to create something too pristine and amazing...
Instead, I just want to have fun casting some Magic with my tools, and find so much more new paths opening in front of me.
• • • Thank you so Much for Reading! (◡‿◡✿) • • •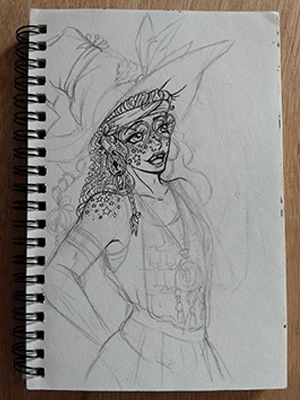 🌸 Read You Soon! 💖🌸

🌻🦋🌻
Credits:
♥ Text, Drawing and Process Photos: @Vanuzza
♥ Separator: Vectors from Freepik, Composition done by @Vanuzza
♥ Gif: Giphy.com
🌻🦋🌻
• • • 🌸 All Rights Reserved • ♥ V A N U Z Z A ♥ 2018 🌸 • • •