One episode left to Game of Thrones, hey? What a journey it has been :) Some episodes were really memorable and some were...... not so much. I've watched it since the first episode of the first season and it's been quite an experience, not just the show, I mean, but the rise of HIGH FANTASY as a mainstream tv :) I could never predicted that it was going to be 'normal' to talk about a Game of Thrones episodes on the bus, or at work, or during dinner with family and friends, etc.
LOL what an age do we live in, eh? XD
Anyway, I'm not going to talk about the show for today's post, so don't worry. There will be NO spoilers :D
This is something I drew today cuz I was trying to marry my inking and my watercolouring but I was trying NOT to overwhelm the ink works with the colours so I decided to limit myself into working only with one colours over the ink, pale yellow~ An assassin character came out for me :D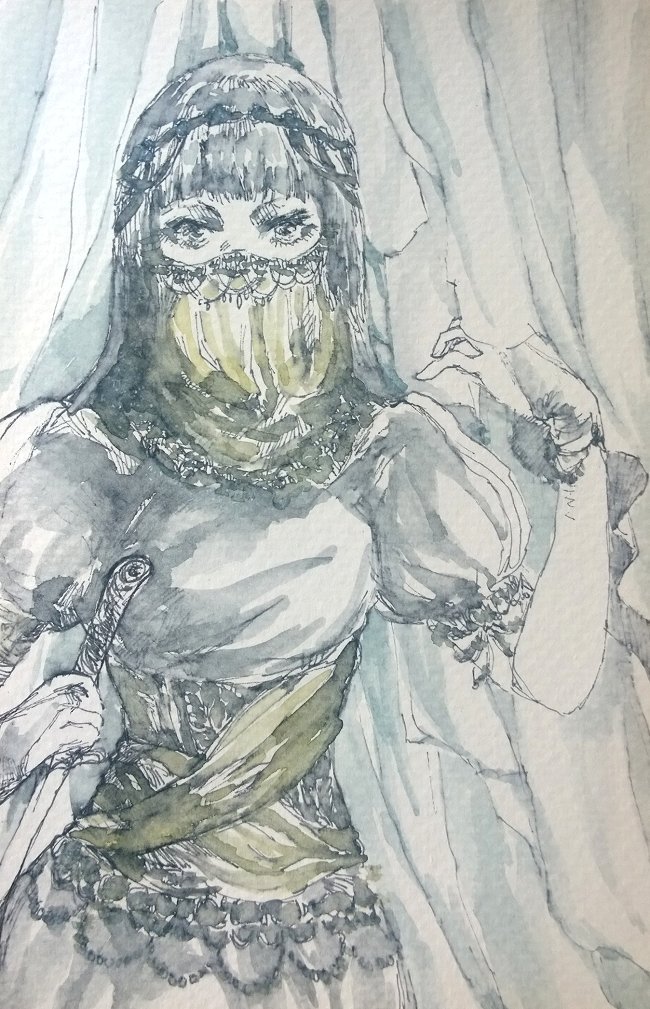 The grey scale is ink wash, and the yellow was watercolours :) The ink is done with the cheapo fountain pen from DAISO :)
I have step by step, as usual, but I am trying to kind of get out of the habit of ALWAYS including them because it takes a fair bit of time to format them, and im TIME POOR lately, so here is one step of the picture:

I think she is entering a tent and is about to strike with her dagger! Quite a determination!
Okei, that's it for now :) See you all next time, friends o/

Steemit Art Class
Wanna join the arting bandwagon? :D All is welcome \o/
Check out @shibasaki's blog where he has published many watercolour videos, pick one and then create a post with your result :D Anyone can join in ! You don't HAVE to do them in watercolours if you don't have watercolours~ Do them in pencils, or inks, or pastels, or even digitally and then tag me with an @veryspider at your post and I'll give your post a shout out in my next article, for sure :D
AND, we have a new student at today's #ArtClass at Steemit and it is @thilah! :D :D :D
Check out her strawberry picture that was done following @shibasaki sensei's tutorial here: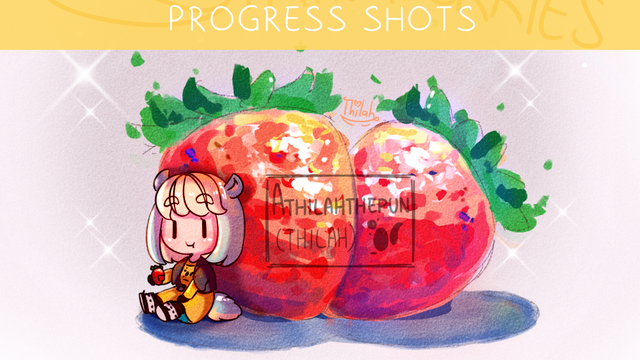 I might try to do something further with this art class initiative in the future, but I need to pace myself as I've got this habit of taking too much on :3

Artists' Highlights with C2
On another note, please check out this article that I wrote for the @c-squared's Artists' Highlights a few days ago :) Please check it out! I am featuring TWO artists at a time, and the seventh pair is: @azbeen and @barbara-orenya :D
Log
Issue 1: @Arrr and @thilah
Issue 2: @EdgarUVM and @Zsolt.Vidak
Issue 3: @chrisdyer and @sanderjansenart
Issue 4: @elenasteem and @patschwork
Issue 5: @nyarlathotep and @carlgnash
Issue 6: @mikkolyytinen and @nekromarinist
Issue 7: @azbeen and @barbara-orenya
copyright @veryspider. all rights reserved.
(that means DO NOT USE unless you got my say so in writing!)

To all of you artists out here at Steemit! Hello~ If you ever are lost and lonesome, please join Steem Artists at our discord chat: https://discord.gg/ENN8KCb

We network with fellow artists here on Steemit and we help each other succeed :) Come and say hi~ ^ __ ^


https://i.imgur.com/JUeQGXj.png https://i.imgur.com/vMfStQS.png https://i.imgur.com/a8UH2Xe.png https://i.imgur.com/7ADfnbb.png https://i.imgur.com/MQ7zbPM.png https://i.imgur.com/2DpXSnW.png

curator for OCD, curie, and c-squared (and c-cubed), helpie, archdruid and akibasteem - member of powerhousecreatives