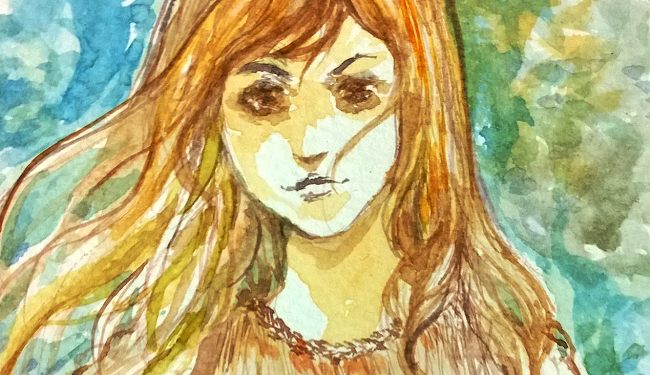 Sunday night again already D: Where has the time gone!? Why does time always go so quick like whenever it is holiday time??? There must be a conspiracy of some sort !!!??? :thinking emoji:
Anyway!
I hope everyone's having a good weekend :) Mine has been pretty decent, I caught up with a few mangas that I'm following and had walkies with the dogs and played some games :D It has been a cold, rainy, and bleak kind of weather for this weekend gone so it was the perfect time to stay at home and just chill~
Right, so, I haven't done watercolours in a while ... I think last time I did one was almost a month ago, so I thought I should push myself not to keep avoiding colours and so here is my today's picture, a girl with auburn hair :)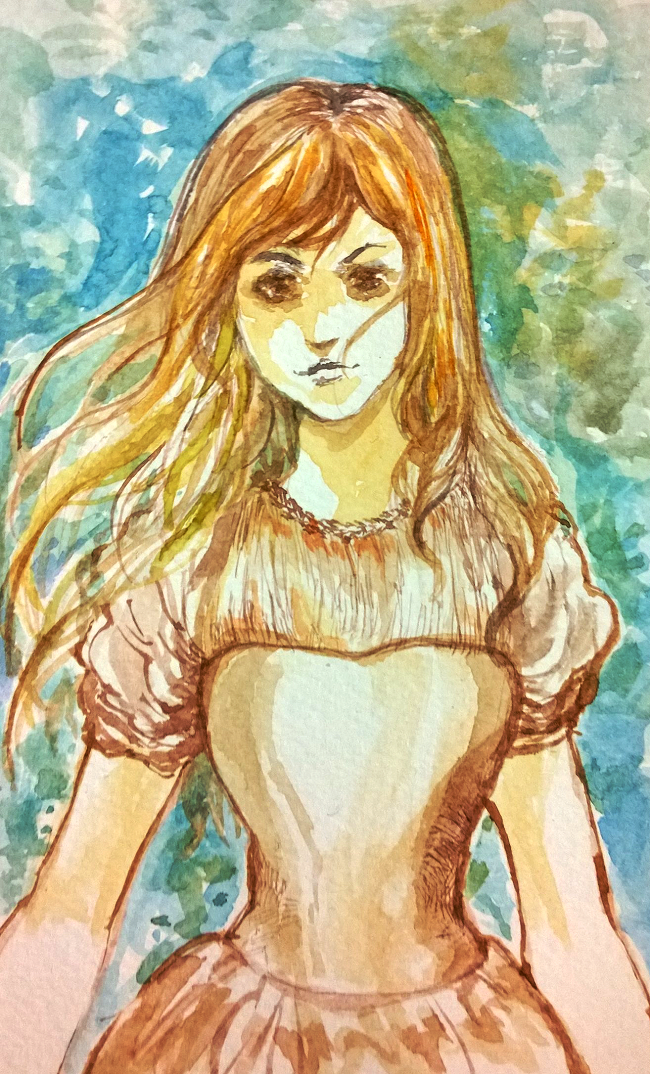 This was straight with the watercolours, no sketchies first, so I think she's a bit slanting to one side since I was being a bit anxious with my posture as I was drawing it XD Ah well...
Step by Step
Step 1: Face - I used the tiniest brush for this one, I wanted to see if I could do 'lineart' work with the watercolour brush... this was kinda frustrating and not something I will do again to be honest (that is, i'd just use the Micron ink pen if I want to do linearting in the future)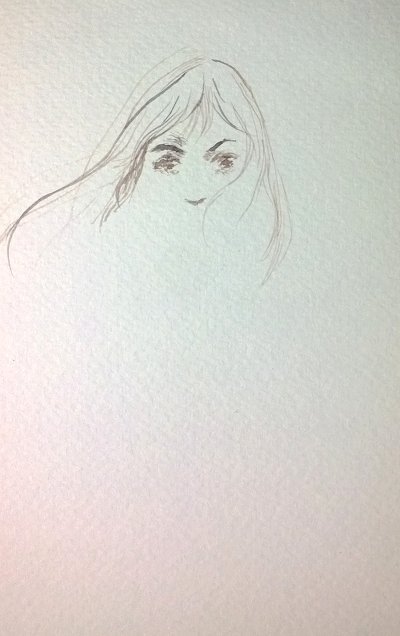 Step 2: Torso - ready for colouring~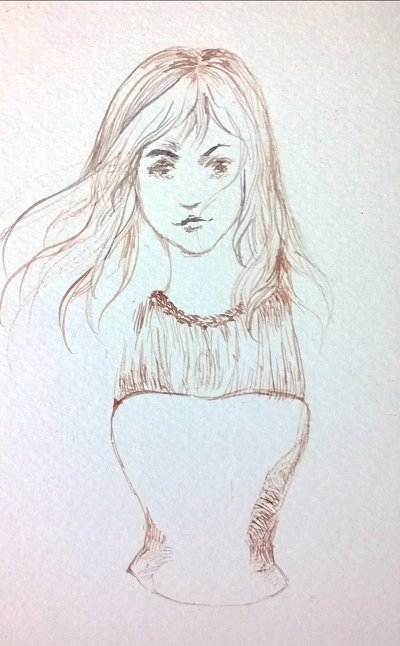 Step 3: Sky and hair colours - Switched to the bigger brush sizes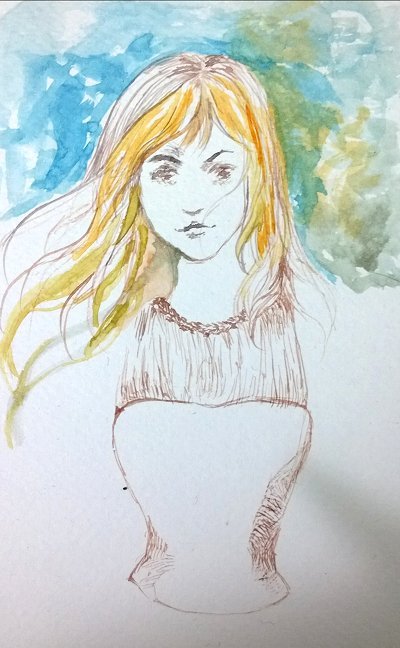 Step 4: Skin tone and bodice - the shadows around her eyes makes her look like she's got one black eye cuz someone punched her XD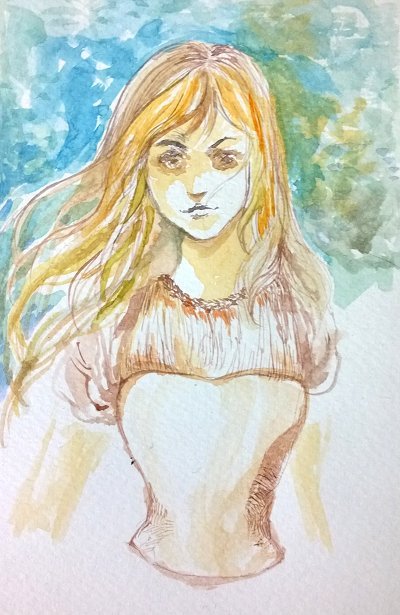 Step 5: Layered the colours, added outlines with darker tones, and DONE~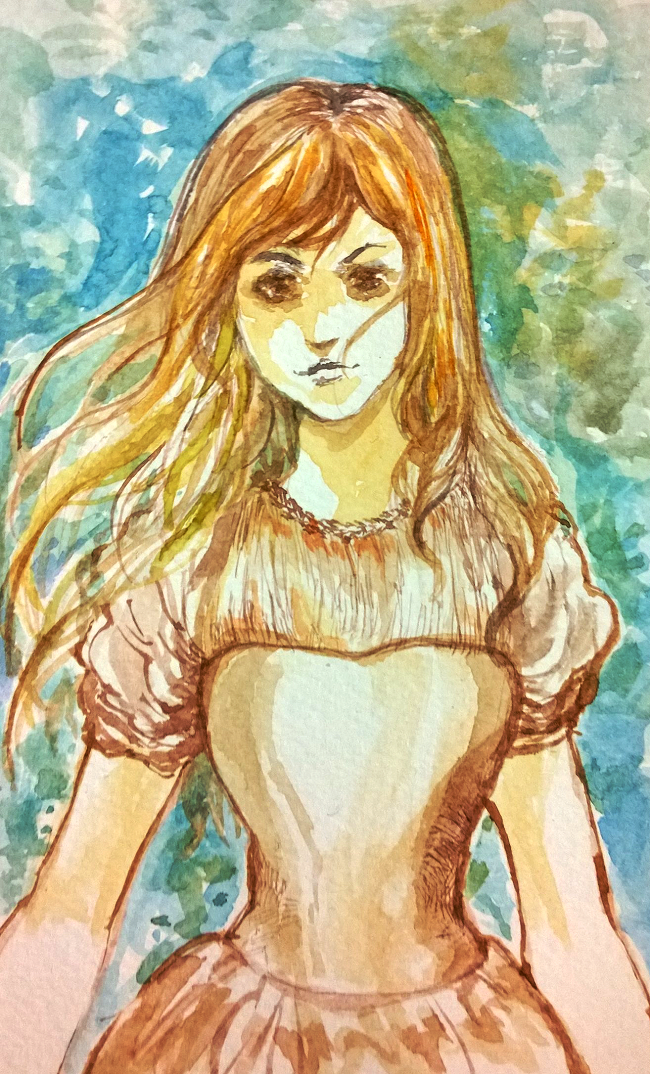 I really like how the linearts came out at some parts, like around her rolled up sleeves and on the arms... This was done with the bigger brush, and I was pretty surprised that the bigger brush was more effective at creating expressive line art work than the tiny one :D Something new discovered \o/ .... Learning is both frustrating and fun that way hahaha~
Anyway, I kept the palette restricted to blues and browns/yellows/oranges and I think the complimentary tension between those two primary tones made the piccar, for me :D
Alright, and now...
Some updates!
@c-squared's art contest - I have drafted the Winners' post and it is now up for review by the other @c-squared/ @c-cubed admins, so hang tight :D
@archdruid's contest - also has been drafted and is with @elfranz for his look see :D soon the winners will be revealed!!! :D
Okei, that's it for now :) See you all next time, friends o/

Steemit Art Class
Wanna join the arting bandwagon? :D All is welcome \o/
Check out @shibasaki's blog where he has published many watercolour videos, pick one and then create a post with your result :D Anyone can join in ! You don't HAVE to do them in watercolours if you don't have watercolours~ Do them in pencils, or inks, or pastels, or even digitally and then tag me with an @veryspider at your post and I'll give your post a shout out in my next article, for sure :D
I might try to do something further with this art class initiative in the future, but I need to pace myself as I've got this habit of taking too much on :3

Artists' Highlights with C2
On another note, please check out this article that I wrote for the @c-squared's Artists' Highlights a few days ago :) Please check it out! I am featuring TWO artists at a time, and the seventh pair is: @azbeen and @barbara-orenya :D
Log
Issue 1: @Arrr and @thilah
Issue 2: @EdgarUVM and @Zsolt.Vidak
Issue 3: @chrisdyer and @sanderjansenart
Issue 4: @elenasteem and @patschwork
Issue 5: @nyarlathotep and @carlgnash
Issue 6: @mikkolyytinen and @nekromarinist
Issue 7: @azbeen and @barbara-orenya
copyright @veryspider. all rights reserved.
(that means DO NOT USE unless you got my say so in writing!)

To all of you artists out here at Steemit! Hello~ If you ever are lost and lonesome, please join Steem Artists at our discord chat: https://discord.gg/ENN8KCb

We network with fellow artists here on Steemit and we help each other succeed :) Come and say hi~ ^ __ ^


https://i.imgur.com/JUeQGXj.png https://i.imgur.com/vMfStQS.png https://i.imgur.com/a8UH2Xe.png https://i.imgur.com/7ADfnbb.png https://i.imgur.com/MQ7zbPM.png https://i.imgur.com/2DpXSnW.png


curator for OCD, curie, and c-squared (and c-cubed), helpie, archdruid and akibasteem - member of powerhousecreatives