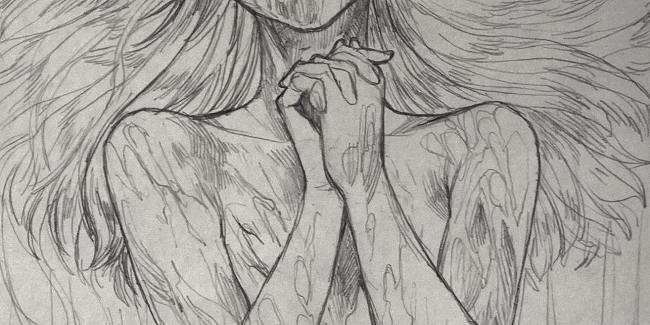 Two episodes left to the end of Game of Thrones and I was looking back a bit and I thought of Shireen Baratheon, today.
Anyway, if you havent seen Season 5 of the show, you might wanna skip this post entirely cuz ... yeah, it's about what happened to her :3.
...
Right, so those of you who don't care about spoilers/has seen the show, probably knows what happened to her and I think it's one of the most terriblest awfulest things on TV... It certainly is one of the thing that stayed with me from the show, because she was such a sweet and harmless girl and her arc showed the horrible things that people would do in the name of 'devotion' and 'glory'.
Drew this with the mechanical pencil, 2B lead.
Again, please feel free to skip this post, but here is my sketch of Shireen Barathen as she was burnt alive: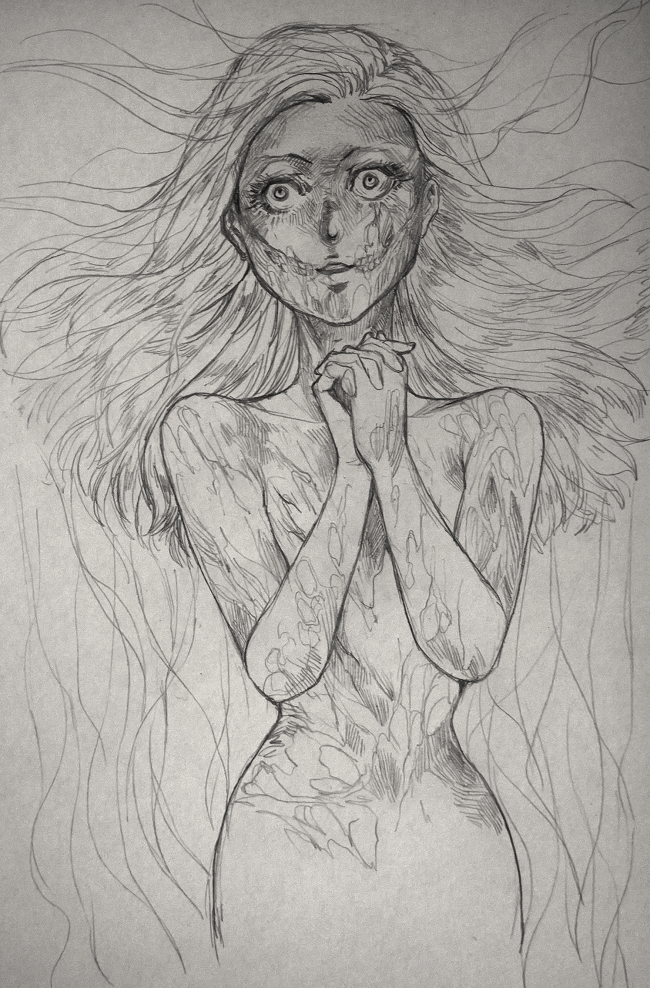 Her expression changed as I drew her cuz as usual I didn't know she was going to come out in the beginning, but at first she was anguished, I think, and later when I was approaching the finish, she went a little vacant in her face, as if trying to forgive her parents who did this to her...
... man, I can be pretty dark sometimes, hey? Hahahah, sorry if you're not expecting a dark spider :)
Step by Step
Step 1: Eyes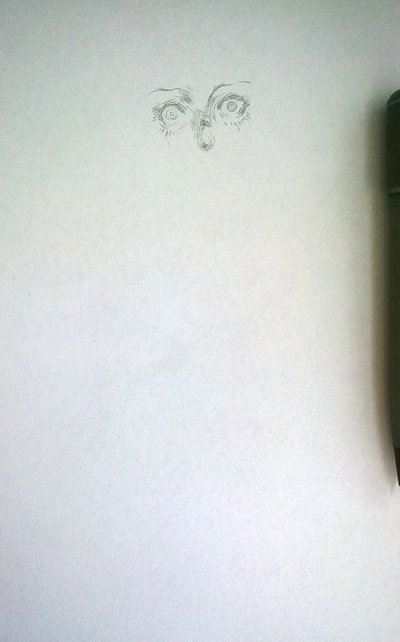 Step 2: Face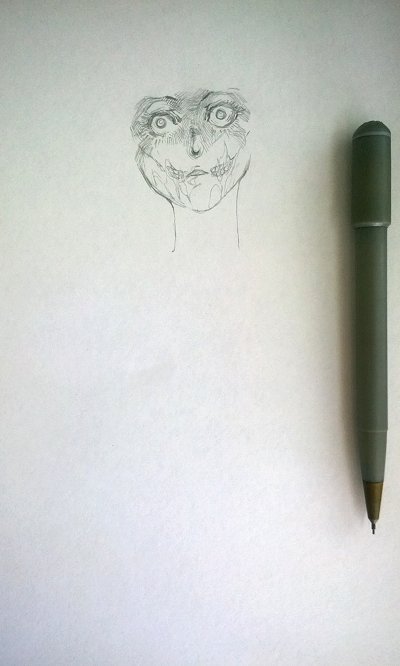 Step 3: Hair - her expression changes here

Step 4: Clasped hands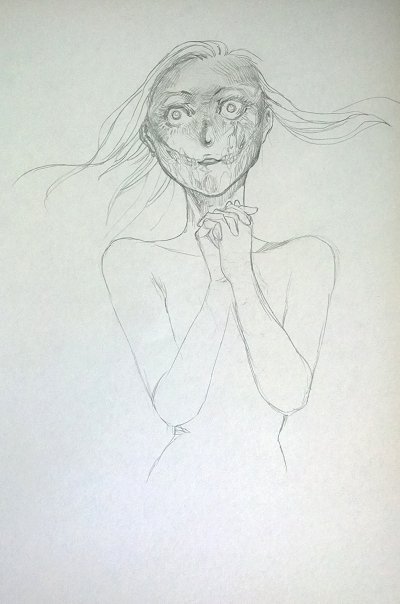 Step 5: Skin melting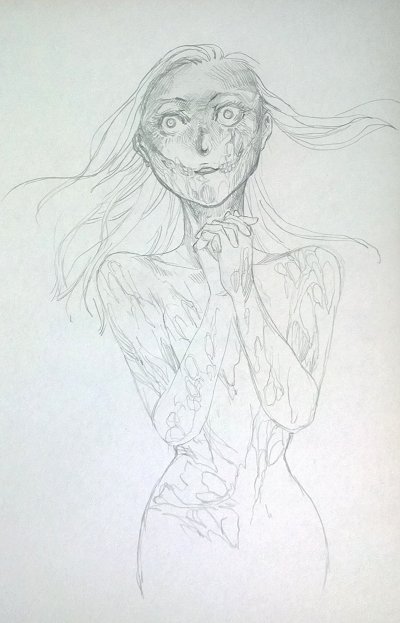 Step 6: Burning alive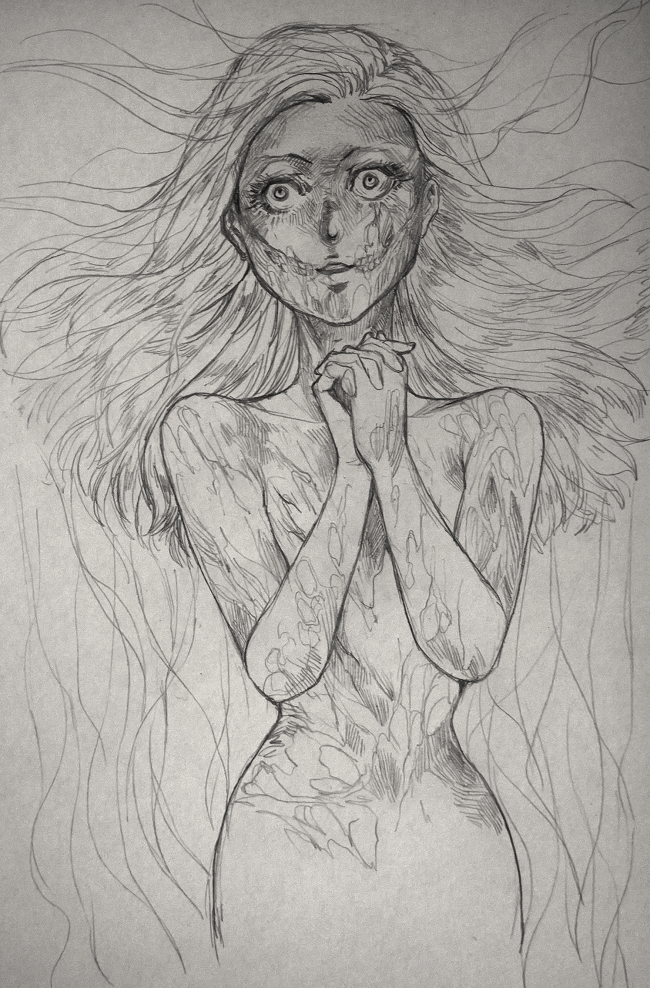 Her sacrifice granted passage for her father's army to be able to push forward where they had been blocked by an icy passage previously. I don't think it was worth the price.
Two more episodes to the end of this epic journey~ It has been years in the making and we're finally at the end! I do think GoT was way darker and more horrible in the beginning, but I aint complaining about what it is right now, neither. Sometimes, I'm way over shock jock schlock~
Some updates!
@c-squared's art contest - Winners have been announced and prizes have been sent \o/ Thank you for participating!!!
@archdruid's contest - Winners have been announced and prizes have been sent, also ! \o/ Second round is being drafted, stay tuned :D :D :D
Okei, that's it for now :) See you all next time, friends o/

Steemit Art Class
Wanna join the arting bandwagon? :D All is welcome \o/
Check out @shibasaki's blog where he has published many watercolour videos, pick one and then create a post with your result :D Anyone can join in ! You don't HAVE to do them in watercolours if you don't have watercolours~ Do them in pencils, or inks, or pastels, or even digitally and then tag me with an @veryspider at your post and I'll give your post a shout out in my next article, for sure :D
I might try to do something further with this art class initiative in the future, but I need to pace myself as I've got this habit of taking too much on :3

Artists' Highlights with C2
On another note, please check out this article that I wrote for the @c-squared's Artists' Highlights a few days ago :) Please check it out! I am featuring TWO artists at a time, and the seventh pair is: @azbeen and @barbara-orenya :D
Log
Issue 1: @Arrr and @thilah
Issue 2: @EdgarUVM and @Zsolt.Vidak
Issue 3: @chrisdyer and @sanderjansenart
Issue 4: @elenasteem and @patschwork
Issue 5: @nyarlathotep and @carlgnash
Issue 6: @mikkolyytinen and @nekromarinist
Issue 7: @azbeen and @barbara-orenya
copyright @veryspider. all rights reserved.
(that means DO NOT USE unless you got my say so in writing!)

To all of you artists out here at Steemit! Hello~ If you ever are lost and lonesome, please join Steem Artists at our discord chat: https://discord.gg/ENN8KCb

We network with fellow artists here on Steemit and we help each other succeed :) Come and say hi~ ^ __ ^


https://i.imgur.com/JUeQGXj.png https://i.imgur.com/vMfStQS.png https://i.imgur.com/a8UH2Xe.png https://i.imgur.com/7ADfnbb.png https://i.imgur.com/MQ7zbPM.png https://i.imgur.com/2DpXSnW.png


curator for OCD, curie, and c-squared (and c-cubed), helpie, archdruid and akibasteem - member of powerhousecreatives