Ein Besuch im MAK. Heute lade ich euch auf einen Streifzug in das Museum für angewandte Kunst (MAK) in Wien ein. Das Kunstgewerbemuseum an der Wiener Ringstraße versteht sich als Schnittstelle zwischen zeitgenössischer Kunst, Design und Architektur.
A visit at the MAK Today I invite you on a tour of the Museum of Applied Arts (MAK) in Vienna. The Museum of Decorative Arts on the Vienna Ringstrasse sees itself as an interface between contemporary art, design and architecture.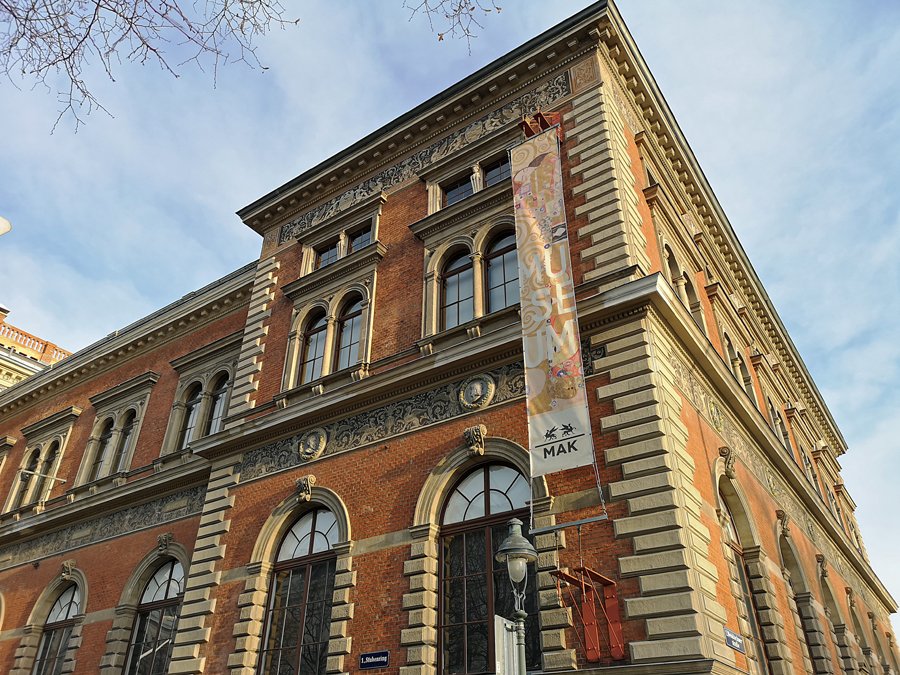 Im Jahr 1863 wurde nach dem Vorbild des Londoner South Kensington Museums (heute Victoria & Albert Museum) das k. k. Österreichische Museum für Kunst und Industrie gegründet. Das Museum war zunächst in Räumlichkeiten nahe der Wiener Hofburg untergebracht.
Following the example of the London's South Kensington Museum (today Victoria & Albert Museum) in London, the Imperial Royal Austrian Museum of Art and Industry was founded in 1863. The museum was initially housed in facilities near the Vienna Hofburg.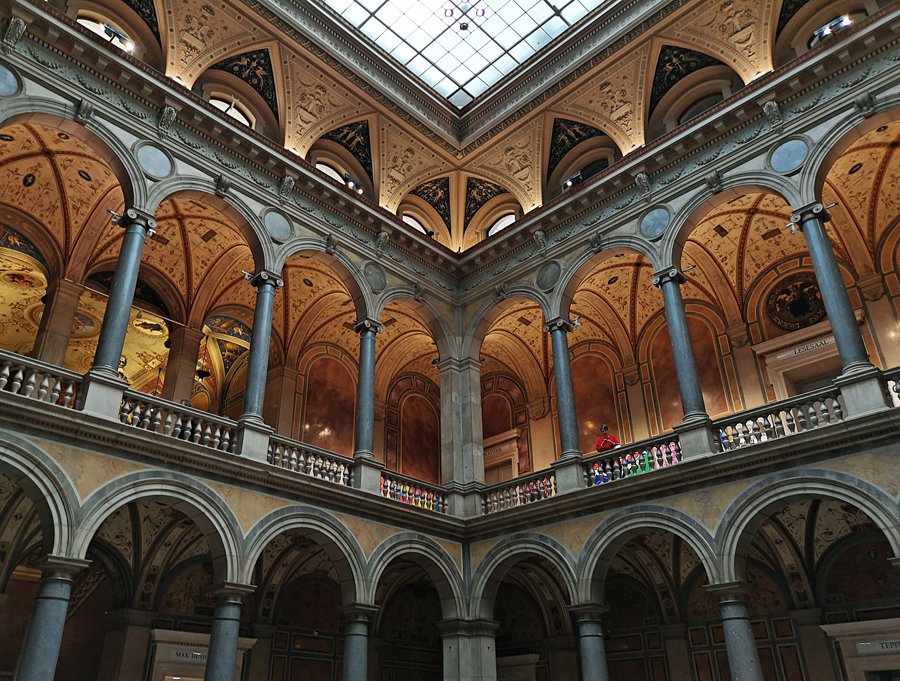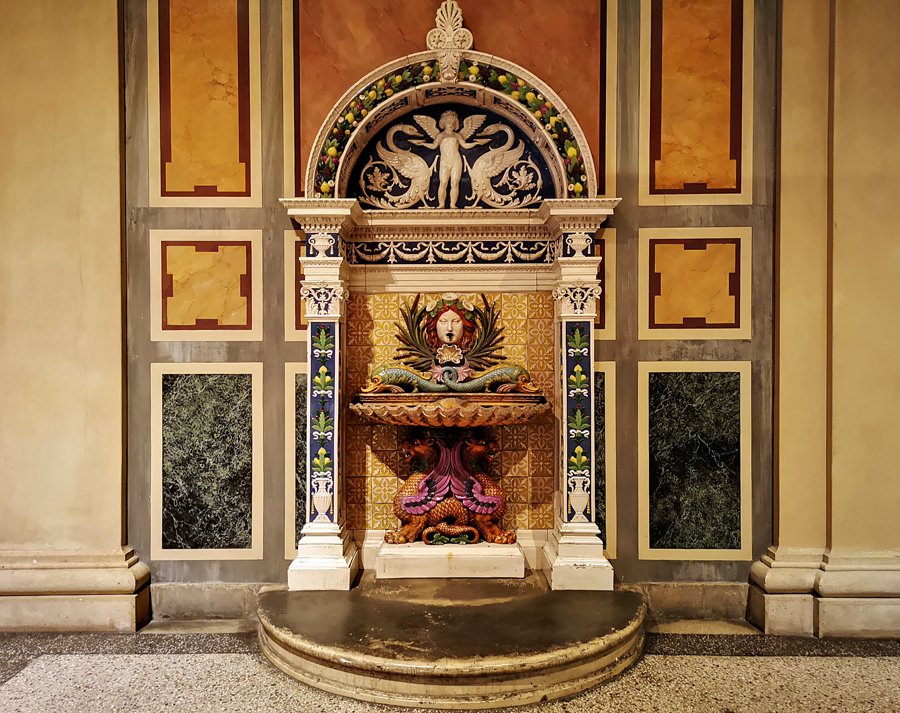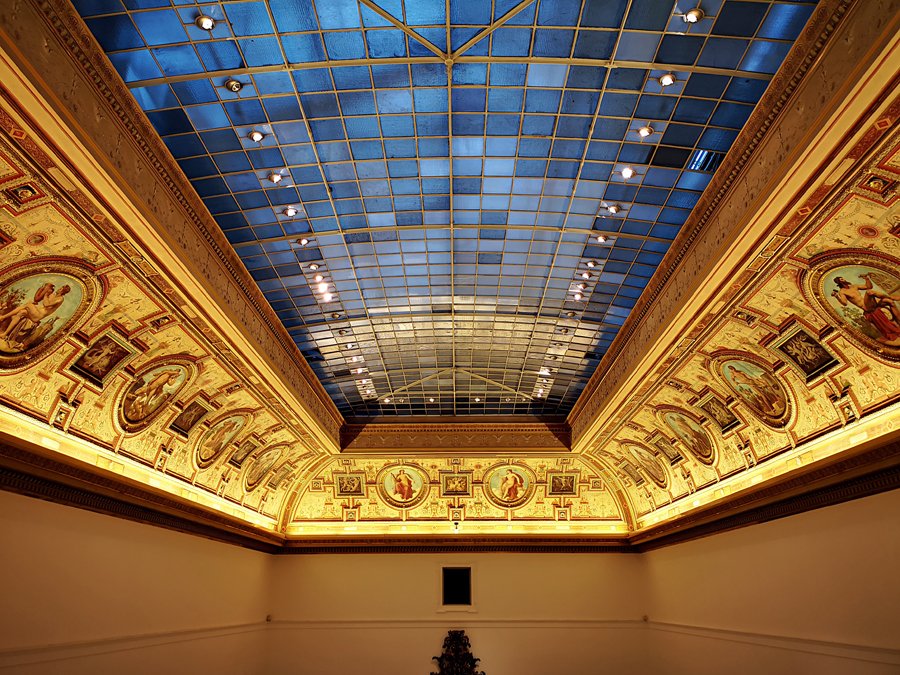 Das prachtvolle Gebäude am Stubenring wurde in dreijähriger Bauzeit nach Plänen des Architekten Heinrich von Ferstel im Renaissancestil erbaut und 1871 eröffnet.
The magnificent building on Stubenring was built in Renaissance style in tree years according to the plans of architect Heinrich von Ferstel and opened in 1871.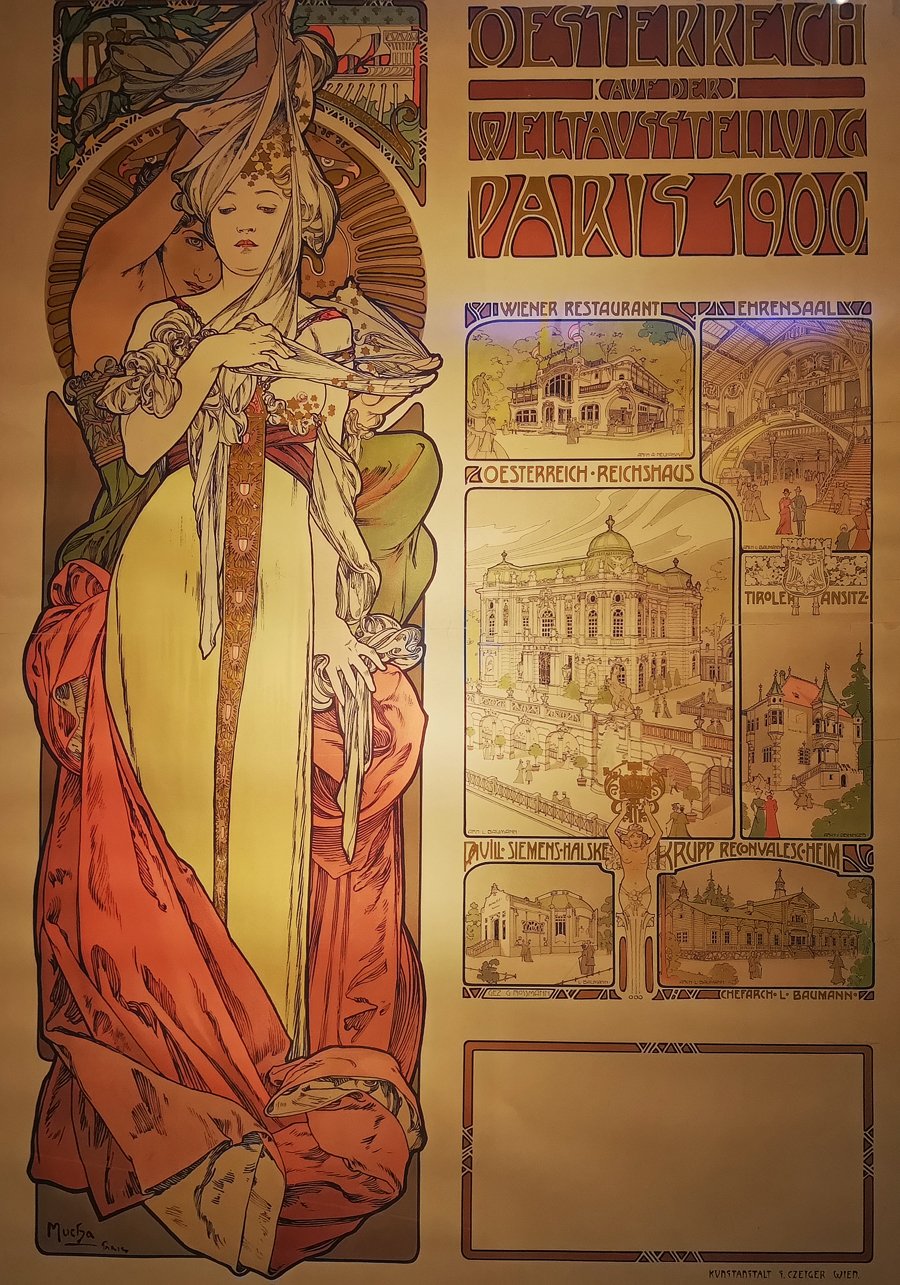 Wien erlebte um die Wende vom 19. auf das 20. Jahrhundert eine kulturelle Blütezeit in den unterschiedlichsten Disziplinen, beispielsweise in der Musik und Literatur, der Psychologie und Philosophie oder der Rechtslehre und Ökonomie. Die Abbildung zeigt das von Alfons Maria Mucha entworfene Plakat für die Weltausstellung Paris 1900.
At the turn of the 19th and 20th centuries, Vienna experienced a cultural heyday in a wide variety of disciplines, such as music and literature, psychology and philosophy, or law and economics. The illustration above shows the poster for the World Exhibition in Paris 1900, designed by Alfons Maria Mucha.

In der bildenden Kunst gilt die Gründung der Wiener Secession im Jahr 1897 als Geburtsstunde der Wiener Moderne. Die Secession war eine Vereinigung von Künstlern rund um Gustav Klimt, die sich vom konservativen Künstlerhaus abgespalten hatte. Zu den Gründungsmitgliedern zählten die Maler Koloman Moser und Carl Moll sowie die Architekten Josef Hoffmann und Joseph Maria Olbrich. Das MAK widmet der Epoche zwischen 1890 und dem Ausbruch des Ersten Weltkrieges im Jahr 1938 die permanente Schausammlung WIEN 1900.
In the fine arts, the founding of the Vienna Secession in 1897 is considered the birth of Viennese Modernism. The Secession was an association of artists around Gustav Klimt, that had split off from the conservative Künstlerhaus. Among the founding members were the painters Koloman Moser and Carl Moll as well as the architects Josef Hoffmann and Joseph Maria Olbrich. The MAK dedicates the permanent collection VIENNA 1900 to the period between 1890 and the the beginning of the First World War in 1938.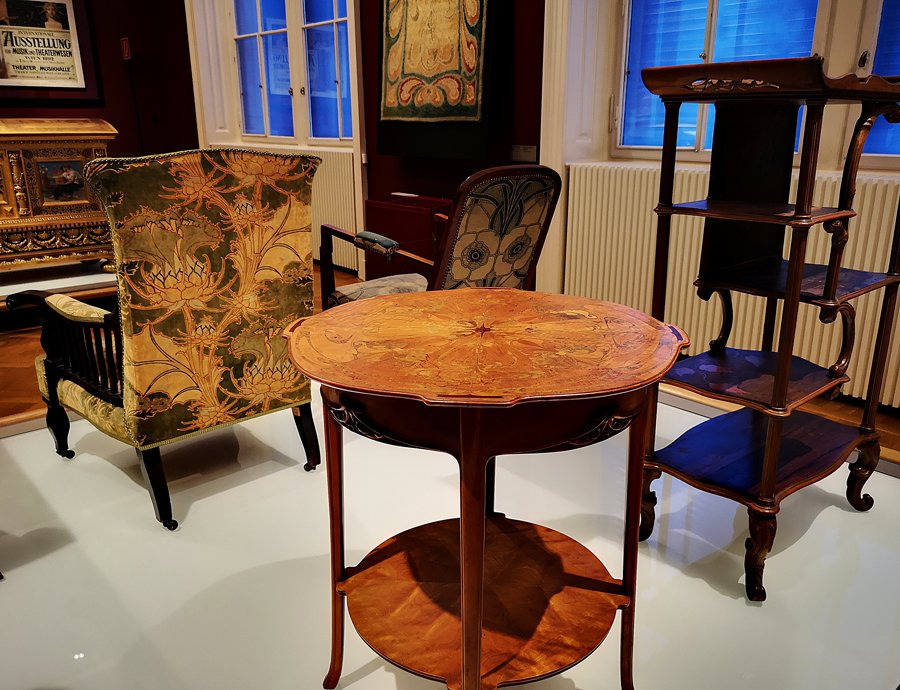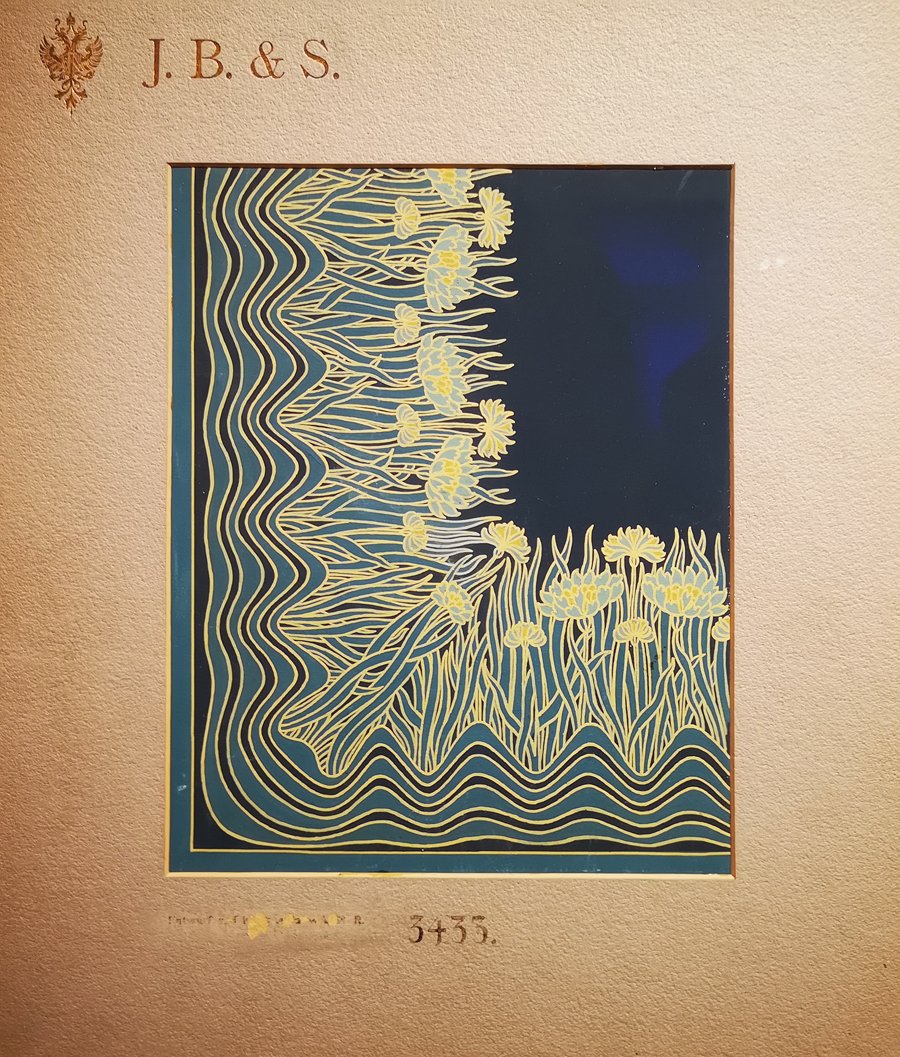 Otto Wagner, Teppichentwurf / Carpet design by Otto Wagner, 1898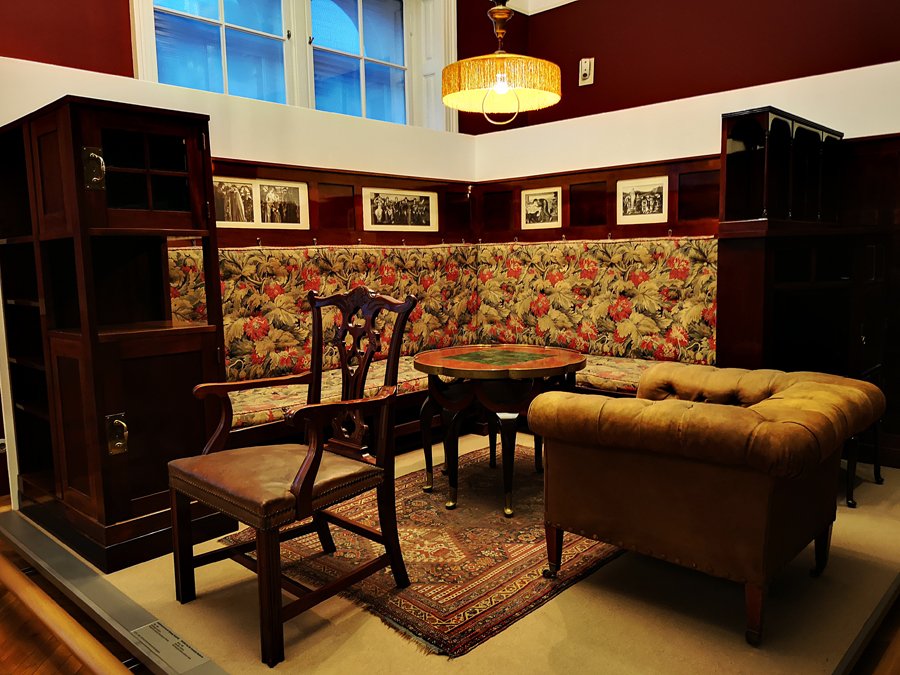 Sitzecke, Entwurf von Adolf Loos / Seating corner, designed by Adolf Loos, 1900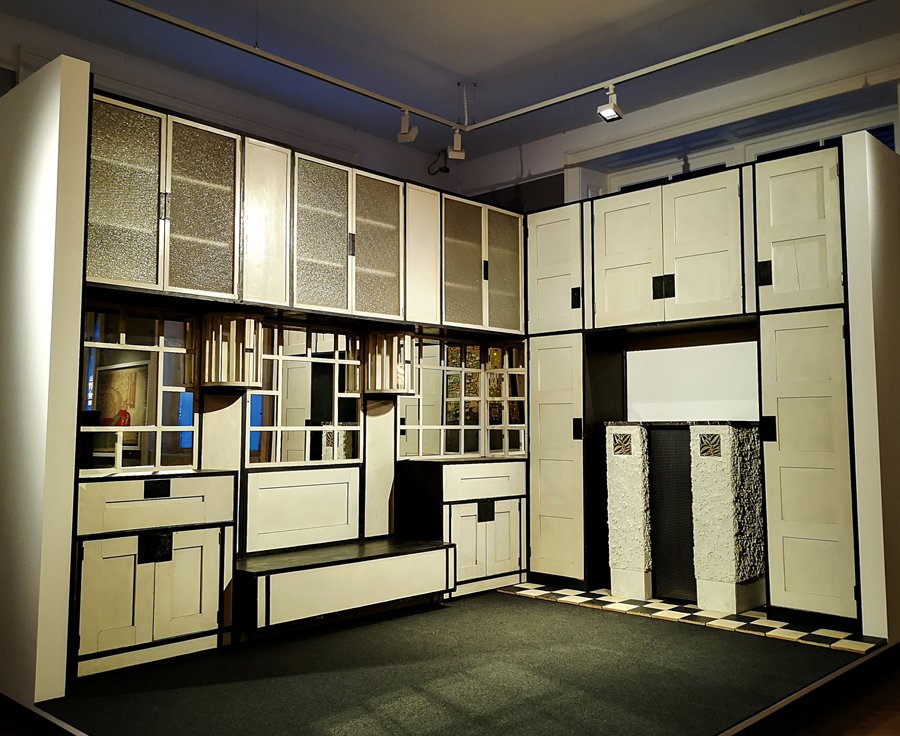 Gästezimmer, Entwurf von Koloman Moser / Guestroom, designed by Koloman Moser, 1901
In drei Ausstellungsräumen wird in chronologischer Reihenfolge Design und Kunstgewerbe aus der vielschichtigen Kulturepoche der Wiener Moderne präsentiert. Die thematisch gruppierten Exponate beleuchten kunsthistorische und gesellschaftspolitische Aspekte rund um Wien 1900.
Design and crafts from the complex cultural epoch of Vienna Modernism are presented in three showrooms in chronological order. The thematically grouped exhibits show art historical and sociopolitical aspects around Vienna 1900.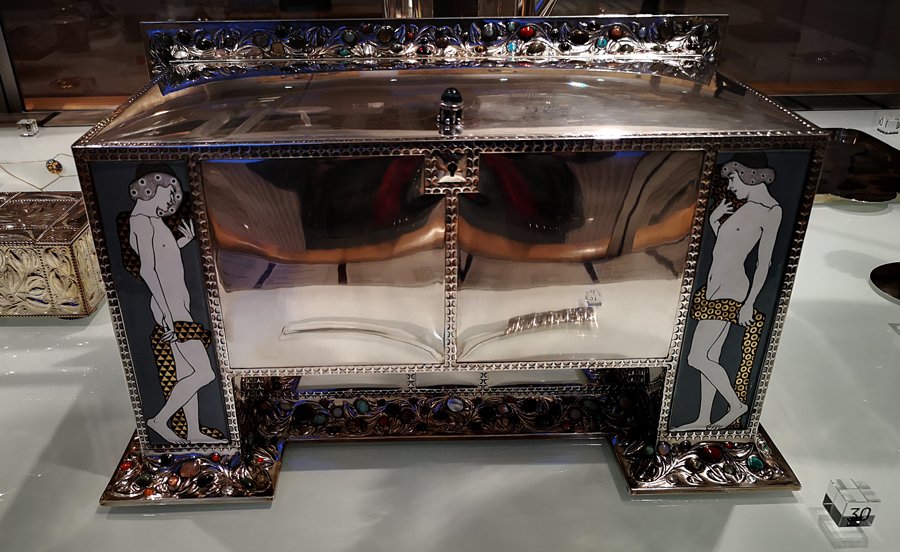 Prunkkassette, Entwurf von Koloman Moser / Jewelry Box, designed by Koloman Moser, 1906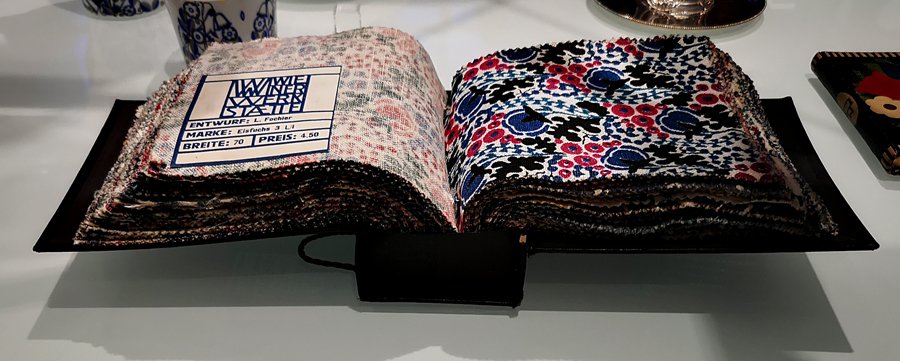 Musterbuch, Wiener Werkstätte / Pattern Book, Wiener Werkstätte, 1911-1915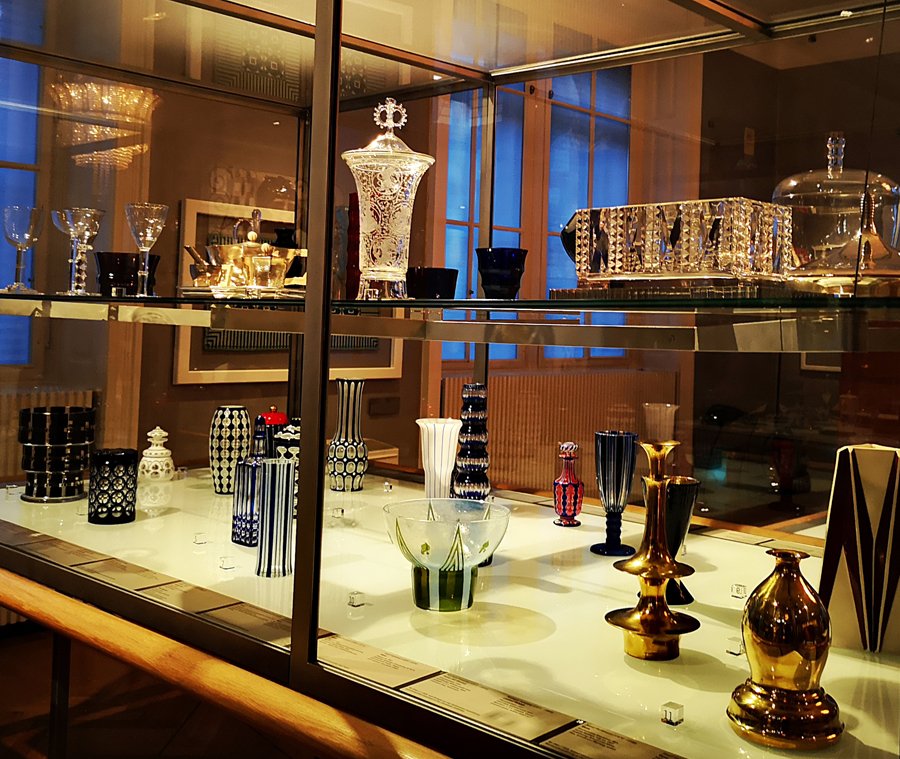 Einen Schwerpunkt der Sammlung bilden Arbeiten aus der Wiener Werkstätte, die 1903 von Josef Hoffmann und Koloman Moser sowie dem Kunstmäzen Fritz Waerndorfer gegründet wurde. Die Mitglieder der Werkstätte wandten sich vom erstarrten Kunstbegriff des Historismus ab und strebten eine Erneuerung der Kunst auf Basis gediegenen Kunsthandwerks an. In Zusammenarbeit mit der Wiener Kunstgewerbeschule und der Wiener Secession wurden künstlerisch hochwertige Möbel und Schmuck und auch Alltagsgegenstände produziert.
A focal point of the collection are works from the Wiener Werkstätte, which was founded in 1903 by Josef Hoffmann and Koloman Moser and the art patron Fritz Waerndorfer. The members of the Werkstätte turned away from the rigid concept of art of Historicism and strove for a renewal of art on the basis of solid handicraft. In cooperation with the Vienna School of Applied Arts and the Vienna Secession, artistically high-quality furniture and jewellery as well as everyday objects were produced.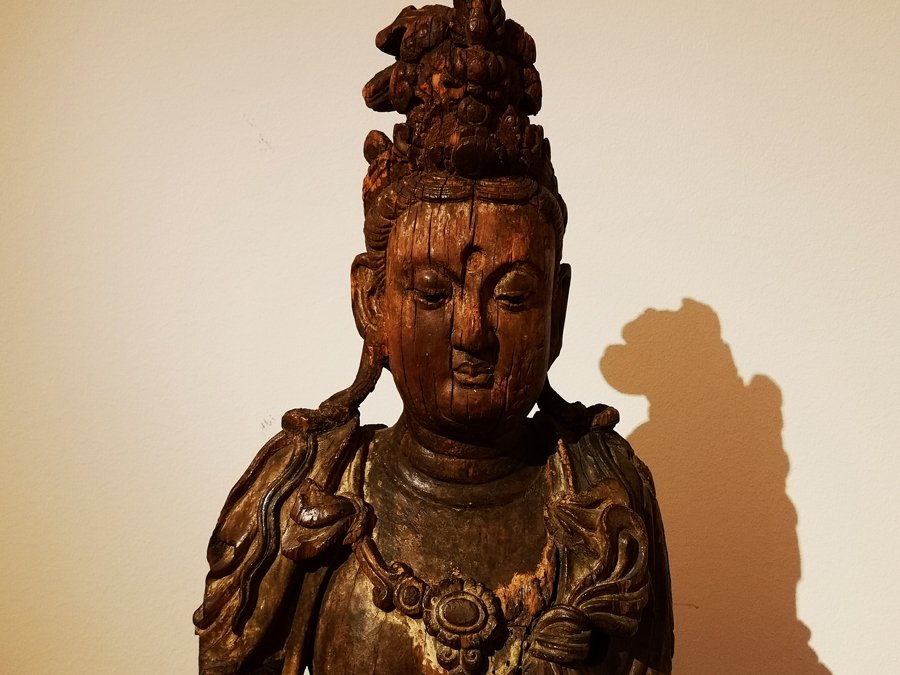 Bodhisattva, China, Song-Dynasty (960-1279)
Neben einer permanenten Teppich-Schausammlung, die weltweit zu den bedeutendsten zählt, bietet die ASIEN-Sammlung (China Japan Korea) im Erdgeschoß einen umfassenden Einblick in die Kunstgeschichte Asiens. Zu sehen ist unter anderen chinesisches Porzellan sowie japanische Lackarbeiten und Holzschnitte.
In addition to a permanent carpet show collection, which is one of the most important worldwide, the ASIA collection (China Japan Korea) on the ground floor offers a comprehensive insight into Asian art history. Among others, Chinese porcelain as well as Japanese lacquer work and woodcuts are on display.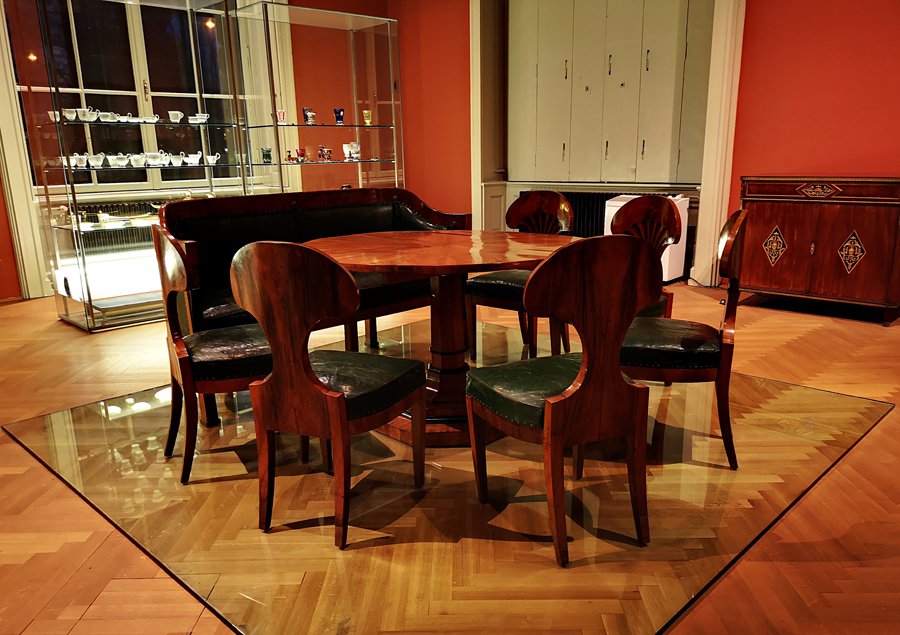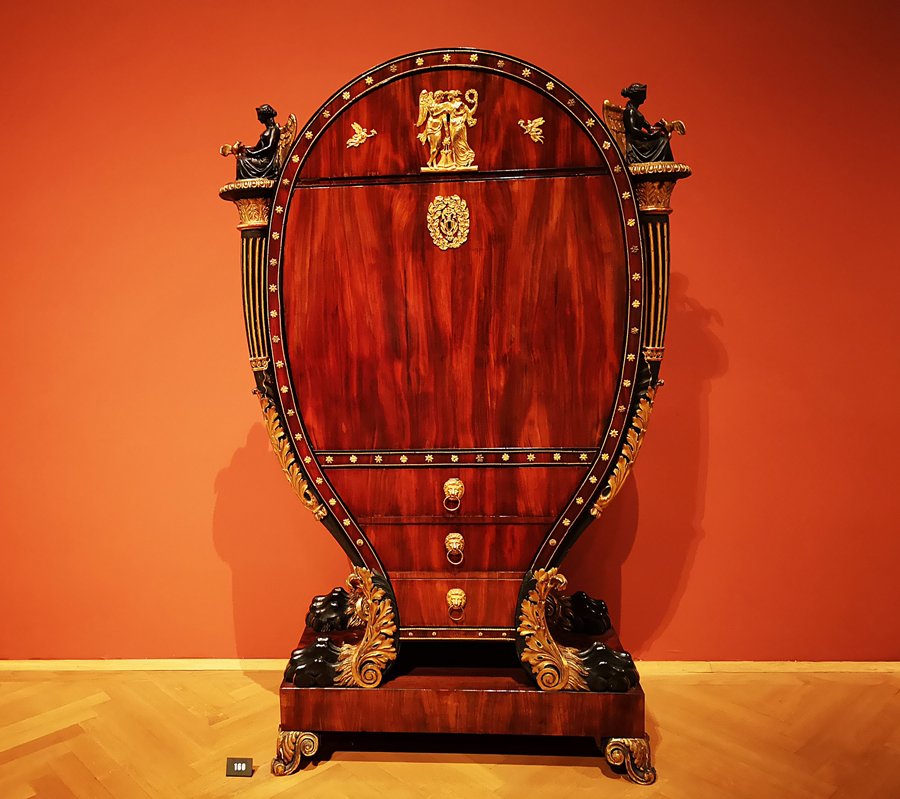 Die Epoche vom Ende des Wiener Kongresses (1815) bis zum Beginn der bürgerlichen Revolution (1848) wird als Biedermeier bezeichnet. In der Ausstellung EMPIRE BIEDERMEIER werden Gebrauchsgegenstände und Möbel aus dieser Zeit präsentiert.
The epoch from the end of the Congress of Vienna (1815) to the beginning of the Bourgeois Revolution (1848) is known as the Biedermeier era. The exhibition EMPIRE BIEDERMEIER presents objects of utility and furniture from this period.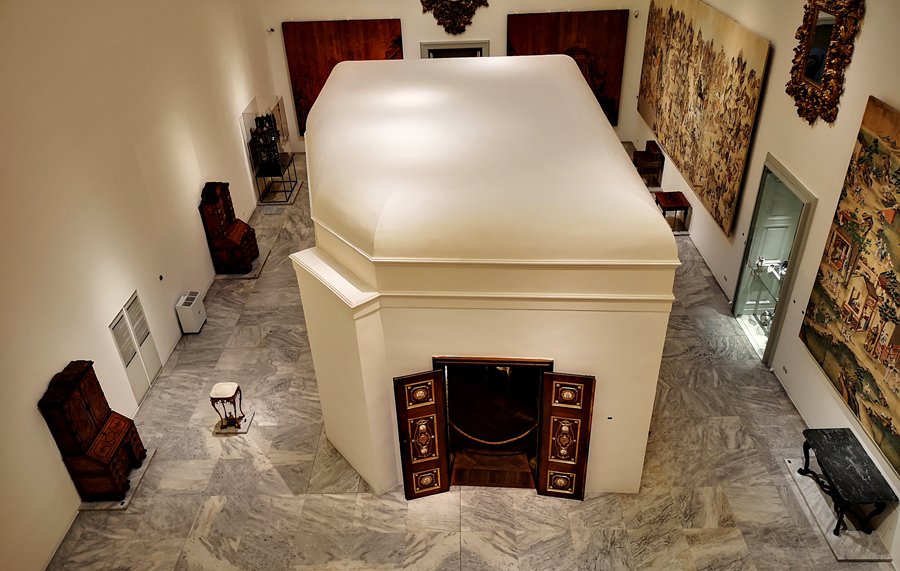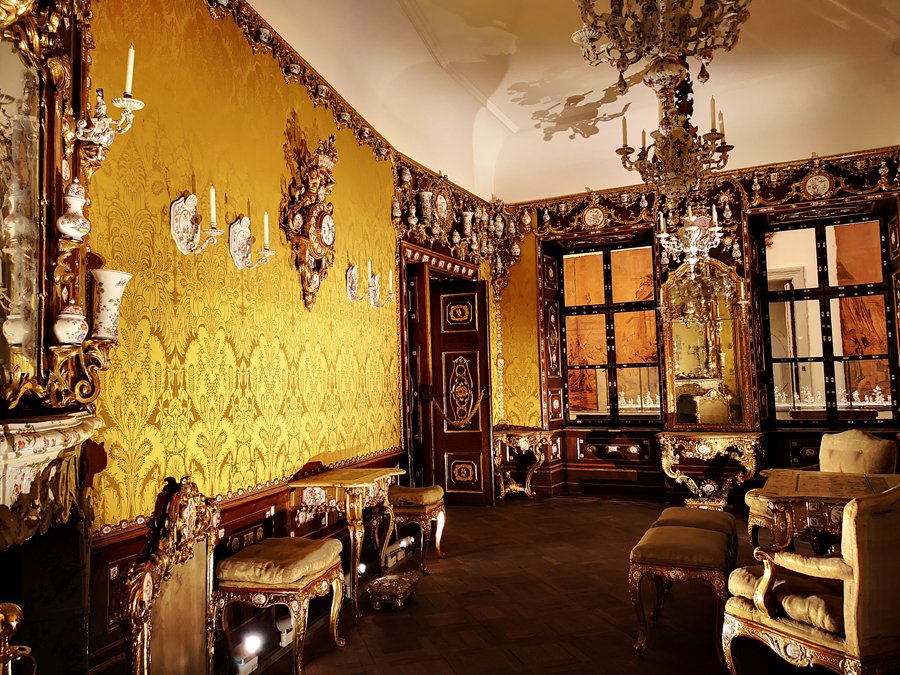 Einblick in die Möbelkunst des 18. Jahrhunderts gibt die Sammlung Barock Rokoko Klassizismus. Das Dubsky-Zimmer, das aus einem Palais stammt, wurde inmitten eines größeren Museumsaales wieder aufgebaut.
The collection Baroque Rococo Classicism provides an insight into the furniture art of the 18th century. The Dubsky Room, which originates from a palace, was reconstructed amidst a larger museum room.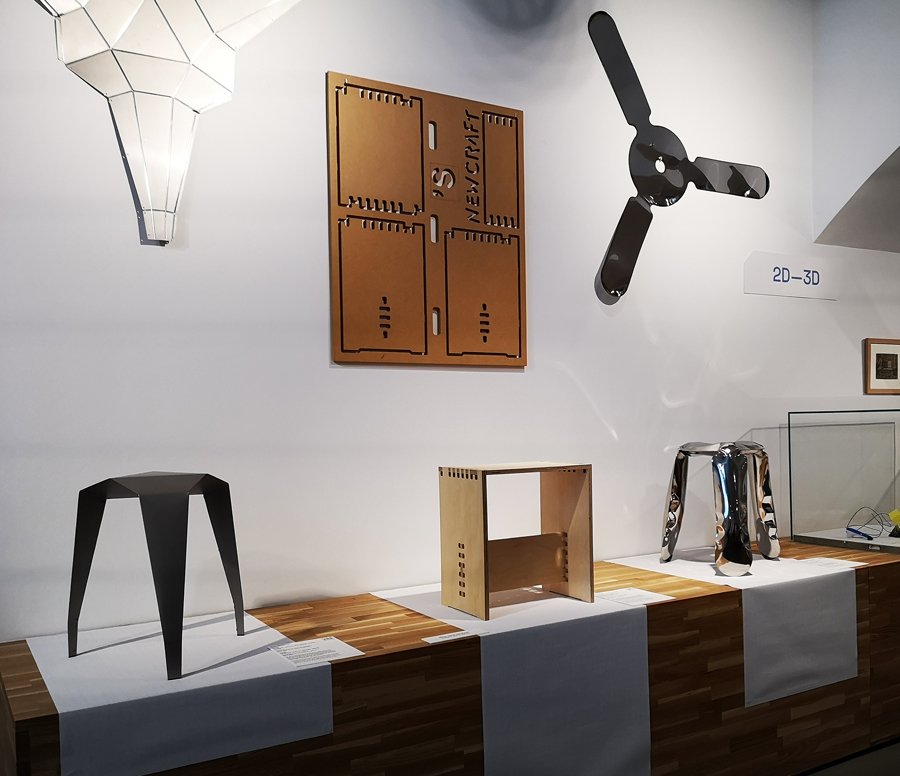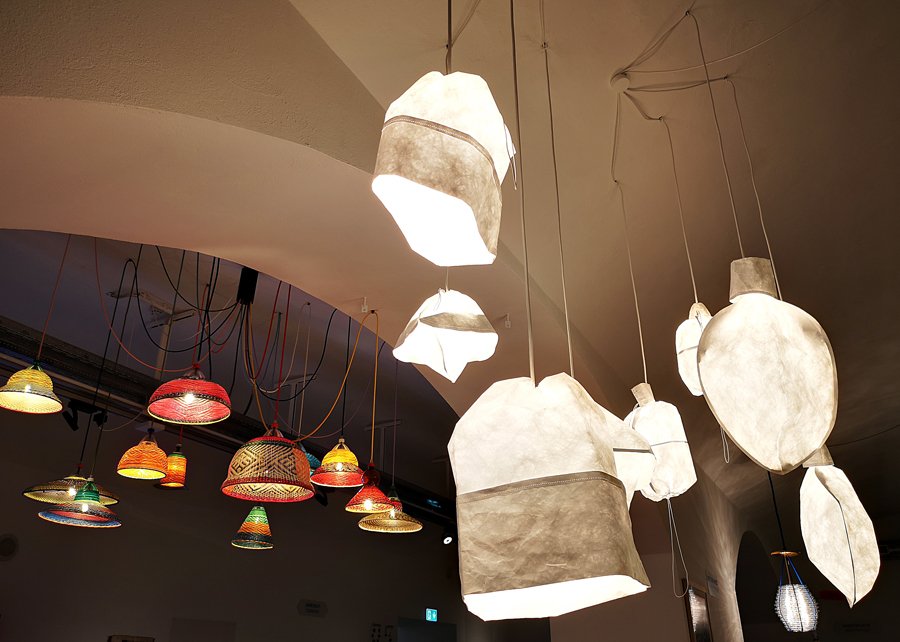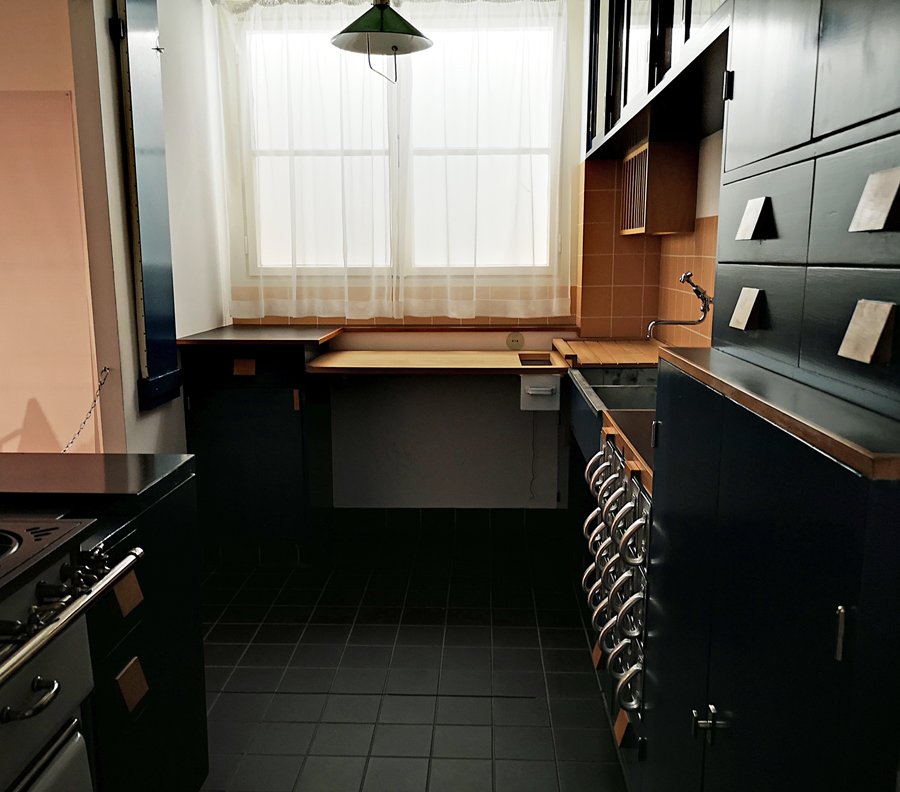 Frankfurter Küche (Architektin / Architect: Margarete Schütte-Lihotzky)
Im Untergeschoß ist auf rund 2000 Quadratmetern das MAK DESIGN LAB eingerichtet. Zeitgenössische Projekte, die Antworten auf die Herausforderungen des 21. Jahrhunderts bieten, werden auf komplexe Weise mit historischen Ansätzen aus der Sammlung des MAK in Beziehung gesetzt.
The MAK DESIGN LAB is located in the basement on about 2000 square meters. Contemporary projects that offer answers to the challenges of the 21st century are contextualized in complex ways with historical approaches from the MAK collection.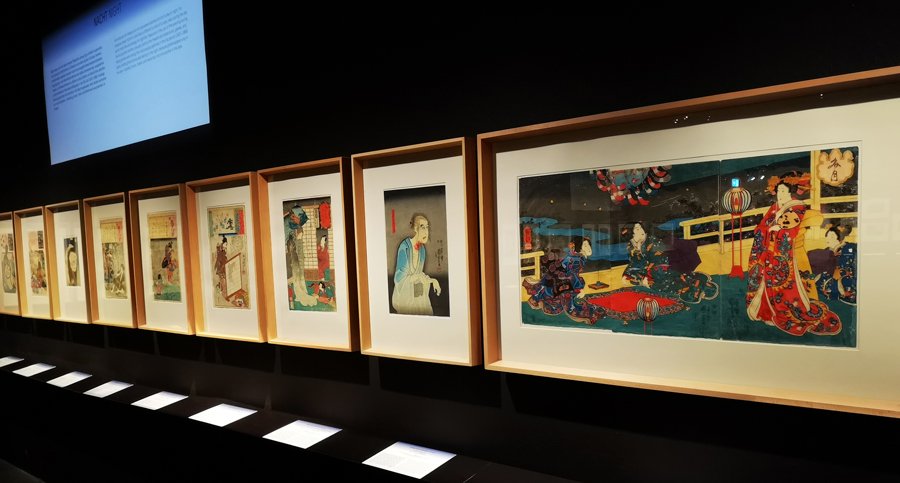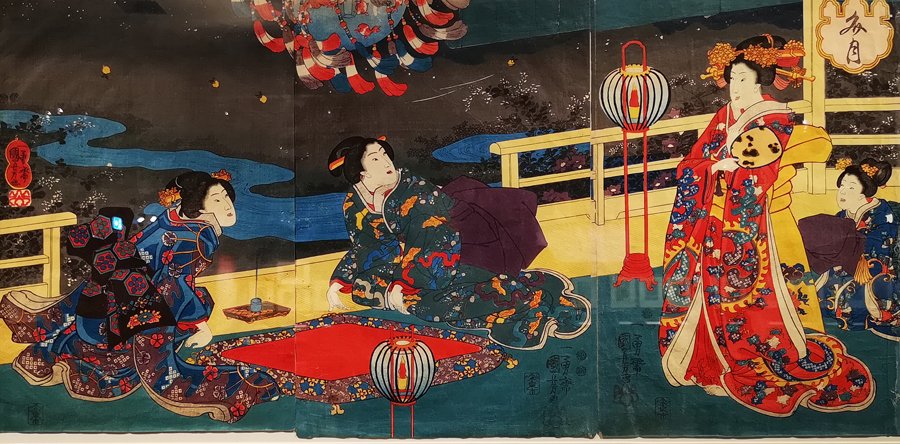 Utagawa Kuniyoshi: Siebter Monat / Seventh Month
Noch bis 16. Februar 2020 ist die Ausstellung KUNIYOSHI+ zu sehen, die sich dem Design und Entertainment des japanischen Farbholzschnittes (Ukiyoe) widmet. Im Zentrum steht Utagawa Kuniyoshi, einer der größten Künstler Japans des 19. Jahrhunderts. Manga und Anime sind ohne die Formensprache seiner künstlerisch und technisch richtungweisenden Drucke kaum vorstellbar.
The exhibition KUNIYOSHI+, dedicated to the design and entertainment of the Japanese woodblock print (ukiyoe), is on display until 16 February 2020. The focus is on Utagawa Kuniyoshi, one of Japan's greatest artists of the 19th century. Manga and anime are hardly conceivable without the formal language of his artistically and technically groundbreaking prints.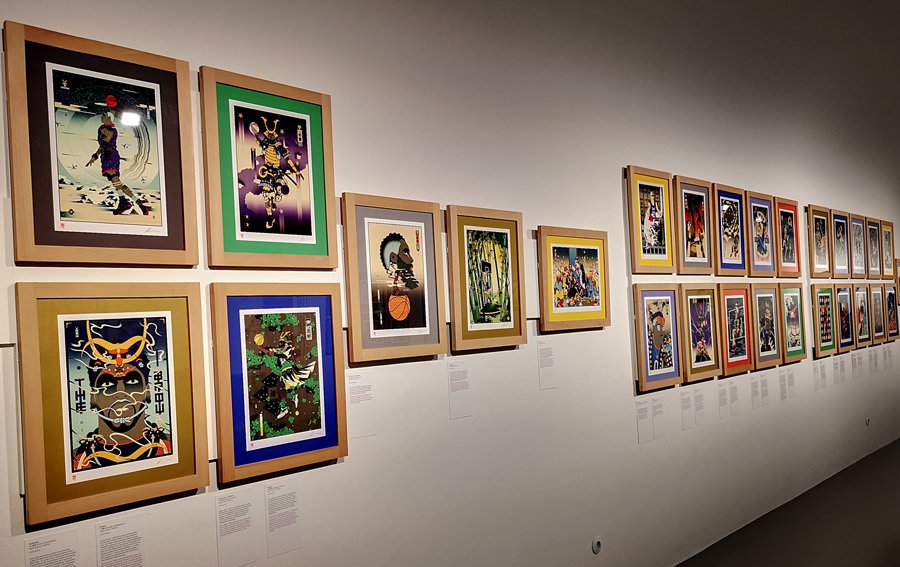 Die Weiterentwicklung des traditionellen Farbholzschnittes (Ukiyoe) steht im Fokus der Ausstellung UKIYOENOW. Werke von Grafikdesigner wie Andrew Archer geben einen Einblick in die Welt der zeitgenössischen japanischen Druckgrafik.
The further development of the traditional woodblock print (ukiyoe) is the focus of the exhibition UKIYOENOW. Works by graphic designers such as Andrew Archer provide an insight into the world of contemporary Japanese printmaking.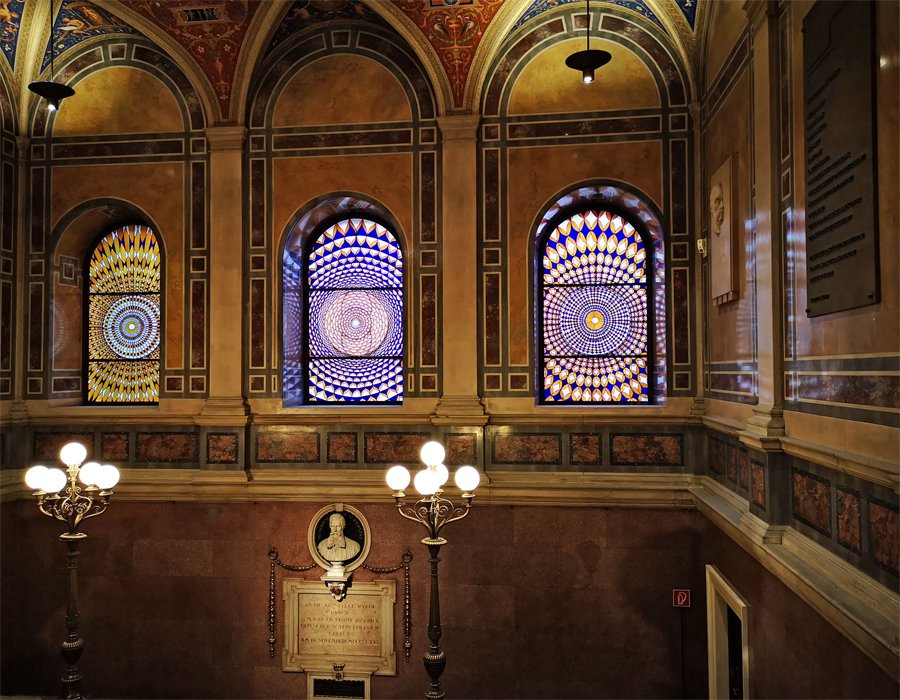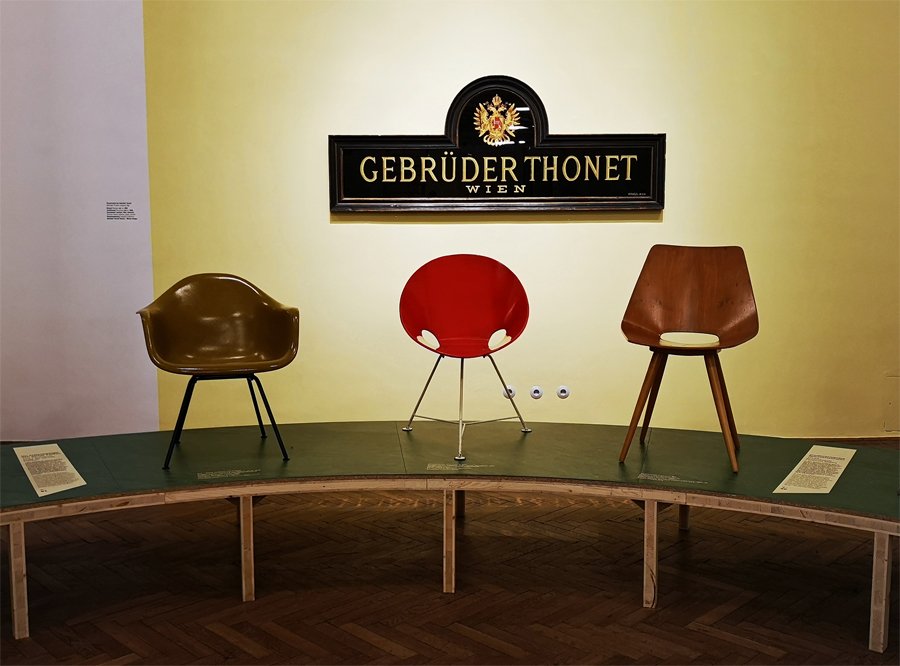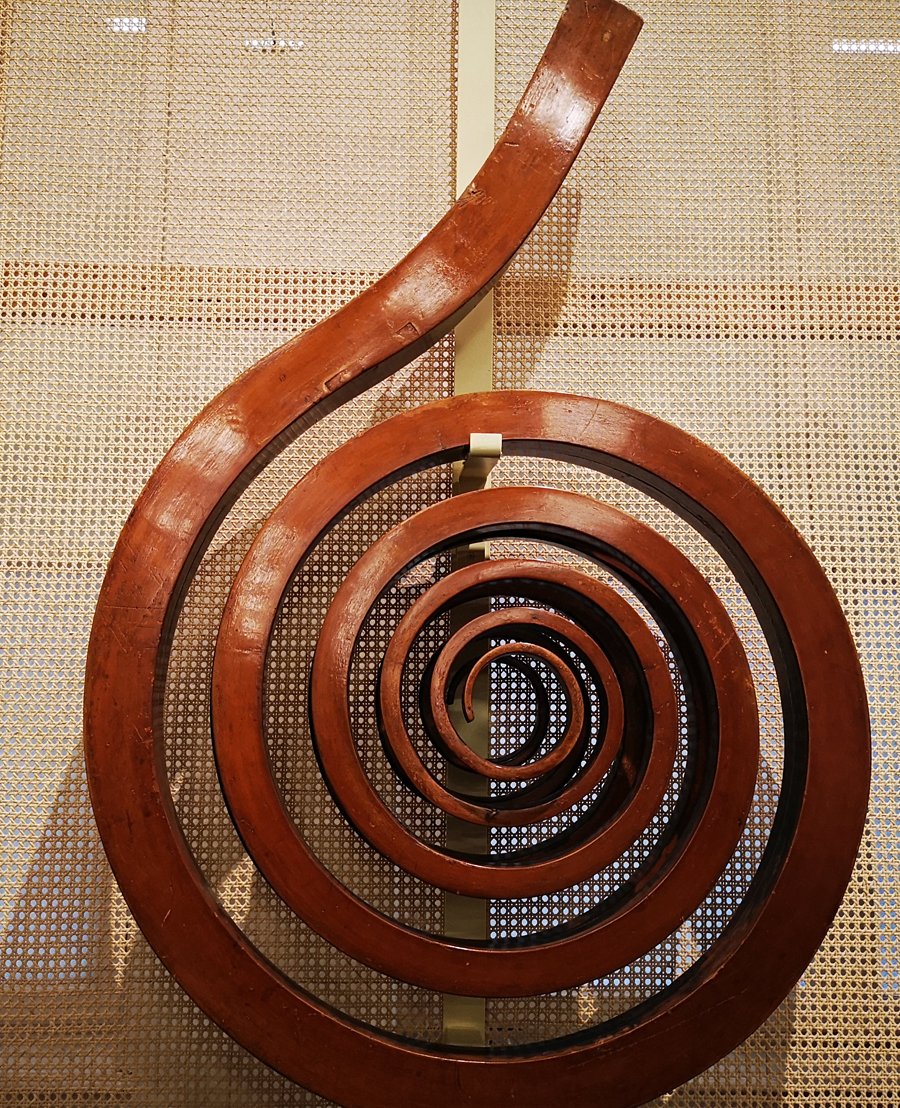 Vom Untergeschoß geht es in den ersten Stock, wo noch bis zum 13. April 2020 anlässlich des 200-Jahr-Jubiläums des Unternehmens Thonet die Ausstellung BUGHOLZ, VIELSCHICHTIG zu sehen ist.
From the basement you can go to the first floor, where the exhibition BENTWOOD AND BEYOND is on display until 13 April 2020 on the occasion of Thonet's 200th anniversary.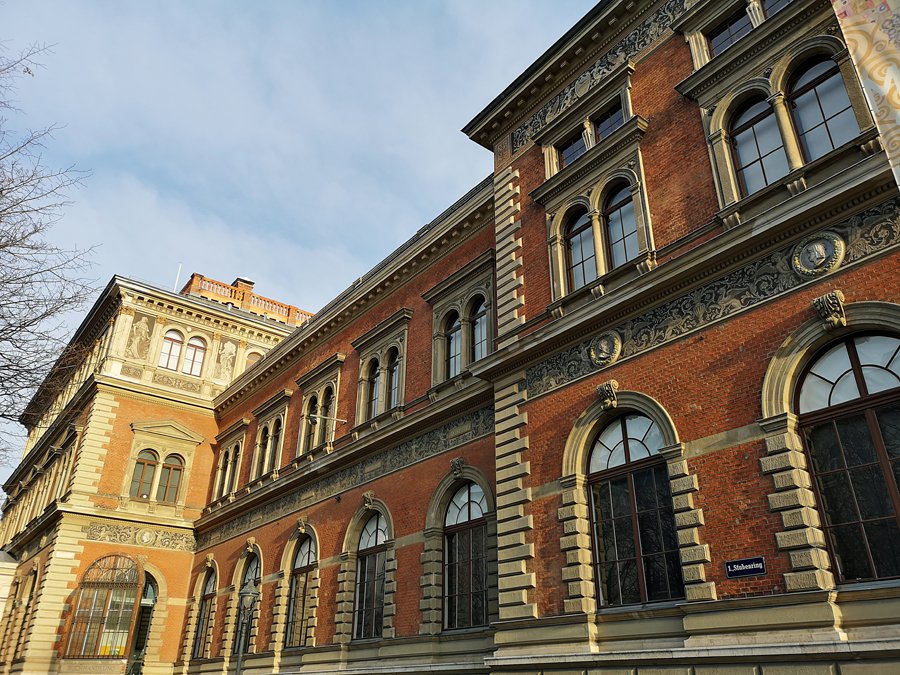 Alle Fotos wurden von mir im Museum für angewandte Kunst in Wien aufgenommen. Die Informationen stammen größtenteils von der Webseite des Museums.
All photos were taken by me at the Museum of Applied Arts in Vienna. Most of the information is taken from the museum's website .
---
MAK
Museum für angewandte Kunst / Museum of Applied Arts
Stubenring 5, 1010 Wien / Vienna