Today is 4th of April... World Rats Day... so you know why I'm posting (well most of my fellow Steemian friends, or the ones that know me can guess why)
My drawing of a Baby "Fufunchi".
Here a drawing I made of a baby rat... because I'm a bit desperate to have baby rats again hahaha :). I'm not sure if I'll detail it a bit better but here it is as today is a special date. :) I chose a soft pastel palette. And well this is something I long for, to have a few "baby fufunchis" as I call them.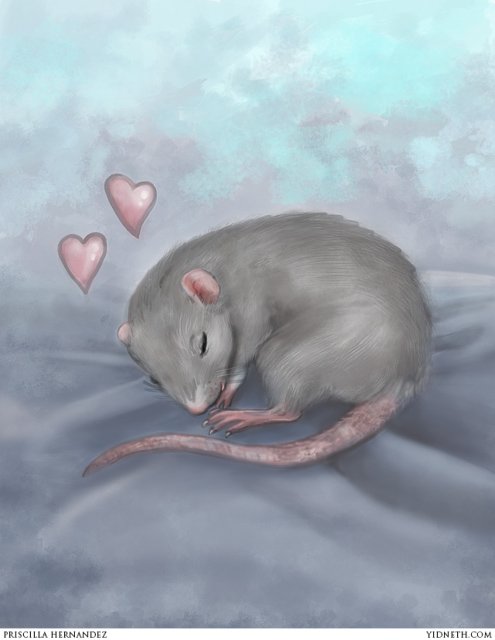 I think it would make a nice card, maybe I will print some :)
4th of April: An International Day to appreciate Rats
Yes, I posted early today... two posts in a day? what happened? Well, due to the date I had to give it a go... I was reading @coruscate post about shitposting and doubting, should I just feel free to do this freewrite shout I usually take so long to make my posts, but I genuinely wanted to share this... (hope by the time I finish writing you don't find it a "shitpost" anymore hahaha) but as this is a day to appreciate rats and in which we crazy rat owners and lovers post cute pictures of ratties to maybe "change" your mind a little about them. Not all are vermin and some are very loved.
I had three "fufunchis" Tuula (Wind), Ritva (Birch Branch) and Taika. I miss them everyday and even if I don't have rats as pets now I am sure I will have in the future and I still am a "tiny bit" obsessed with them. They were for me healing packages of happiness and most of my steemian friends know me around as "the girl who posts rat memes" on discord :). Oh I have mastered the art of posting rat memes already... My friends @pechichemena and @paintingangels sometimes challenge me but you know, it's a superpower :)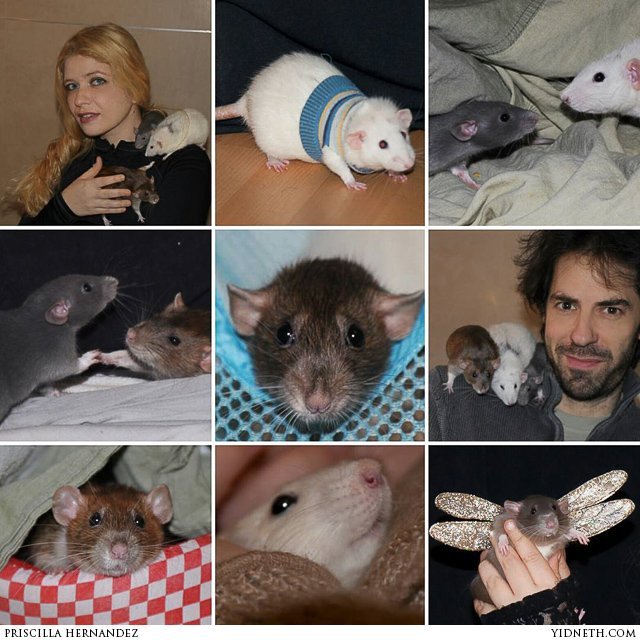 You'll be in my heart always. Singing to my rat Ritva on her last Birthday.
This is a very special video for me, and a very intimate moment. PD. It is not easy to sing, play with one hand only on the piano and holding a rat burrito... but this moment was so real it still makes me cry years after. She was already frail and old and lived not much longer but she was so genuinely happy listening to me.
for one so small you seem so strong
you'll be in my heart always
Song is not mine but a cover of Tarzan (Disney) still every single word resonated with me that moment
This is my rat Ritva on her third birthday some years ago. She was a brave little thing, had hind leg paralysis for most of her last year. At the beginning she managed with a little Lego wheel chair. She loved food till the last day, and cuddles and boggling her eyes in happiness. So many lessons learnt from my rats.
Rats are social and they would prefer not to use a cosy hammock unless all the pack can fit in. They do care for their children (and elder) and they get depressed when their partners pass away. I fell in love with them observing how they behaved among themselves. They are playful as a dog, they can fetch a ball, spin, being recalled by their name. They will play with you, lick you like a puppy, seek your company and cuddles.
Did you know you can teach a trick to a rat in two hours? They sport also an excellent memory being able to learn so many of them.
And to end this post another memory composing Advanced contemporary music with Tuula, Ritva and Taika
You probably saw me with 3 plush toys as avatars of them all over Steemfest last year :)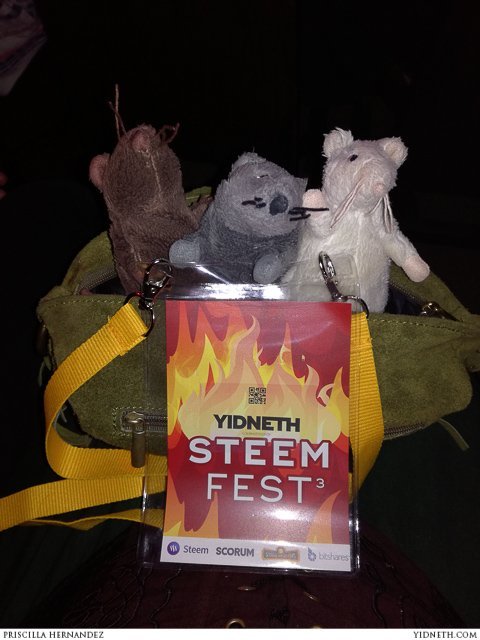 So this is why
Happy World Rats Day!
Feel free to share some ratty love in the comments, I'll appreciate it :)

Priscilla Hernandez
singer-songwriter & illustrator
http://yidneth.com