Cryptocurrency has always commanded a premium in India, though usually it was an insignificant one, in the ~5% range. However, since the demonetisation of INR 500 and INR 1,000 notes (bills for American steemians), both BTC and ETH have soared.
Let's step back a bit - about that demonetisation. There have been a few articles on Steemit too, but in general there seems to be a lot of misinformation outside of India. Firstly, this is not a brute force attempt to go cashless or a war against cash. The old INR 500 and INR 1,000 notes were immediately replaced by new INR 500 and INR 2,000 notes. The stated goal of this substitution was to curb corruption, laundering and terrorist financing. NOT a "war on cash". Of course, this doesn't address the offshore accounts where the vast majority of the above nefarious activities happens.
In India, this has been a complete mess. The ex-Prime Minister - Manmohan Singh - also the man behind the radical free market economic reforms in the early 90s, sums up the situation well, calling it "monumental mismanagement" and "organised loot and plunder". It's a relatively impassioned speech from the calmest politician in the country.
As for the ground realities - in some major cities, withdrawing cash from ATMs has become an experience of drudgery not much different to that of an Apple fanboy lining up for the new iPhone. After standing in queue for an hour, cash runs out for the next half a day. Banks were overwhelmed with queues running well outside of the branches. New INR 500 and INR 2,000 notes are in such ridiculous short supply that exchange for older notes have been stopped now - we can only deposit them. There's much more to it, but in short, it's a complete mess in some cities.
Anyway, back to cryptocurrency. This has led to a huge surge in demand for both BTC and ETH. (As far as I'm aware, these are the only two currencies currently on Indian exchanges.) Yesterday, BTC hit $999.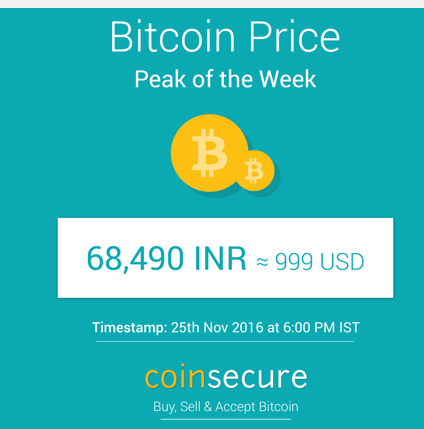 Meanwhile, ETH is up to $12.5.
In short, this is an astounding 35% over the prices at US exchanges.
So, here's my question, and the reason for the tag. How is this possible? I understand these markets are separate, and there's always different prices for regions. But nothing this extreme.
Surely arbitrage opportunities would have balanced them out? A trader who has accounts at both Indian and US exchanges can keep converting BTCs in an endless loop, essentially doubling their money ever couple of hours. Buy BTCs in US$, sell them for INR, send that to US$ etc. Accounting for all fees etc, it's an easy 25% profit each round. Now, I know not everyone has accounts at exchanges in both countries, but I would have expected the markets to respond - like any fiat currency market would in such a scenario. It's been over two weeks now, the BTC-INR market keeps surging, with zero response from the US markets.
So what's happening next? When will the US markets respond?
---
As an aside, here's an excerpt from the (now quite obsolete) Whitepaper.

Consider this post, using #asksteem, an attempt to engage #2 on that list.