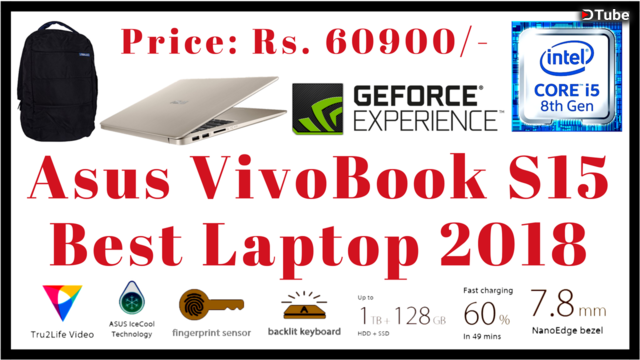 ---
Asus VivoBook S15 S510UN-BQ070T With Asus Backpack Unboxing and Review in Hindi.
I Purchased this Laptop from Retail Store.
It Cost me Rs. 60900/-
Best Budget Laptop in This Price Range for Video Editing.
Got 2 Years Onsite Warranty from Asus and Got EXTRA 2 Years Warranty from The Retail Store.
Mainly I Purchased this Laptop for Video Editing.
I Use Camtasia Studio to Edit My Videos and it's working very nice.
I don't play games so I can't comment on that.
For High End Video Editing and Gaming you can Purchase the i7 model.
---
Amazon Purchase Link:
https://amzn.to/2uMbr7l
---
---
Full Specification:
https://www.asuslaptopindia.in/products/s510un-bq070t/
---
---
RIG I Used:
Logitech HD PRO Webcam C920:
https://amzn.to/2GIGntI
Mobilegear YT-228 Mini 7 Inch Mobile Tripod With 360° Rotating Ball Head for Smartphones & Digital Camera:
https://amzn.to/2H4DrW6
Wonderford Remote Operation Selfie Stick:
https://amzn.to/2pY4Tg1
---
---
Like My Facebook Page:
https://www.facebook.com/SouravRoyBiz/
Follow Me On Instagram:
https://www.instagram.com/souravroy200/
Follow Me On Twitter:
https://twitter.com/souravroy200
---
***** CREDITS *****
Intro Template Created by: https://www.youtube.com/user/adMJ707
Music :
Music is Provided by NCS
Title: Itro & Kontinuum - Alive [NCS Release]
YouTube Channel Link: https://www.youtube.com/user/NoCopyrightSounds
Artist Details:
▽ Follow Itro
SoundCloud https://soundcloud.com/itro
Facebook https://www.facebook.com/officialitro
Twitter https://twitter.com/itromsc
YouTube http://www.youtube.com/user/officialitro
Website http://www.itromusic.com/
Instagram http://instagram.com/itromusic/
▽ Follow Kontinuum
SoundCloud https://soundcloud.com/kontinuum
Facebook https://www.facebook.com/itsKontinuum
Twitter https://twitter.com/itsKontinuum
Instagram https://instagram.com/itskontinuum
---
---
Outro Template made by Grabster - Youtube.com/GrabsterTV
---
Font Website: https://www.urbanfonts.com/
Font Name: Bleeding Cowboys
Designed by: Last Soundtrack
Category: Dirty, Western
File size: 87.8kb
---
asus
asus vivobook
asus vivibook s15
asus unboxing
asus vivobook unboxing
Asus VivoBook S15 S510UN-BQ070T
s15 s510un
s15 s510un-bq070t
bq070t
asus bq070t
asus s15 s510un
asus backpack
asus backpack unboxing
asus vivobook unboxing hindi
asus vivobook hindi
unboxing hindi
asus laptop unboxing
asus laptop unboxing hindi
asus laptop with 8th gen processor
8th gen processor
8th gen processor laptop
8th gen processor laptop unboxing
8th gen processor laptop unboxing hindi
asus laptop with ssd
laptop with ssd
laptop with ssd unboxing
laptop with latest specification
laptop with latest processor
laptop with fingerprint sensor
nano edge display
best laptop 2018
best laptop 2018 hindi
best budget laptop
best budget laptop 2018
best budget laptop for video editing
best budget laptop 2018 hindi
best budget laptop in india
best budget laptop in india 2018
best budget laptop in india 2018 hindi
best laptop for video editing
laptop for video editing
best laptop for video editing and gaming
best budget laptop for gaming
best budget laptop for gaming hindi
best budget laptop for gaming 2018
best budget laptop for gaming 2018 hindi
---
▶️ DTube
▶️ IPFS