Welcome to Twitch Sings!!!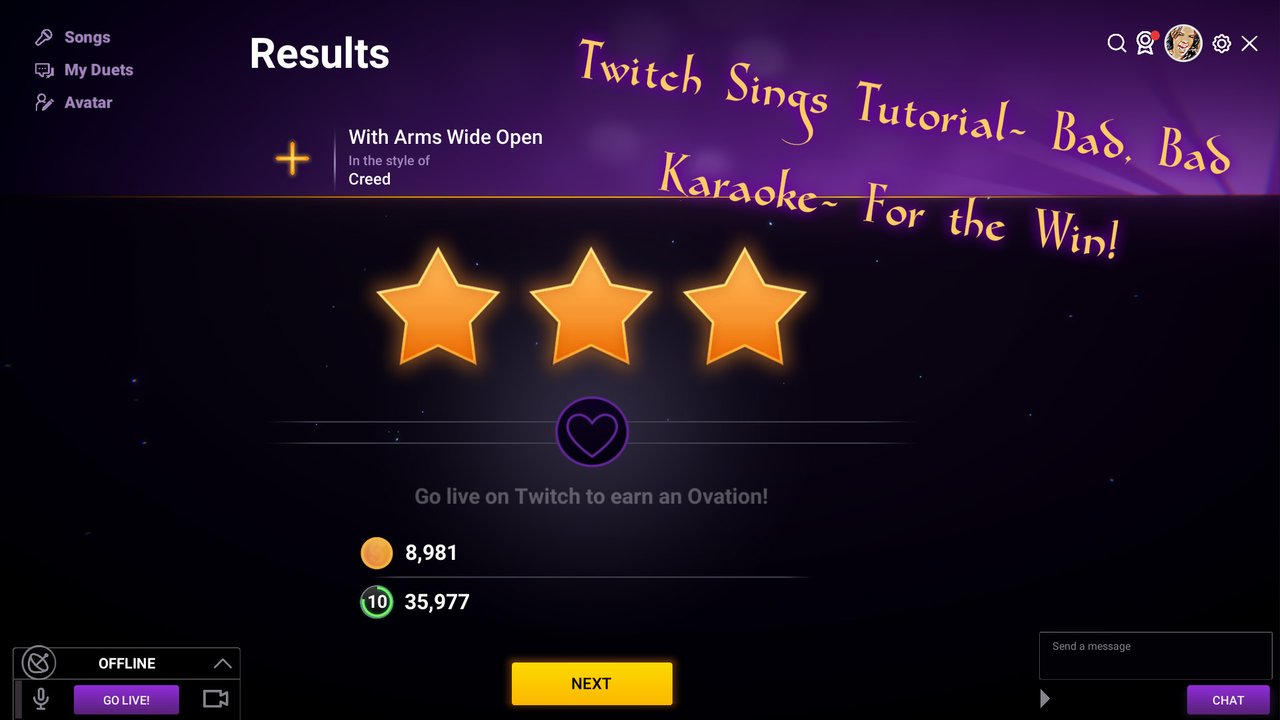 ---

---
We hope you have heard that @simgirlandsnook, along with @molovelly will be hosting the new Bad, Bad Karaoke this summer of 2019 and we will be using the Twitch Sings game from Twitch.com.
Twitch Sings is a program you can download to your computer to record your karaoke songs. The program is only available from Twitch.com and only for PC.
This tutorial will help you understand the basics of the game and get you started recording and posting your first song. I took many more screen shots, but too many for one post so, stay tuned for a more advanced Twitch Sings Tutorial in the future.
---

---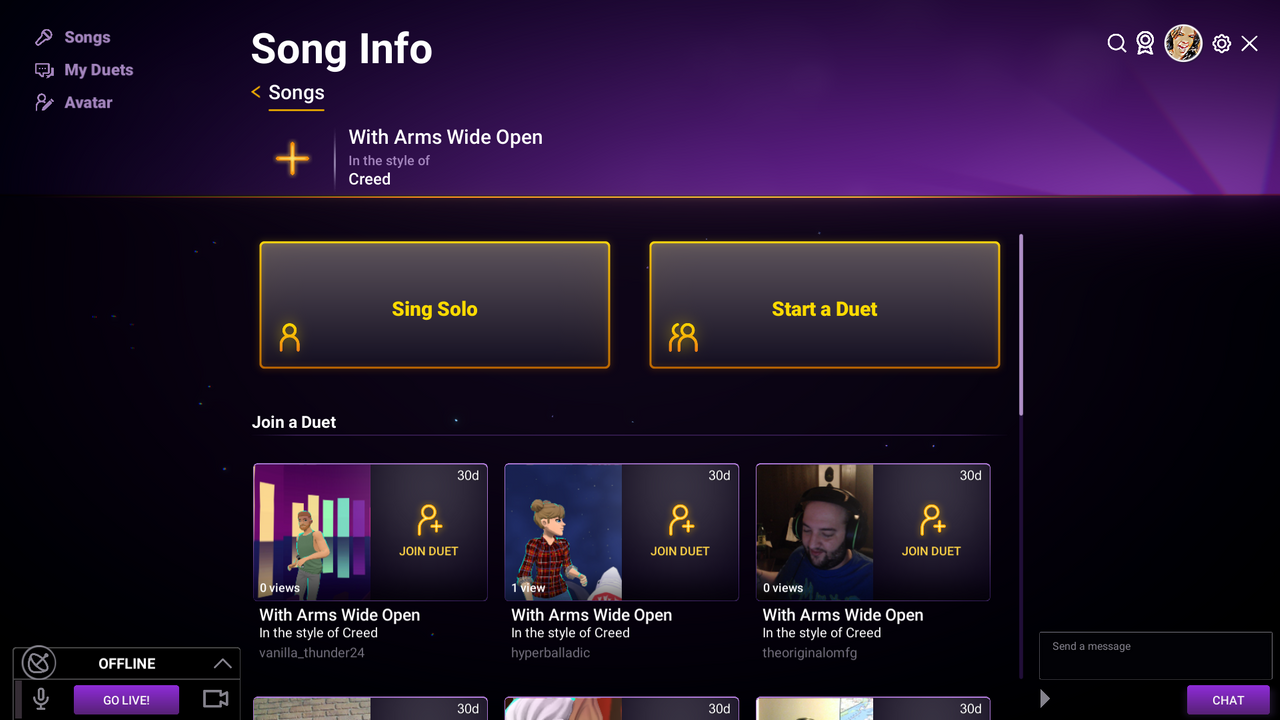 ---

---
Once you have set up your Twitch Sings game and have created your avatar, you will be able to choose a song to sing. You can find a list of songs to choose from by selecting the "Songs" option located on the top left of the screen.
Once your song is selected, you are then taken to another screen in which you can pick either a solo performance, or a duet. There are also a list of duets to join if you'd like to sing with another person.
---

---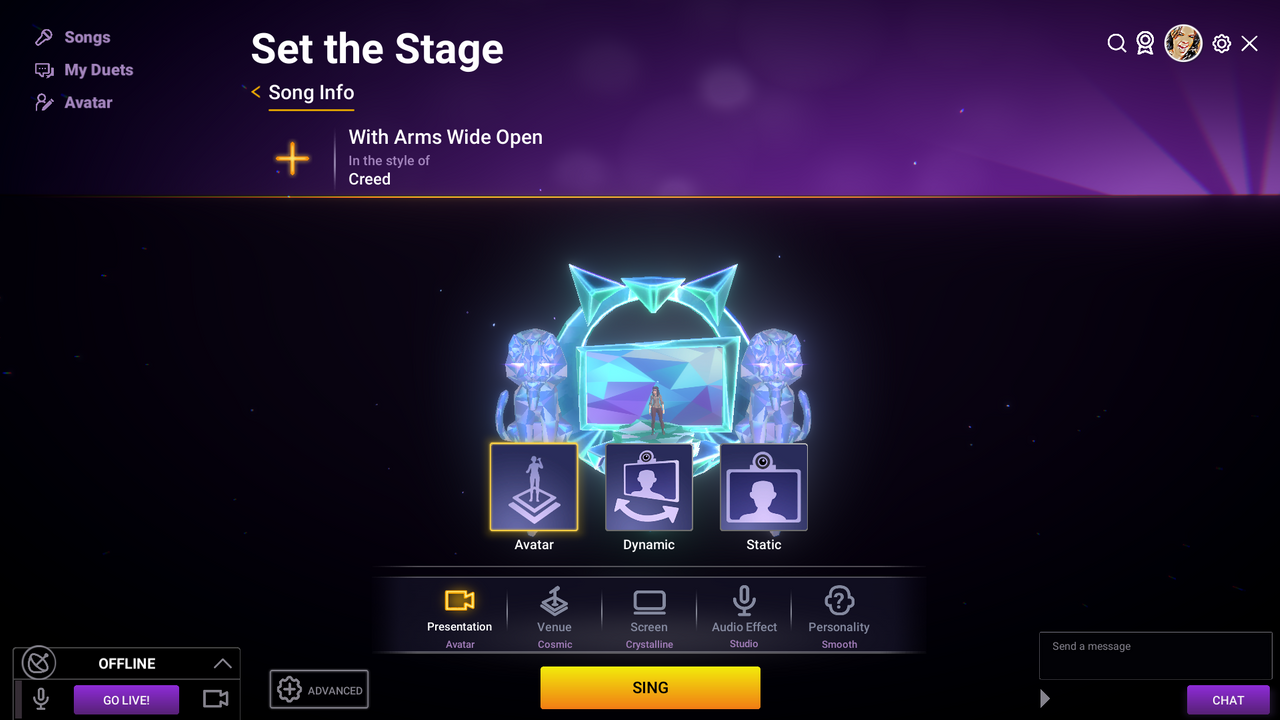 ---

---
When you have picked either solo performance, or duet you will be taken to the stage set-up screen where you can set the stage for your performance.
Here you will pick each of the five different aspects of your performance for the avatar, or you can choose to use the web cam and either have the camera dynamic, or static.
If you choose to use an avatar, you can go back to the avatar option at any time to change the look and style for each performance.
The aspects you have selected will stay that way until you change them again, so if you are like me and forget to change your outfit, all you need to do is pick the song again to get back to the stage set-up.
---

---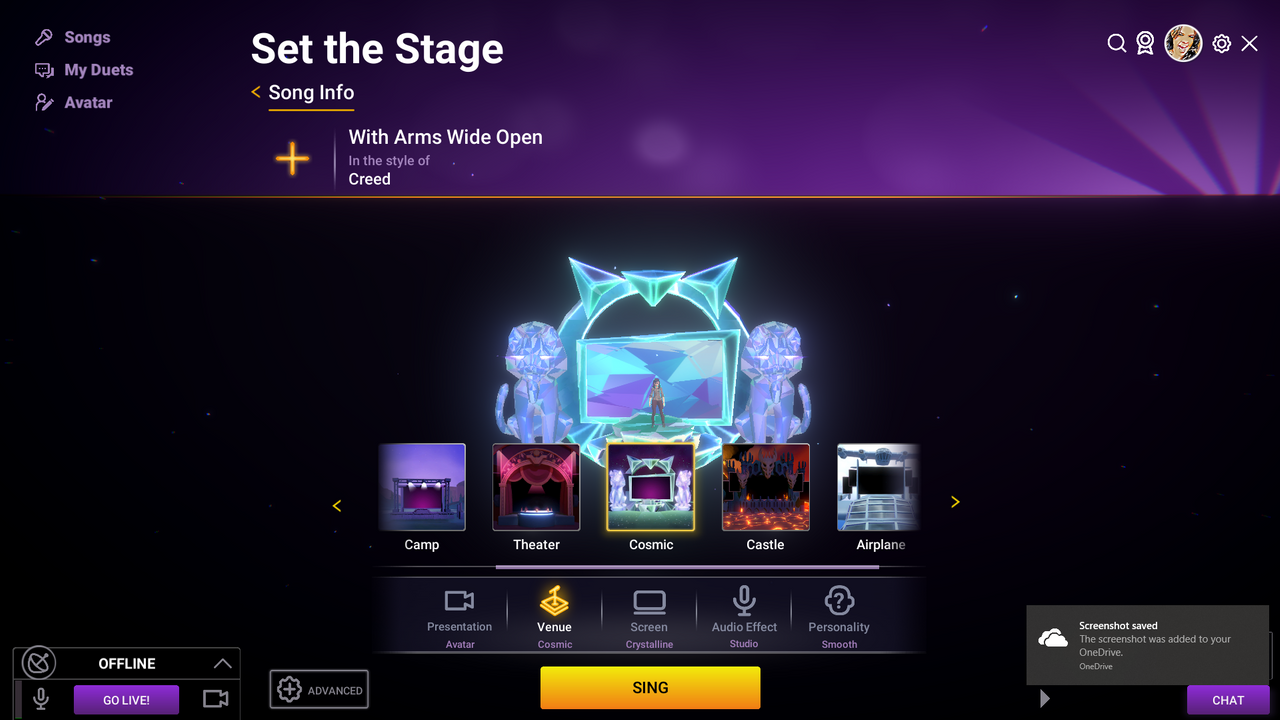 ---

---
The next aspect you will be selecting is the venue. This will outline your avatar and each venue will have a different type of audience.
You can choose to have a laid back crowd, or one that is rowdy. When choosing the venue think about how it will compliment your avatar, and how the audience will be reacting to the song you've selected.
You can click the arrows on each side to show more options. Once you have picked one, the name of the venue will be written in your selections
---

---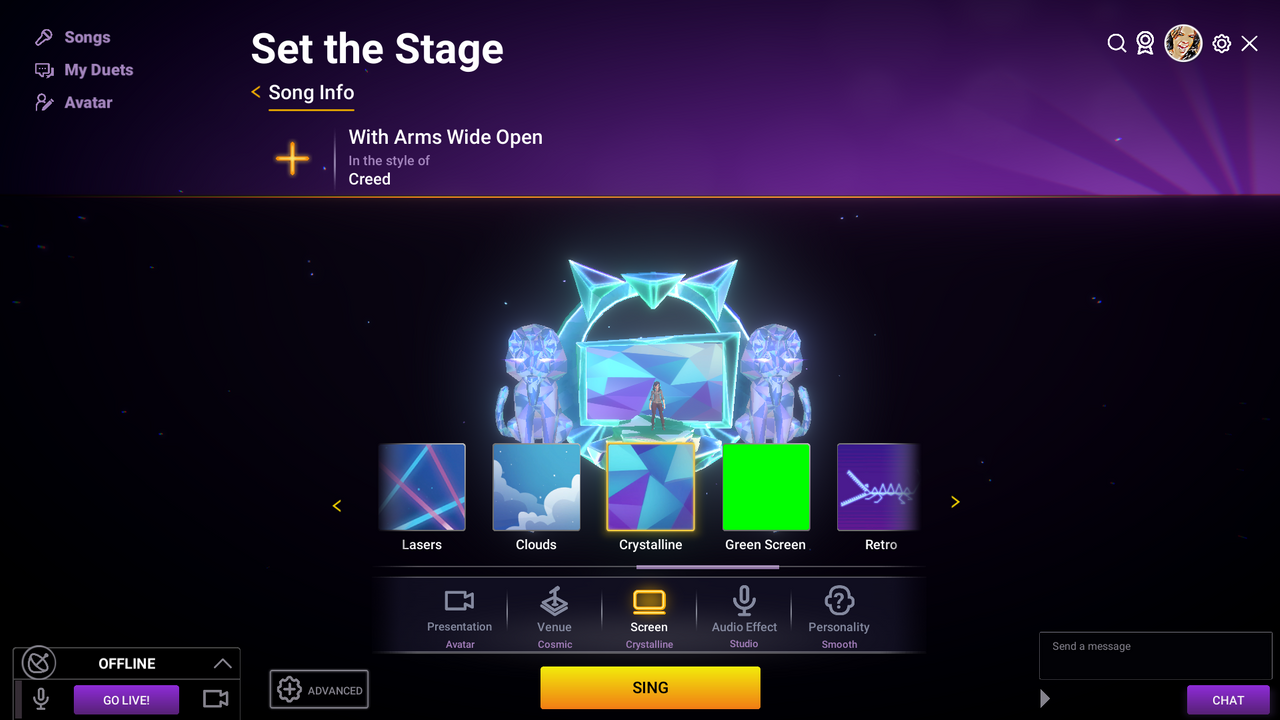 ---

---
Next you will be selecting the screen for your background. Each of the screens will be moving behind your avatar as you perform your song.
There are many different colors and themes to use and you can mix and match the stage and the backgrounds until you find one that looks nice, or if you are like me and @snook, until you find one that matches your outfit. Spoil alert- no pastels.
One of the screens is a green screen. You can use the green screen for your webcam if you'd like. I have not tried the camera yet, or the green screen, but I'm think I read you can put your own background. I do know you can use the Face Rig. One of us will experiment and get back to you on that.
---

---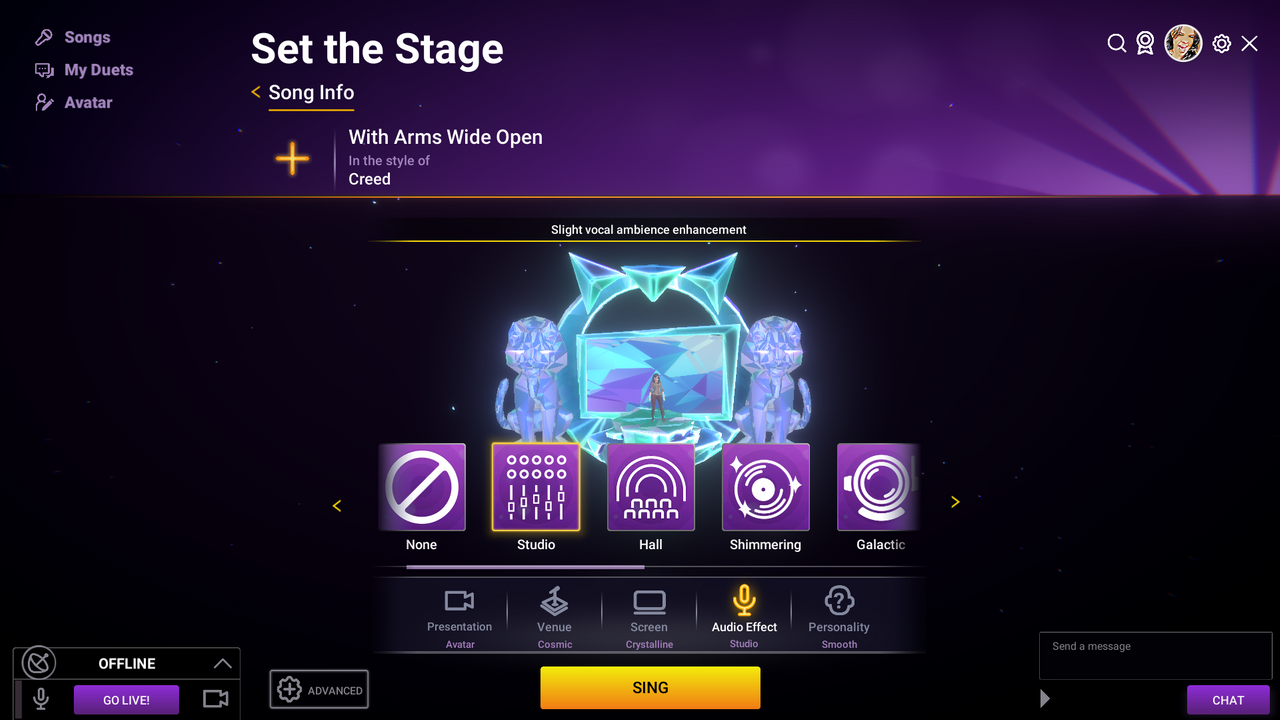 ---

---
The audio effect is the next aspect to be selected. You can choose any of the effects to enhance your voice. I keep mine on studio, but you can change your voice to go higher, or shake. You can even pick the monster which distorts the sound of your voice.
You are able to hear the effect once you have recorded your song and play it back. You can experiment with the different voices and use them for your songs. If you do not like the outcome, you can delete the song. If you like the outcome, you can publish the song and add it to your completed videos.
---

---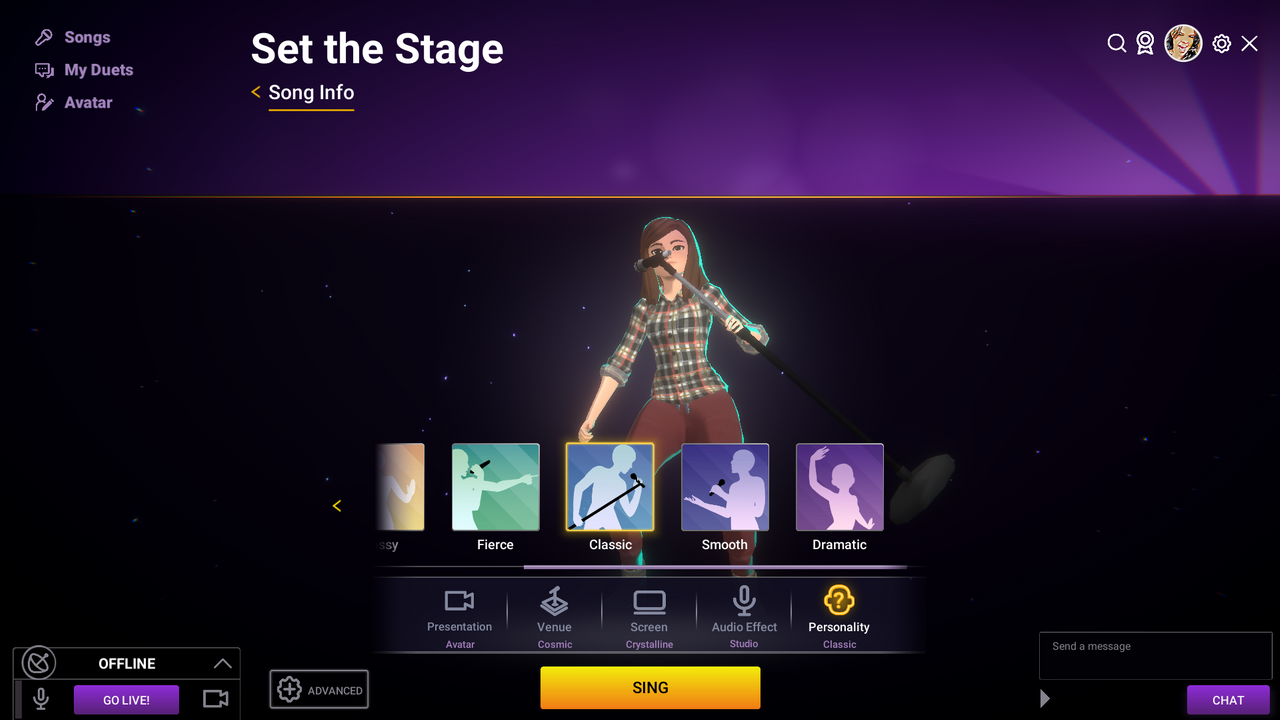 ---

---
The last aspect you will be choosing on the stage set-up screen will be your personality. This option decides the motions your avatar will be making on stage. You will want to pick the mood of your avatar by matching the mood of the song with your personality.
The personalities range from classic to dramatic. You again can use the arrows on each side to browse more options. Once you choose a personality, a preview of the movements will be shown. This will help you decide the perfect style for each song you sing.
Remember to pick out each of these five stage set-up aspects every time you record a new song.
Here is the duet @molovelly and I recently completed. You will be impressed by the matching personalities...
---

---
(Unsupported https://player.twitch.tv/?autoplay=false&video=v422216379)
Watch Duet with simgirl33: Build Me Up Buttercup from YoItsMolo on www.twitch.tv
---

---
Once you publish a duet, it goes off into a black hole that I can't seem to find, but I know they are there because my friends like @molovelly and @snook have retrieved and then recorded them. To find the completed duets, select the "My Duets" from the options.
There you will find the most recent duets that have been recorded from the ones you have sent out into the black hole. You can also choose the "all" option to find older completed duets.
---

---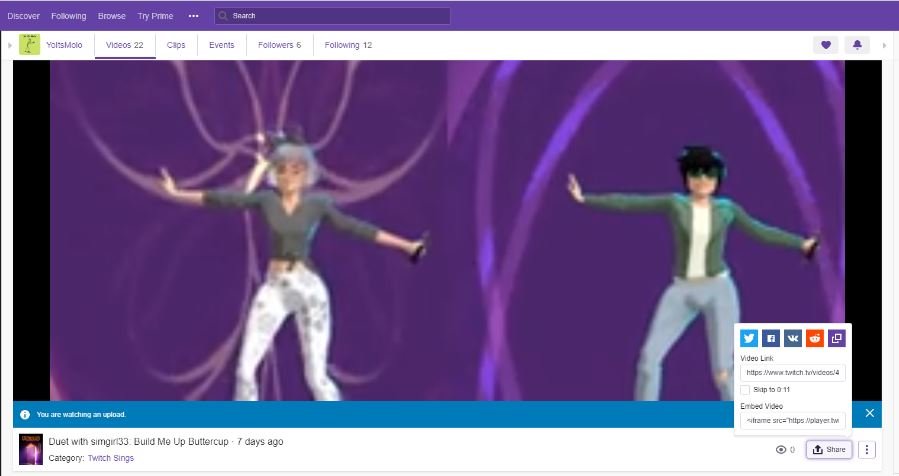 ---

---
To find a completed duet, you will need to do a little stalking. First you will need to go to the person's Twitch channel to find their completed video. Use the search to find their channel, and then select their videos.
You may need to select all videos to find yours if the person has many videos. Once you find and click on your duet, you can find the link to the video by opening the share option under the video.
You can use these links to share the video, or to use in your Bad, Bad Karaoke contest entry posts.
Below is a explanation from @snook of how to set-up a Twitch account and get the game started.
---

---
---

---
I hope you have learned a little bit about how-to Twitch Sings from this post, and hope you can enjoy the game as much as we have been doing these last few weeks.
Don't forget to check out @simgirlandsnook for more details about the Bad, Bad Karaoke and enter to win minimal prizes!!!
Bad, Bad Karaoke Challenge- "I Will Survive!" Win SBI
Until next time,
Happy Gaming- Sim Girl
---

---

---