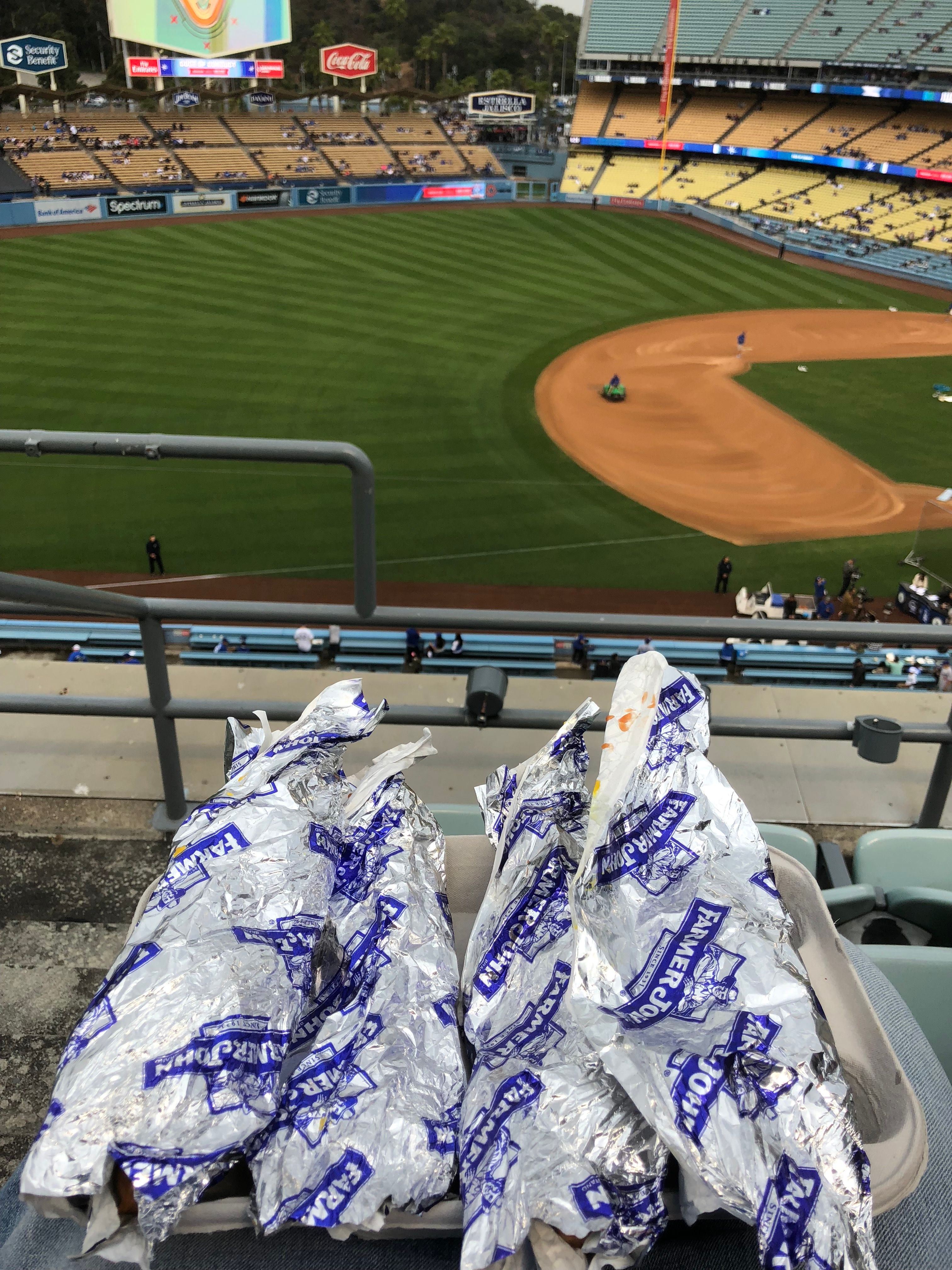 It was Dollar Dodger Dog Night is Chavez Ravine. It was the first dollar dog night in 6 years. The night took on a special meaning for me and not just because you could buy five hot dogs for the normal price of one.
There were a lot of kids in the neighborhood I grew up in. Actually there were enough of us to play a full 5 on 5 in basketball game and have subs for each team. I digress, anyhow, one of the parents on the block always used to rally us to play sports or pile us in the car and take us all to the movies. He was a great person and in one of those outings we went to a Phillies dollar dog night and sat in the first row behind the dugout at a Phillies game. It was a great childhood memory. The parent could have taken clients or his friends but he choose to take his kids and me knowing it was be a great experience. I cherish that memory and that parent.
That parent passed away far too soon. In his honor, I took a lot of my friends to this dollar dog night and ate too many hot dogs. The pitching match up featured Dodgers rookie Walker Buehler, who participated in the Dodgers combined no hitter earlier in the year versus Rockies starter German Marquez, who'd been ejected earlier in the year for getting in a fight. Both pitcher came out dealing and finished with nearly the exact stat lines. Buehler went 7 innings allowing two hits and one run, a homer, while striking out six. Marquez threw seven innings as well allowing two hits, one home run while walking two and striking out five.
The offenses were sputtering the entire night so the ex factors for the game came down to the bullpens and defense. The bullpens held the offenses in check but after Pedro Baez walked Rockies catcher Tony Wolters, a Grandal throwing error allowed Wolters to get to third. Another Chase Utley throwing error to first allowed Wolters to score the winning run.
Wade Davis, the Rox closer, came in the game in the ninth to shut down the Dodgers and did so to earn his 17thsave but not without controversy. With two outs in the bottom of the ninth, Matt Kemp grounded weakly to shortstop. Trevor Story's throw was off the mark and Kemp reached base but he made the slightest move to go to second. This meant he had to either reach second or go back to first without being tug out. The Rockies saw that Kemp left the base path and tug him out, rendering the throwing error useless. The Rockies won 2-1 ending the Dodgers 4 game win streak.