Did you know about steemmonsters.club?
This site developed by @felipejoys adds a new way to play steemmonsters/splinterlands.
You enter your steem name, and it searches for a battle with another player. After a battle has been found you can challange the other player. This allows non-ranked battles to happen between unknown opponents.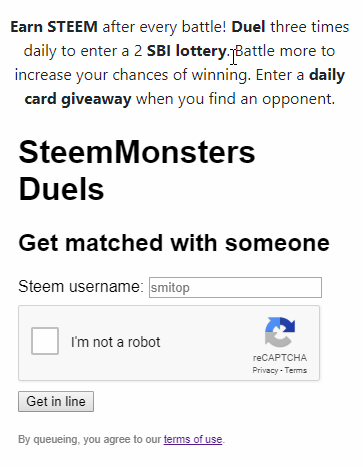 There are also many prizes/perks for playing on steemmonsters.club. Firstly everyone who plays (win or lose) gets a little steem (more for winning). There is also a SBI lottery and a post upvote feature.
I think the site is great, my only complaint is it's hard to find a battle with other players due to a low player base. Something I'm sure will start to solve itself over time.
Check out the full rewards list here:
https://steemit.com/spt/@felipejoys/steemmonsters-club-s-rewards-doubled-again-loss-free-investment-option-coming-up