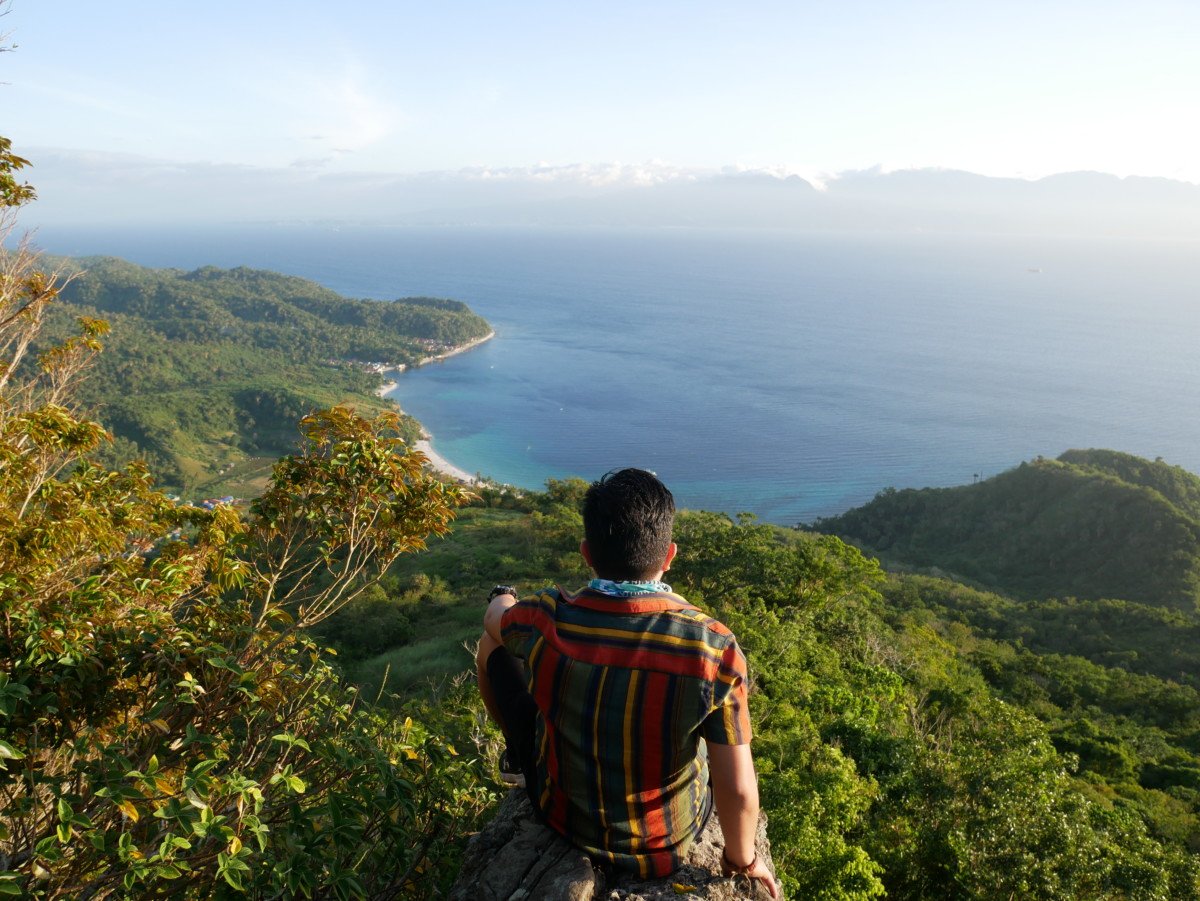 Last time we left off we were about to reach to top of the mountain. It was a very long and tiring hike to Mag Asawang Bato located in Marikaban island, Philippines. Everyone was very exhausted but complete the trek we would need to reach the very top of the rock. Unfortunately, not everyone was able to continue to witness the enchanting view from up there. Join me again today as I take you to the highest point of the island.
Kissing the Sky "Mag Asawang Bato"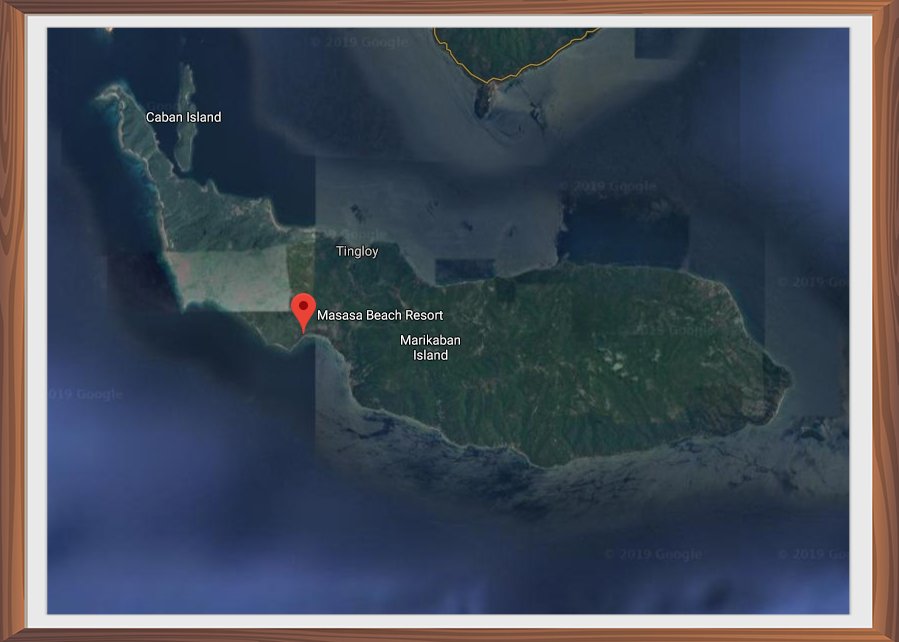 See our previous episodes in Marikaban Island:
A Getaway to Marikaban Island
The Difficult Trail to "Mag Asawang Bato" (Couple Rock)

You could also watch and subscribe to our video episodes on the links below:
Masasa Adventure Episode: 1 "Gateway to Marikaban Island
Masasa Adventure Episode: 2 "The Beach"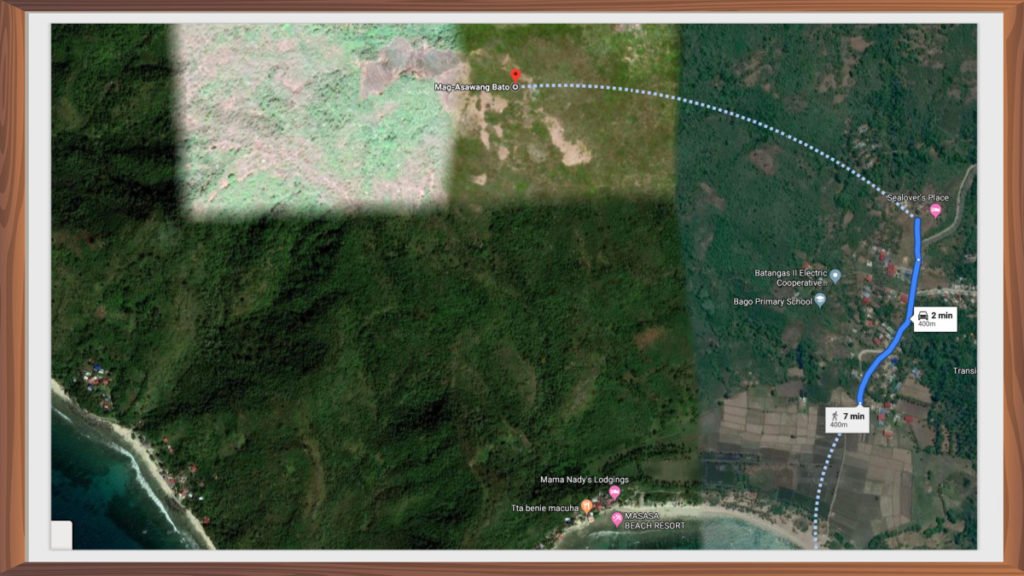 Only three of us were left in completing this challenging trail. It was a very fulfilling sight being this close to this rock which is very visible from down below. It is mind -boggling how this rock formed on top of the mountain.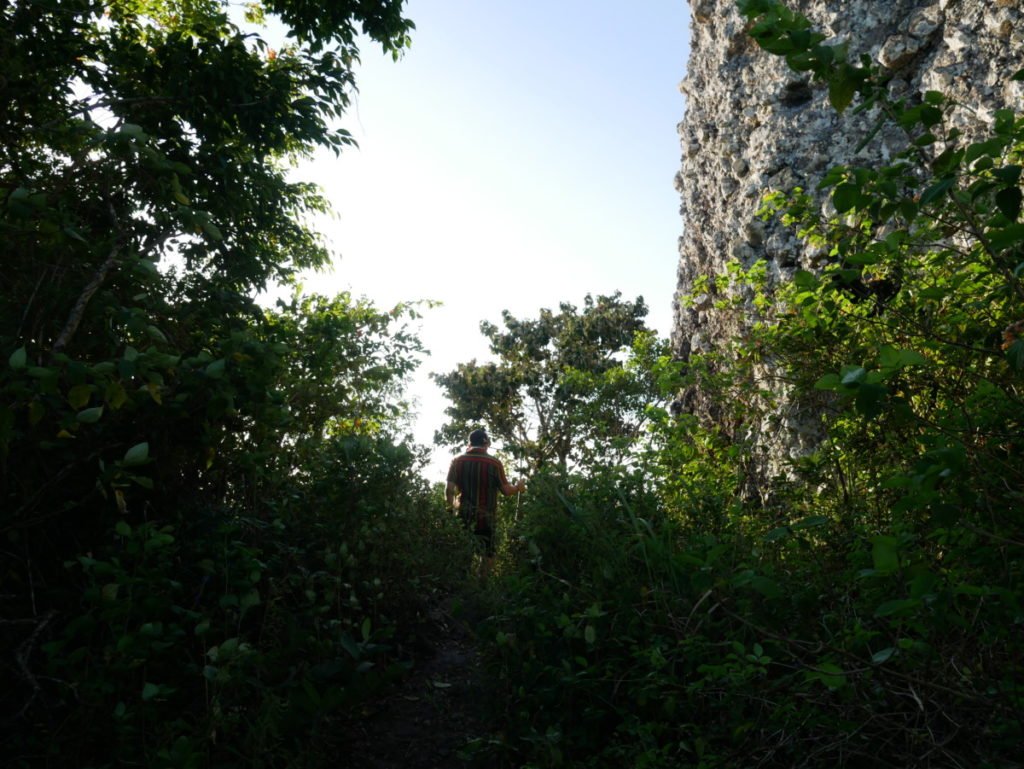 The colossal rock seems to stand guard of the whole island. According to our guide, the rock formed as water gushed out from the mountain. As the water sprouted the rocks hardened throughout the years. I am not a geologist and could not confirm if that is physically possible but it is the story that has been passed out throughout the years.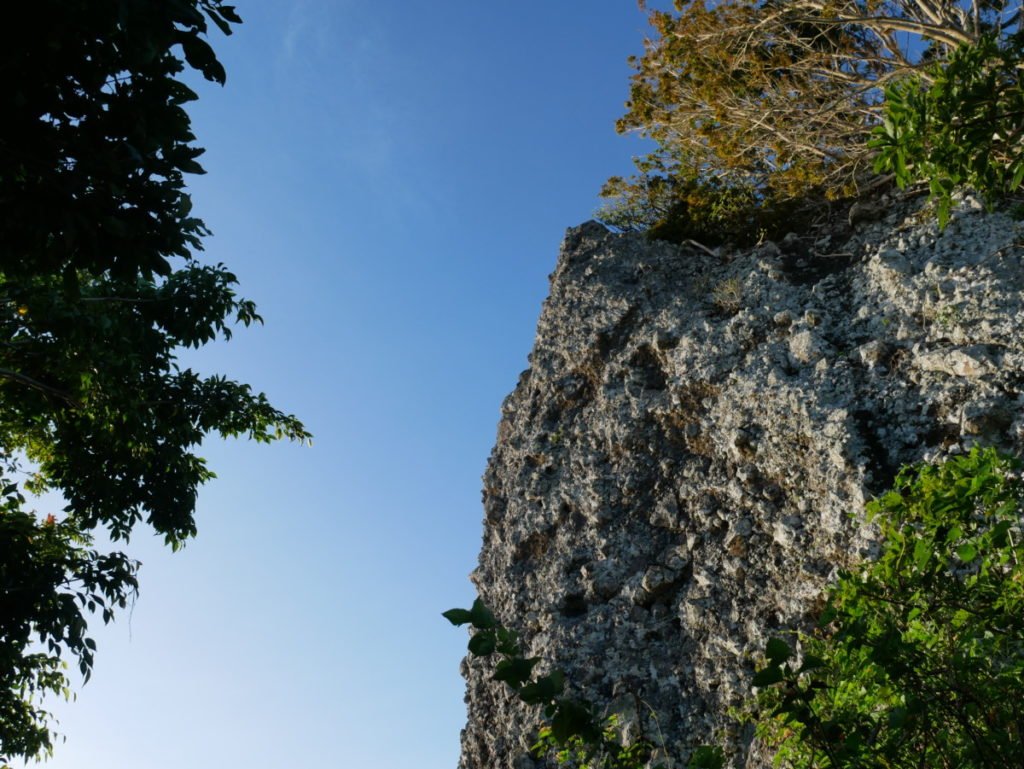 As I came closer to the rock I placed my hand on it as I wanted to feel this achievement. We have been through a lot in this trek and it is a mystery why people have the urge to climb just to see a big chunk of rock.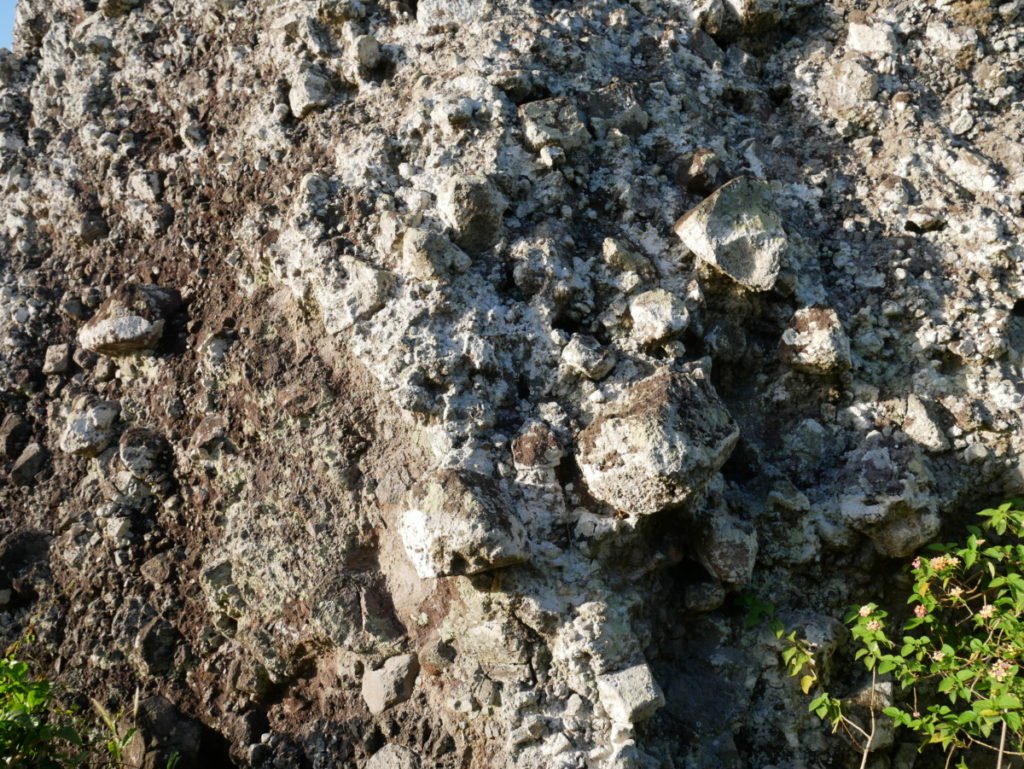 We followed a trail that goes around the rock and what I saw next completely took my breath away.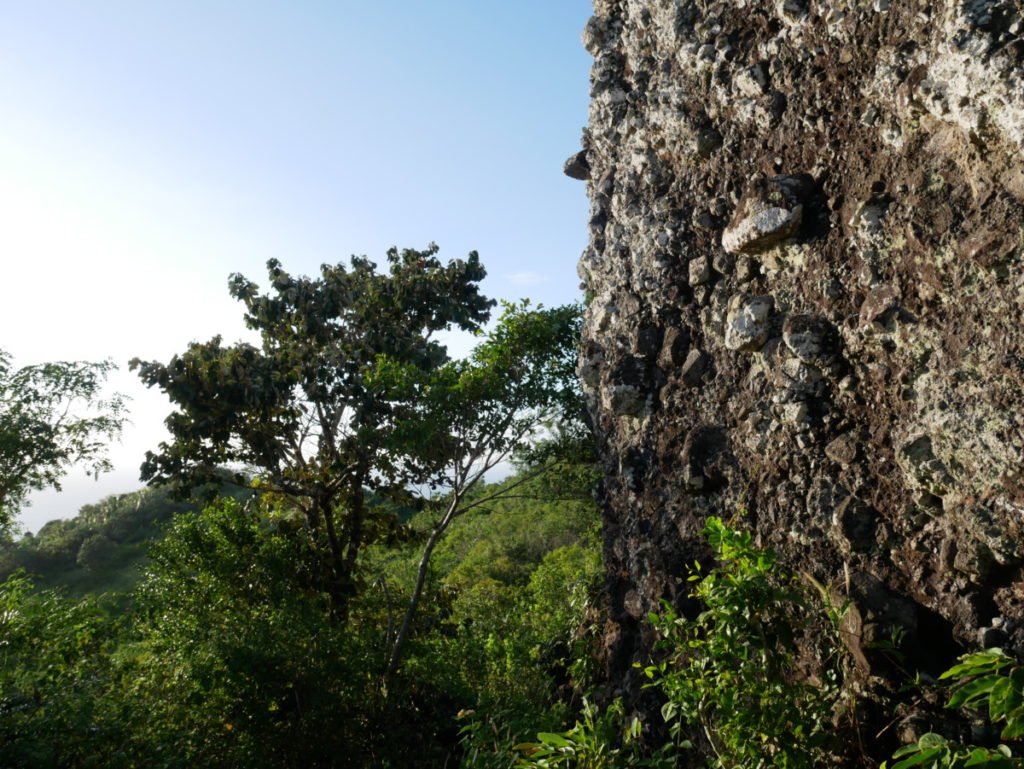 Seeing this magnificent view of the ocean took away all my exhaustion from the climb. It has somehow has recharged my body and I found this view very rewarding.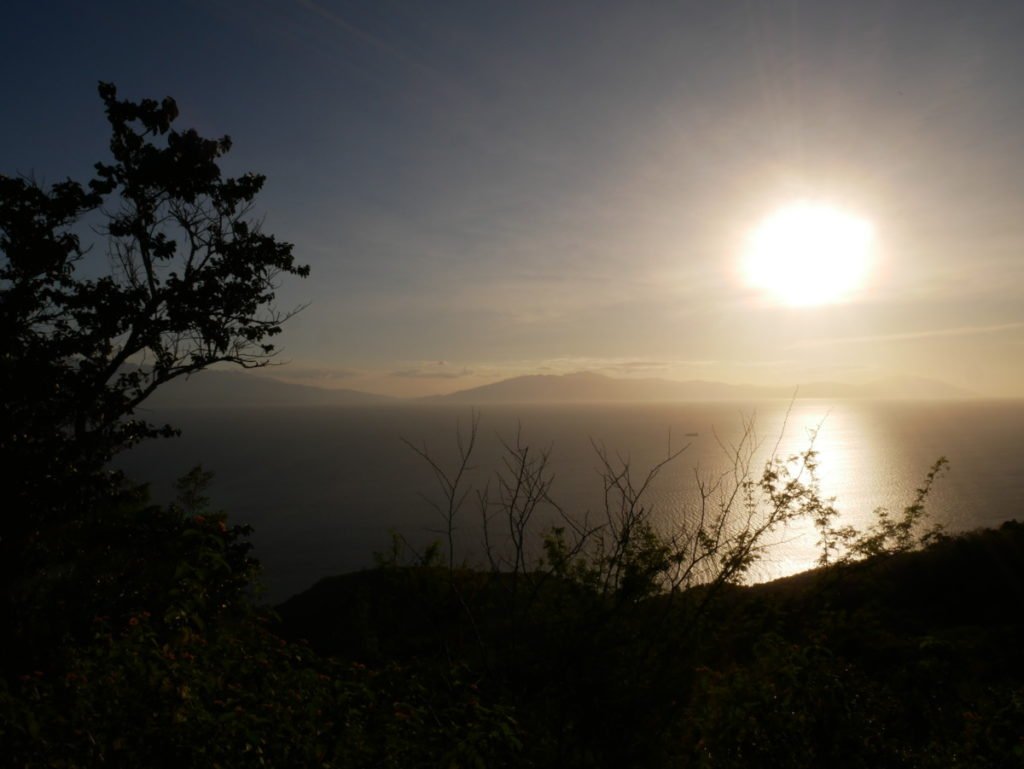 Mag Asawang Bato or Couple Rock as they call it is a marriage that will remain forever. Together standing side by side from sickness or in health, till death do us part.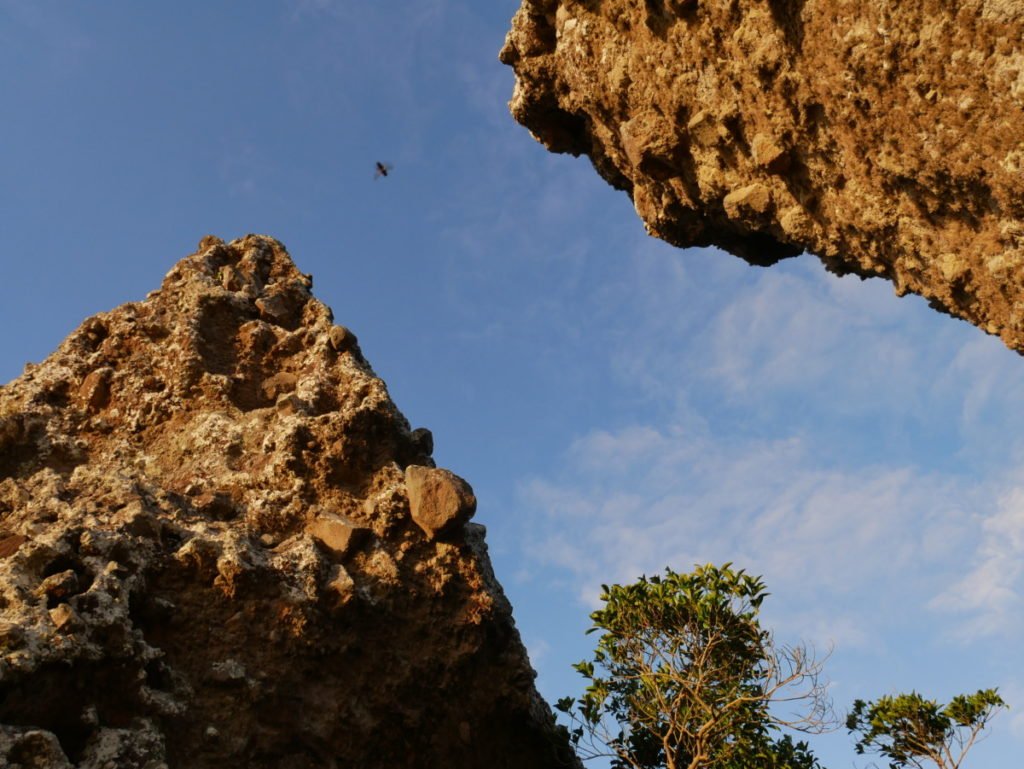 I noticed some holes on the rock that made me wonder, "Were they truly formed from water from the mountain?" Could water have gushed out and created Couple Rock?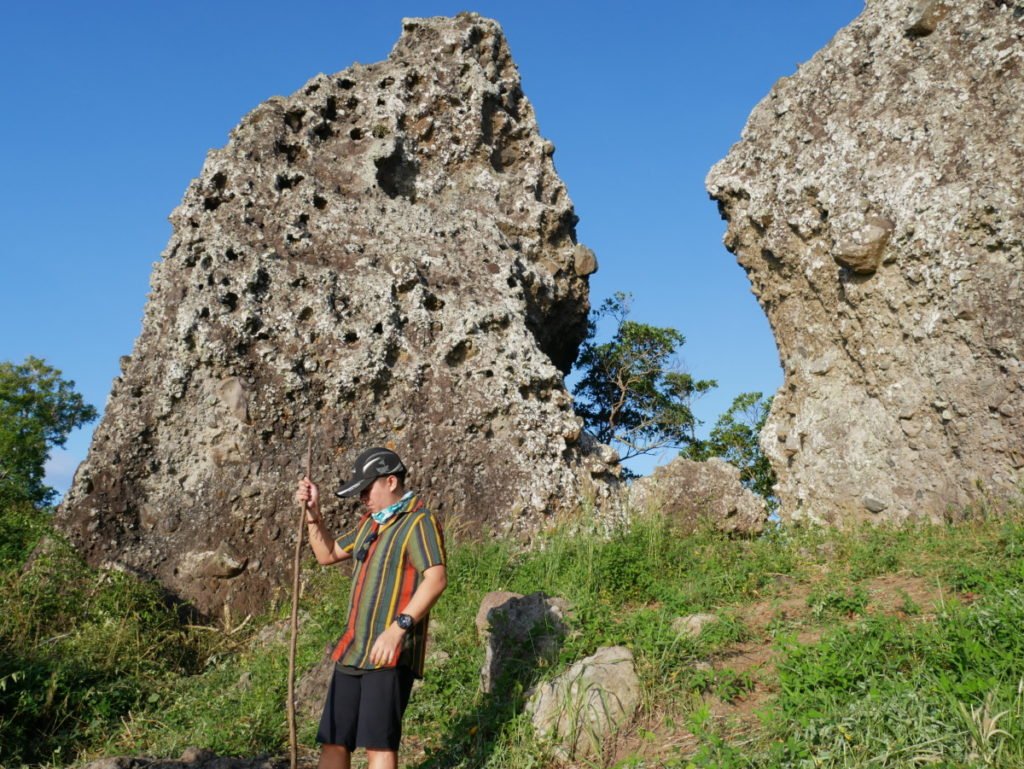 I peeked thru the gap between the two rocks and saw that trees are slowly taking control of the area.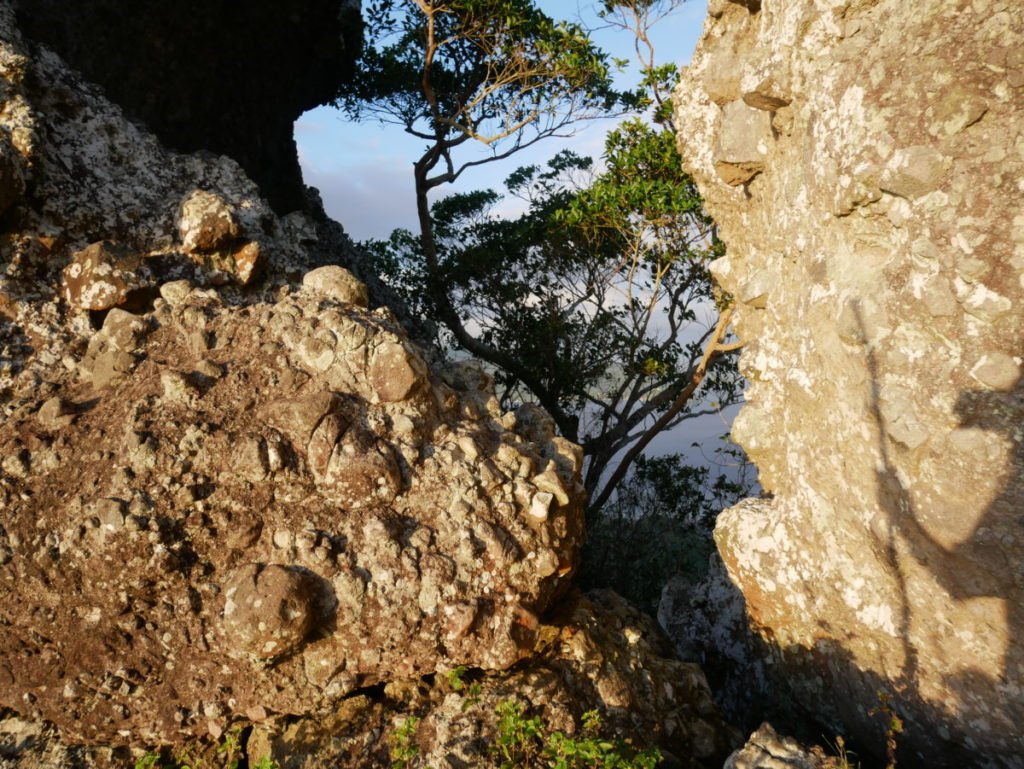 Some of the trees even found a way to grow on the rock itself. It is a wonder how the roots get nourishment. Could there still be some water inside these rocks?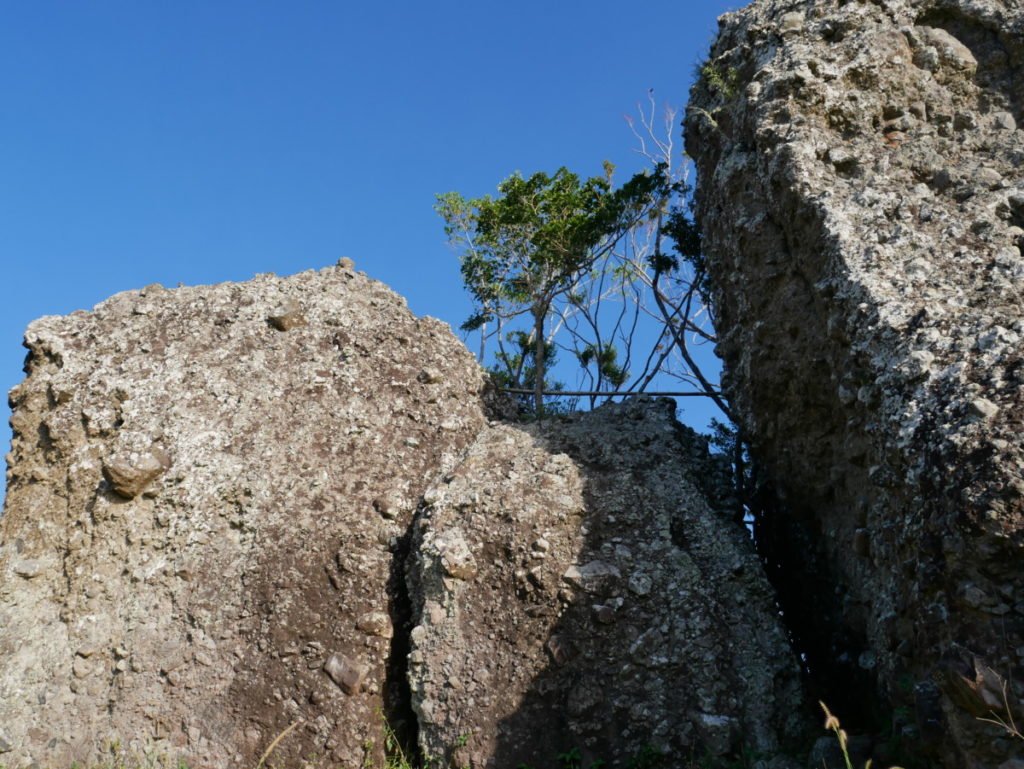 Now it is time to complete this quest and conquer the rock. On the right side, there is a small crevice where you could climb.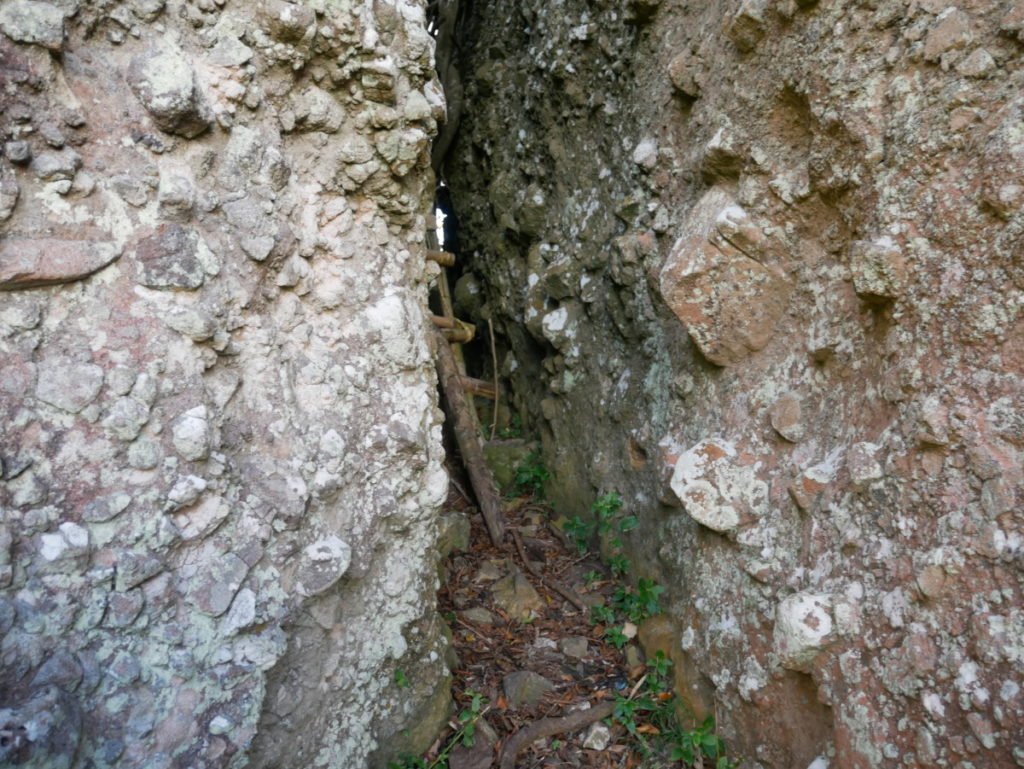 They have made a makeshift ladder from wood and bamboo poles.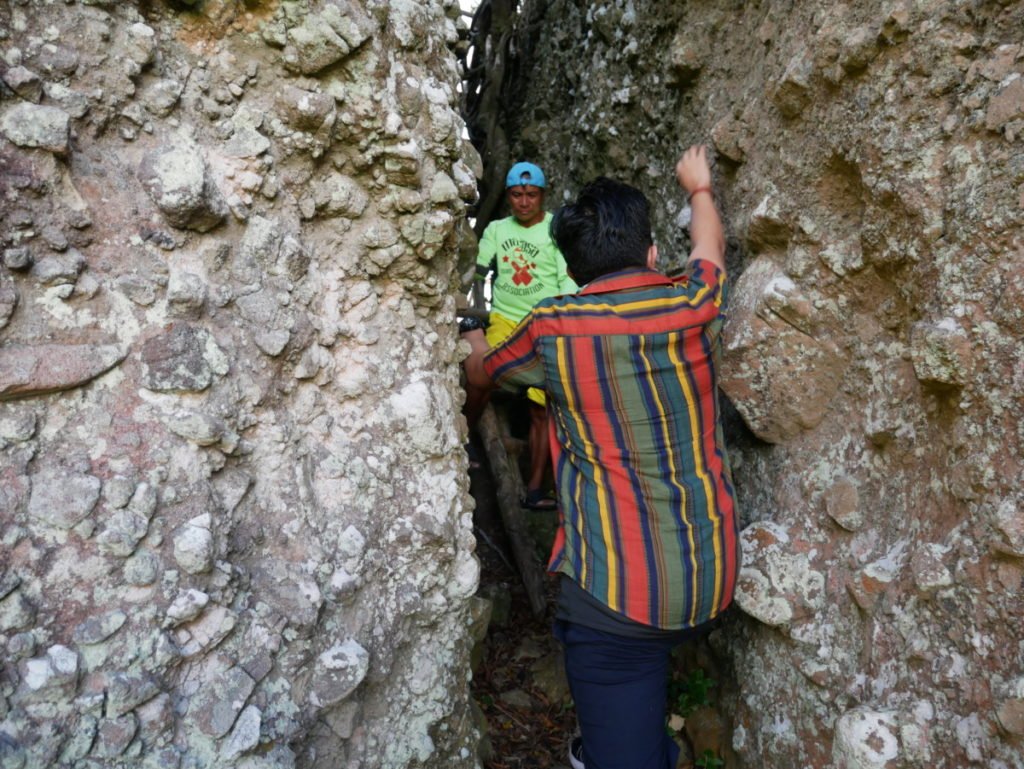 Climbing it is a bit challenging as you needed to grab on rocks on the side as you ascend. The bamboo ladder feels unsafe but is quite sturdy enough to handle your weight.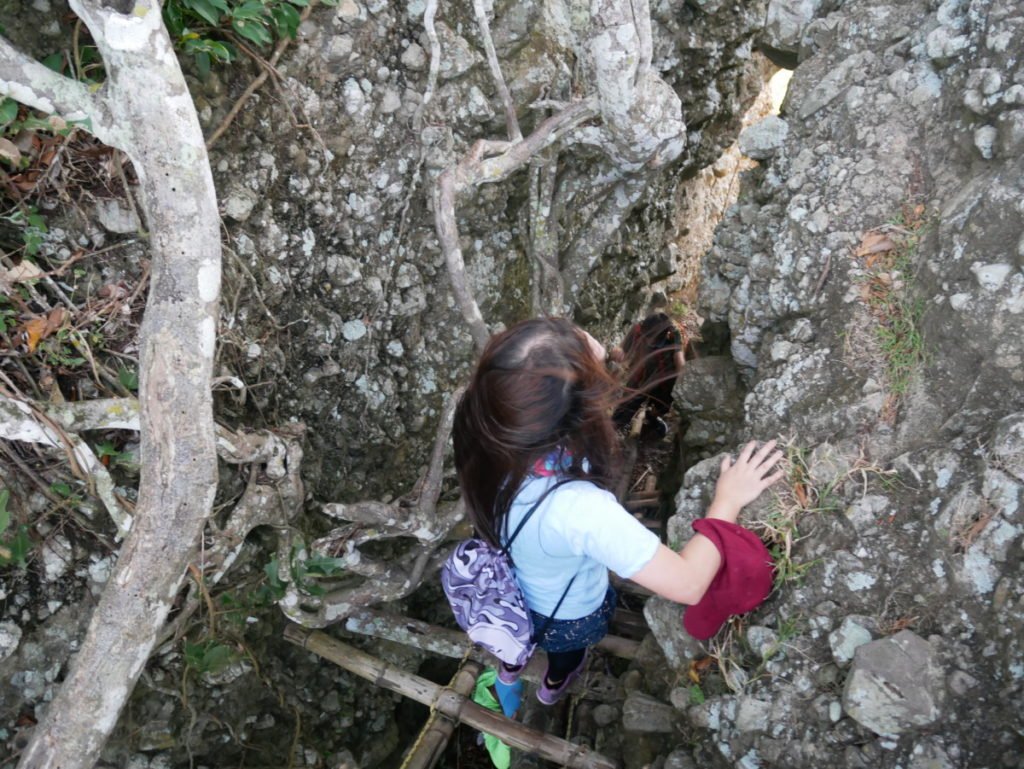 Finally, the three of us were up on the first level of the rock. Bamboo poles are placed around the area as a safety precaution. Roots from the trees can also be seen all over the place and is very useful to grab hold on to.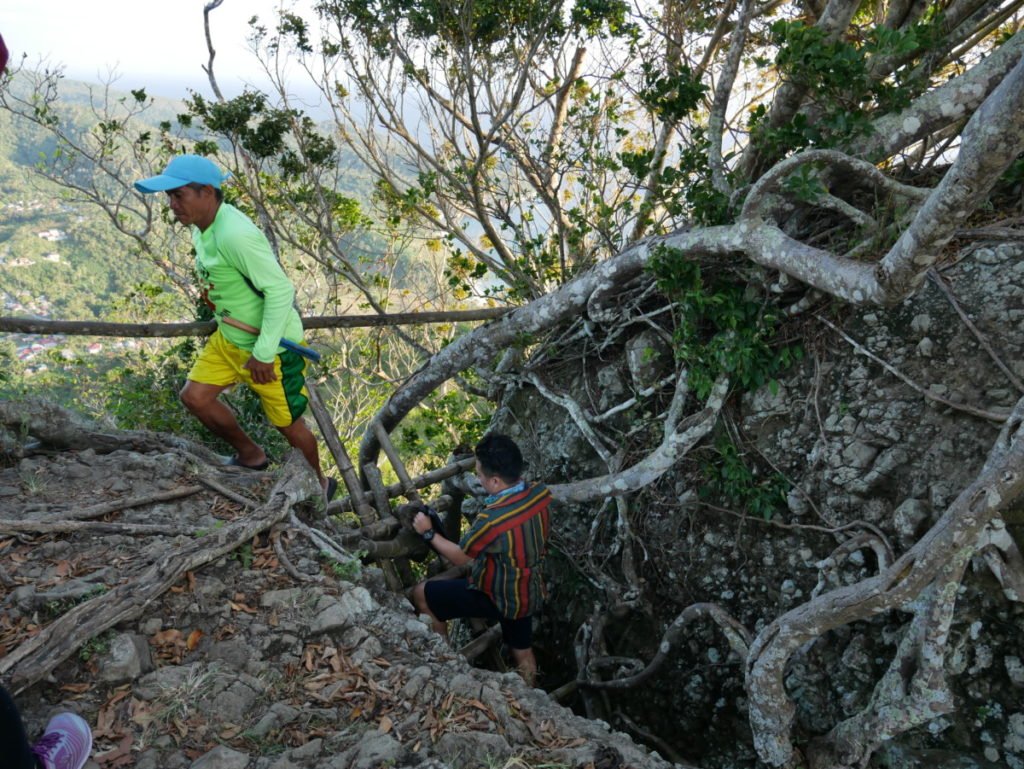 Without the bamboo poles, it would be quite frightening as it is a long drop from here.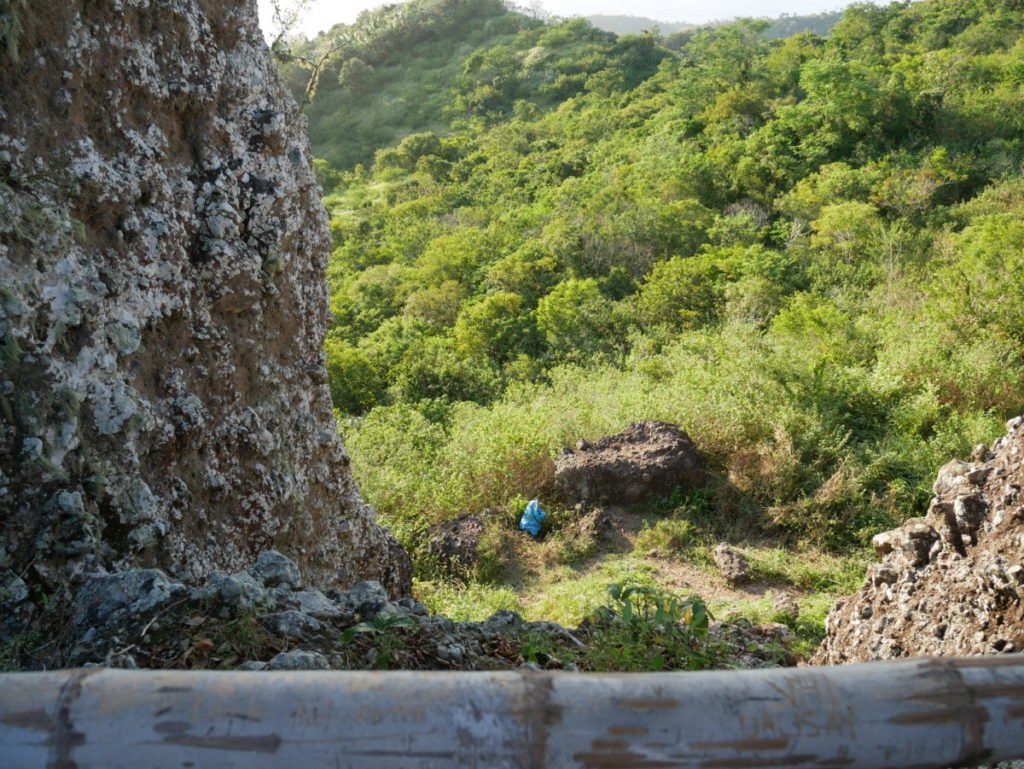 This is the rock that we needed to climb and to be frank I felt a little bit frightened climbing it. The wind up here was very strong and was howling like crazy. I'll be uploading the video very soon and you would hear and almost feel the strong winds blowing on us.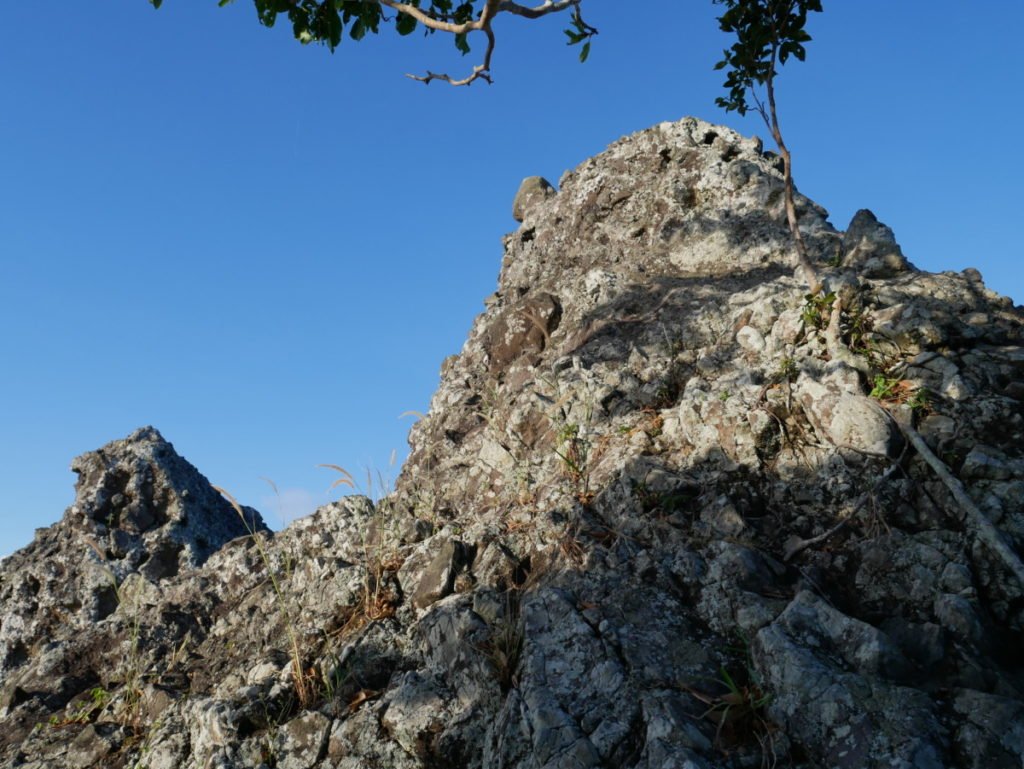 We were guided in every step of the climb. We were told which branch or rock to hold on to, where to put our foot. Our guide is a pro as you could see how he calmly just stands on the edge of the rock. Behind him is a very long drop with nothing to catch him.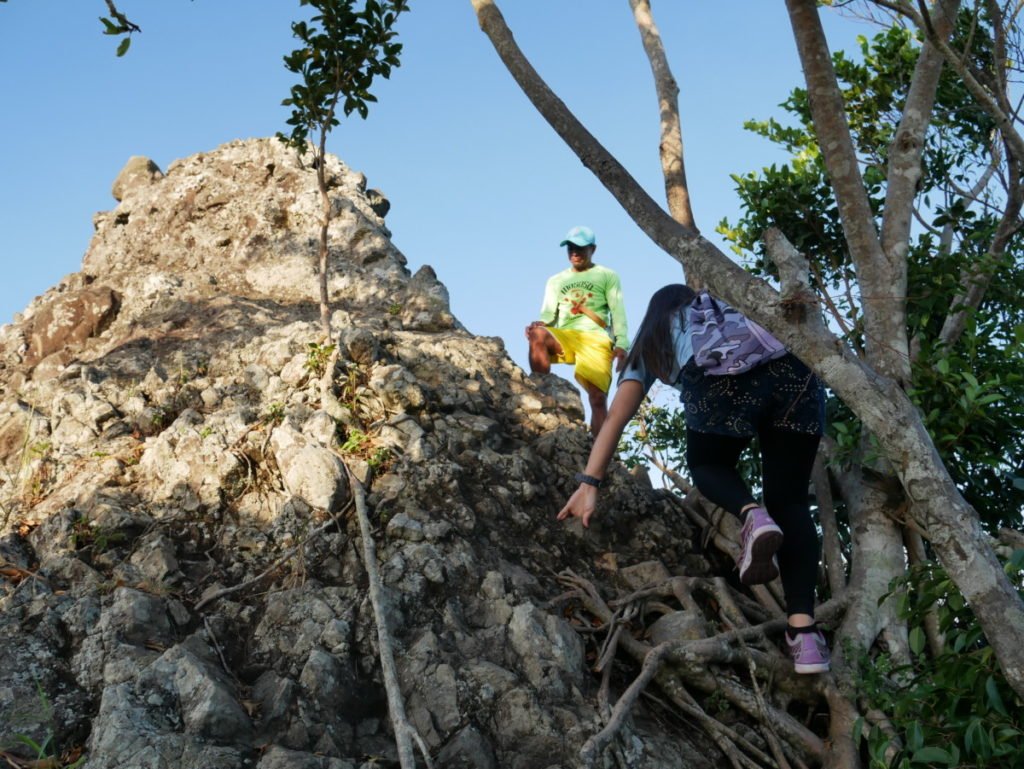 As the three of us got on top we were told to just lean back on the rock and just relax. Up here I felt that we could almost kiss the sky and just embrace this glorious achievement.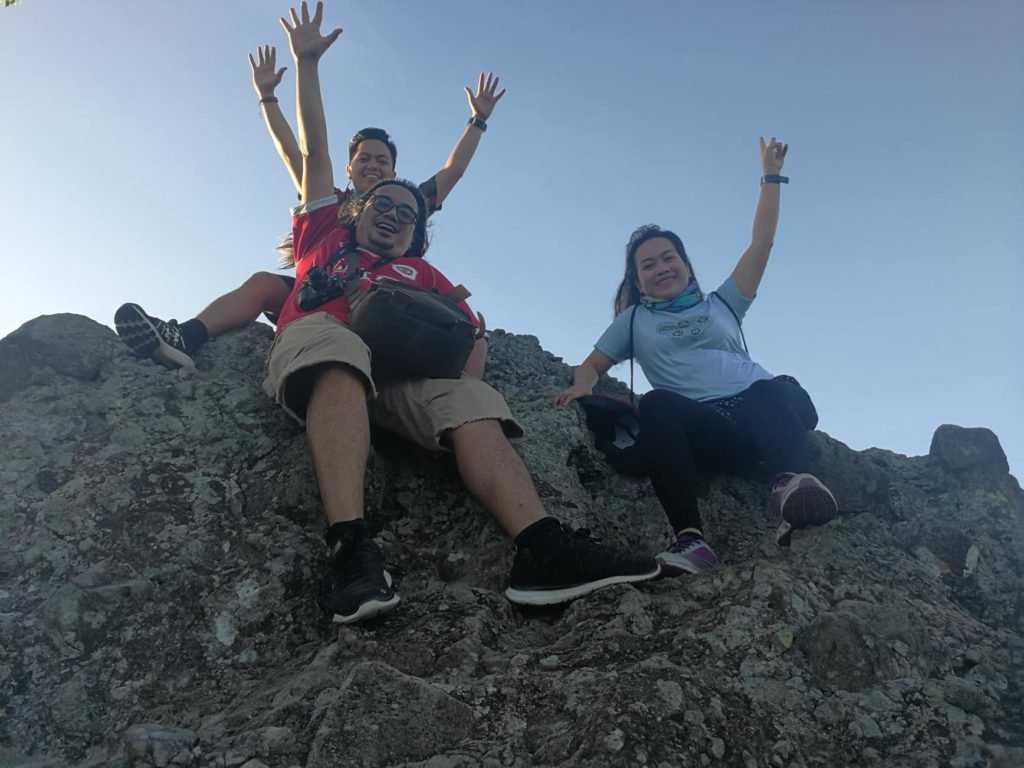 The trees growing here are very strong, feels very solid and looks like it would not break easily. Grabbing hold on the branches is like holding on to a metal pole, the branches doesn't even move.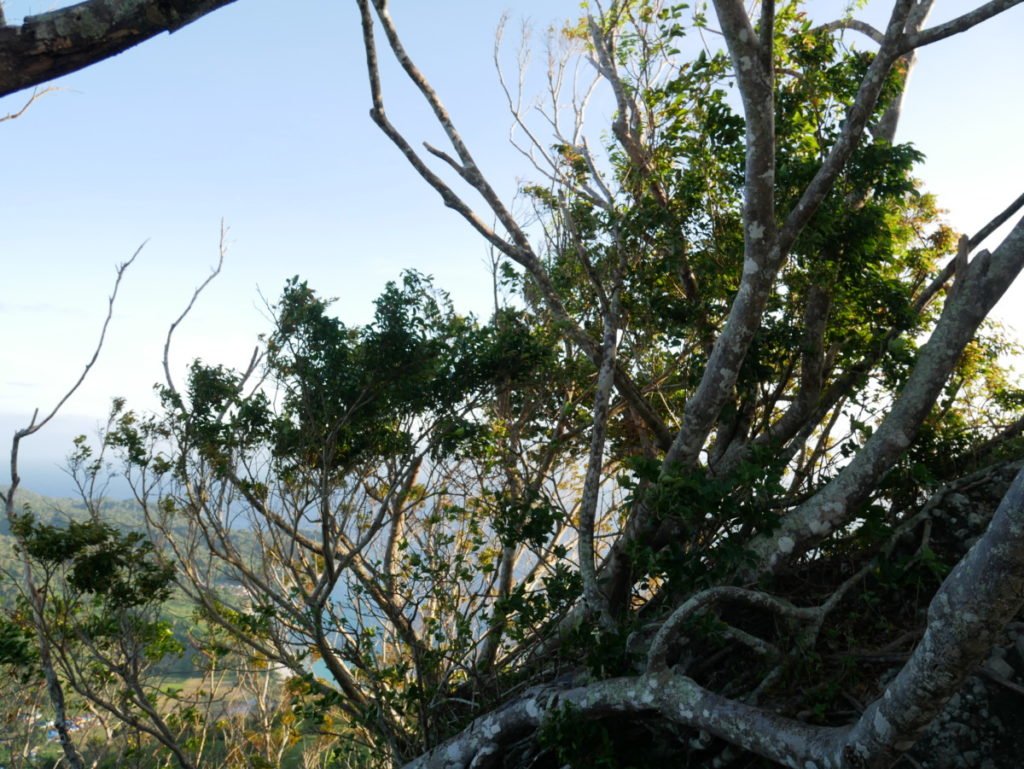 Here is a photo of yours truly in action taken by my brother in law. Camera on neck, one hand hugging a branch and the other hand on a bamboo pole. My feet just floating over finding a foothold.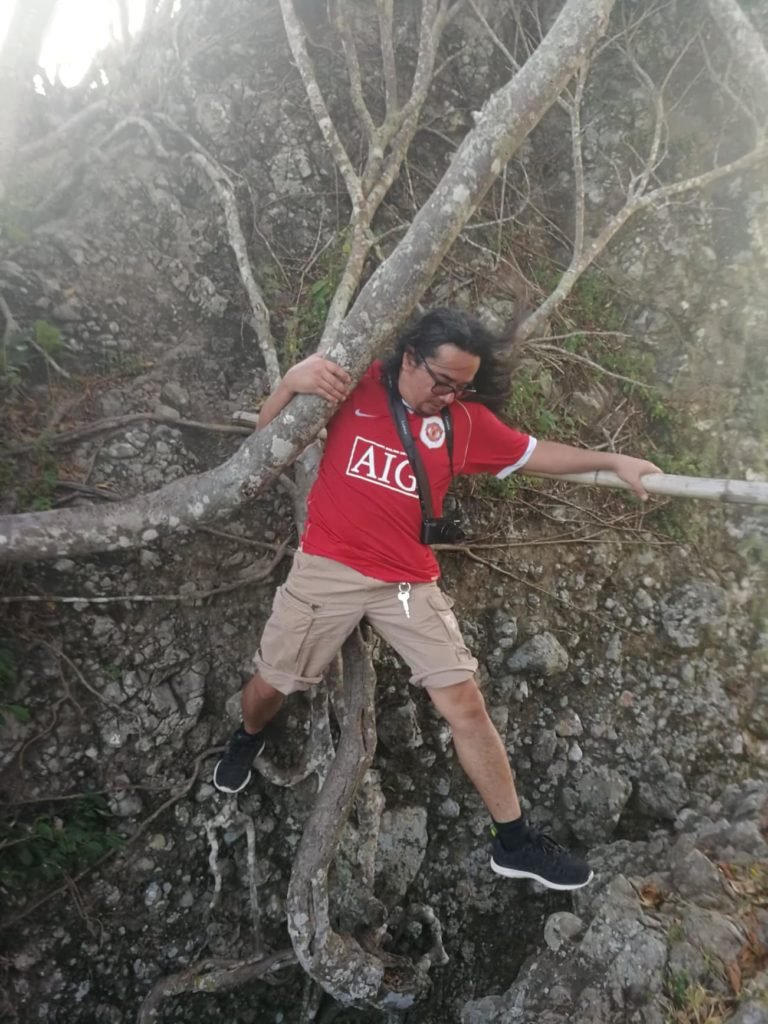 That was a bit intense for me and reminded me that I need to get back in shape and lose those extra pounds. It is hard to maneuver when doing climbs like these.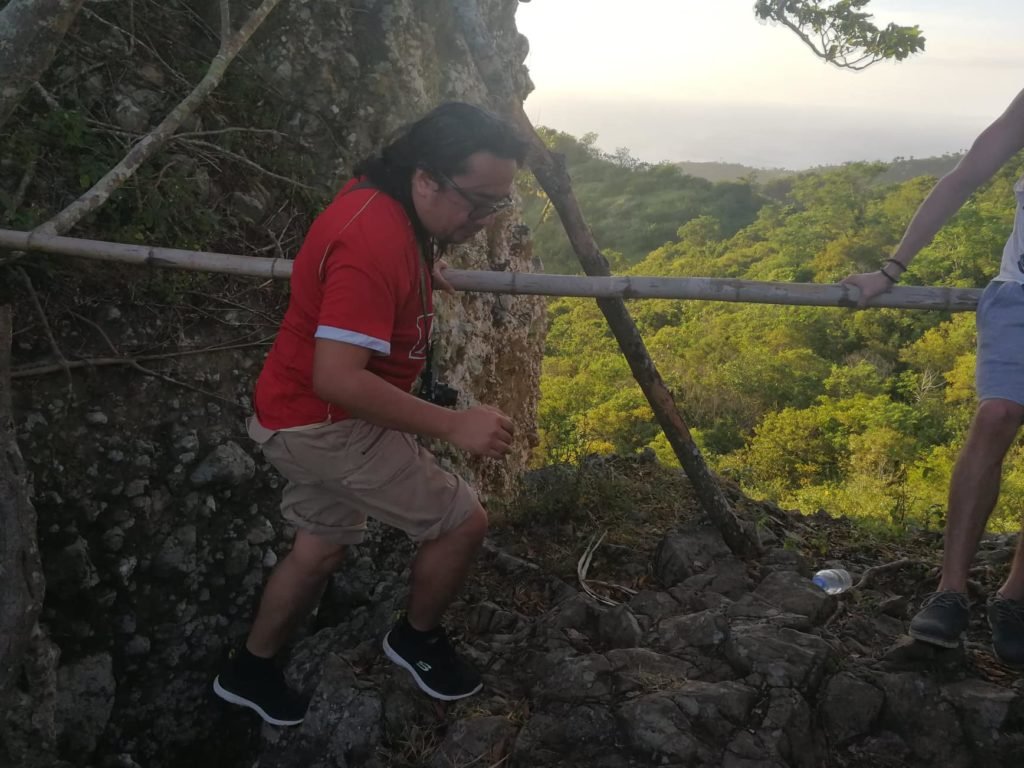 Up on the second rock, I felt safer as we didn't need to lean back to enjoy the view.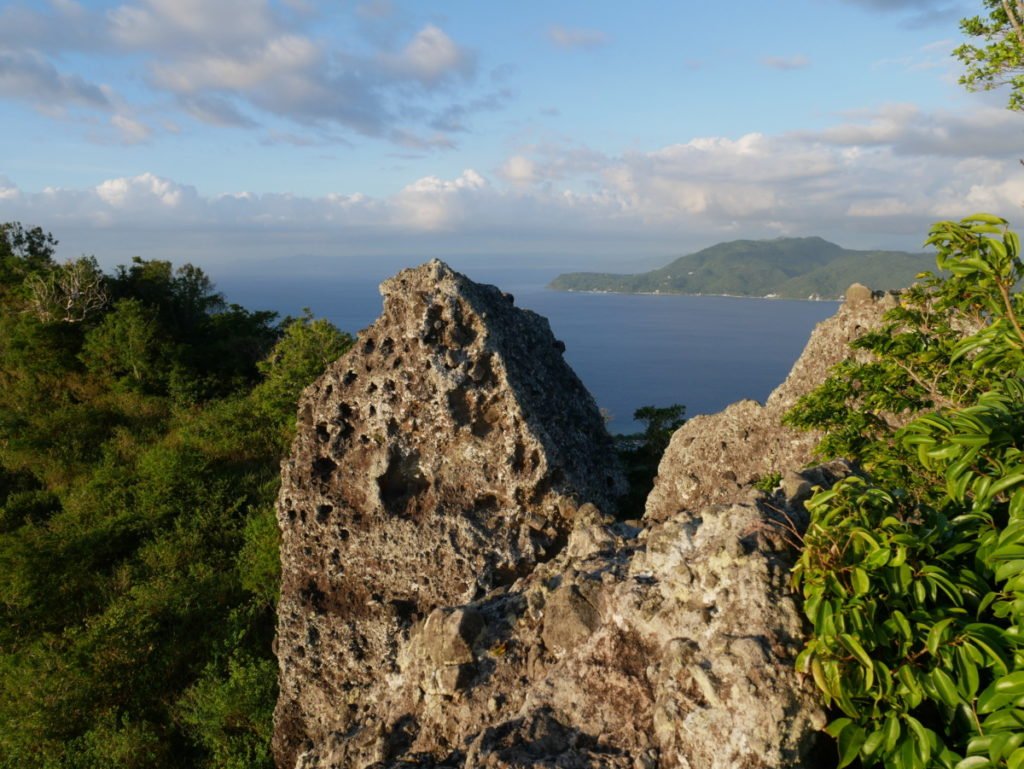 As we climbed the second rock I was stunned with the view that came before us. It was truly magnificent in every way and all the thoughts of worries in life simply just melted away even for just a few minutes.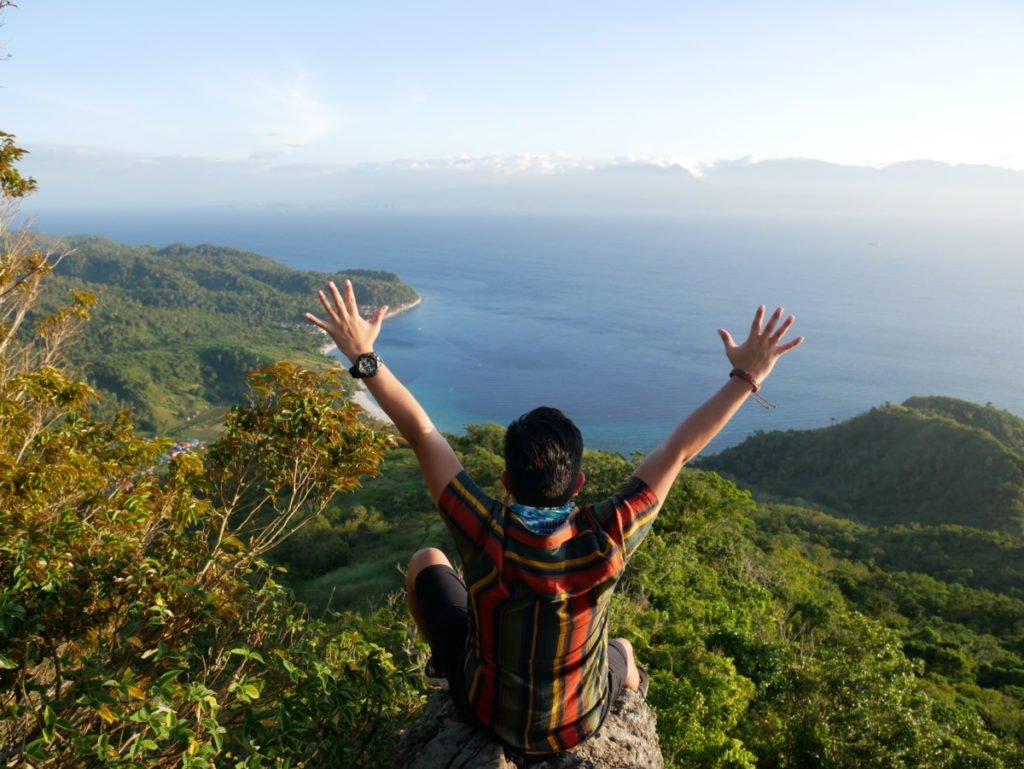 The white sand of the island surrounded by turquoise-colored water is best viewed from up here. Here you could see how truly beautiful our world is. The rice fields that we passed thru is very visible and it looks so far. Right now I do not what to think about our trek back down but instead, I will make the most of the time I have here.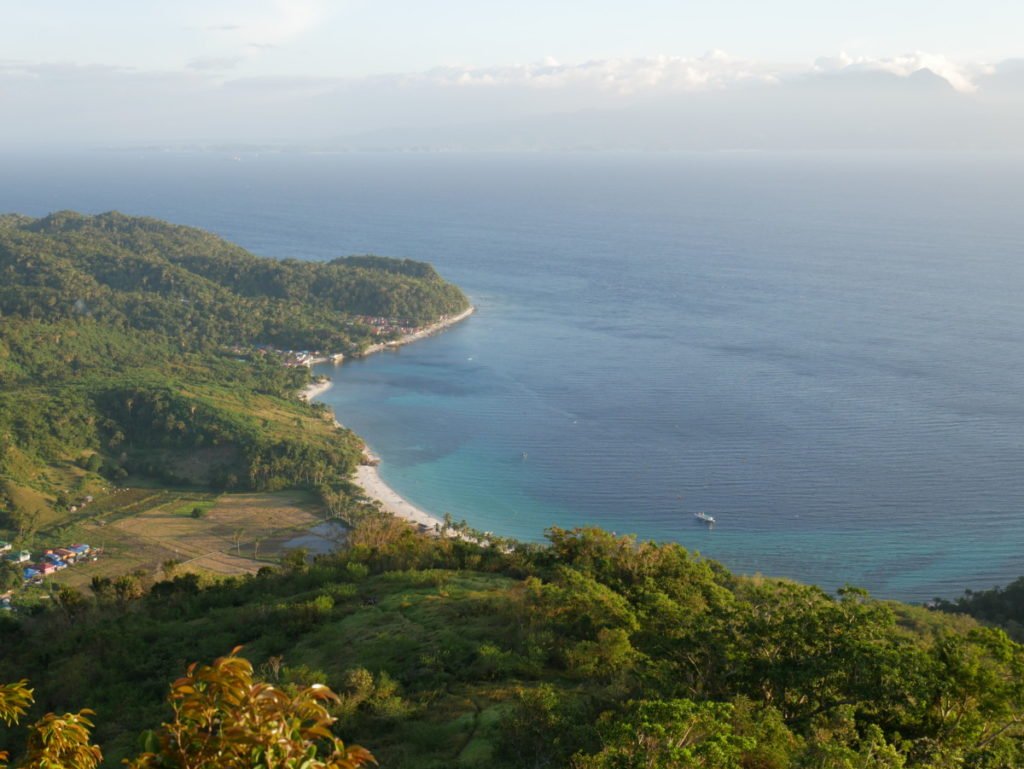 My passion for photography deepens as I see more of our world from different angles. It is like a drug that takes over once I start hearing the click of the shutter. On top of the highest point, camera on hand, mountains, and ocean around me. I can say that I have everything I need right now.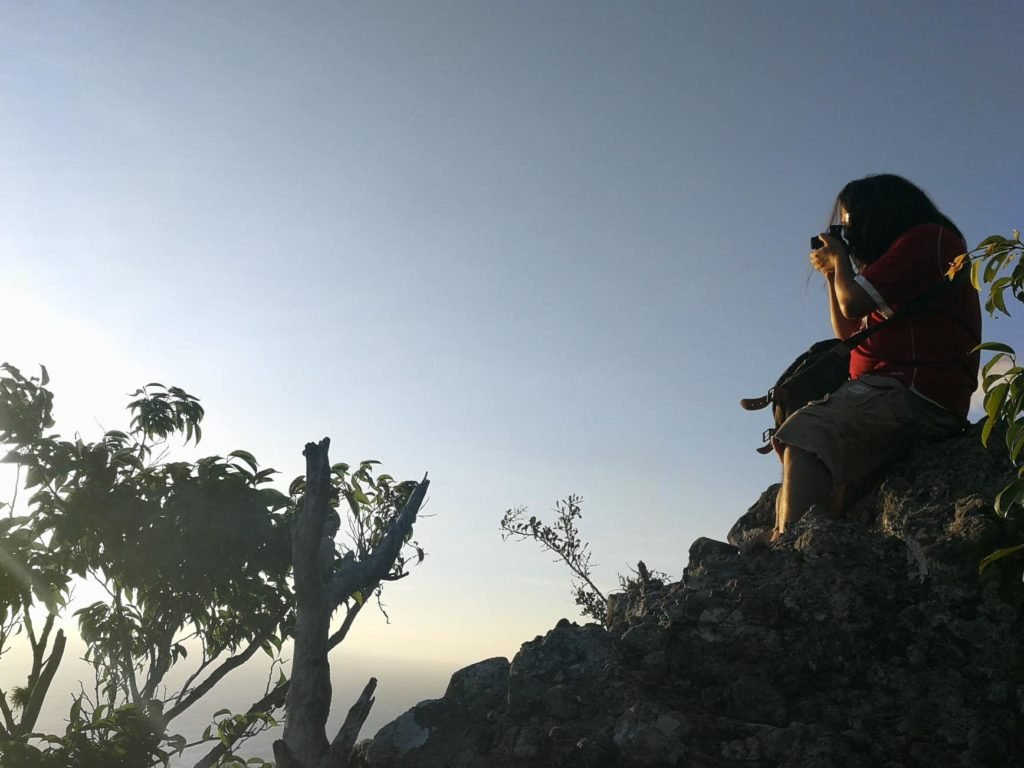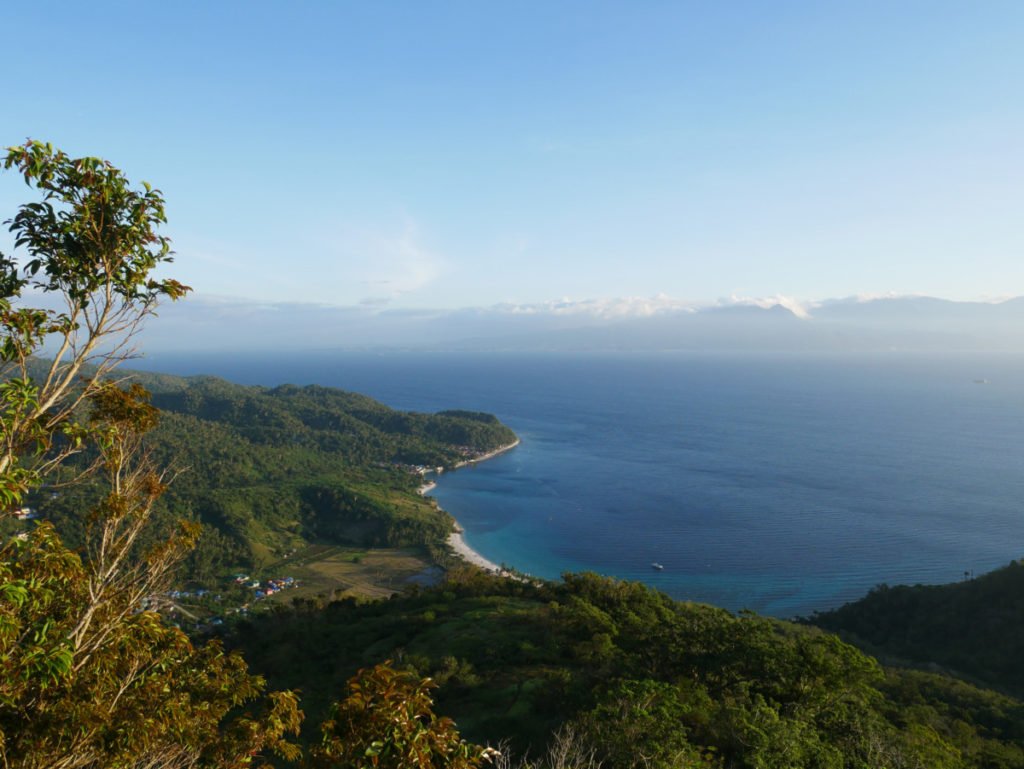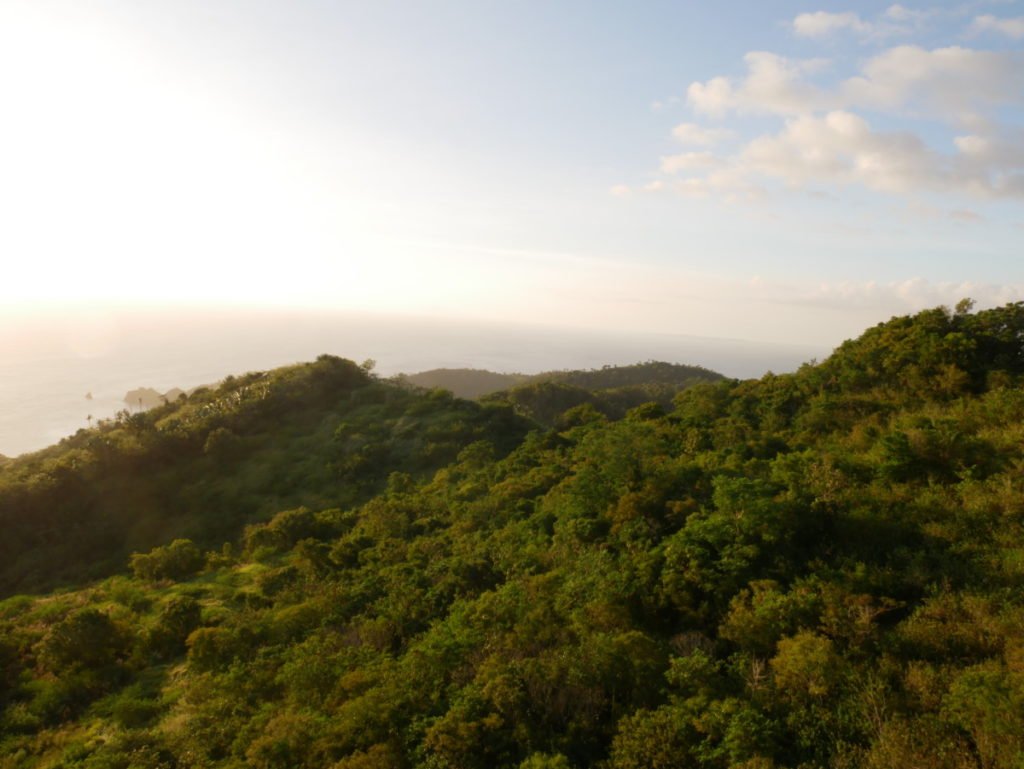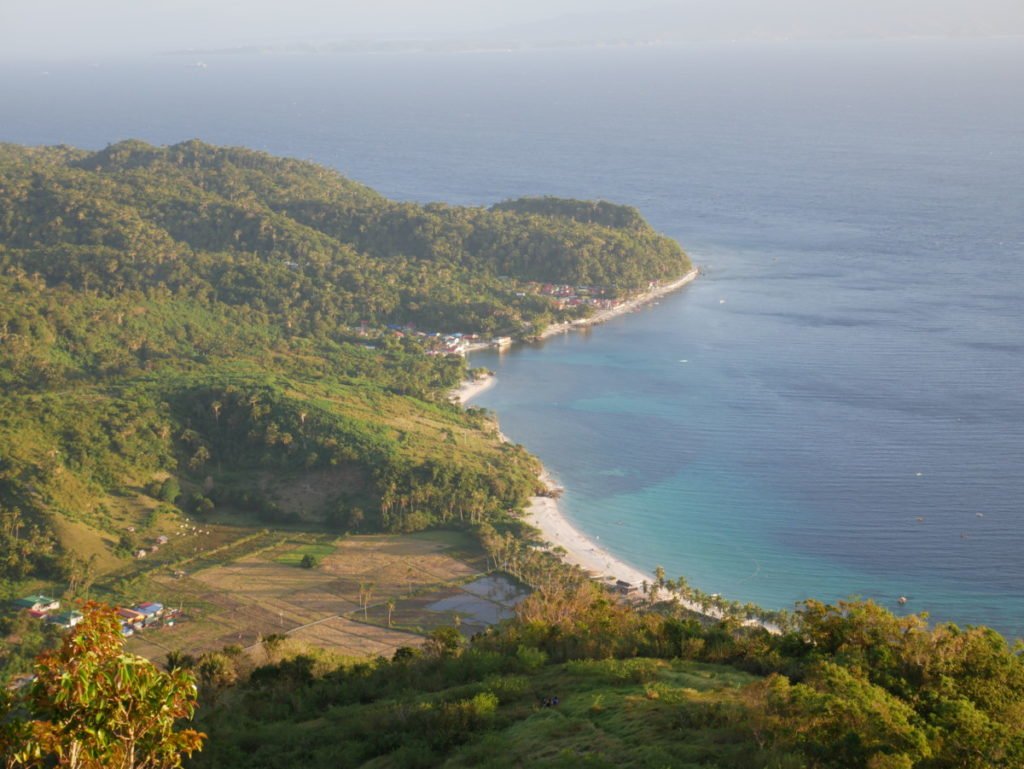 We always want to stay a little bit longer but everything comes to an end. Our guide was telling us that we needed to go back now as it would be dark soon and we wouldn't want to get caught in darkness as we descend.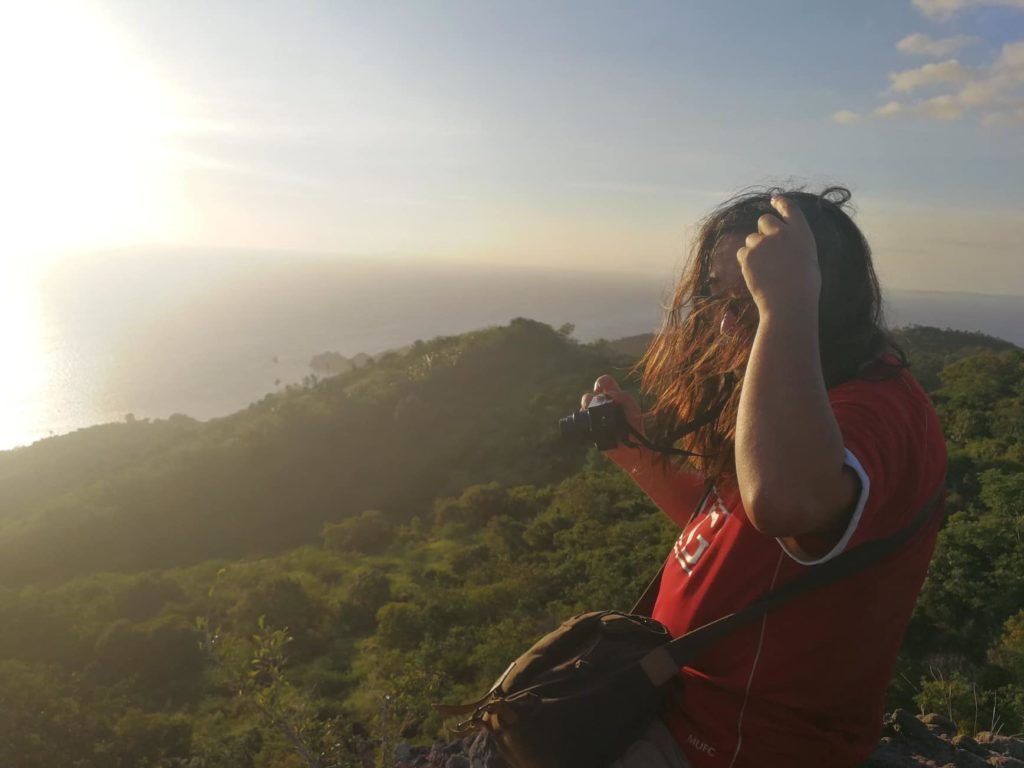 I took a long hard look at that majestic sunset and blew a kiss to the sky. Thankful that we were able to complete this difficult quest and rewarded with an unforgettable experience.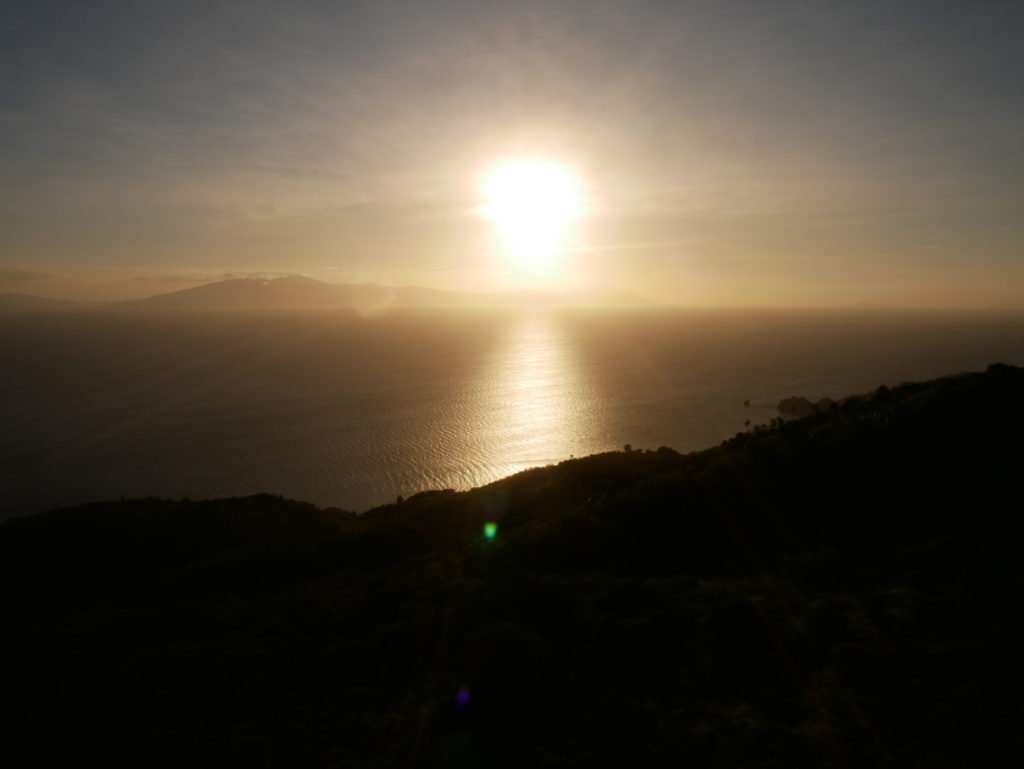 As we went back down, we regrouped with the rest of the family. Hoping that one day we could go back and conquer it again together.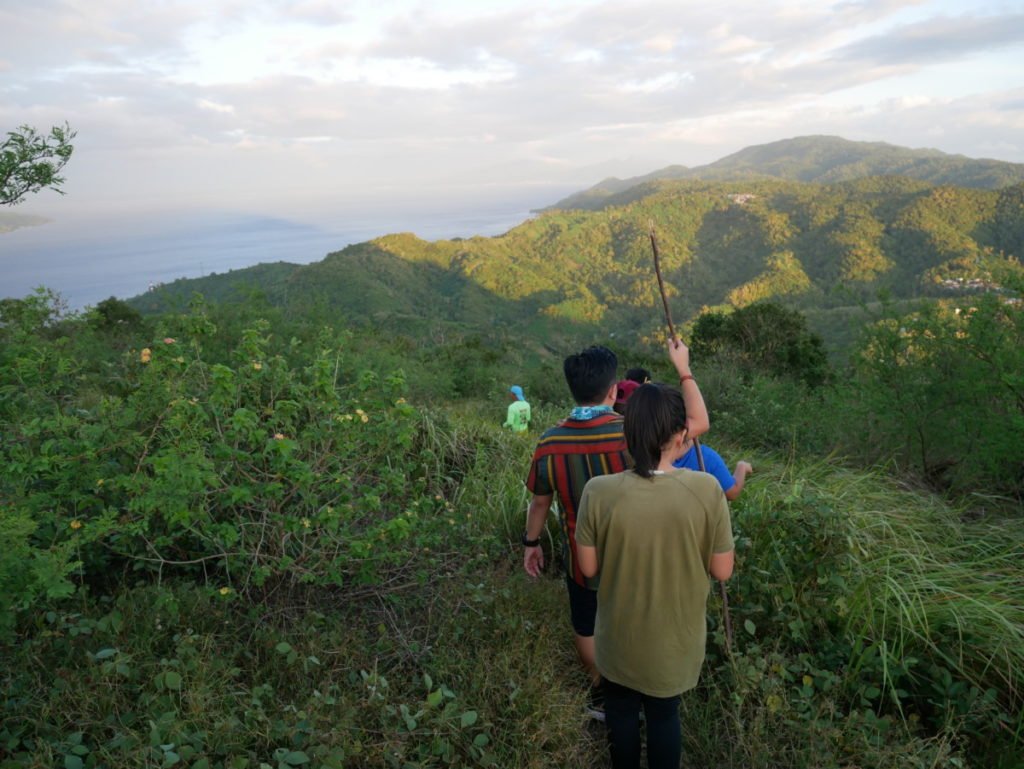 When we got back down to the rice fields it was already dark. We were tired and hungry but for sure we would all have a good night sleep.
Thanks for joining me in completing this trek. I hope you enjoyed the experience that I shared with you today. I will be uploading the edited video version of this climb very soon and I hope you have a look. On the video, you would be hearing a lot of heavy breathing just for a heads up.
If you missed the first two parts of the video feel free to check the links below
Masasa Adventure Episode: 1 "Gateway to Marikaban Island
Masasa Adventure Episode: 2 "The Beach"
Hope to see you again soon and keep on dreaming!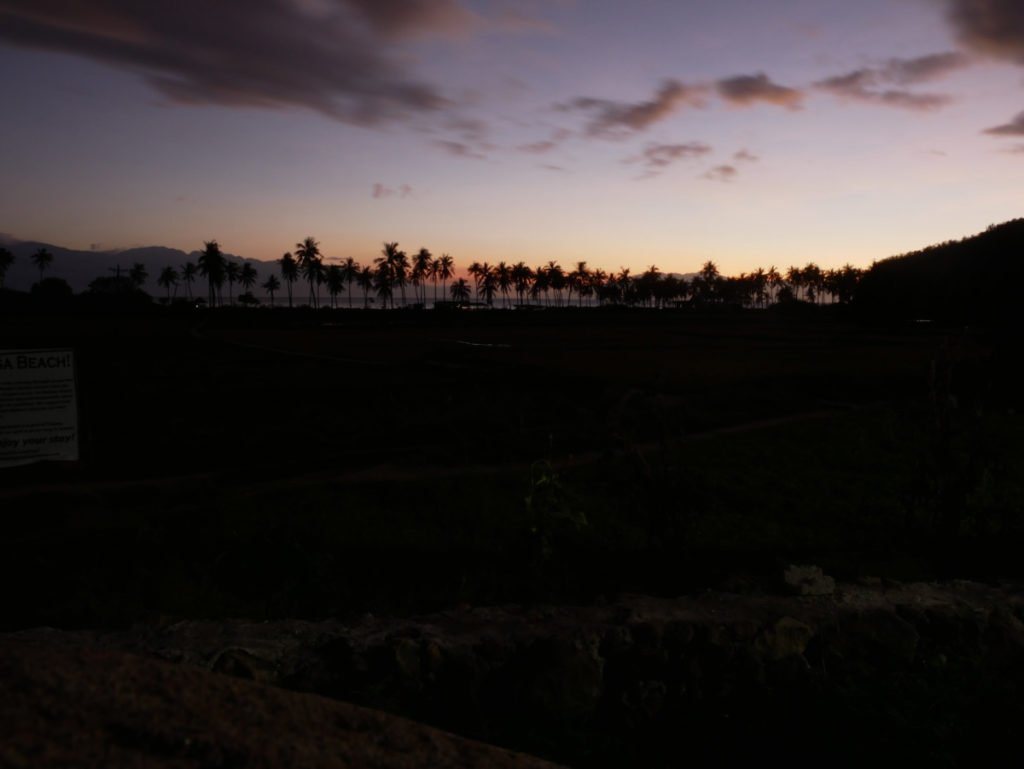 Visit and follow @steemitbloggers AKA #powerhousecreatives. A community that is exceptional, talented and engaging.
Leaving a mark in our beautiful world with @steemitworldmap and @travelfeed
All photos are original and taken with
Panasonic Lumix GX85 and 12-32 mm kit lens




---
Posted from my blog with SteemPress : http://watersnake101.steemblogs.club/2020/01/26/kissing-the-sky-mag-asawang-bato-couple-rock-beautiful-sunday/
---