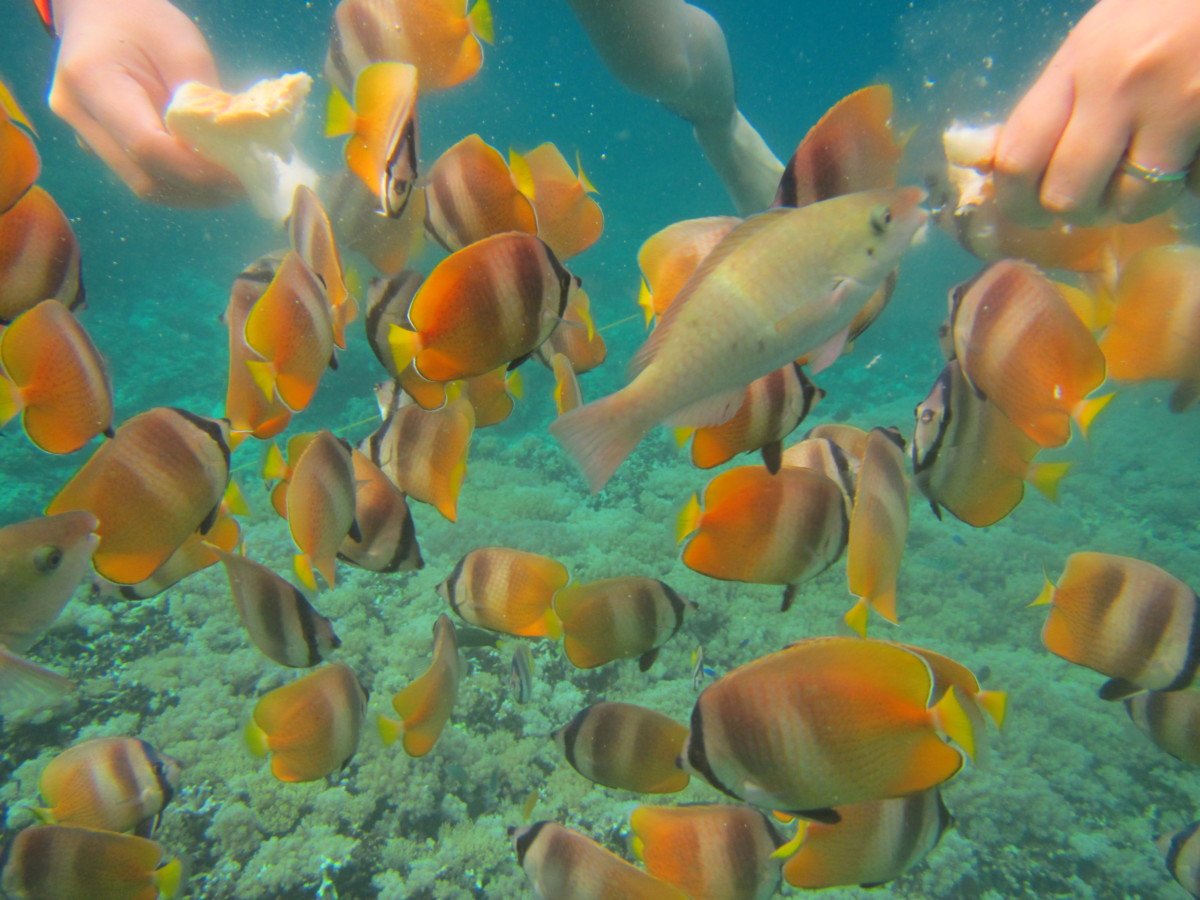 Welcome back to our series of adventure in Marikaban island, Philippines. Here we only planned to visit Masasa Beach but instead, we discovered a lot of activities that you could do on the island. After that tiring climb to the Mag Asawang Bato, we all had a very good night sleep. The next day was very exciting day as we are set to go snorkeling to a site where fish roam freely without fear of being caught. So get you wet suit ready and dive with me today.
Underwater Love "Sombrero Island"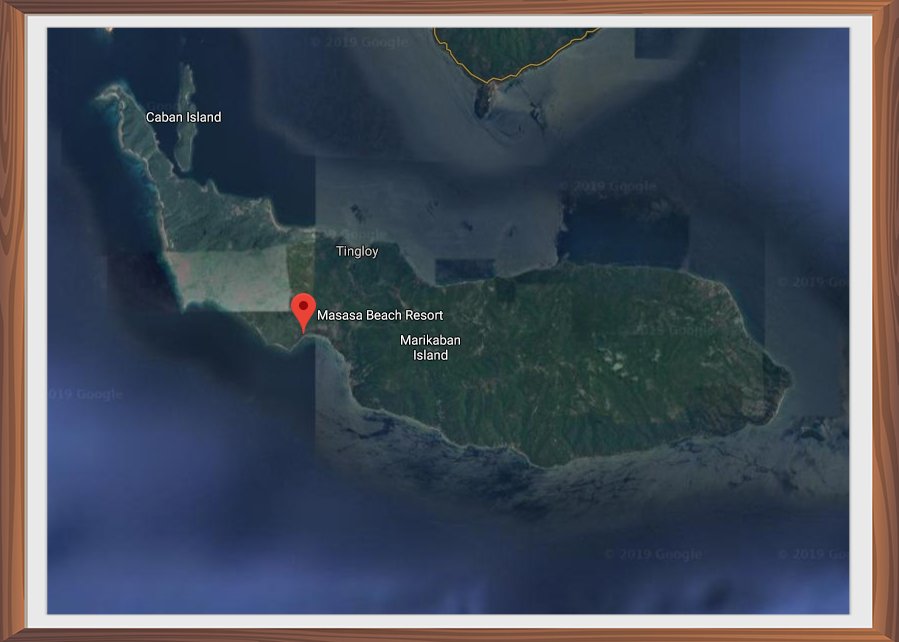 Follow our previous episodes in the beautiful Marikaban Island:
A Getaway to Marikaban Island
The Difficult Trail to "Mag Asawang Bato" (Couple Rock)
Kissing the Sky "Mag Asawang Bato"

You could also watch and subscribe to our video episodes on the links below:
Masasa Adventure Episode: 1 "Gateway to Marikaban Island
Masasa Adventure Episode: 2 "The Beach"
Masasa Adventure Episode: 3 "Mag Asawang Bato (Couple Rock)"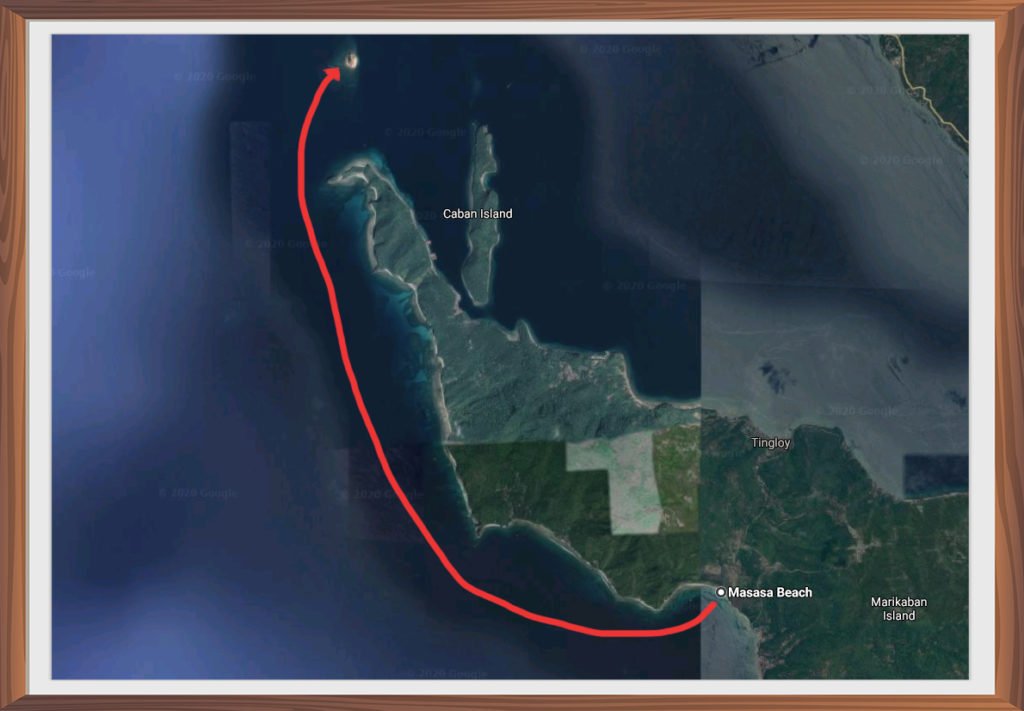 Sombrero Island is a tiny island located in the northern part of Marikaban and you would need to hire a boat to reach the snorkeling site. We already arranged the tour with our host Mama Nady. Although due to restrictions only five persons are allowed to ride one boat. There were six of us and we could not leave one of us behind, so we arranged 2 boats for our trip.
The cost of boat rental:
1,500 pesos or around $30 USD
(with a little bit of haggling we were able to rent the second boat at a discounted price)
This includes three locations:
Sombrero Island
Sepoc Beach
Sea Turtle watching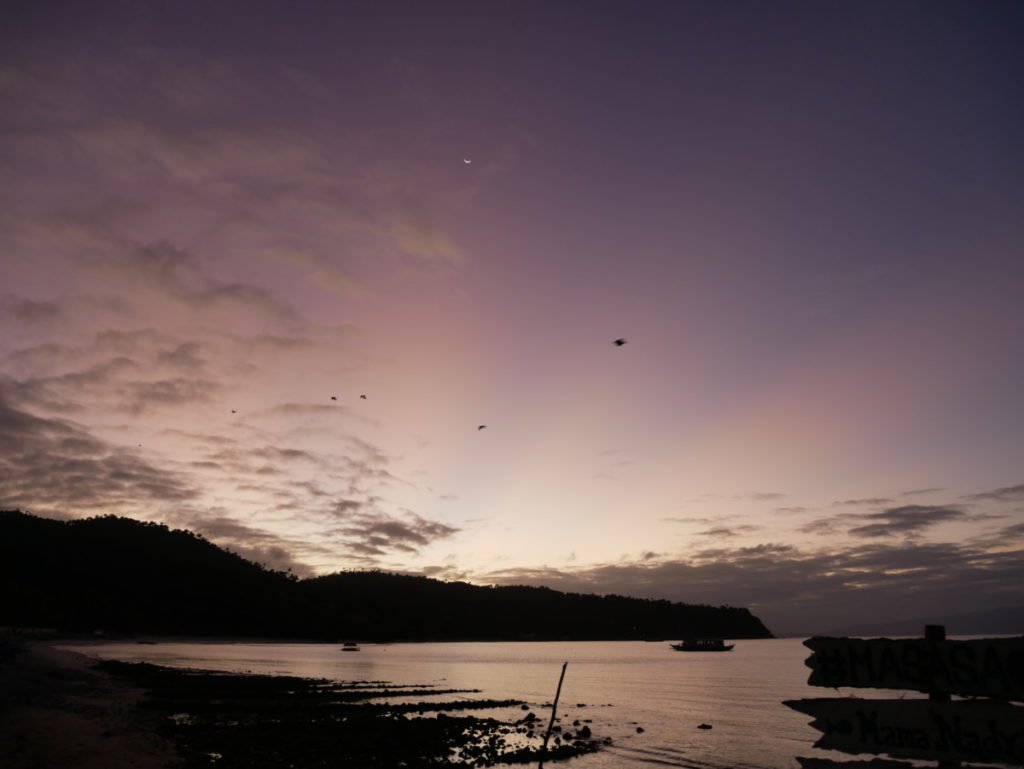 It was a beautiful morning and our trip was scheduled at 7:00 am. We woke up as early as 5:30 am to prepare our breakfast and enjoy the beautiful sunrise. How I wish we could always enjoy breakfast by the beach with the sounds of the waves and the early morning ocean breeze.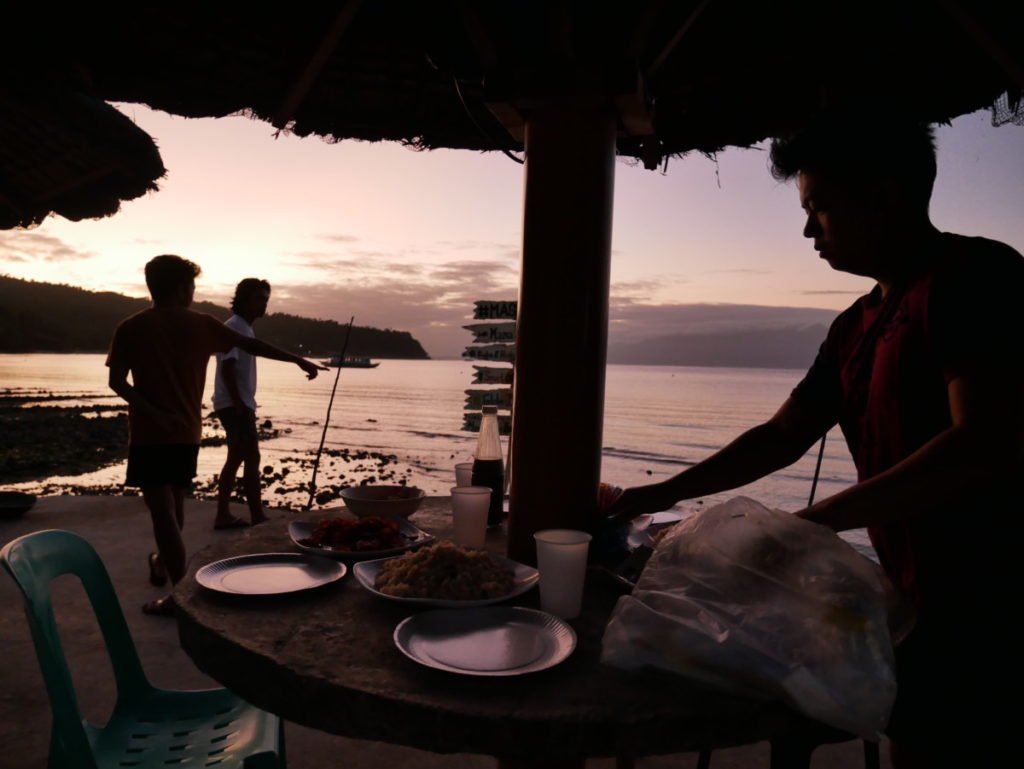 I wasn't able to take photos of our breakfast but we had fried rice, bacon, scrambled eggs and some leftover chicken adobo from last night. Of course, it would not be complete without a warm cup of coffee and hot chocolate.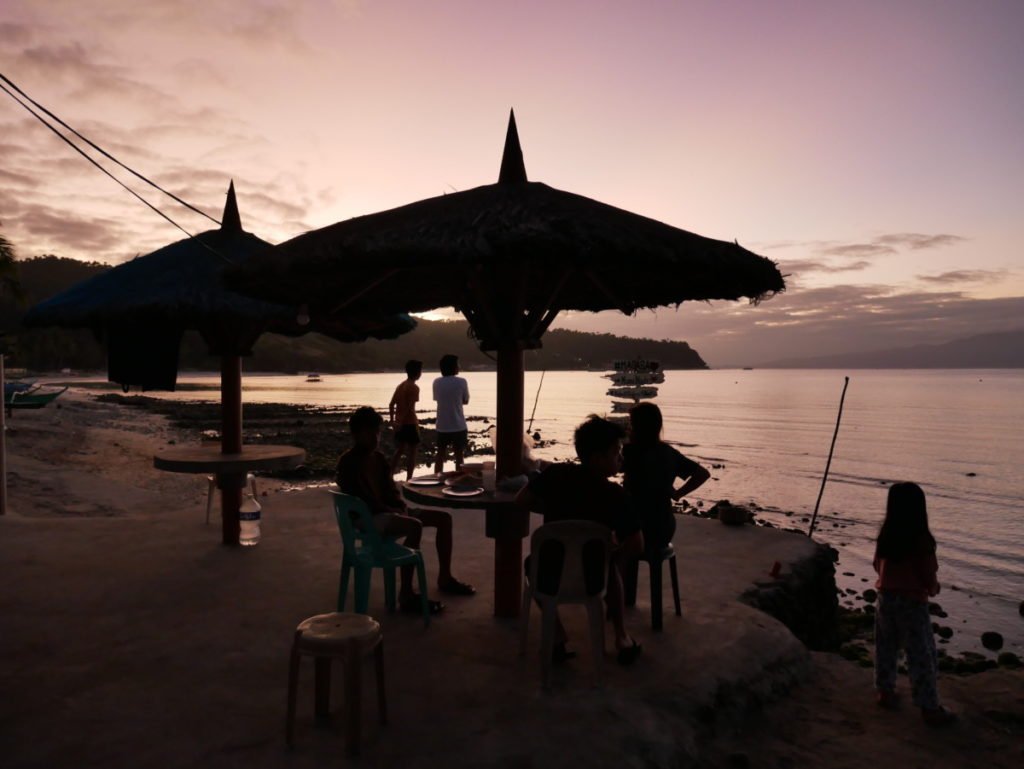 Here on the island that are a lot of crows flying around. They are the scavengers on the island and you could see them flying everywhere.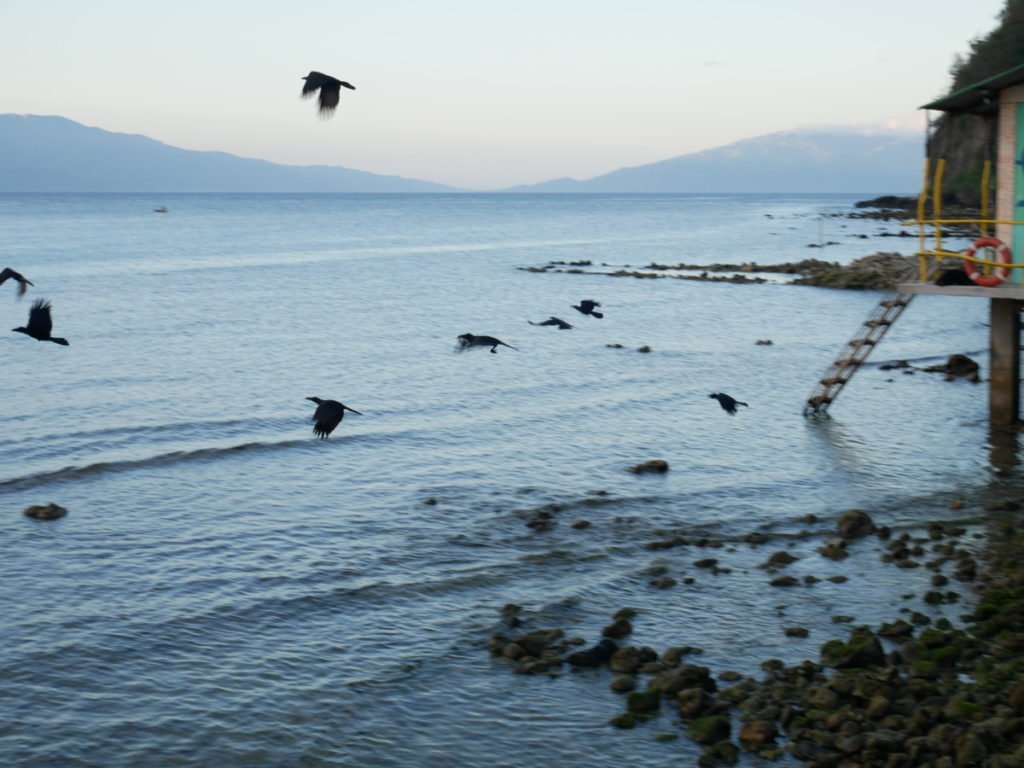 The sun was almost up and it shows a very promising day ahead of us. It was very calm a quiet during this time and perfect to take a short stroll along the shore.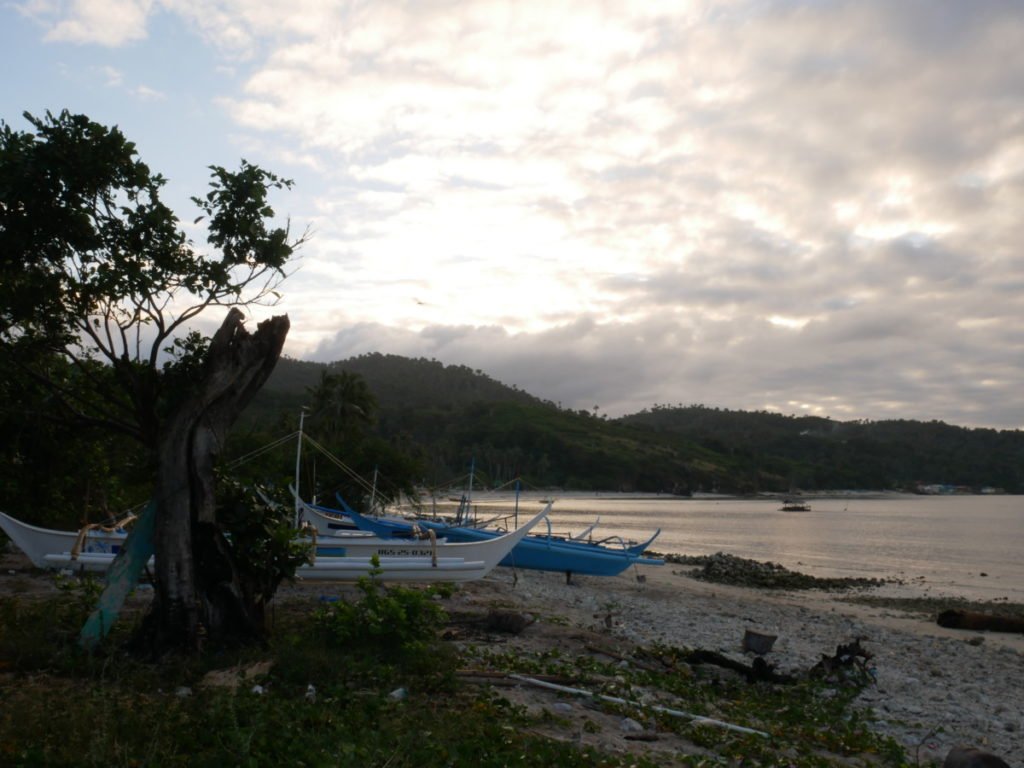 Here we are all suited up and ready for our adventure. We didn't know what to expect as it was the first time for all of us to go snorkeling.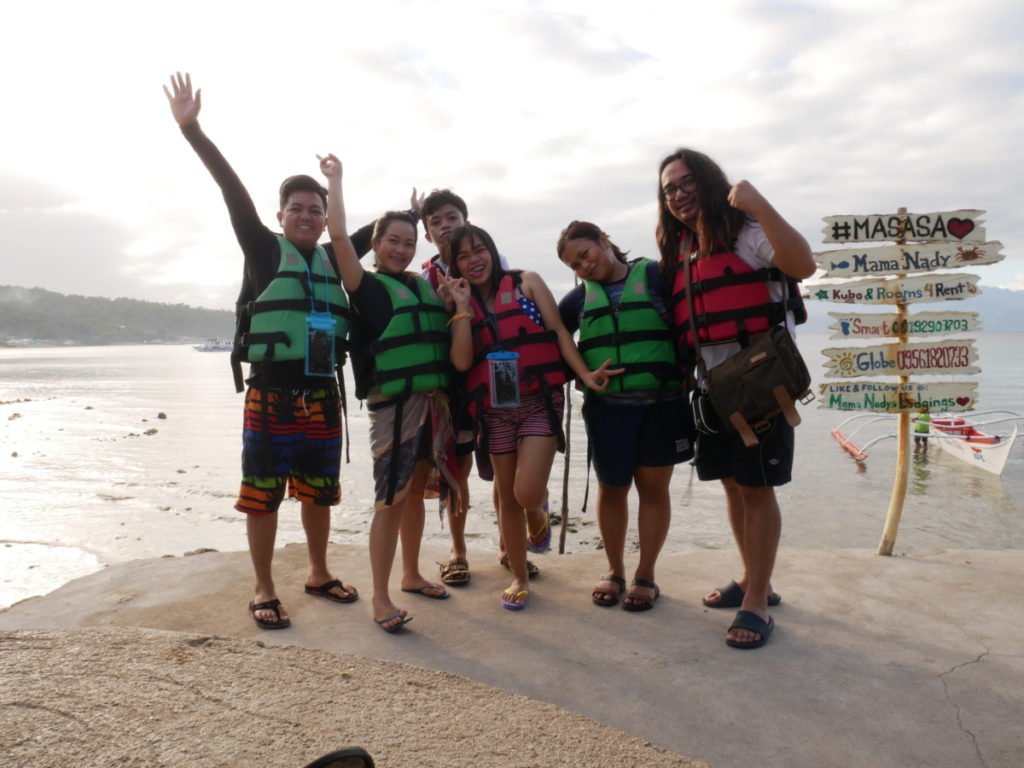 The two boats that we rented arrived at exactly 7:00 am. Our boatman told us to bring some bread with us and I thought it was for snacks. I told him that we just had breakfast but he said that it was for the fish feeding activity. I felt silly not realizing that it was part of the tour so we brought with us a pack of sliced loaf bread.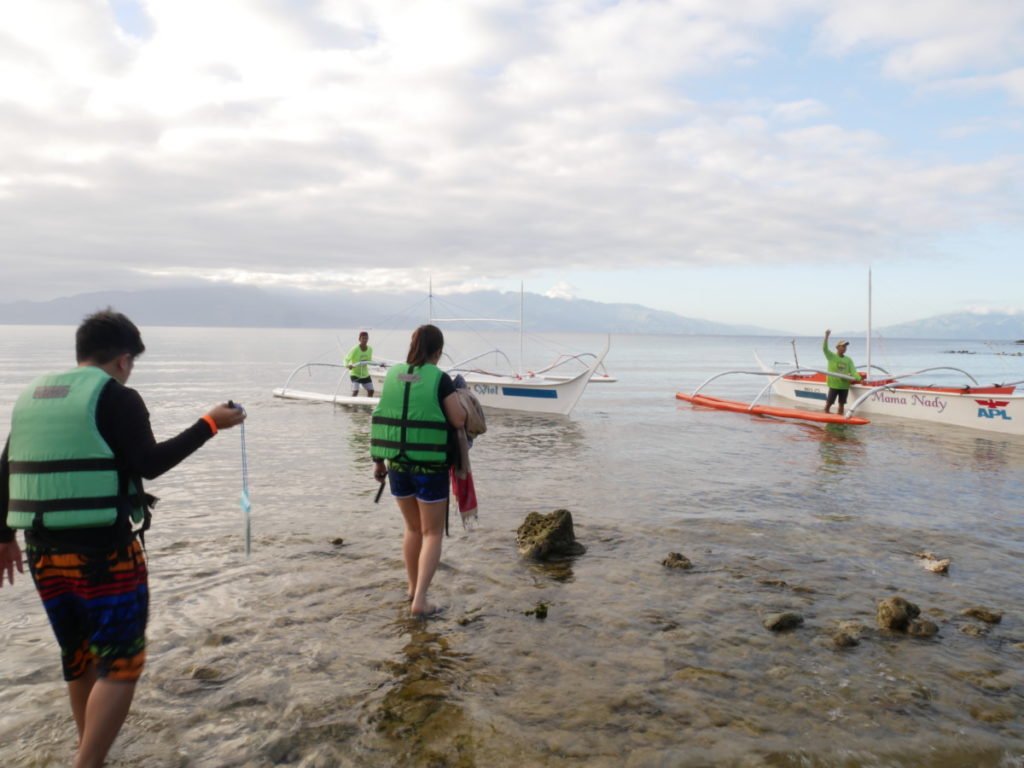 Our group was divided into two and we are all ready to head out to Sombrero Island. Sombrero means "hat" as the island resembles the shape of a pointed hat.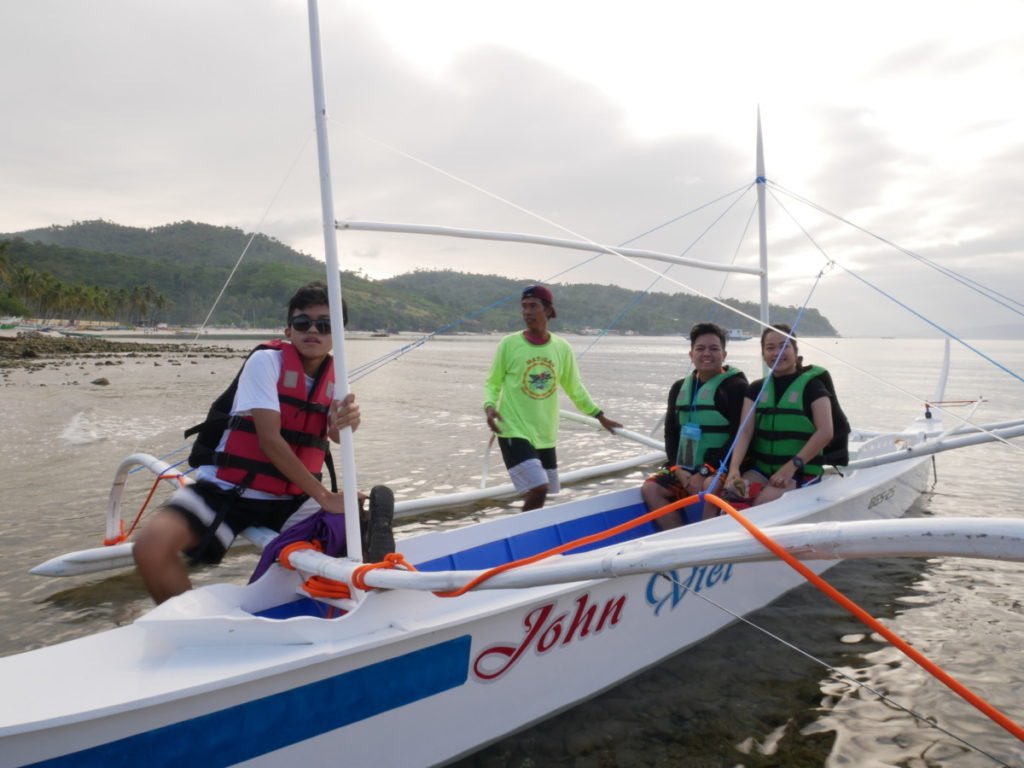 My wife and daughter were with me on our boat and my daughter's excitement cannot be contained.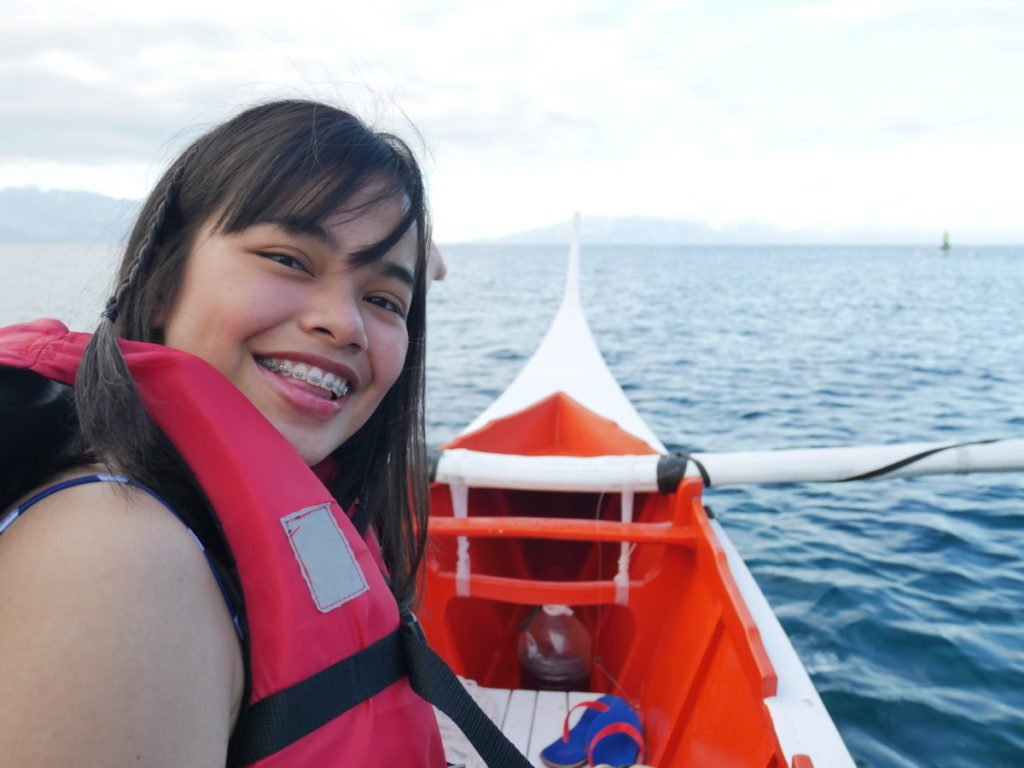 At the edge of the island is the Lagoon which we will also visit later on in this series. A very popular place here and you could see some people taking photos.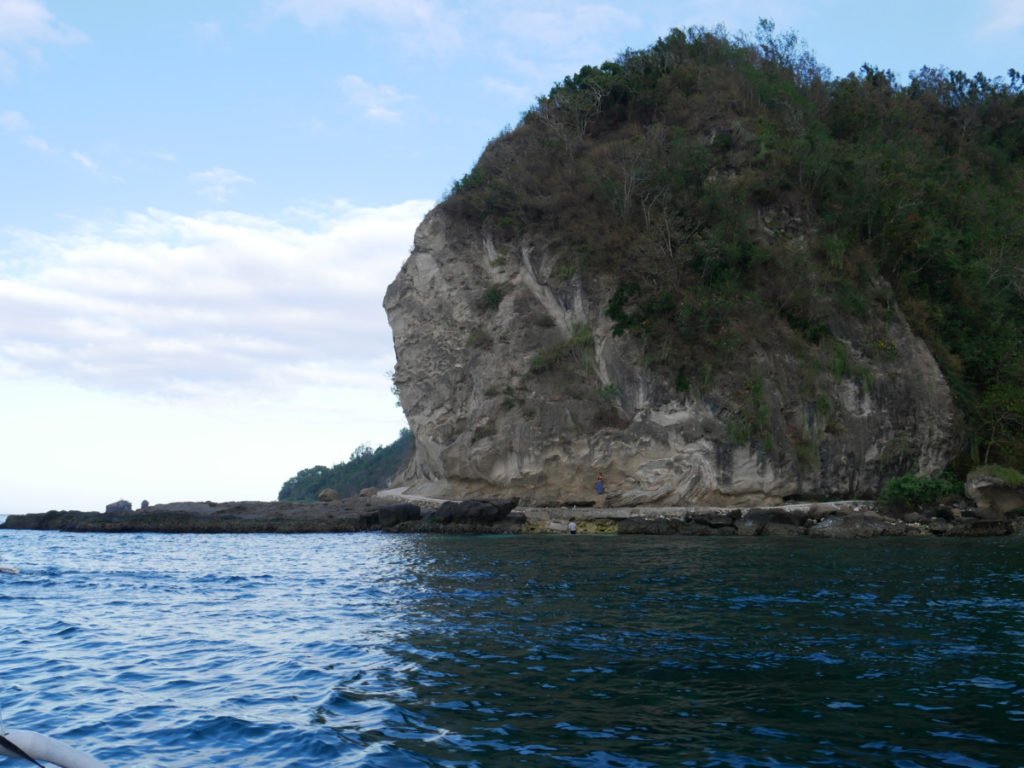 Sailing side by side with a motorized boat, we taunted them to do a race and see who reaches the site first. Well, our boatman didn't disappoint and we felt our speed to pick up. Seawater began splashing on to us and since my camera isn't water sealed I had to put it away for a while.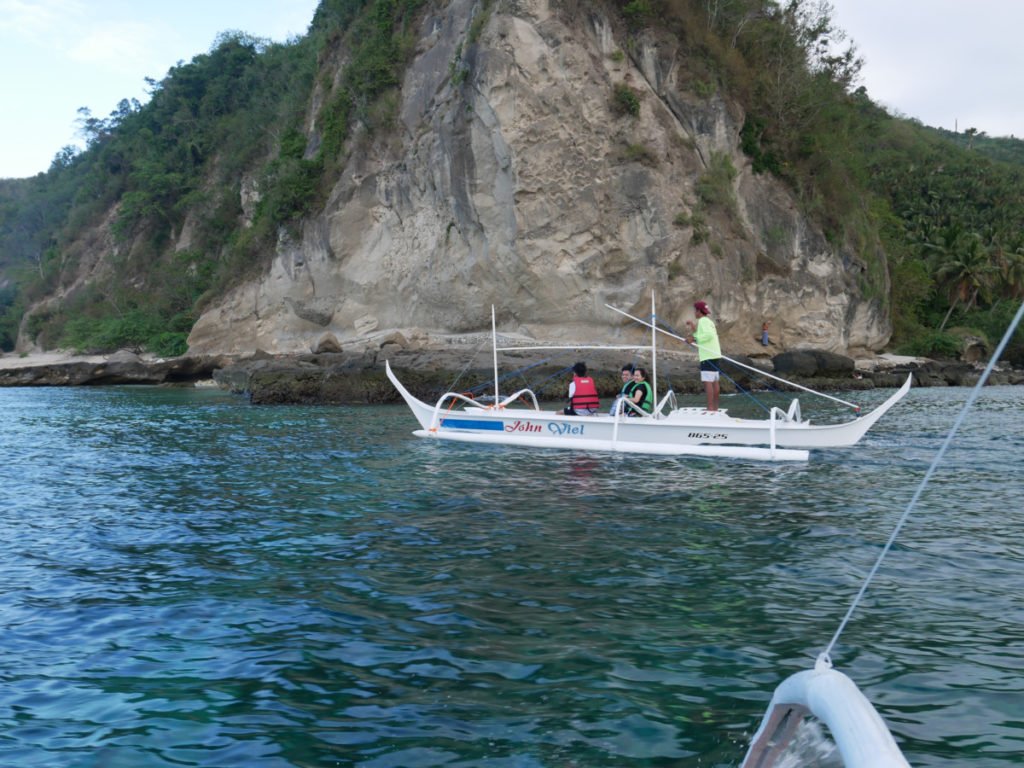 Along the way are a lot of caverns hidden behind rocks. Like a storybook where pirates hide their treasure chests waiting for someone to discover it. The island is very beautiful and has so many places to explore.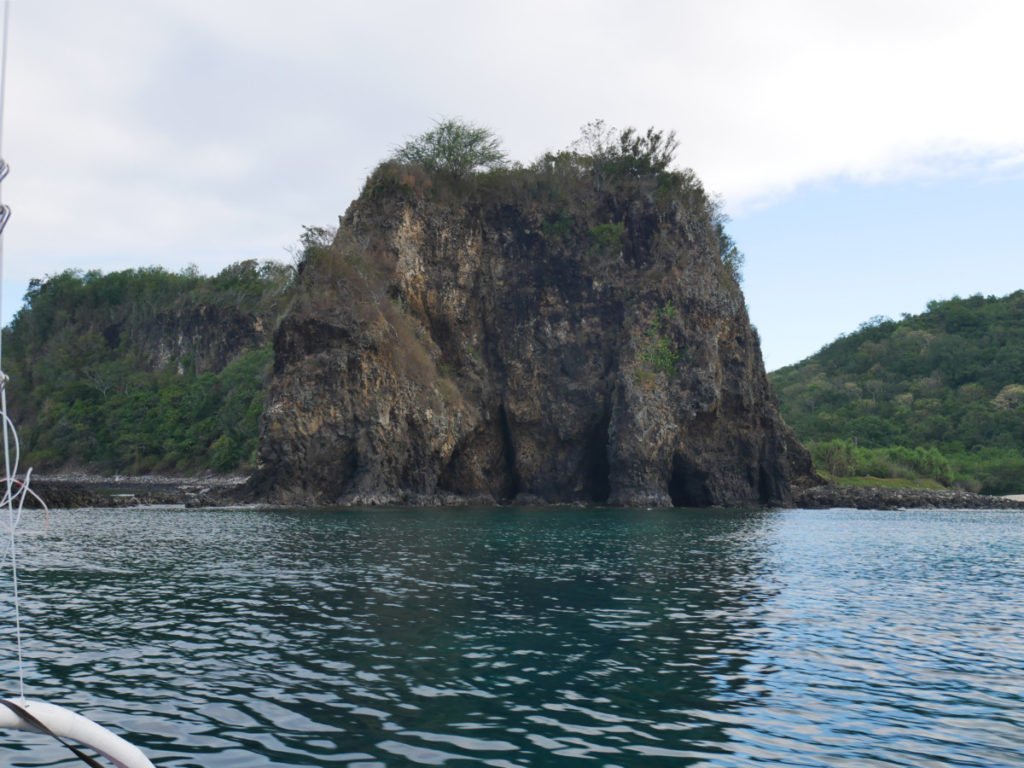 You will be crossing paths with different shaped islands and the one below looks like a birthday cake to me.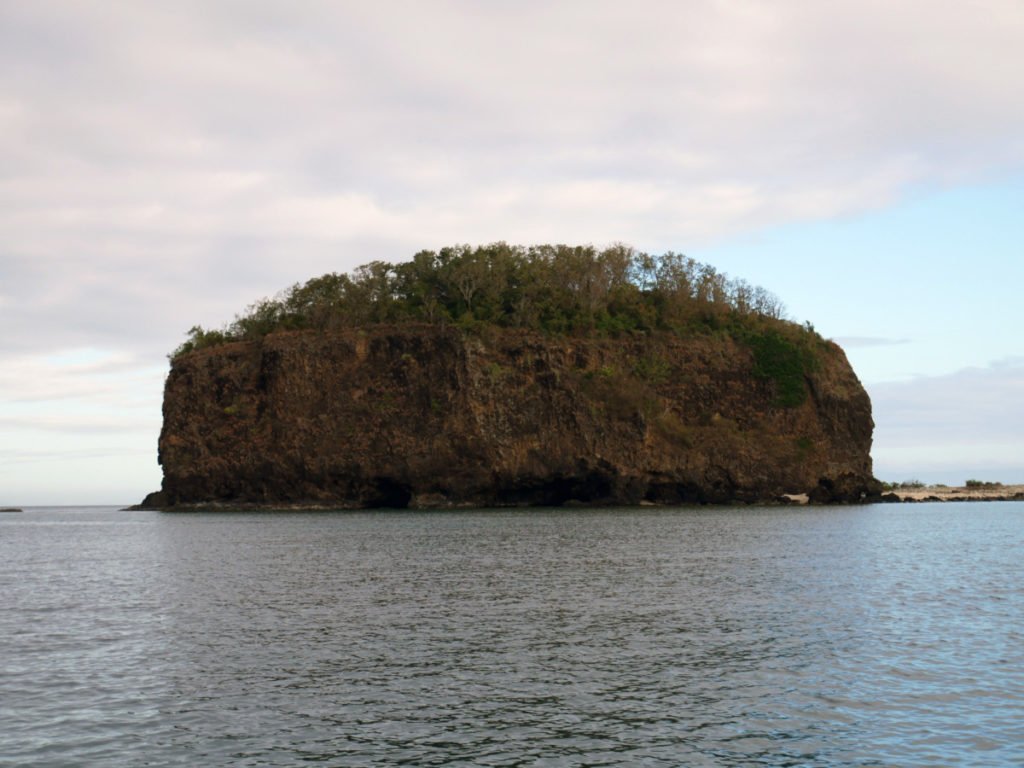 We finally reached the island. Our boatman took us to a spot near the island and dropped off the anchor. Sombrero Island is snorkeling site rich with diverse marine life and thriving coral reefs. This region is also known to be one of the most beautiful diving sites in the world and Sombrero Island is only a part of it.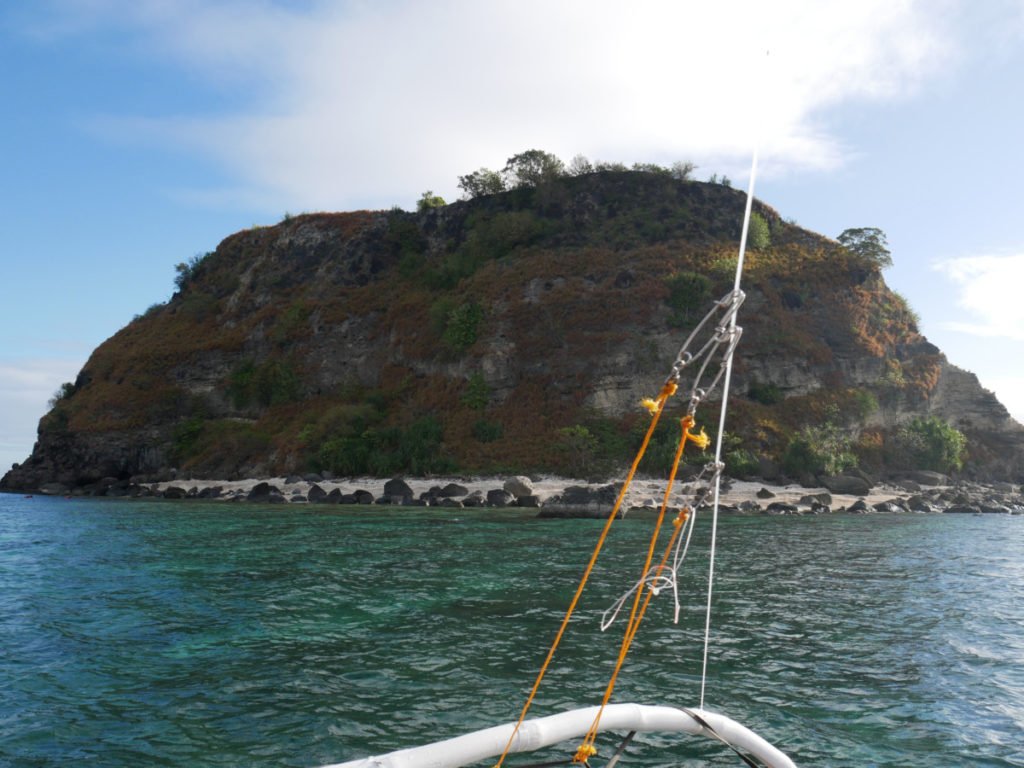 Today there are also a lot of visitors to experience the beauty of underwater garden.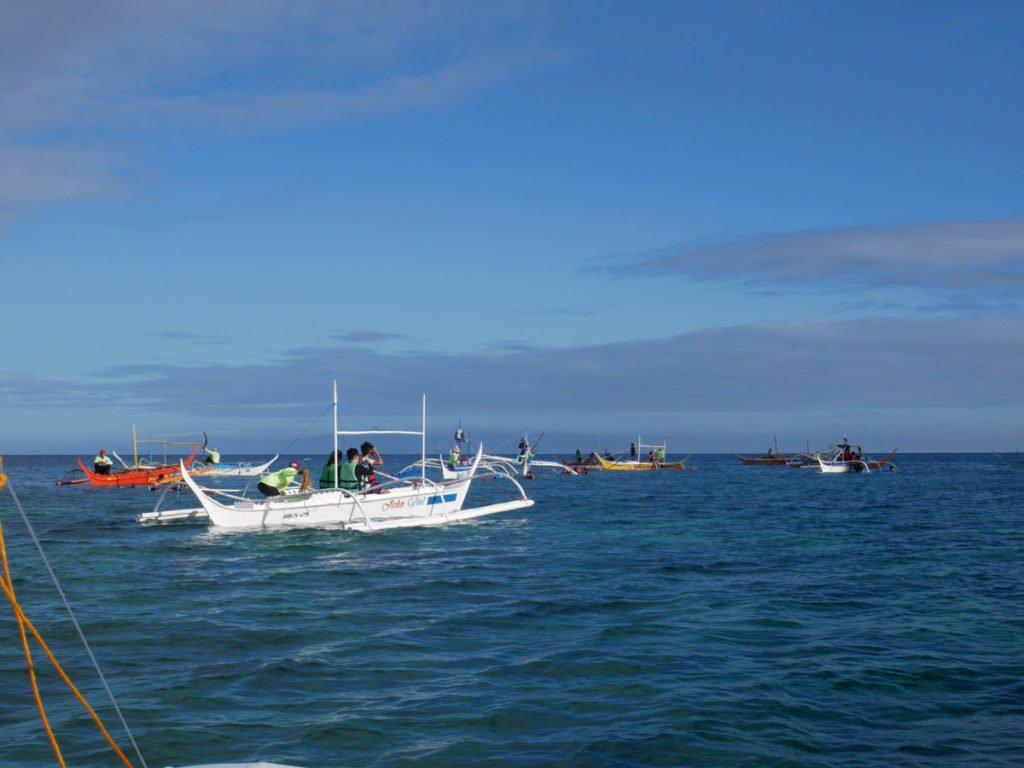 The snorkeling gear was provided and we were given a go sign to jump into the water.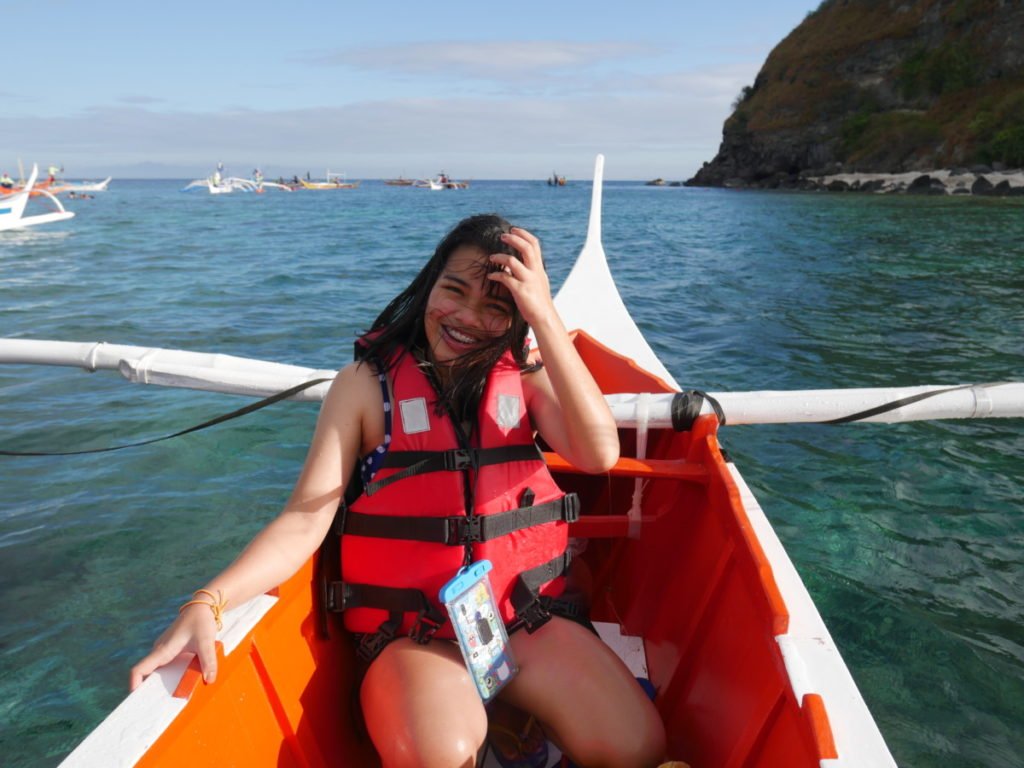 From the boat, you could see how clear the water is although the water distorts the view. The only way to clearly see is by wearing the goggles and jumping in.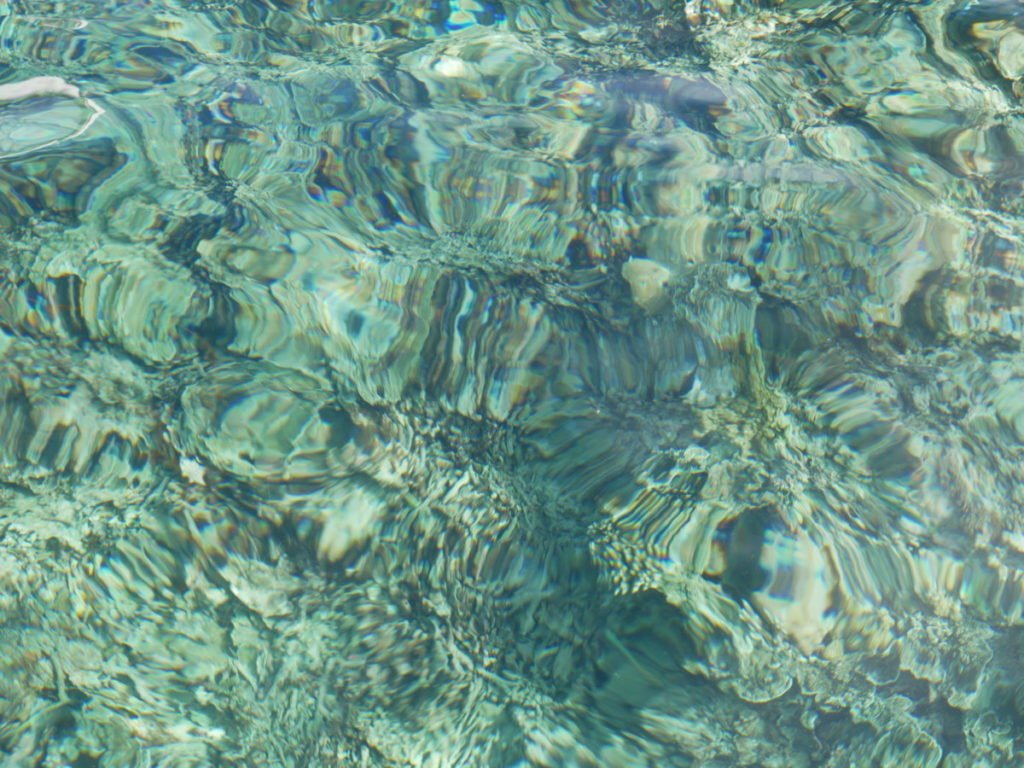 My daughter was the first one to jump in. The moment she took a peek she came back up shouting, "It is soo beautiful you need to see this right now!"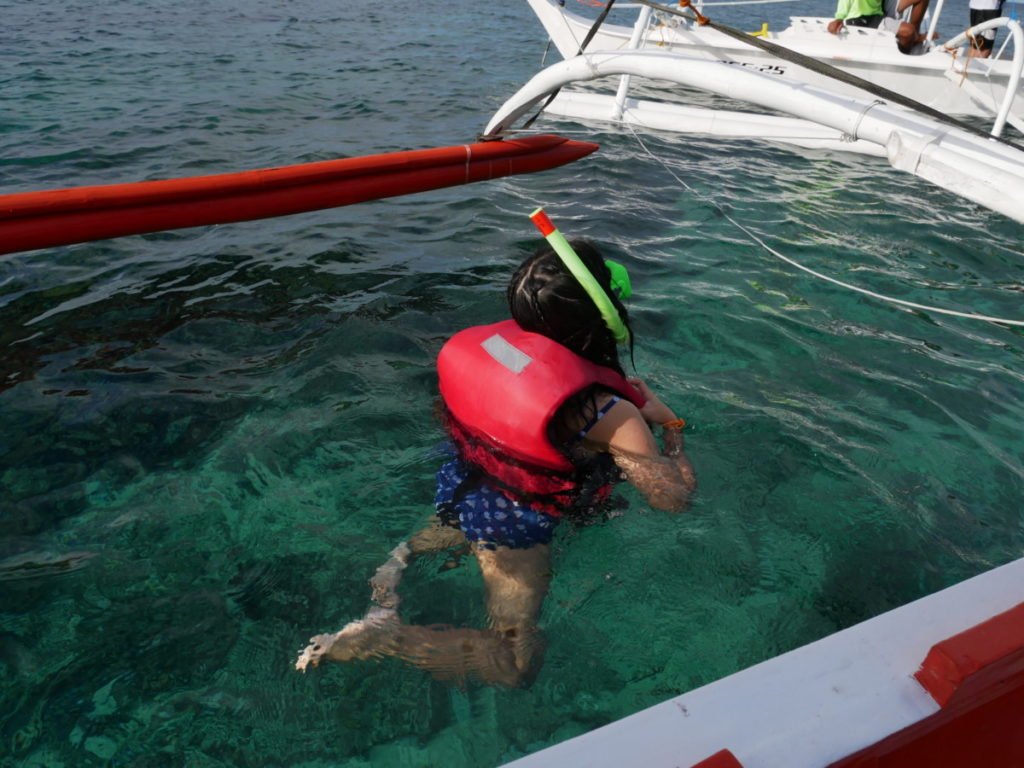 My wife came down next but had a little bit of trouble climbing down the ladder tied to the boat.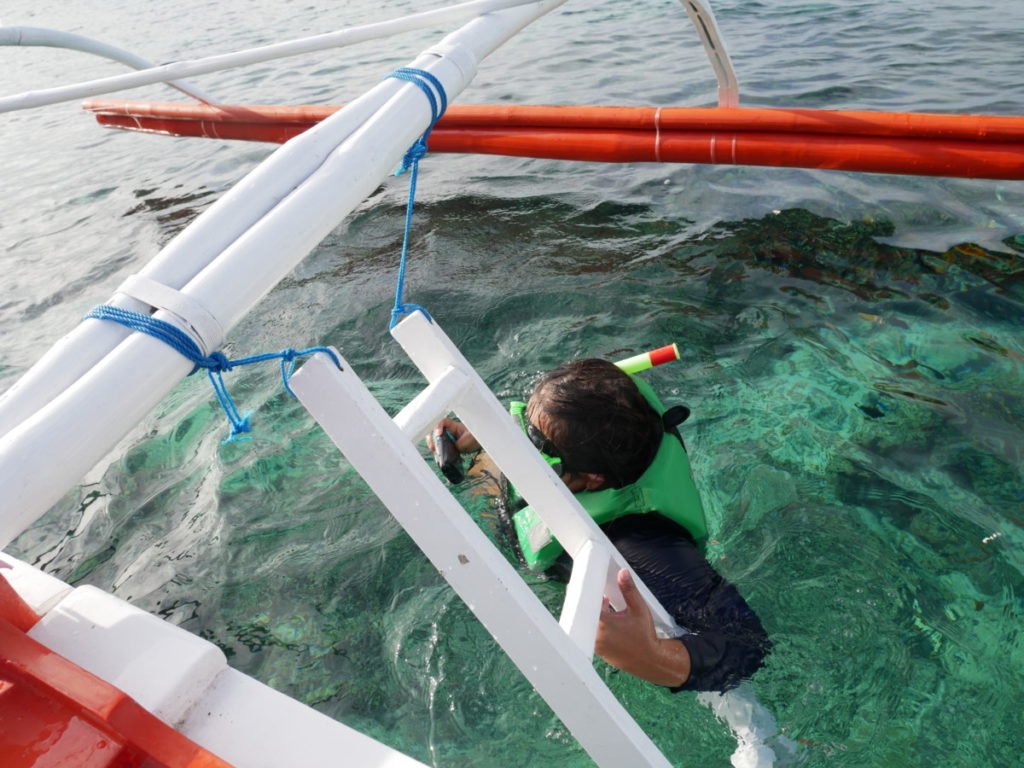 Every was so captivated of what they saw and I knew I had to jump in right away.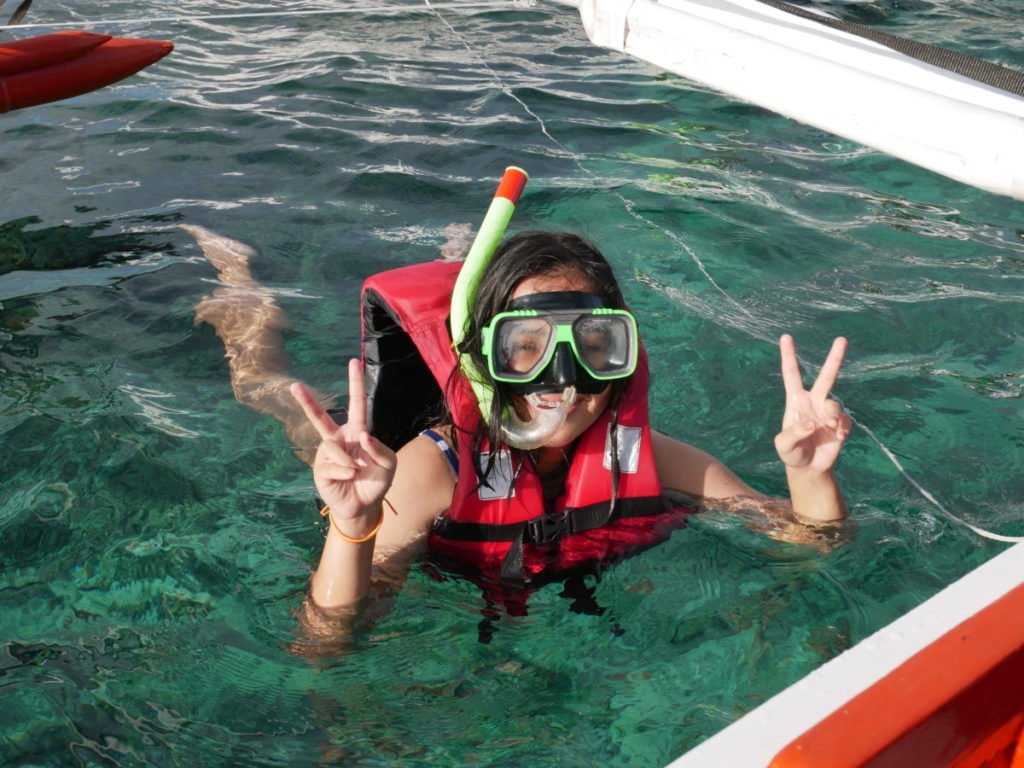 My brother in law's group didn't waste anymore time either and took a dive immediately.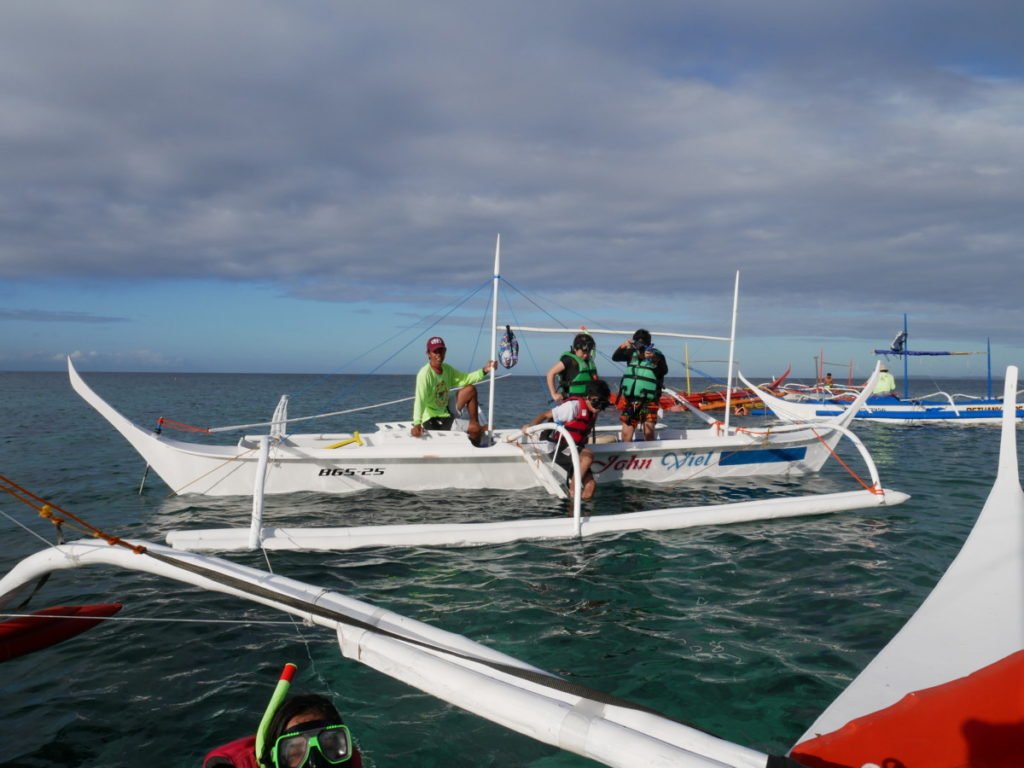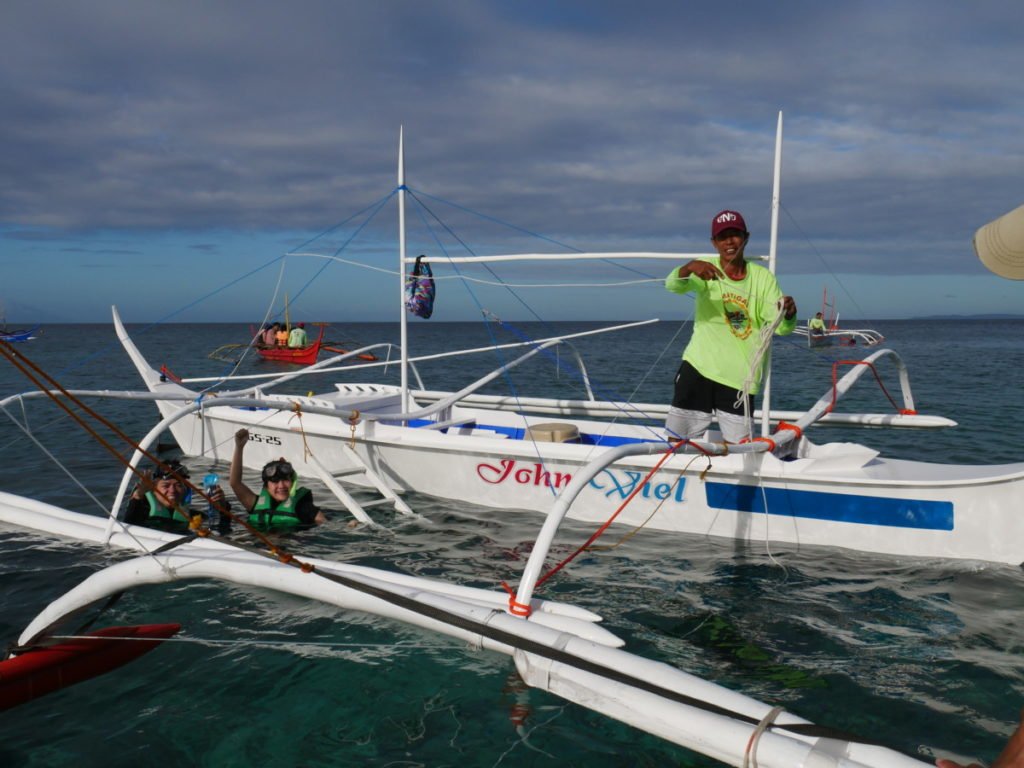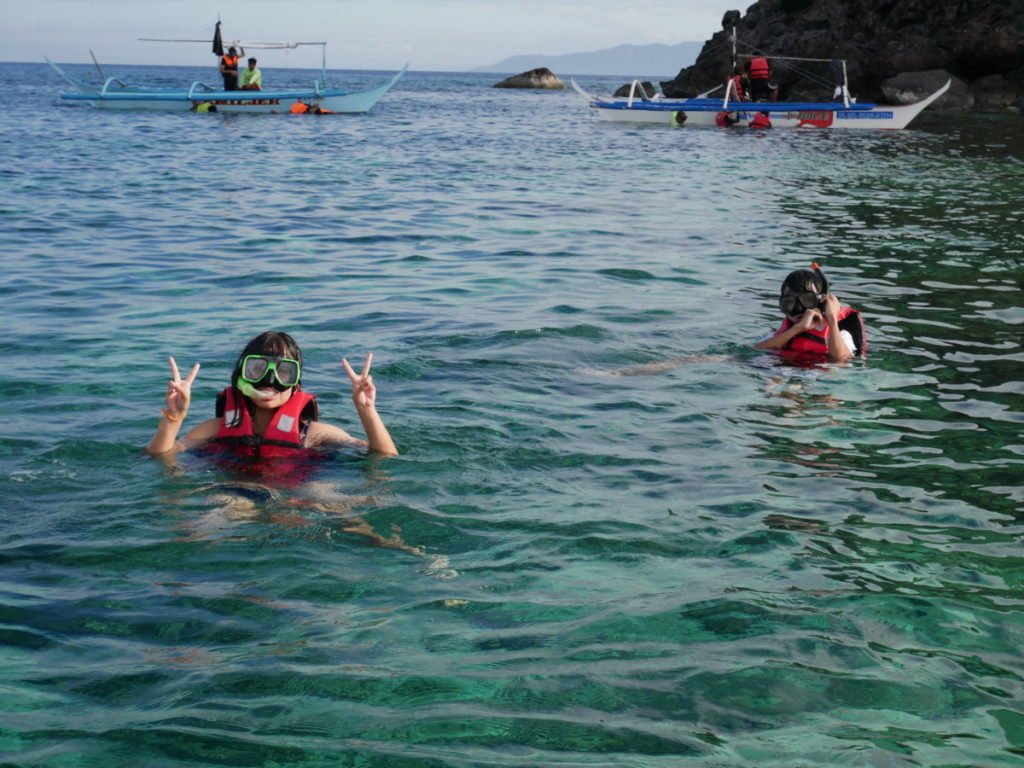 I wore the goggles and jumped in without using the ladder. The moment I peeked in the water my mind was blown away. It was like an underwater paradise down there, an enchanting world hiding from us.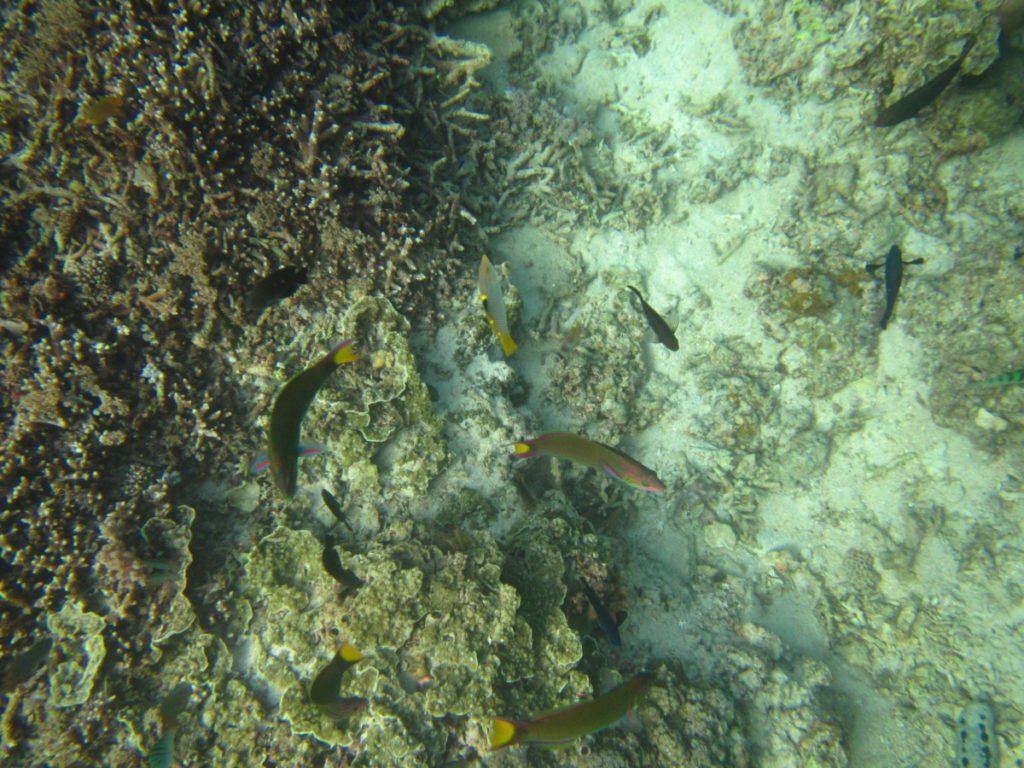 Different species of corals and fish bursting with colors came into view. Something I have never seem before in my life, I was enchanted with the beauty of this world.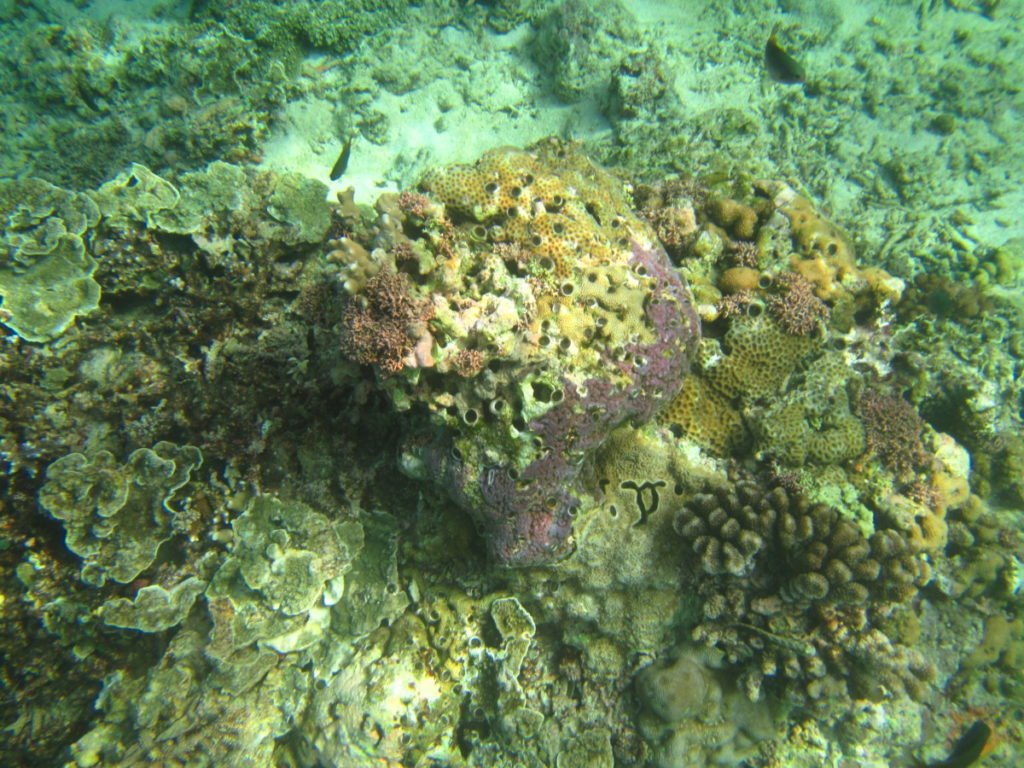 Now it was time to feed the fish. I took a piece of bread and dipped it in the water and waited for the fish to come.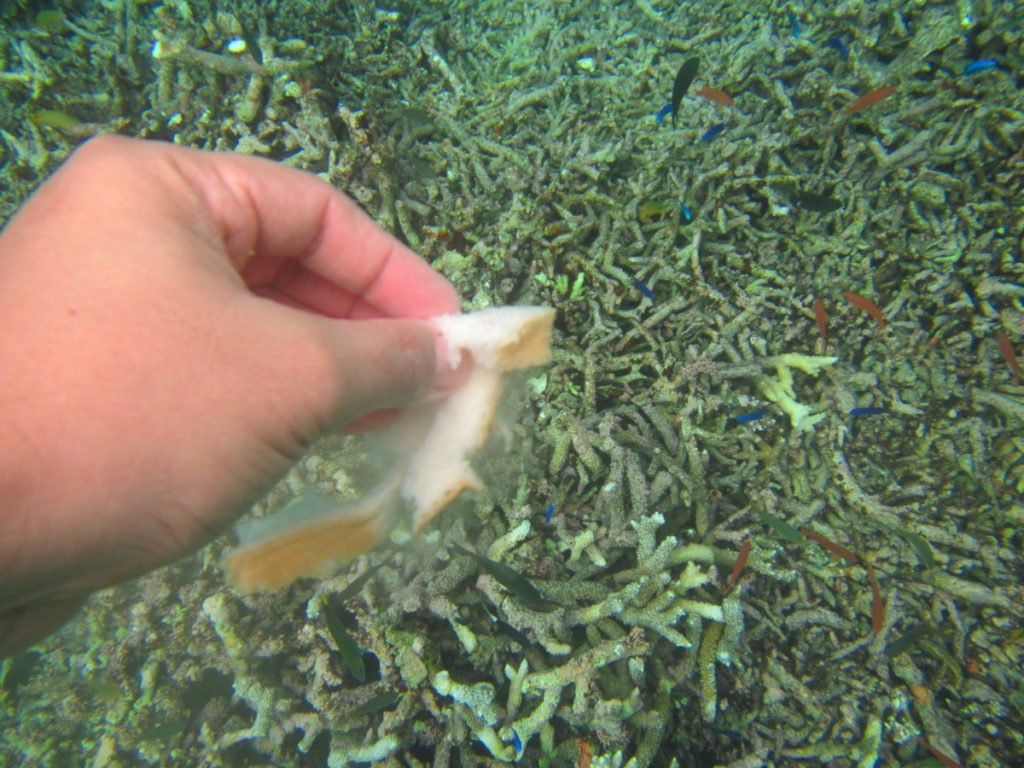 I just a couple of seconds droves and droves of fish came rushing to my location. Different species with different colors were headed towards me. I felt a little bit frightened due to the huge numbers that were headed my way.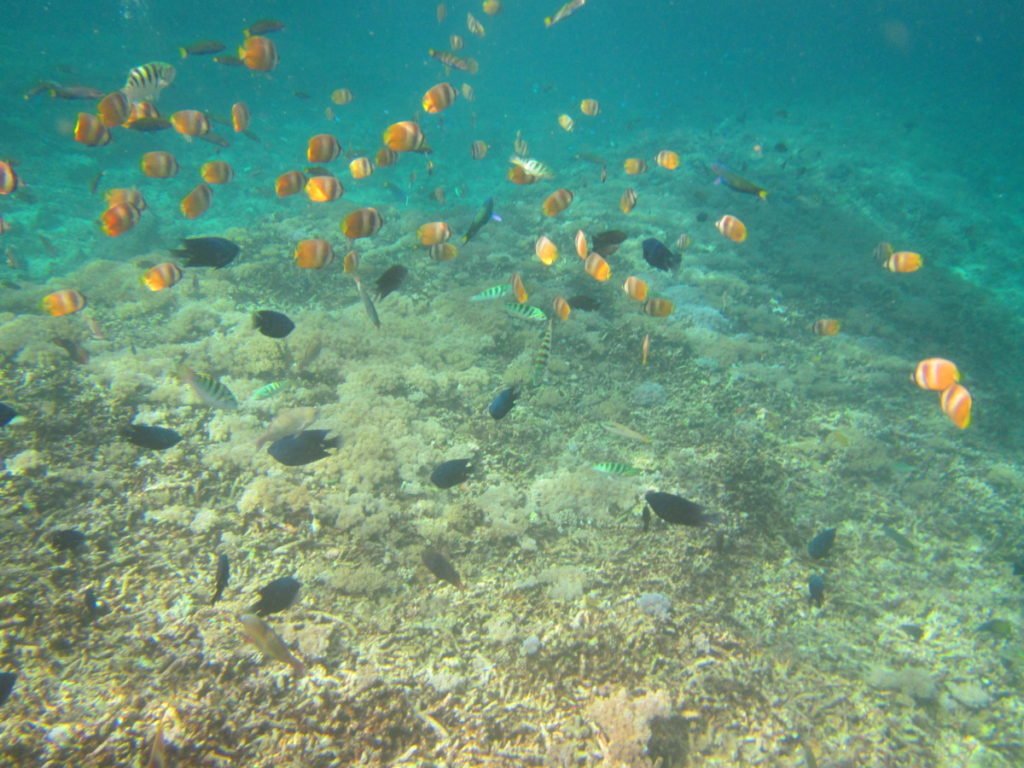 I held on the bread but dropped the first piece as I thought I would get bitten. I took another piece and this time held on to it. I was relieved that they were only interested in the bread and not my fingers.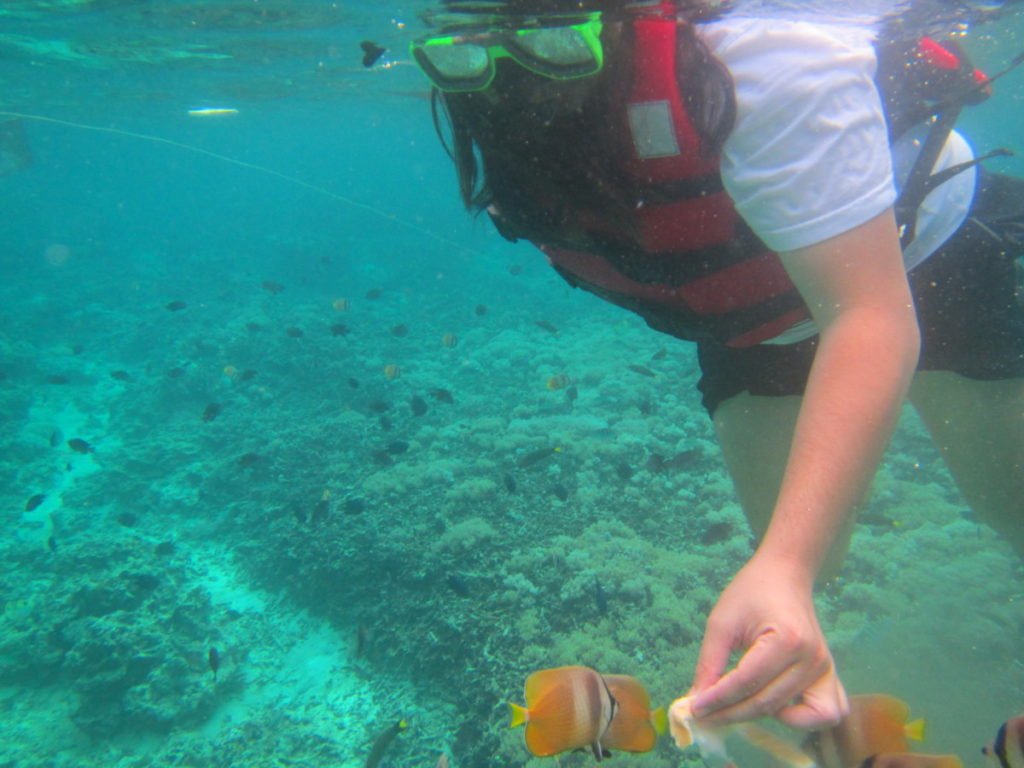 After a couple of minutes, I was so amused and felt that the fishes were my pet. They were not afraid of me and I could even touch them gently.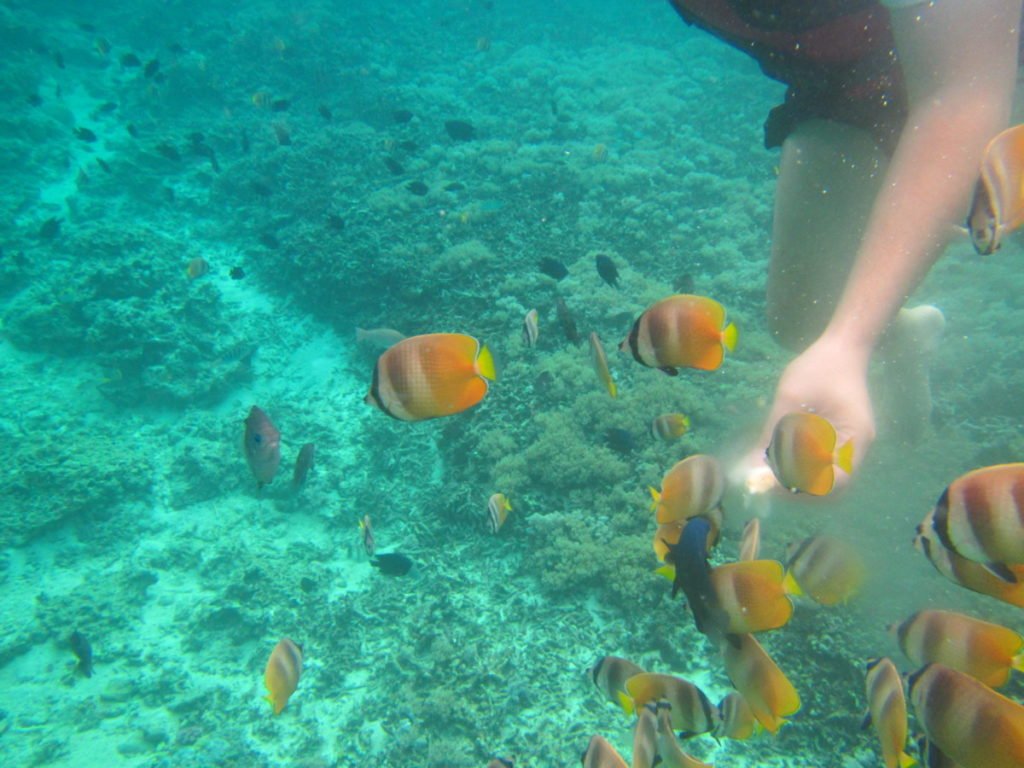 I had a little chat with the boatman and he said that taking tourists here is more profitable than fishing. Most of them already gave up on fishing, The area is protected and the fishes here are fed every day, allowing them to just get fat and multiply. That explains the enormous numbers of fish that they have here.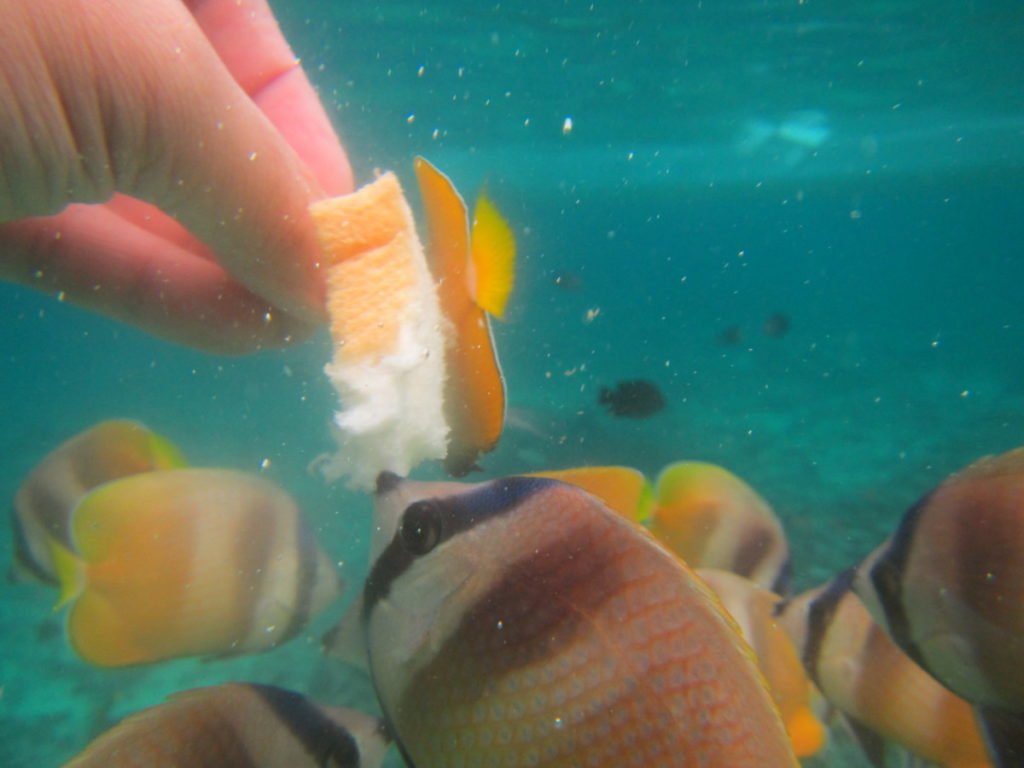 I simply enjoyed feeding the fish and I could do this every day. It is an activity that everyone should do at least once if given the chance.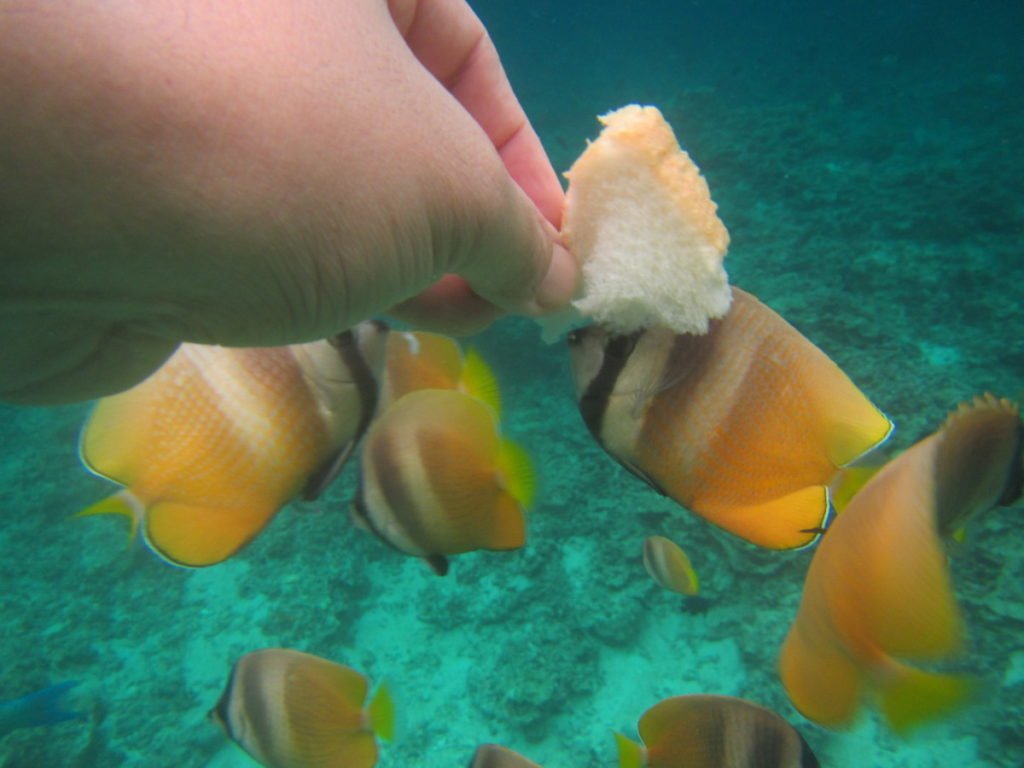 These orange fishes with black and white stripes are the most abundant but I have no idea what they are called. If any of you knows a lot about fishes it would be great if you could name a couple that we caught on photo.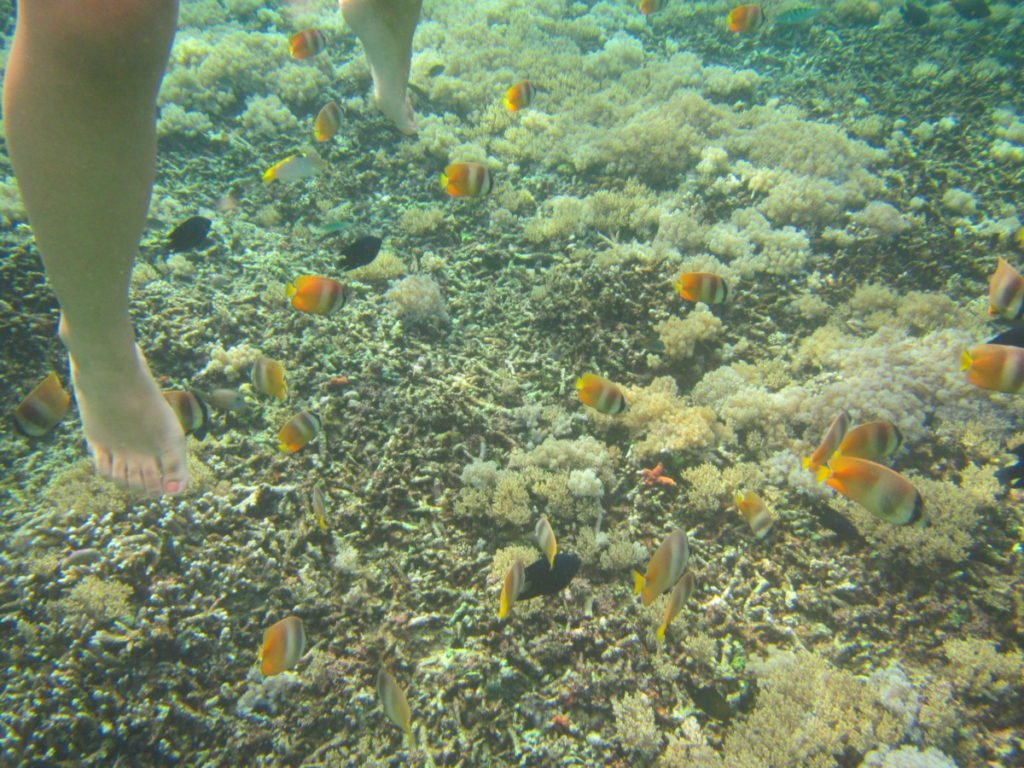 My brother in law also got carried away and kept feeding them non stop. Taking slices and slices of bread down there each time he comes up.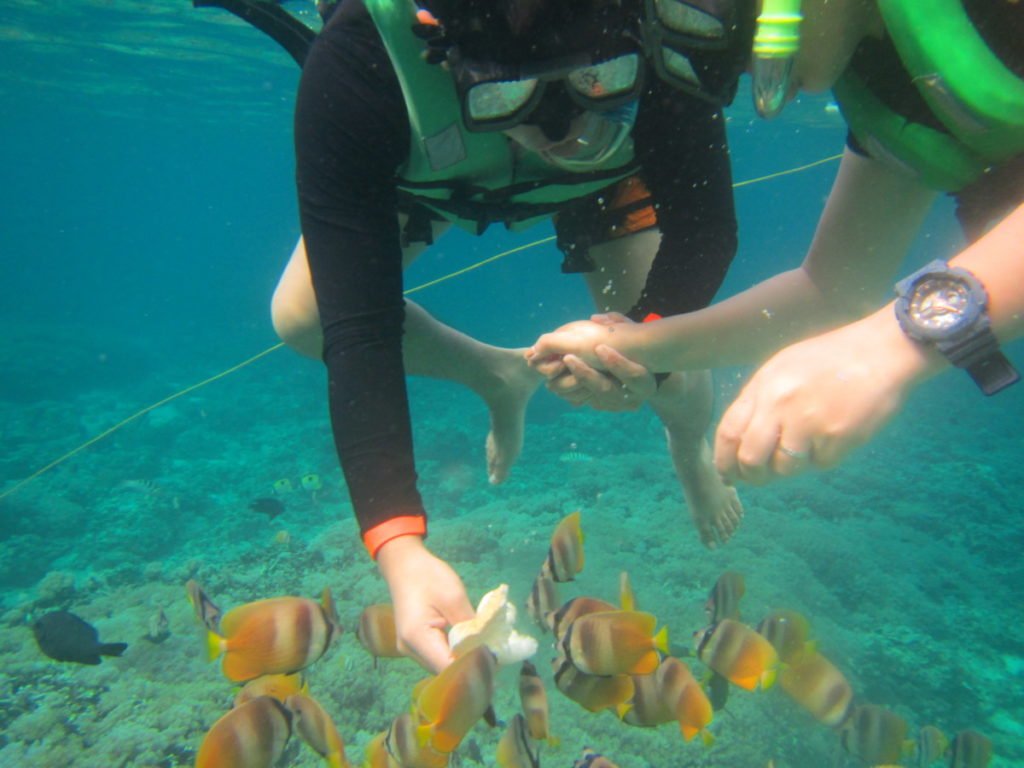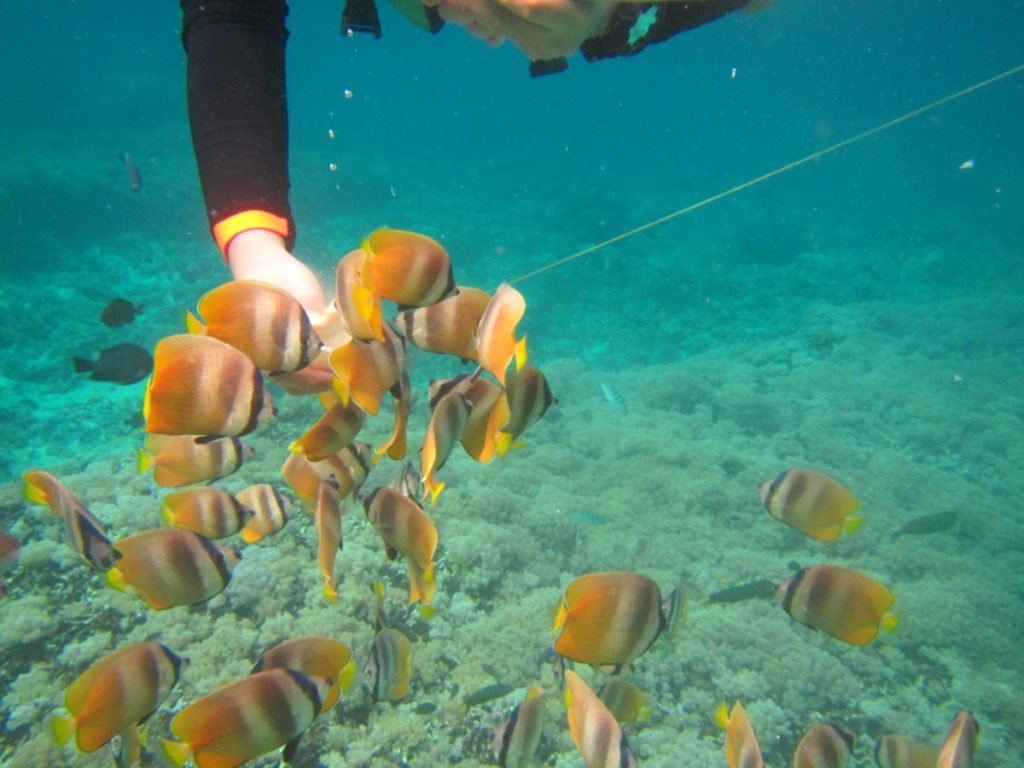 More and more of them came the longer we spent time down there.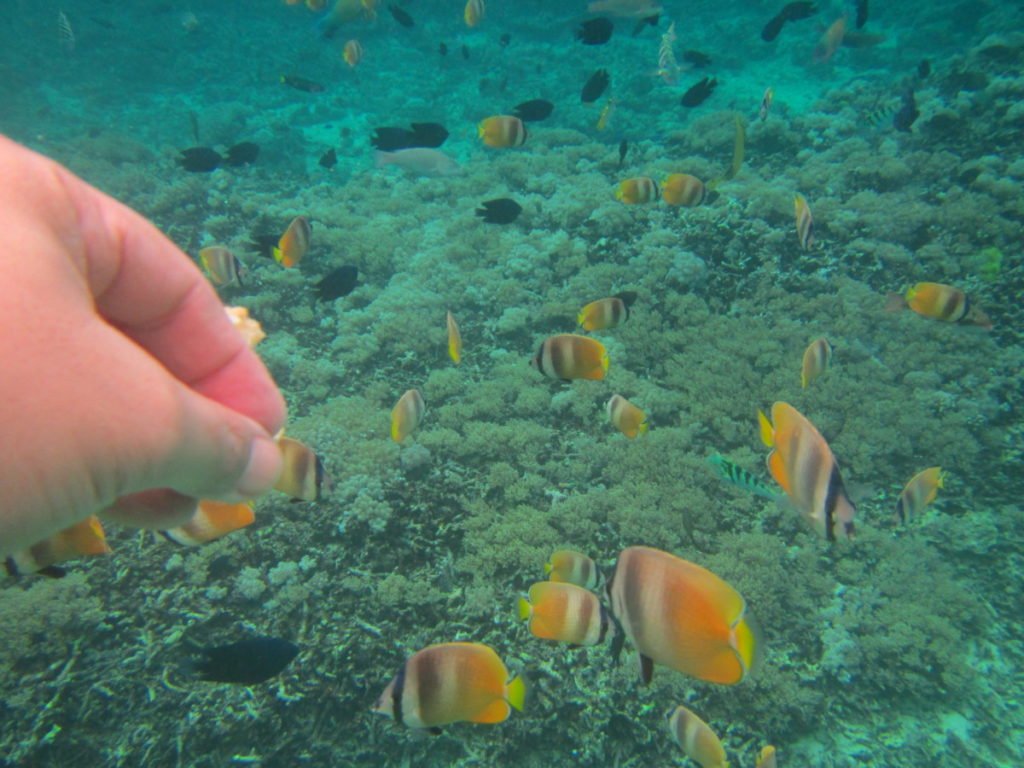 A gorgeous blue fish came into view, unfortunately I wasn't able to get a good photo.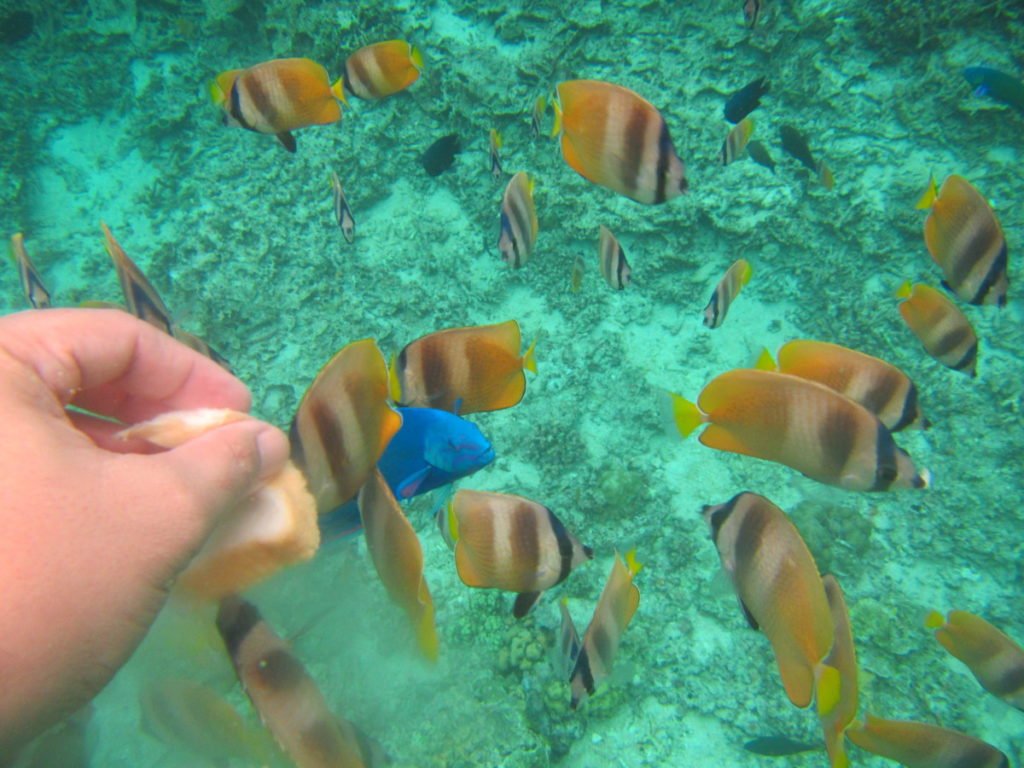 Our supply of bread was getting low and our boatman said that we have more places to go. I heard the two boatmen talking and laughing that we got too engrossed and don't want to leave. I realized that we have almost spent an hour here but still I wanted to stay a little bit longer. I would stay here the whole day if I could.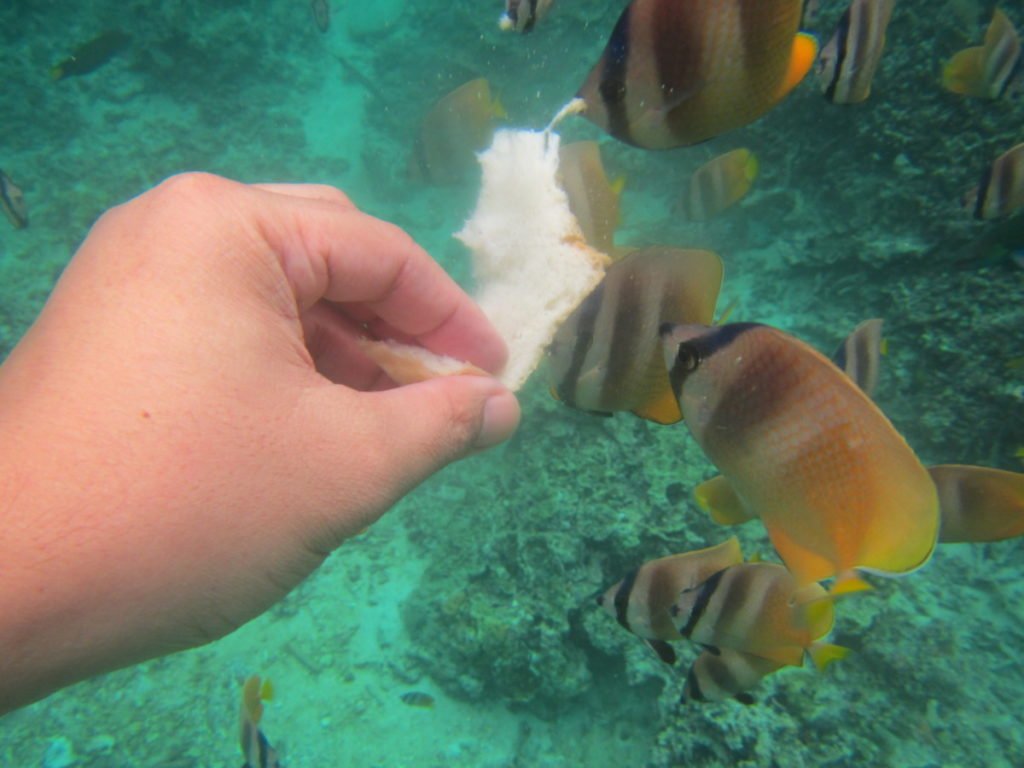 Who would want to leave if you are having so much fun here seeing all these fishes.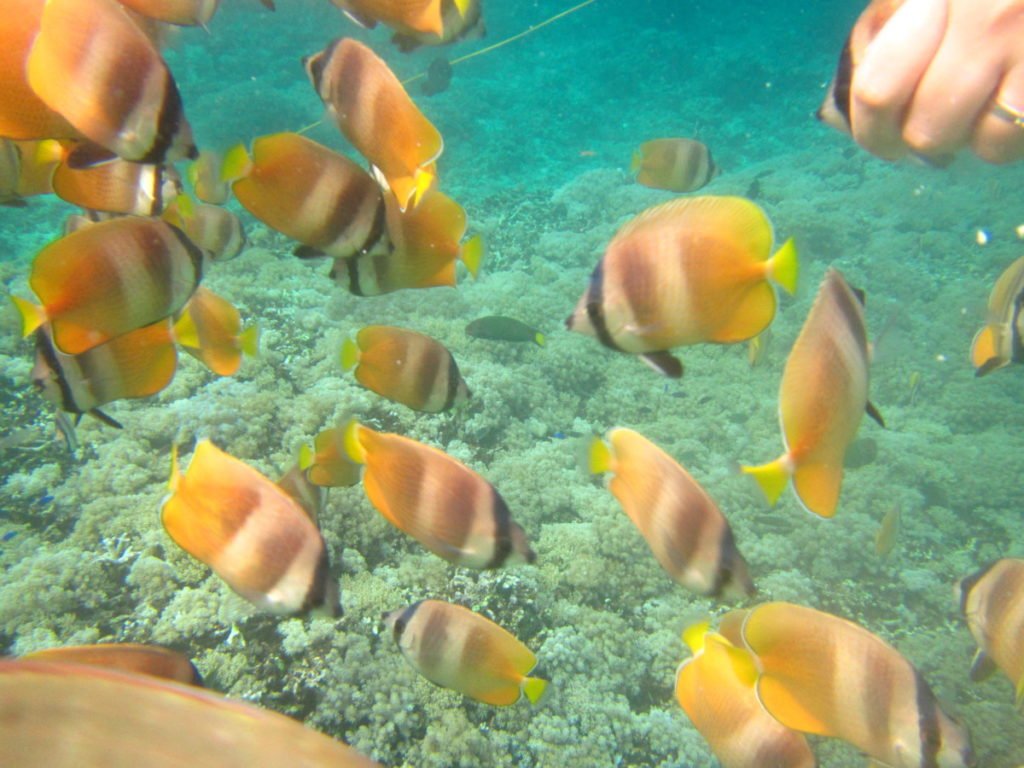 Just about when I was to climb back up on the boat. I saw this long yellow fish with a long snout, it made me stay a little bit longer. The things that you see down here is like a spell that takes over. Telling you not to leave yet as we still have so much to show you.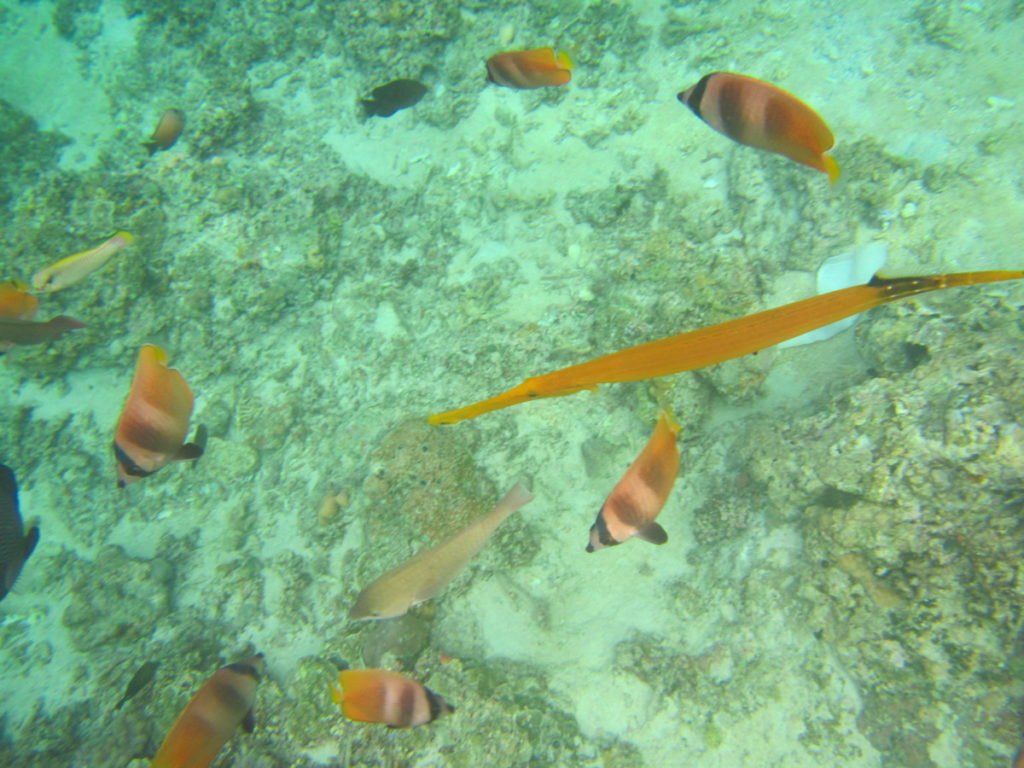 The enchanting world beneath the ocean is vast and full of surprises. I am glad we were able to show a little love to the creatures underwater by bringing them some food. The love that they showed back was priceless and an experience that I will never forget.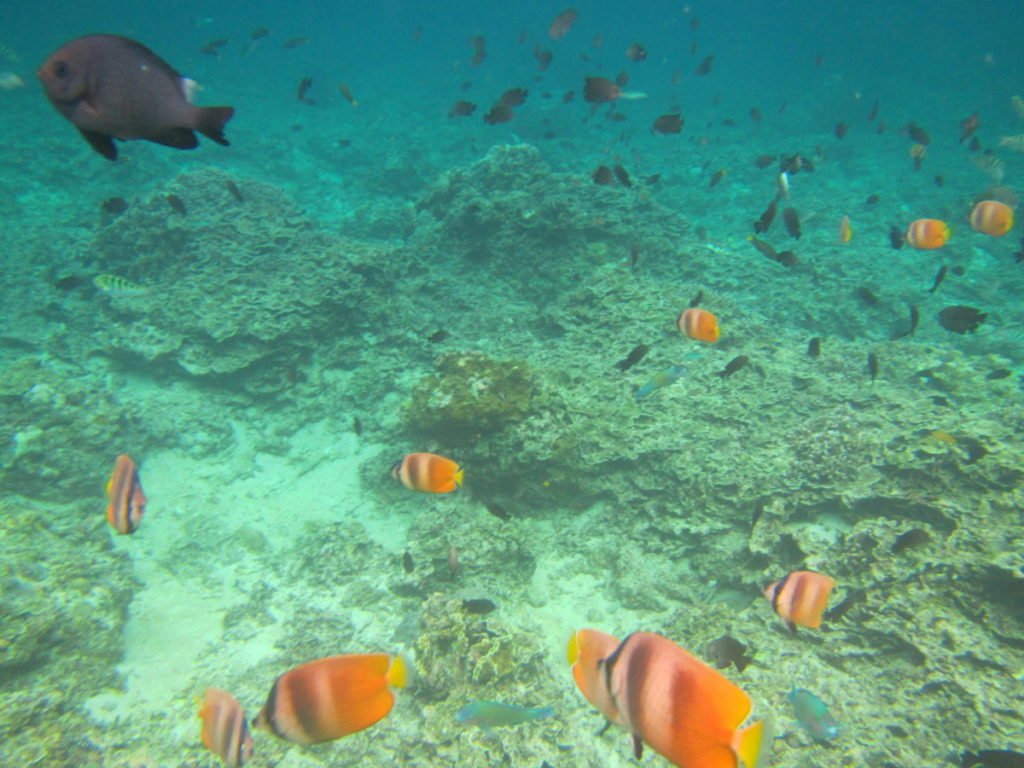 Thank you for joining us today in our snorkeling adventure. Please watch out for the video version of this dive that I will be uploading very soon. Please do leave some comments below about your experiences or if you would like to try out this activity. I would love to hear from you.
Until then have a great weekend and keep on exploring our beautiful world.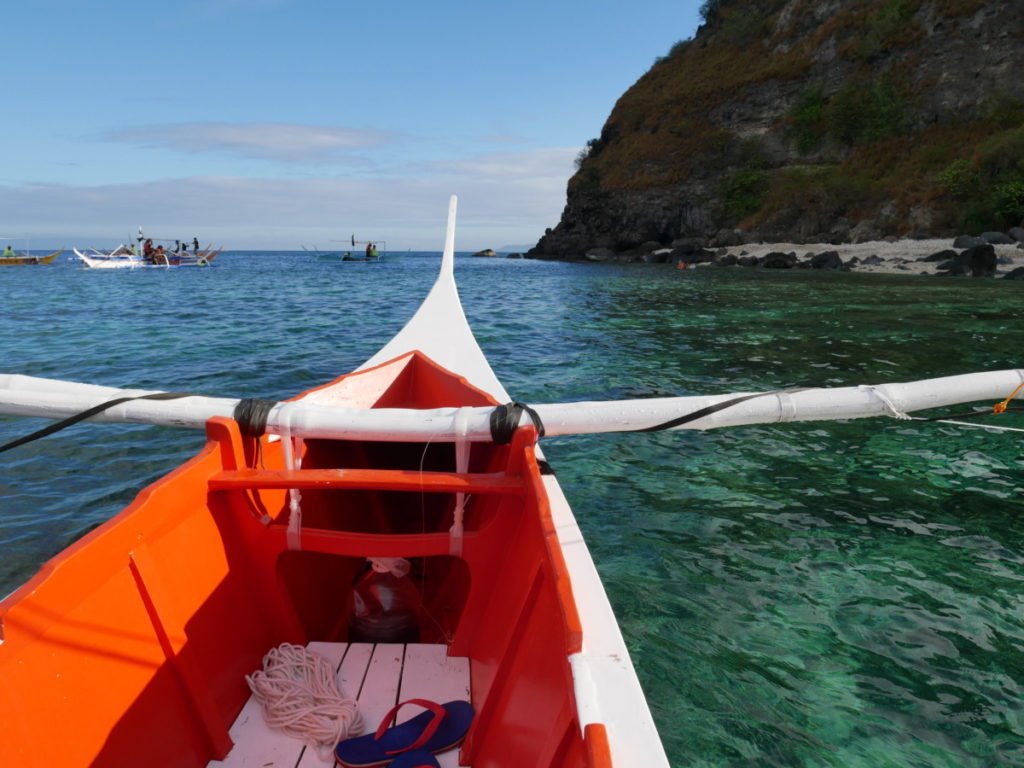 Visit and follow @steemitbloggers AKA #powerhousecreatives. A community that is exceptional, talented and engaging.
Leaving a mark in our beautiful world with @steemitworldmap and @travelfeed
All photos are original and taken with
Panasonic Lumix GX85 with 12-32 mm kit lens
and Canon Powershot D20




---
Posted from my blog with SteemPress : http://watersnake101.steemblogs.club/2020/02/02/underwater-love-sombrero-island-beautiful-sunday/
---