Today, I bring to you a review of Etude House Two Tone Hair Colour Treatment in Fantasy Blue 5.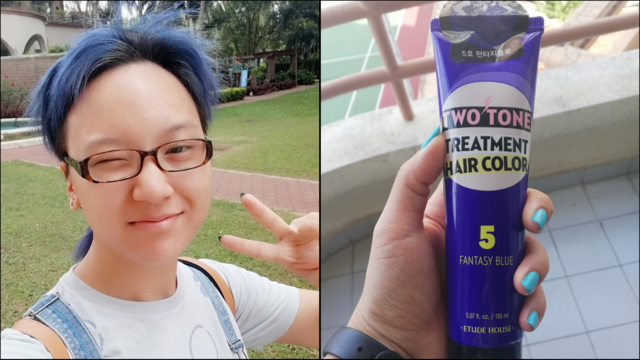 Etude House's official website markets this with
"'Two Tone Treatment Hair Color' allows you to create beautiful vivid hair color in a short period of time. To make the color last longer, reapply the product before the color fades away completely. Customize your own hair style by using two to three different shades."
According to the site, the color treatment only requires 5 to 10 minutes after shampooing and a single use of said product will last a week on average.
They claim that Two Tone Treatment Hair Color does not have an unpleasant odor nor does it irritate the scalp. They also claim that it can also be used on damaged hair and has minimal color staining on skin and clothes.
First Impressions
Unlike most K-beauty hair tints, Etude House offers 150ml (as opposed to April Skin Turn Up's 60ml and Missha's 7 Days Coloring 25ml (old stock) to 50ml (new stock)) with prices I find are lower to other dyes imported from USA, UK or Europe.
It comes in a large tube, making it very easy to squeeze the contents out. Other brands offering similar amounts of dye usually come in stiff bottles.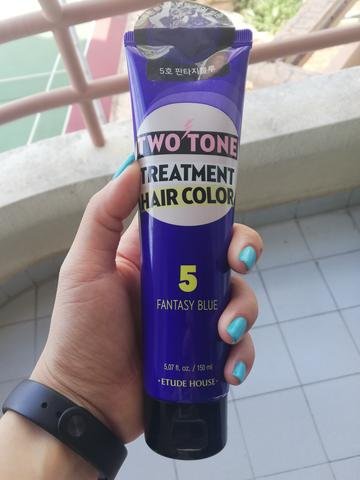 The ingredients in the Fantasy Blue colour is as follows:
Water, Cetearyl Alcohol, Benzyl alcohol, Stearamidopropyl Dimethylamine, Glycerin, Cetrimonium Methosulfate, Quaternium-87, Isopropyl Alcohol, Propylene Glycol, Citric Acid, Glyceryl Stearate, PEG-100 Stearate, Caprylyl Glycol, Polyquaternium-10, Disodium EDTA, Macadamia Ternifolia Seed Oil, Linum Usitatissimum (Linseed) Seed Oil, Adansonia Digitata Seed Oil, Theobroma Cacao (Cocoa) Seed Butter, Astrocaryum Murumuru Seed Butter, Sodium Chloride, Tocopherol, Fragrance, HC Blue No. 15, Basic Red 51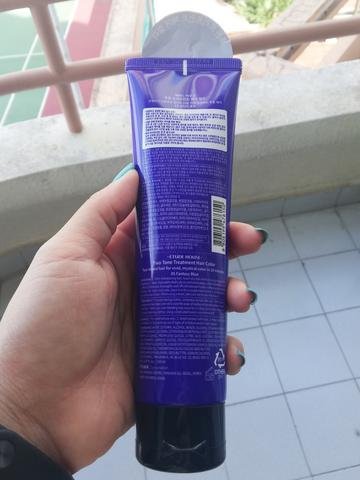 It should be noted that I started off with ashy faded blue hair and not freshly bleached yellow blonde hair as I had used Missha 7 Days weeks before, I wanted to try changing my hair colour without damaging my hair any further with more bleach.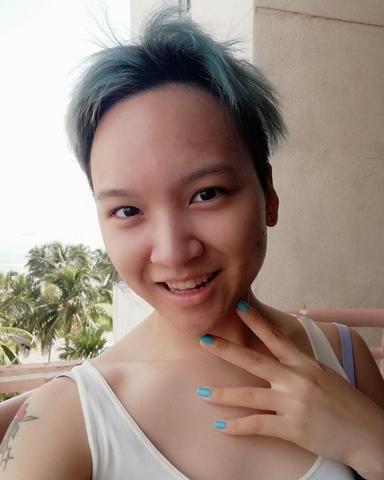 The dye has a very smooth texture and it is advised to apply it with gloves, while wearing a protective cape as the dye does stick to skin a little bit, though I had also bought the Two Tone Remover from the same company. I used it to remove any drips. I plan to make a separate review of this product. The dye might apply better if you have a hair dye brush and comb.
While the instructions say to leave it one for up to 10 minutes, it says that you can leave it on for "a couple more hours" for a more vivid result. Based on my experience using hair dyes, this seems extremely excessive, I can only assume this is a translation error. In the end I decided to leave it on for a little over 15 minutes instead.
After washing off the dye with lukewarm water (as instructed) I find that it doesn't bleed that much, if at all, onto my towel. The brand does suggest opting for a hair dryer to prevent staining towels. I should have gotten more heavy handed on my undyed roots because recently I tried touching up the patchiness pictured and the dye seemed to have covered the virgin hair! Unfortunately, I wasn't able to capture a good picture of said coverage.


Post-colouring

As the brand advertises that this dye was only meant to last a week on average, don't expect Arctic Fox Dye lasting power. I have decided to use these 1 to 2 week K-Beauty colour treatments because I change my hair colour every few weeks like Ramona Flowers.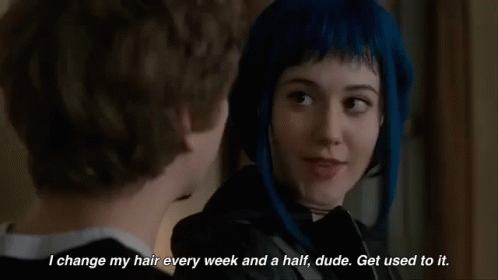 I have only washed my hair 4-5 times this past week and the colour does become less vivid but so far it doesn't look dull. I'm quite pleased at the vibrant pigmentation and have plans to own several other colours from the same brand. Not to mention I still have another half of the tube if I plan to try touching up my hair.
Conclusion
Pros:
-affordable ($10.40 on the official website)
-large bottle
-vibrant colour
-dyes virgin hair
-little to no bleeding
-temporary (may also be a con, depending on what you need)
Cons:
-temporary (see above)
-need to reapply entirely to touch up
-requires brush and comb for even results
I hope you enjoy this review and it's helpful for anyone looking to purchase. I plan to post additional reviews for other colours as well as the remover.


If you'd like to support me, you may use the following affiliate links to purchase the item:
Amazon: https://amzn.to/2YN0WKU
Shopee: Referral code KEIDR222 to get RM8.00 off off your purchase. Download Shopee here https://shp.ee/afbympn
Or else, you may give me an upvote and resteem this!