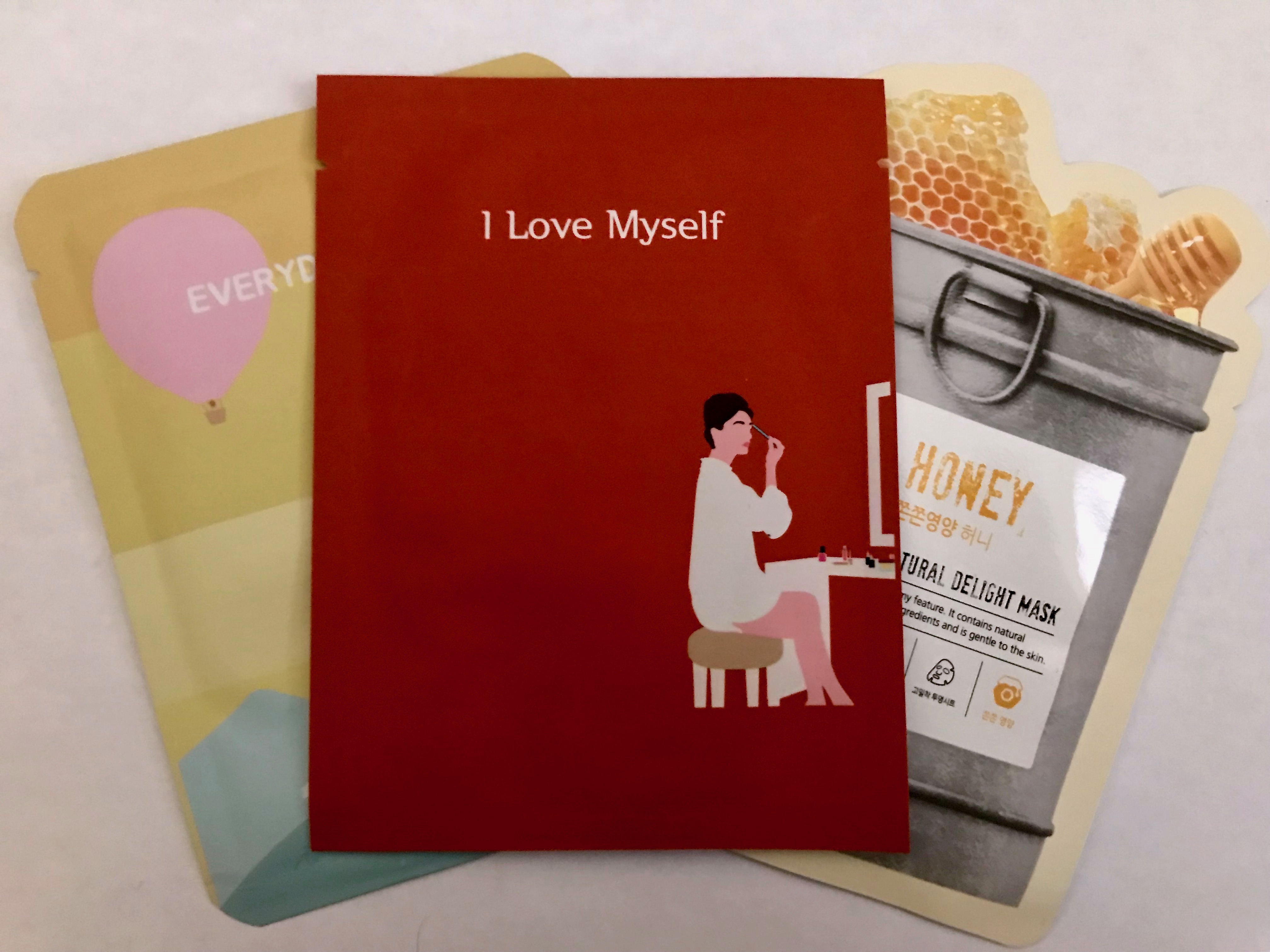 Hi Steemians!
Sorry, this post is a bit later than I planned. I was traveling all last week (I spent a few days in Seoul, and I have so many new products to try! I'm so excited!), and I didn't have any time to put this up. This continues from my last post on Korean skincare, which focused on oil/water cleansers and exfoliants. You can find it here. Today I'll be diving into toners, treatments (a.k.a. essences, serums, and ampoules), and sheet masks.
Toner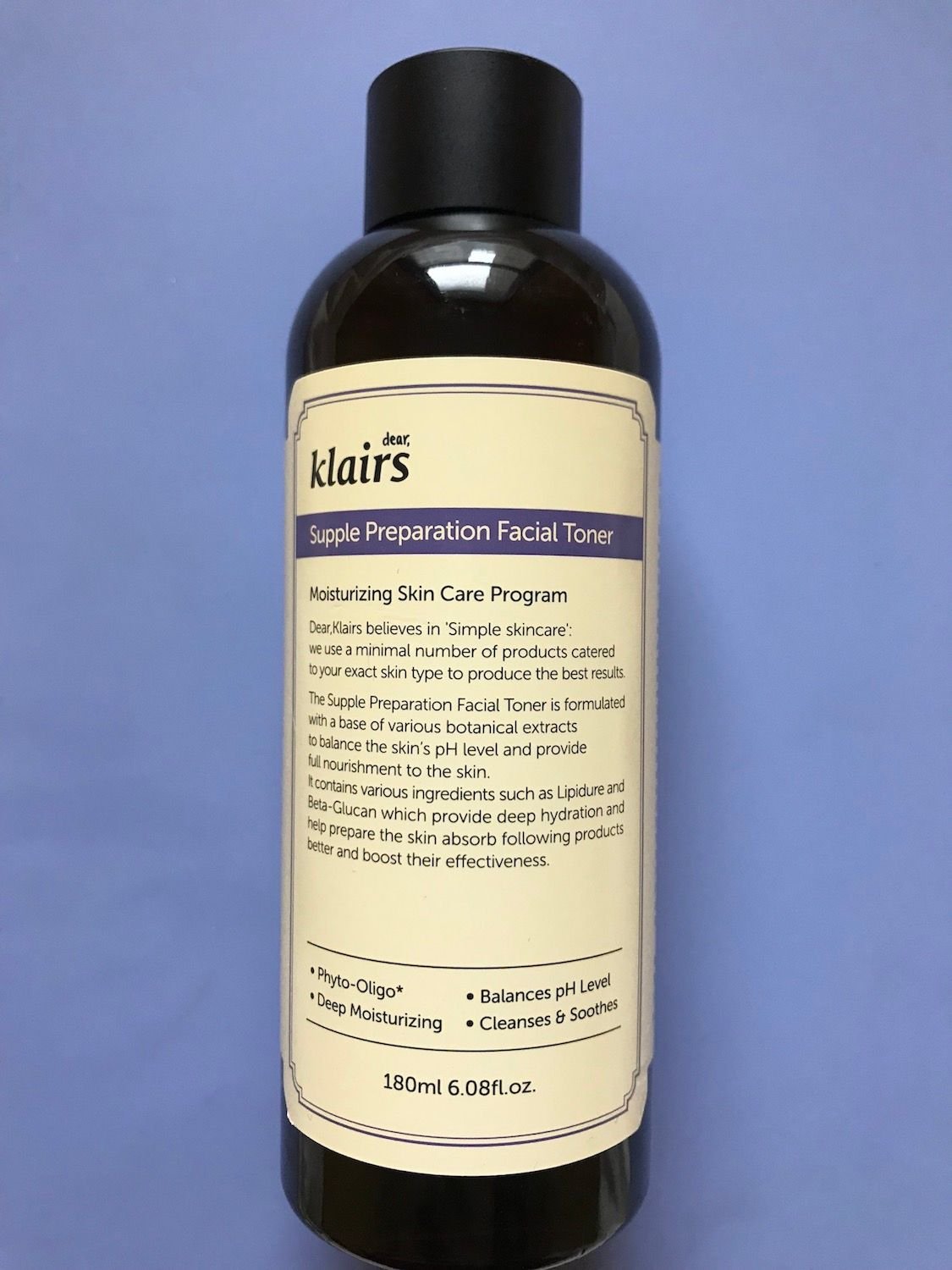 Toners are meant to restore the pH balance of your skin and prep it to absorb other products after cleansing. Since cleansers strip moisture away from the skin, toners help to put that moisture back. Your skin absorbs products best if it's slightly damp to begin with, so toner makes your skin more receptive to other skincare products in your routine.
The best toners include hyaluronic acid, which can help your skin to absorb moisture. The one thing to be careful about with hyaluronic acid is that it will draw water into your skin if you layer other moisturizing products on top of it, but it will draw water to the surface of your skin (where it will evaporate) if you don't follow it up with anything else. So if you use a toner with hyaluronic acid, make sure to follow it with other moisturizing products.
The worst toners will include some kind of astringent such as alcohol, which strip your skin of the natural oils that help to maintain the skin barrier. While a lot of people think that all oil on your skin is bad, your skin actually needs a certain amount of naturally-produced oils to function properly. Alcohol dries out your skin and makes you more likely to get wrinkles, and it can even cause breakouts if your skin tries to compensate for the dryness by over-producing oil. (But sometimes it's ok to compromise your skin barrier a little bit to help other treatments reach their full effectiveness -- check out @brutalistbabe's comment below if you're curious about this!)
My favorite toner that I've tried so far is by Pyunkang Yul and is formulated for normal-to-oily skin. It's light, unscented, and doesn't irritate my skin. I've had issues in the past with other toners being too harsh, but this one is gentle enough that I can use the spray-nozzle to just spritz it over my face without worrying what it will do to the delicate skin around my eyes. But usually I apply four or five sprays to a cotton pad and swipe it over my face that way, to ensure more even coverage. UPDATE: I just bought the Klairs Supple Preparation Facial Toner while in Seoul, and I love it already! It's definitely another good toner option. (It's also the toner in the picture, since I threw out the Pyunkang Yul bottle once it was empty.)
Treatments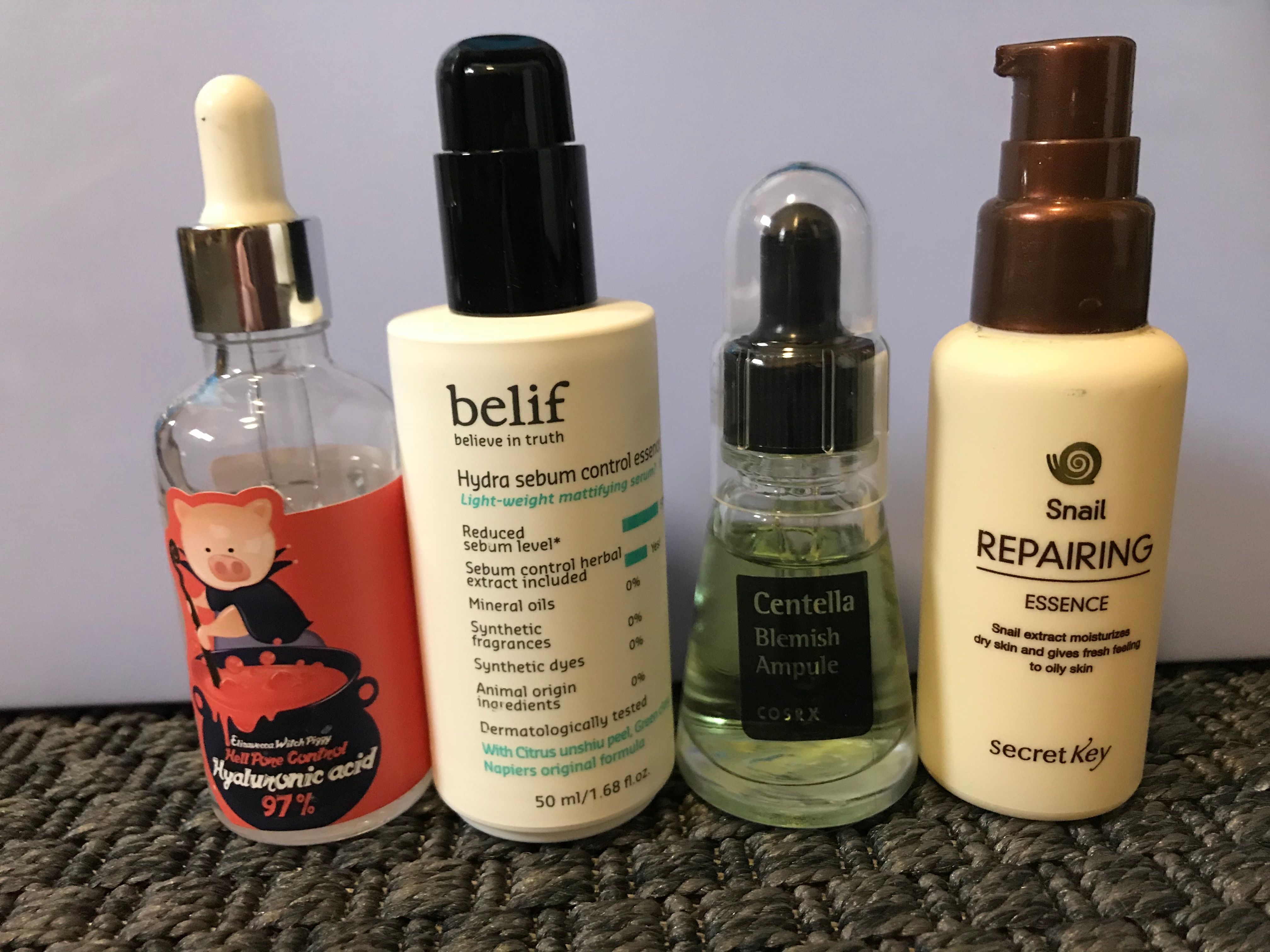 This is the part of the routine where people start flinching at the ten- or twelve-step Korean skincare routine, but it's actually very straightforward. Essences, serums, ampoules, treatments, etc. are just products that have been formulated with specific skincare goals in mind. The trick is to decide what you want to focus on in your skincare routine and then get the products that you think will work best for you. If you don't have any particular skincare concerns (or just don't want to deal with any extra steps), then you can skip this part of the skincare routine altogether.
If you have a spot treatment for acne or an anti-aging product that's not a moisturizer... surprise! It's a treatment. If you find yourself with a few different products in this category, don't worry about what they're named. Just put them on in order of thinnest to thickest consistency, so that your skin can absorb them as effectively as possible. The more watery it is, the earlier it goes in your routine.
I personally have a few different treatments that I like. I use the Secret Key Repairing Snail Essence as a light moisturizer, and often I'll end my routine with it if my skin feels hydrated already (this usually happens in the summer, particularly if I'm somewhere humid). But if my skin feels like it needs a little bit more help, I have an ampoule from Elizavecca that's 97% hyaluronic acid, which helps my skin to absorb a heavier moisturizer afterwards. I also recently bought the Centella Blemish Ampoule by Cosrx and the Hydra Sebum Control Essence by Belif. If I were putting on all of these products at once, it would go: Secret Key essence, Belif essence, Cosrx ampoule, and Elizavecca treatment.
Sheet Masks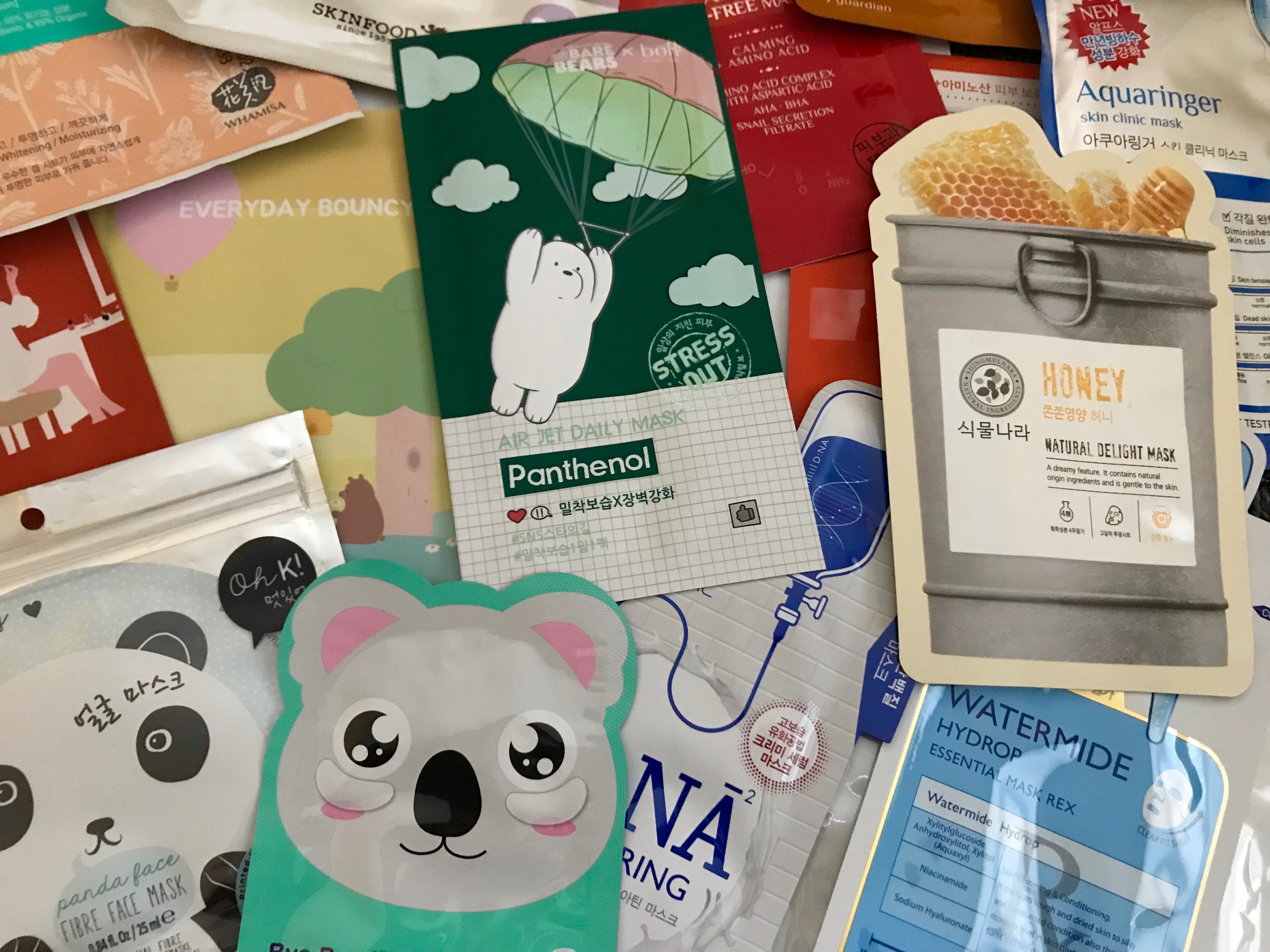 Sheet Masks are very thin face masks that have been soaked in a skincare treatment. They're highly saturated, and they help you to get the full benefits of the product because they literally sit on your face and help your skin to absorb as much moisture as possible. You typically wear them for 15 to 20 minutes, but if you're not sure, just check the package. It will always tell you how long to wear the mask for.
Sheet masks are an honorary part of the treatment category, because they often focus on a specific skin concern. They also go in the same step of a skin care routine as an ampoule or serum would. If you want to use a sheet mask, use your cleansers first, exfoliate if you want, use your toner, and then put on the sheet mask. Sheet masks are usually the last step in a routine, since they act like both a serum/ampoule and like a moisturizer because they help your skin to absorb so much of the product. And you don't need to worry about sunscreen, since most people use sheet masks at night (it can be difficult to apply sunscreen after using a sheet mask, since there's so much moisture left over on your skin). Sheet masks may make you look like a ghost, but they're also incredibly relaxing.
People will typically use one to two sheet masks per week, but some people like them so much that they'll use a sheet mask every day. I personally just use them whenever I want a mini spa day or my skin feels particularly dry. I love using them after long plane flights to restore moisture to my skin, since the air on an airplane is always incredibly dry. I like the Leaders brand best, but they're on the pricier side, so I tend to buy them in bulk whenever they go on sale.
But since sheet masks are a one-use item, I also have a lot of fun trying different kinds and brands of sheet masks. My one word of warning is that sheet masks aren't supposed to sting, so if it stings, take it off! Typically sheet masks will cost $2-3 USD per sheet (if you're paying more than $5, it had better be a super-special sheet mask), so they're a fun and cheap way to switch up your skincare routine. UPDATE: they're cheaper in Seoul, typically $1-2. So if you're ever in South Korea, be sure to stock up!
I hope this was a helpful post, and feel free to comment down below with any skincare questions or comments you may have!
---
All photos were taken on an iPhone 7, and are my own work, so the usual copyright rigamarole applies.