Melbourne City v Adelaide United - A-League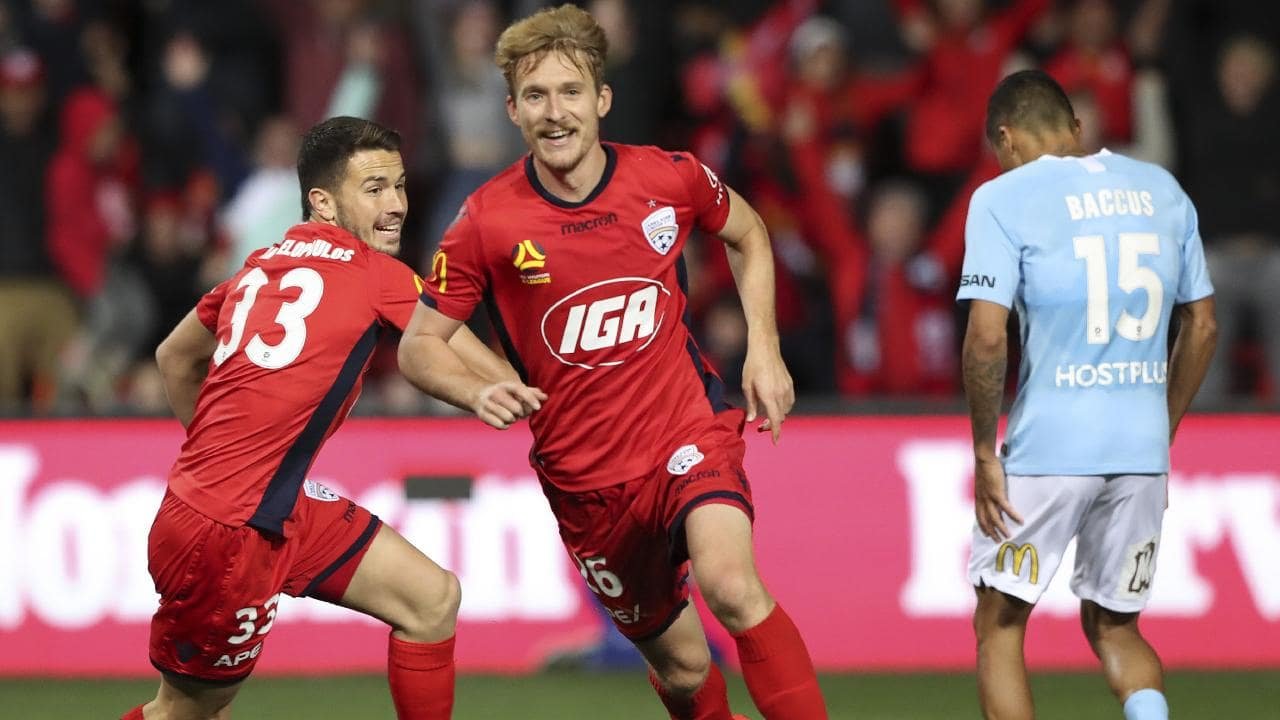 Melbourne City and Adelaide United will lock horns this Sunday, October 20, at AAMI Park in Melbourne, both striving to walk away with their first W of the season, yet there can only be one winner, and the home fans will count on Mombaerts' men to deliver.
Melbourne City looking to make home fans proud
Melbourne City will enter round two of A-League following a stalemate against their city rivals Melbourne Victory (0:0). Looking back at that fixture, it was Melbourne City who looked much stronger, yet failed to capitalize on their chances. Mombaerts' men shot the ball 4/16 and held onto the ball for 50% of the time. That being said, it was Victory who scored the only goal of the match, however, their enthusiasm did not last long, seeing how the goal was ruled out by VAR. Other than the disallowed goal, the match was more or less boring and bland, which was a disappointing sight to see for a Melbourne Derby match. At this point it's worth noting City were playing that fixture without their star striker Jamie Maclaren, who was on his international duty, which to some degree contributed to the blandness of the match. Had he played, we could easily imagine City winning that match, however, we will never know for sure. While it's hard to praise City too much for a draw, we can't look past the fact they are now unbeaten in the last seven matches, six of which ended in a win. At this point, it's also worth noting that City reached FFA finals by defeating Brisbane Strikers at the start of October (1:5) and are now getting ready for the grand finals against their Sunday's opponents; Adelaide United on October 23, 2019.
Adelaide United questionable defence
Adelaide United are entering their second fixture of the season with one big L next to their name, which they suffered at home soil in a match against Sydney FC. Looking back at that fixture, Sydney FC opened the scoring with a 22nd-minute penalty, to which they added the second goal only six minutes later. Adelaide managed to respond in the dying moments of the first half (44'), reducing the gap to one goal as they headed to the locker rooms. The home side entered the second half with all guns blazing and managed to close the gap with the help of Toure, who scored his first goal of the season in 51st minute. Unfortunately for Adelaide, they suffered a red card barely six minutes after equalizing the match, which tipped the scale of the match into Sydney's favour, who took over the match in the second half. The match continued and while it looked like Adelaide would manage to fend off Sydney and walk away with a point, the visitors found a way to score a goal in 87' to make it 3:2.
Unlike Melbourne Derby produced, this fixture was far more exciting. While it's easy to praise Adelaide who almost chipped points from Sydney, they failed to look dangerous in the attack, where they shot only 3/14, which is not good enough.
Prediction
This fixture will provide both sides a chance to redeem themselves after slow start of the season, so we can expect sparks to fly in Melbourne. Looking back at head-to-head fixtures between Melbourne City and Adelaide United, they are mostly very closely contested, which was especially true for their most recent meeting in May 2019. That said, their most recent fixture was the final game of the season, so it's easy to see why it went down to the wire. In the end it was Adelaide who came out on top with Ben Halloran's goal in 119th minute. Whether Adelaide can derail City once more is yet to be seen, but from what we have seen so far, we like the home side more. The main reason being Adelaide's poor performance in defence in their last fixture. While we must give them some slack for having only 10 men, they failed to convince us with their defensive work. On top of that their attack was mediocre at most, and while they did manage to score twice, we have to look back and remind ourselves they shot 3/14, which won't be good enough against Melbourne City. On the other side, Melbourne City will welcome back Jamie Maclaren, which will be a huge boost for their attack which should cause a lot of issues to Adelaide's defence.
Prediction: Melbourne City to win