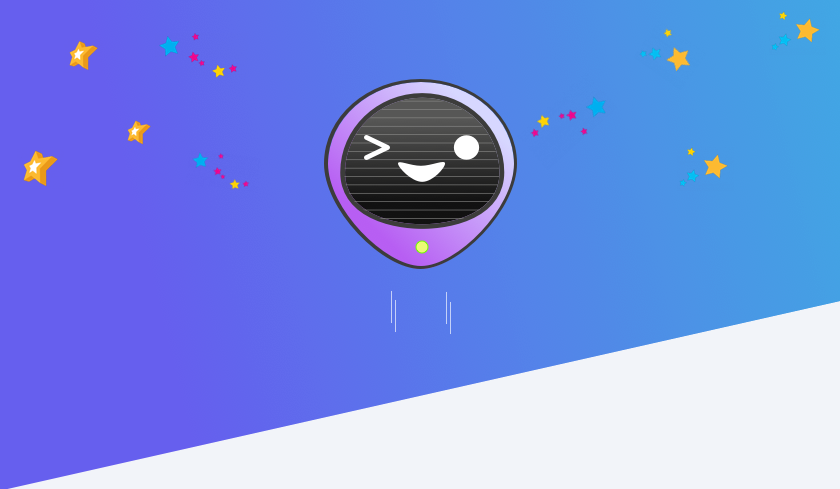 Do you use bid bots to get your high quality posts on the main page of Steemit? If the answer is "yes" than you probably spend a lot of SBD and often get bad bids because of a negative ROI. @Bid.Bot is service that will relieve you of bidding stress.
Many believe that @Bid.Bot is game changer on Steemit because as a new service it offers opportunities that no one bid bot has ever had.
It's easy to understand functionality, but @Bid.Bot developers have worked hard to make all these fantastic options to work perfectly.
Than how it's work?


After you create an account at https://bidbot.me official @Bid.Bot website, you will notice two new terms "CREDITS" and "MAGIC" as it's shown on picture below:


Credits you can buy to run your campaigns
"CREDITS" is equivalent to 1 SBD and you can buy it with other cryptocurrencies too. BTC, BCH, LTC, ETH, XMR, DASH, STEEM, SBD are accepted.
Magic credits generated when using Credits for Bid.Bot upvotes, delegation and more
While "MAGIC" is a like virtual SBD that is determined to use "CREDITS" as an investment in upvotes or as reward for delegated Steem Power to @Bid.Bot.
Boosting post


If you want to boost your post, @Bid.Bot will find the most profitable bots on steembottracker.com at that time and pay for your bid instead. In this way, you do not think about if bid round will be profitable or not, because @Bid.Bot automatically finds out most profitable bots at a given moment. @Bid.Bot distributes the funds that you have to boosting your post and get the most profit for you. As a result, you have not only boosted post with reliable chance to be found on one of the main Steemit pages (trending or hot), but also the gain of the upvotes of the bots.
The best for every @Bid.Bot user is option to control how quickly his campaigns will run through the ROI settings on https://bidbot.me web site.
We can choose several options:
Slow: +10% estimated ROI and take up to 3 days delivery time
Standard: +5% estimated ROI and take up to 2 days delivery time
Fast: +3% estimated ROI and take up to 24 hours delivery time
Express: May be break-even or up and take up to 8 hours delivery time
Instant: No check on positive ROI and take up to 2 hours delivery time
These options are shown on picture below: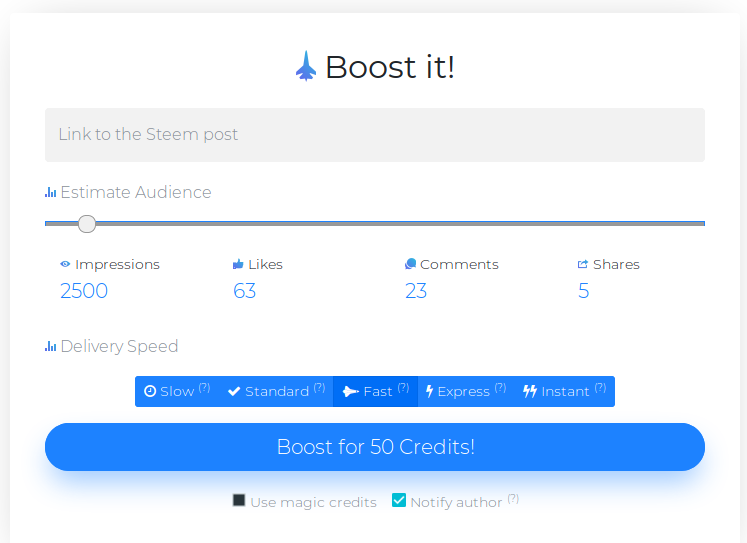 Delegations


This is not all because @Bid.Bot offers many more.
If you delegate Steem Power to @Bid.Bot you will receive 100% of liquid STEEM as delegator every day, but that's not all, you will also get "MAGIC" credits in the same value, that can be used to boost your posts.
This is the best ROI you can get right now on Steemit as a delegator. If you delegate 500 Steem Power to @Bid.Bot, 0.22 Steam will be paid to you each day, as well as 0.239 "Magic" credits that you can use to boost your posts.
@Bid.Bot reached 60 000 Steem Power for short period of time and everyday new delegations arrive which is proof of very good ROI and satisfied delegators.
Follow: @Bid.Bot
Website: https://bidbot.me
For any questions and information visit BidBot Discord server: https://discord.gg/GH5AyKZ