As a lot of people have been and keep asking me what the difference is between @ocdb and just another bid bot I figured I'd write a post about it and try to explain it like I'm five, or was it "like you're five"? I guess we'll see how it turns out. :P
The purpose of a bid bot is basically, promote an advertisement service to authors wanting to promote their posts onto their biggest front-end; Steemit.com. Believing that many accounts and outside viewers read and browse the Trending section of Steemit and letting anyone buy a vote for their post unless blacklisted.
Checking steembottracker.com you can get a good glimpse at how they operate: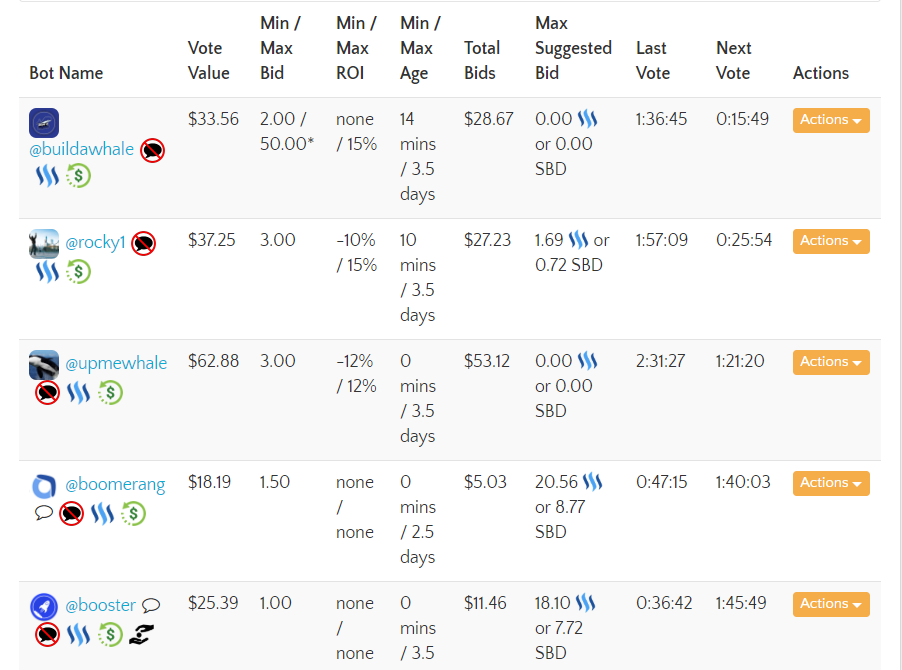 As you can see they run by rounds, picking up bids each round and then the votes come in when the round is over. They have minimum bids and max ones and I assume there's an algo that changes the vote strength of the last votes so it matches the bid and promised ROI while the voting power is slightly depleting from the previous votes. Some of them have a minimim ROI, meaning that if there are too many bidders in that round the bot will send back your partial or full bid or add you in queue to the next round. Those without minimum ROI will just split the voting power between all bidders in that round respective to their bids.
Now as we went through the basics, I want to say some thing. This is all a great service, attention is after all what is Steem's main focus even though it can be blatantly bought right now. Who's to say there won't be other solutions later or if other front-ends become more popular due to the way they decide what gets attention. Buying attention should cost, the Steem that the bidders use goes back to the investors of Steem and at the same time increases the value of our holdings. What kind of bothers me though is that there are some owners of these services that make a lot of rewards for it, and some of them do not give back to the platform by making sure their bots aren't being abused or leading to a crappy trending quality. Not just that, but imagine you wanted to buy a vote and the bid bot owner sees that hey "this is not me", so to make it more costly for you he will at the same time post something on an alt account and bidding against you so you have to pay a steeper price for your bid. They will falsify demand in order for their bid bot to turn a better profit and in turn them getting a bigger cut, it won't cost them a much if they are the main delegator to their own bot. Think about it.
In decentralized systems everything is possible.
Now while I appreciate what bid bots are doing and hope that the rewards some of their owners make daily are enough motiation for them to continuously improve on them I hope there will also be interest in the future to distribution bots. It's a unfortunate time for curators as even being so altruistic with your stake considering how much faster accounts are growing that are delegating their stake to bots, the time will also come where even delegating to completely non-profit distribution bots will be considered as altruistic as promotional bid bots will always have the edge to for ROI as advertisement costs and will only cost more the more eyes are on this front-end. There are however ways to make that more fair too, I'll be talking about that in another post.
For those who know us at @ocd you may also know that we didn't want to contribute to these bid bots for a long time when they started becoming popular and as more and more stake was being locked up with them. We were curating instead. The time came though when we figured that "hey, if these people are growing so much faster than us and are now already showing how they are misusing their stake by not even using it for curating no matter how easy they are earning it daily, then will that change in the future?" our guess was that no, their behavior will probably not change in the future. Our blockchain might change, the system could change but one thing was certain, that authors will be having less and less stake being used on them for their activity and efforts they were providing to consumers. I realize we don't have many cosumers right now as most are just creators since the blockchain is not as welcoming to consumers and curators right now, but that is not the most difficult problem to fix.
So we created @ocdb, one of the first stake distribution bot with a whitelist, a guaranteed ROI and a way for the users we have curated in the past to continue growing if that's what they want to do. Not only was this offering authors a way to grow, it was also offering delegators and curators who for too long were missing out on bigger ROI. Why is our ROI so good considering all bidders are getting a profit out of it? Well that's mainly because we take no cut from @ocdb ourselves. Why are we doing it? Well, Steem and DPOS rely on a healthy distribution to be powerful and secure. If you check the witness page on steemd.com you can see that not a lot of active stake is voting, even though we believe it will grow over time we need to make more people aware they should vote on witnesses they trust and will keep our blockchain safe and not using their votes that means they are giving others more power. Current rank 1 witness only has 18% approval of all active stake, out of 30 votes per account, I think it should go much higher than that and one thing that will help is a good distribution of stake and making accounts of all sizes realize that all votes matter.
So the way OCDB works compared to bid bots is that each bid gets onto a queue, the account votes each post when its voting power goes to 100% and that post receives a 10% profit depending on their bid. Extreme price fluctuations may change the ROI as well considering the payouts occur a week later. All bids go directly to the delegators and all curation rewards as well, but by giving the authors 10% bigger votes than what their bid was worth a delegator receives around 10% less ROI than if he were to self-vote itself 10 times per day. We believe that this small change will keep delegators delegating to us knowing that the votes are going to deserving authors that we have curated and won't be abusing it knowing they'll miss out on this chance to grow at a faster pace with @ocdb. We also have some ideas to incentivize the authors bidding on posts daily to continue improving on their quality over time by providing them with an even higher ROI, let's hope the prices of Steem will become a big more stable in the long run to make sure they feel the difference.
Our goal with OCDB is not to exclude anyone unless they've proven to plagiarise or abuse it in ways we did not intend our bot to be used. We give warnings to authors that are getting close to that border and only in a few cases have we had to remove authors. At the same time we are adding new ones constantly and we are also going to be increasing the pace with that. We want people to grow along side us and are hoping that there are a lot more unique authors using OCDB daily so that the max bid is lowered and people wanting to use it for promotion won't be bothered to as that is not what OCDB is about, we were just surprised at receiving huge delegations in a short time period which lead to our max bid being 60 SBD at one point. We are happy to have received it though and are looking forward to it helping the distribution on our platform and that good authors and users may grow faster along side so that they'll hopefully use their stake at some point for curation again to give back to the platform.
Thanks for reading, I thing I gave up trying to explain it like you're five in the second sentence... :P
Looking forward to a better distributed Steem in the near future! :)
If you like what OCD is doing, then please check out our website with the whitelist, queue and delegators here: https://thegoodwhales.io/
Follow @ocd and check out the daily authors we curate and then add to the whitelist!
Vote for us @ocd-witness on Steemit's witness page or through this Steemconnect link. Thank you! :)
---