Bidooh aims to revolutionise and democratise the $34.8bn billboard advertising industry. By creating a truly flexible, immediate, measurable self-service platform and open digital screen network, advertisers and media agencies of all sizes will plan and place their adverts through Bidooh. Bidooh's team of experts imagined being able to book advertising space on digital screens to be as simple as ordering an Uber and priced as flexible as Google Adwords. It would mean any business can buy advertising on digital screens in real-time, opening up the world of digital screens to every small business.
They have an 84 inch digital screen proof of concept live in Manchester, you can advertise right now on this screen from https://bidooh.com for just 1p per 10 second advert. Everything can be done online and soon via the Bidooh iPhone and iPad app. They are live with 10 test screens which can currently be booked online using their self-service MVP platform. They have also signed an agreement to install 2,000 screens across Europe with their Czech partners.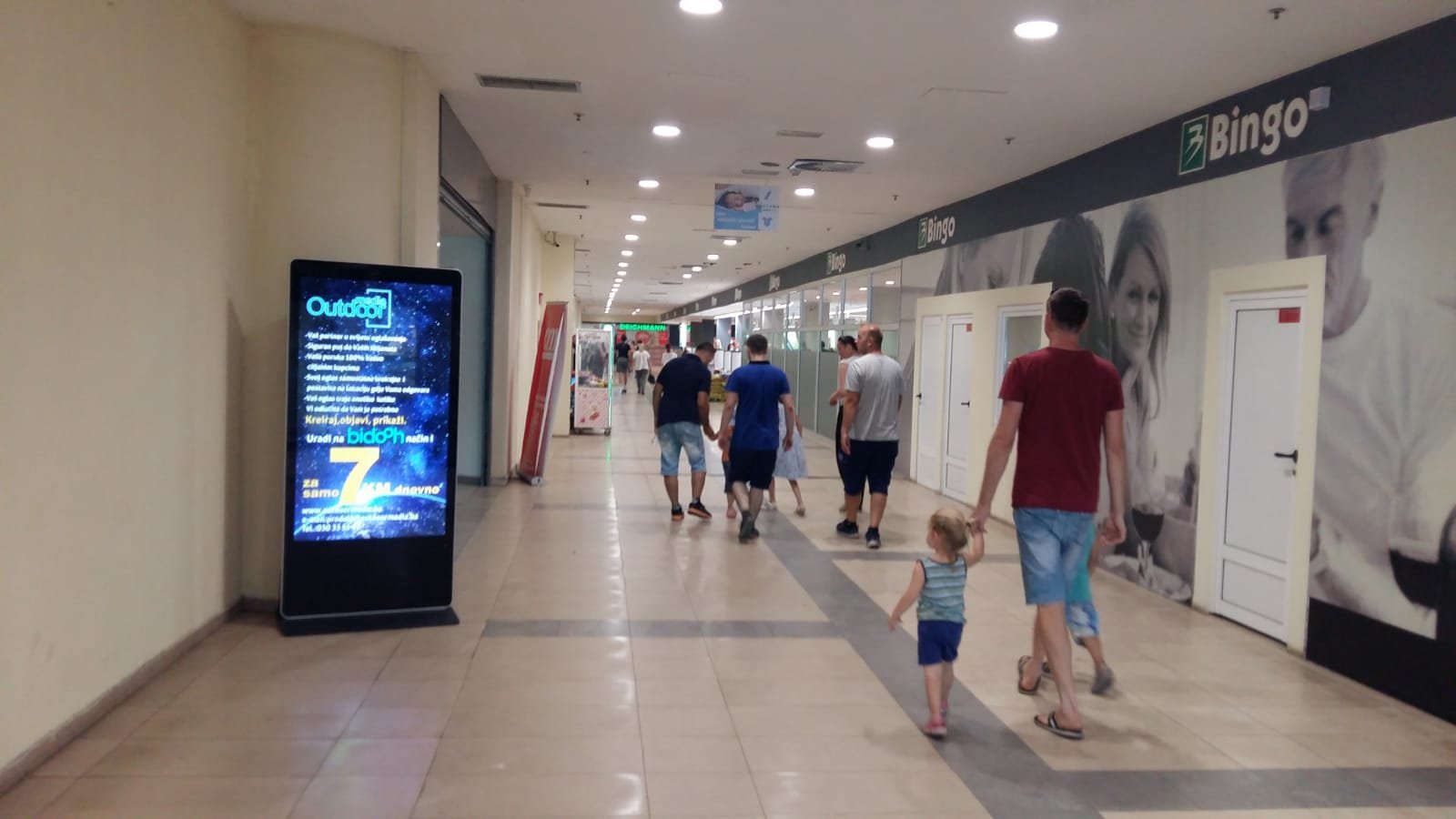 Image Source
By making it available to all advertisers, with no minimum commitment, Bidooh will unlock a new customer base. These potential advertisers are currently unable to use outdoor advertising. Due to the open nature of the network, media owners can add their own existing or new screens to the Bidooh platform and generate new revenues from existing advertisers. For complete transparency, the Bidooh platform will be auditable on the blockchain. Removing a reliance on trust, delayed or inaccurate reporting, this open digital ledger will be truly revolutionary.
The screens will have digital camera facilities and programmatic AI which will enable facial analysis and facial recognition. Real time analytical data will be provided in easy to understand dashboards. With metrics such as:
Footfall detected per screen
Gender footfall per screen
Sentiment breakdown per screen - Happy / Sad / Angry (hopefully not while showing crypto charts as they will detect all 3 at once)
Demographics like Gender / Age range / Appearance
Live Impression delivery
Revenue per location
Live adverts per location
Screen status - Connectivity / Running processes / Alerts / Live snapshots of current campaign
Total unique faces per location
Token Info
$1 = 2000 Bidooh DOOH Tokens
The Bidooh Public Pre-Sale is on the 1st October 2018
The ICO will launch on 31st October 2018
The Bidooh token represents a single 10 second advertising space on a digital advertising screen.
126 Bn token supply
Softcap $5m, hardcap $25m
DOOH are ERC20 tokens on the Ethereum blockchain
More info
https://bidooh.io/
https://twitter.com/bidoohuk
https://www.facebook.com/bidoohuk/
https://t.me/bidoohio
https://www.reddit.com/r/BidoohOfficial/
https://bidooh.com
https://bidooh.cz/en/
#advertising #live #advert #revenue #marketing #media #ai #facial #analysis #recognition #analytics #screens #boards #commercial #infomercial #decentralised #Crypto #Blockchain #cryptocurrency #ICO #tokensale
This is not investment advice, always Do Your Own Research (DYOR).