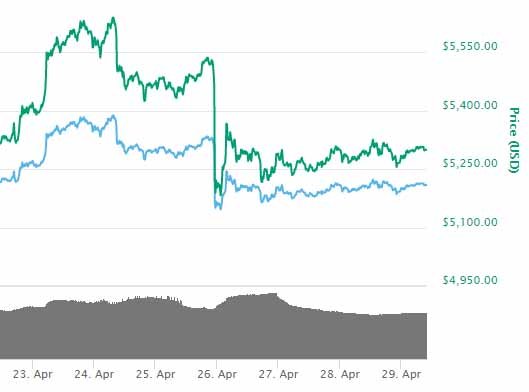 $5000 held really well as support for the price of Bitcoin over the weekend.
That darn Tether news was still not able to crash the price of Bitcoin. Think about what would have happened if the news has come out during the bear market of 2018!
Its refreshing to see that such bad news has very little impact on the price of Bitcoin right now.
There was actually some bullish news to come out at around the same time as the Tether FUD, and that is E-TRADE are getting ready to offer Bitcoin trading to over 5 million customers! Sources say they plan to offer Bitcoin at first, followed by Ethereum, so I guess they are playing it 'safe' to begin with.
Some may argue that it is just a rumour for now, but this is exactly what happened with TD Ameritrade before. First it was just a few leaked screen shots and rumours and now it looks more real than ever right?
Although TD Ameritrade have 11.5 million funded accounts, E-Trade still have almost 5 million brokerage accounts, thats 15 millions more potential investors in Bitcoin between them!
This is all going to be backed by actual Bitcoin, and this excites me, just think about how this could enhance the next bull market...
I'll leave you to think about that.
Thanks for reading
DISCLAIMER: This post is not financial advice. This is just my opinions. I am not responsible for any investment decisions you make.
I have also not plagiarised any content, it is all my own unless I use quotes.
#crypto #eos #eosio #eosblockchain #bet24 #wtf #dapps #dapp #smarteconomy #paypal #bitcoin #blockchain #steemit #hodl #steem #steempower #solar #wind #electricity #consensus #bitcoin #cryptocurrency #cryptocurrencies #btc #funfair #eth #etc #aion #eos #smartcontract #verification #softwaresecurity #erc20 #erc20tokens #protocol #ethereum #gifto #gas #neo #omisego #devcon #lambo #moon #investors #investment #institutions #databasing #database #decentralised #longtermhold #hold #buyitnow #buy #longterm #portfolio #goldmansachs #priceprediction #forecast #curie @curie