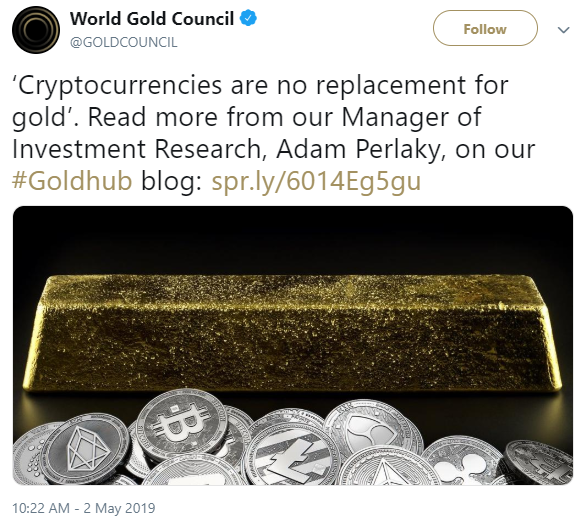 After yesterday's Grayscale 'Drop Gold' Commercial, the World Gold Council has reacted almost right away with a Tweet. They have linked to their Goldhub Blog, which I will also link to below:
https://www.gold.org/goldhub/gold-focus/2019/05/cryptocurrencies-are-no-replacement-gold
In answer to their Gold arguments:
Q: Gold is less volatile.
A: That is only a time problem, we need more liquidity, and that takes time. The Bitcoin network is growing, so that's not really a good argument as Gold was probably very volatile at the very beginning when people started trading it. There is so much liquidity in Gold right now so obviously it is less volatile.
Q: Gold trades in an established regulatory framework.
A: Again, this is just a time problem, not a great argument. We have TD-Ameritrade, E-Trade, Bakkt…
Q: Gold has a well understood role in an investment portfolio.
A: What does that even mean? The acceptance is higher for Gold right now because Gold has already existed way longer than Bitcoin…yet again, just another time problem.
Q: Gold has little overlap with Cryptocurrencies on many sources of demand and supply.
A: That point is very vague, so I'm not quite sure how to comment on this.
Q: Gold is a safe-haven investment.
A: Well I can say the same thing about Bitcoin. Of course there are arguments to make as why Gold is better than Bitcoin…it's been around several thousand years etc. but these points mentioned above aren't really that great at all.
The main message in here is:
After Grayscale publish their Gold commercial, the World Gold Council got scared and they basically have to turn their investors around, so they're not actually ditching Gold for Cryptocurrencies.
The days of Gold are numbered in my opinion.
DISCLAIMER: This post is not financial advice. This is just my opinions. I am not responsible for any investment decisions you make.
I have also not plagiarised any content, it is all my own unless I use quotes.
#crypto #eos #eosio #eosblockchain #bet24 #wtf #dapps #dapp #smarteconomy #paypal #bitcoin #blockchain #steemit #hodl #steem #steempower #solar #wind #electricity #consensus #bitcoin #cryptocurrency #cryptocurrencies #btc #funfair #eth #etc #aion #eos #smartcontract #verification #softwaresecurity #erc20 #erc20tokens #protocol #ethereum #gifto #gas #neo #omisego #devcon #lambo #moon #investors #investment #institutions #databasing #database #decentralised #longtermhold #hold #buyitnow #buy #longterm #portfolio #goldmansachs #priceprediction #forecast #grayscaleinvestments #gold #worldgoldcouncil #curie @curie