If you haven't been following the news about Bitcoin, just know that Bitcoin blockchain is likely to be split into 3 chains on August 1st. When that happens, there will be Legacy BTC, 148 BTC and Bitmain BTC.
Legacy BTC
These will be coins in the chain that do not have any fork - just like the ones we have now
148 BTC (UASF)
These will be coins in the soft forked chain as proposed under the Bitcoin Improvement Proposal (BIP-148)
Bitmain BTC (UAHF)
These will be coins in the hard forked chain as proposed by Bitmain as a contingency plan against BIP-148
What this means is that for every BTC that you own now, you will end up with 3 BTC (as described above) after the forks on August 1st.
If you are still confused, here is a photo that might enlighten you on the subject.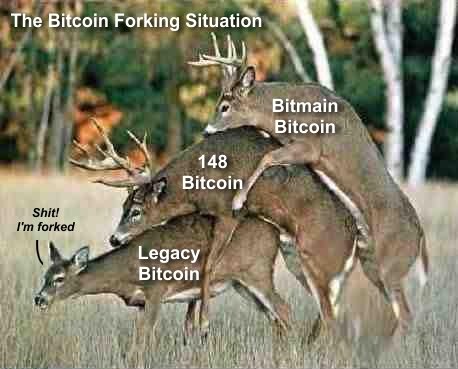 Hope it helps!
---
For more trading tips on Bitcoin and other cryptocurrencies, please follow my blog.
Disclaimer: Please always do your own due diligence, and consult your financial advisor. My trades are solely intended for personal use. I never provide any actual trading recommendations. Trading remains at your own risk. Never invest unless you can afford to lose your entire investment.