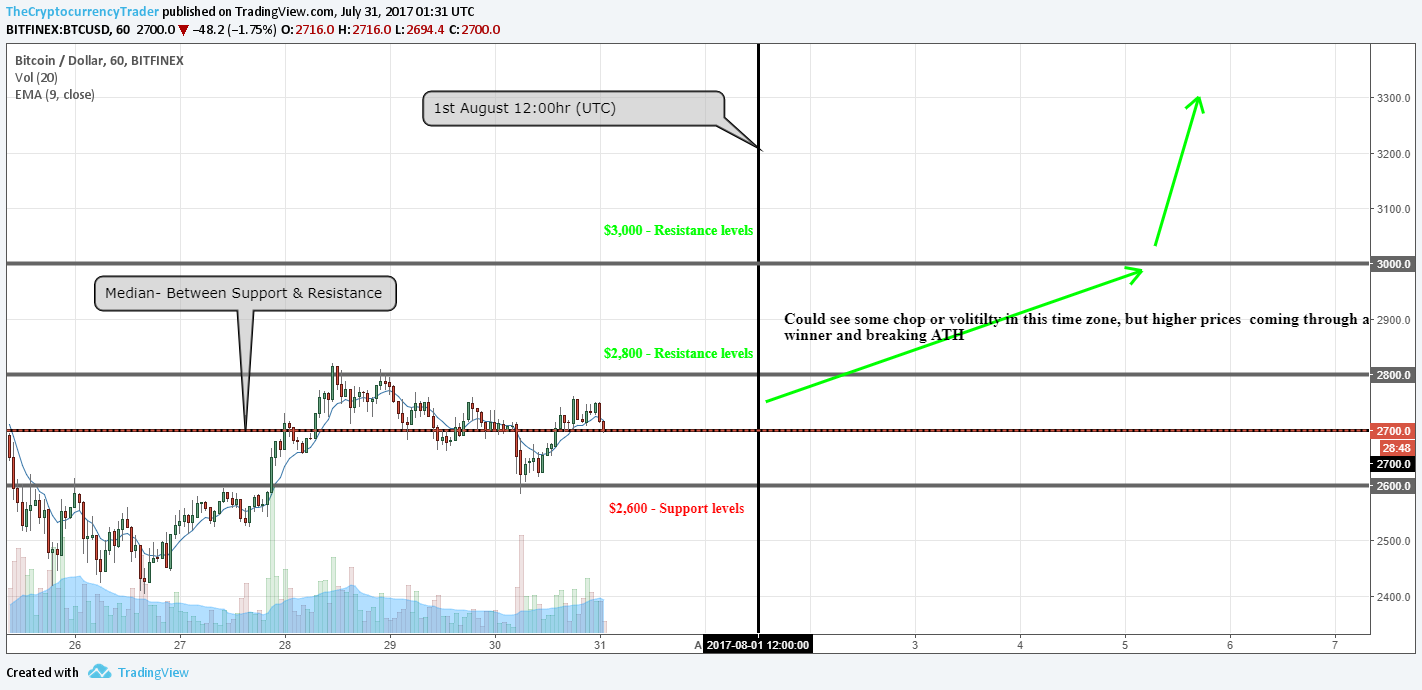 Hey cryptoheads and steemitons,
It´s getting closer to the 1st and things are really heating up.
Bitfinex & Kraken have both confirmed they will credit any Bitcoin holders with Bitcoin Cash, (BCH).
Kraken even confirmed they that they will enable BCH trading in the following pairs: BCH/XBT, BCH/USD, BCH/EUR.
Bitfinex have yet to confirm whether they will list BCH as a tradable crypto on their platform.
So there is a lot to think about and plan before the 1st of Aug.
I thought I´d put some thoughts down that might help.
Of course the fact that Bitfinex, Kraken and other exchanges have confirmed you´ll get BCH if you hold BTC caused a rush to pick up BTC, therefore causing a nice spike in price for BTC.
At time of post, (Sunday 30th July 2017) Bitcoin currently is sitting at $2,703.
If you take a look at my chart you see how we´ve been bouncing off support of $2,600 and been kicked back down from the resistance price of $2,800. The median of these two prices is $2,700 and quite clearly we´ve been floating around the $2,700 area for a while now, it´s the magnet price that we keep being drawn to.
I´m going to offer my thoughts of how this might, and I stress "might" play out.
I see Bitcoin continuing it´s up and down between 2,600 and 2,800 until the 1st. I don´t foresee any major move happening until then.
On the 1st depending what the majority of users/trader do with their new "free" money, (BCH) will determine BTC´s next move.
I see most people just dumping their BCH as fast as they can. This will be easier for Kraken users and more clumsy for Bitfinex users. I am assuming of course that the now new listed price of BCH is floating somewhere at least in the $100 USD mark or higher. This would make it an appealing price for most users to dump straight off the bat.
If we see a huge big fat red candle for BCH then clearly we´d see a big fat green candle for BTC.
Now one thing we mustn´t forget is that Roger Ver is a big player and has big player friends who all have plenty of BTC ammo to pump his brand new BCH back up, if he and his buddies do this, this could fool people into thinking BCH is worth something causing BTC to head south. Worth taking note of.
To summarise:
BTC price from now until the 1st will be choppy, staying around the $2,700 area.
Post the 1st of August, some volatility for both BTC and BCH but BTC coming through as the winner and possibly breaking ATH. BCH heading south.
I hope this helps and whatever happens from now until the first week of August one thing is for certain, it´s going to be a crazy ride and this is a very important point in Bitcoin´s life so we need to pay attention.
Safe trading to all, and long life Bitcoin, whichever one it is :-)
Link to chart here