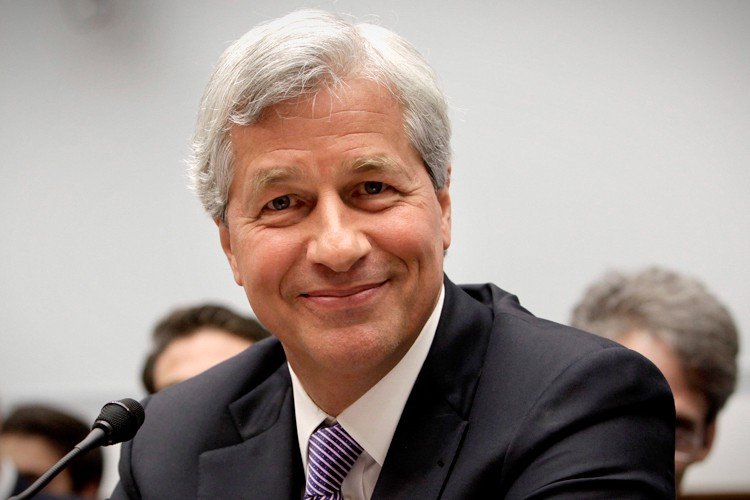 Jamie Dimon, CEO of JP Morgan Chase
Since 2010, the year Bitcoin first began to circulate, under the leadership of Jamie Dimon JP Morgan Chase has been charged with 48 different violations of banking and securities fraud. $28,675,456,874.00 is the total they've paid out just in the past 7 years in slap-on-the-wrist fines by politicians who's coffers they've filled with money.Let's take a look at some of the crimes Jamie Dimon and his team at JP Morgan Chase has gotten away with since their 2008 role wrecking the global economy (for which he and his corrupt bank paid a $13 billion dollar fine to end a criminal probe into his role):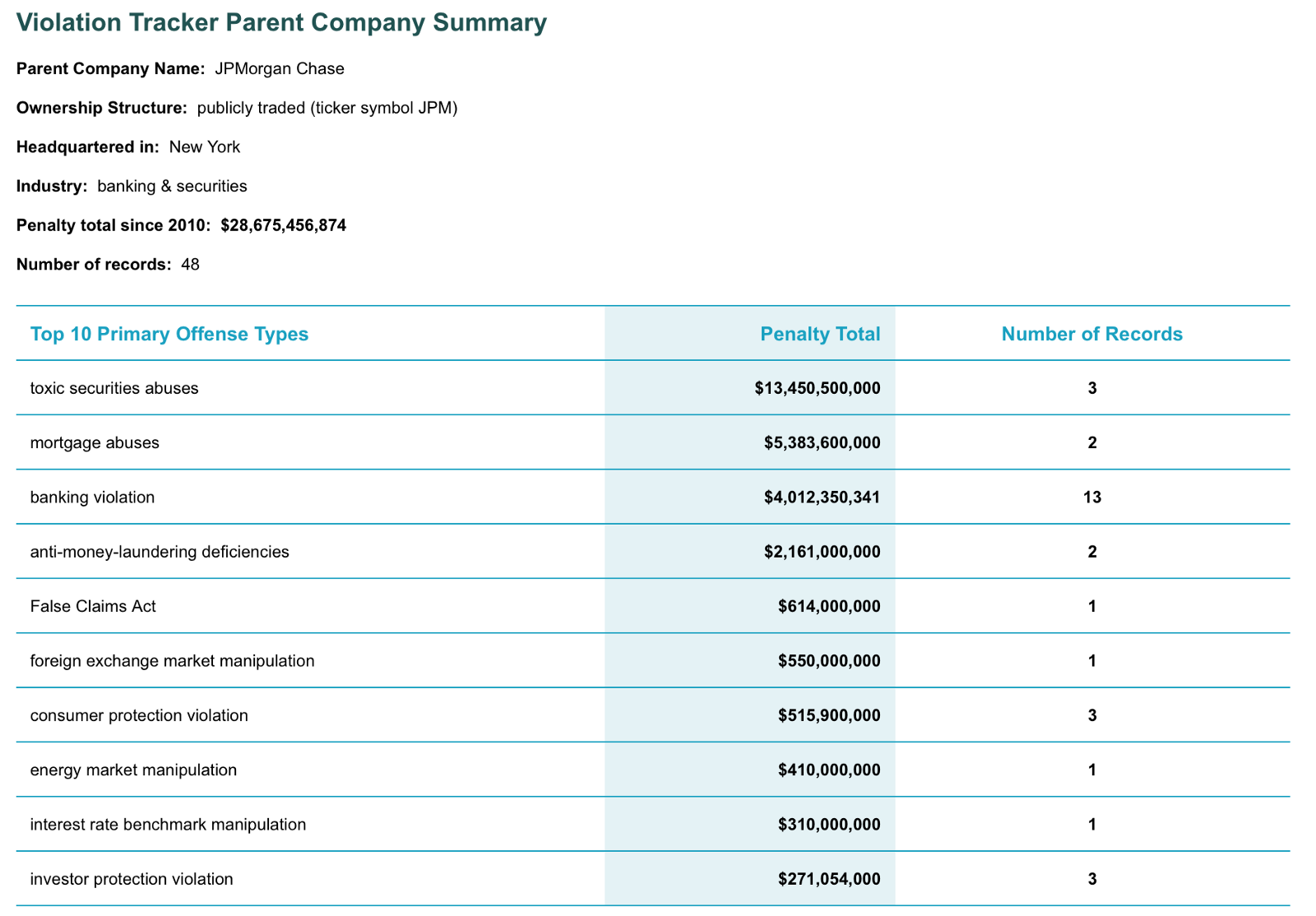 JPMorgan Chase | Violation Tracker

But the corruption doesn't end there. Recently this man had the nerve to claim Bitcoin, the growing cryptocurrency, is a "fraud." Do we take him at his word? He certainly appears to be an expert on financial fraud. Yet it appears Jamie Dimon did not always feel this way about Bitcoin. In fact, in 2013 JP Morgan Chase was denied a patent for a Bitcoin clone over 175 times:

"On August 5, 2013 JPMorgan Chase & Co (JPMorgan) filed an application for an electronic mobile payment system which has eerie similarities to the popular online currency Bitcoin. Unfortunately for JPMorgan, all of the claims, totaling 175 claims, as of October 18, 2013, for published US patent application U.S. 20130317984 (the '984 application) have been either cancelled or rejected."
Jamie Dimon of course took this patent rejection to clone Bitcoin in stride: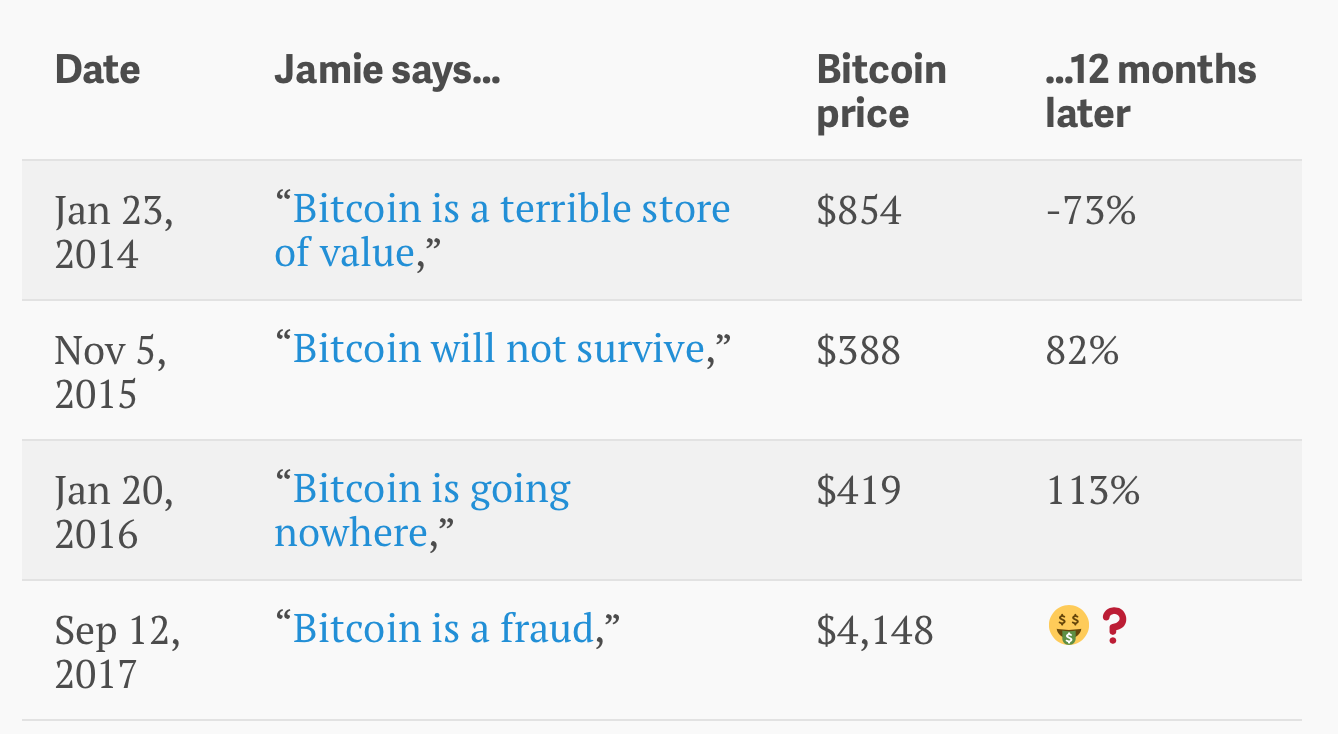 https://qz.com/1076254/bitcoin-btc-price-mostly-rises-after-jamie-dimon-warns-against-it/
And further, even Dimon himself admits there actually are practical uses for bitcoin, just not one he and his friends at the centralized banks approve of:
"You can't have a business where people are going to invent a currency out of thin air. It won't end well… someone is going to get killed and then the government is going to come down on it. The only good argument I've ever heard … is that if you were in Venezuela or Ecuador or North Korea.. or if you were a drug dealer, a murderer, stuff like that, you are better off dealing in bitcoin than in US dollars, you are better off bypassing the system of your country even if what I just said is true."
"You can't have a business where people are going to invent a currency out of thin air." Interesting quote from the CEO of JP Morgan Chase, one of the primary controllers of the private product we call the U.S. dollar. That's right, the U.S. dollar itself is literally created out of thin air by a banking cartel which includes J.P. Morgan Chase. It is not backed by any particular physical resource, and has not been since it was removed from the gold standard by Nixon in August of 1971.To be clear, blockchain technology represents an existential threat to the centralized banking systems which have ruled the global economy since 1910. The year that JP Morgan and other bank tycoons met and resolved a way to force the U.S. to adopt their banking and currency system. Since then, the Federal Reserve (despite the public sounding name) has been controlled by these private multinational banks. Their private product currency, the U.S. dollar has literally been summoned out of thin air and given to them interest free in order to loan out at interest to the public. It's a fantastic system, IF you happen to be one of the lucky banks controlling the economy.Whether Bitcoin itself or other cryptocurrencies succeed is impossible to predict. What is 100% clear is that Jamie Dimon and his corrupt criminal friends have spent the past 7 years defrauding the public while trying to figure out how they can take control over the blockchain technology that threatens their monopoly on the global economy. While the people are building new financial systems that offer real transparency, accountability, and value, corrupt banksters like Jamie Dimon have spent their time trying to figure out how to stop them or warp them to their own hierachy's benefit. Here's an article from last year: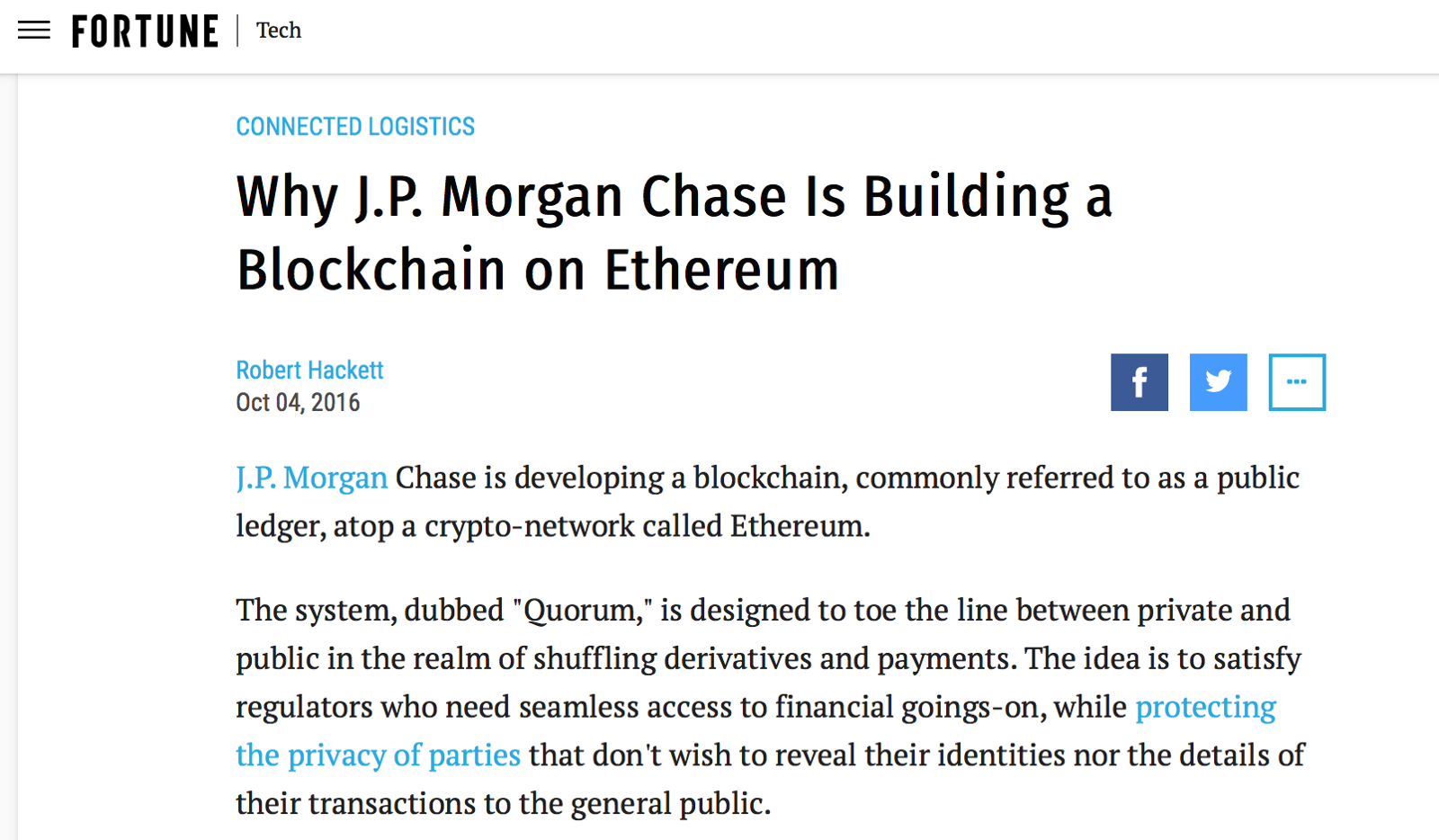 While cryptocurrency innovations have been largely about transparency, JP Morgan Chase has been funding new methods to make blockchain transactions more secretive. Does Jamie Dimon hate Bitcoin's blockchain technology because it's a fraud? Or because it's a threat to the type of fraud he and his criminal class have been getting away with for over a century?Either way, it's not like Jamie Dimon is a reliable source of information for any investor in his products or blockchain.