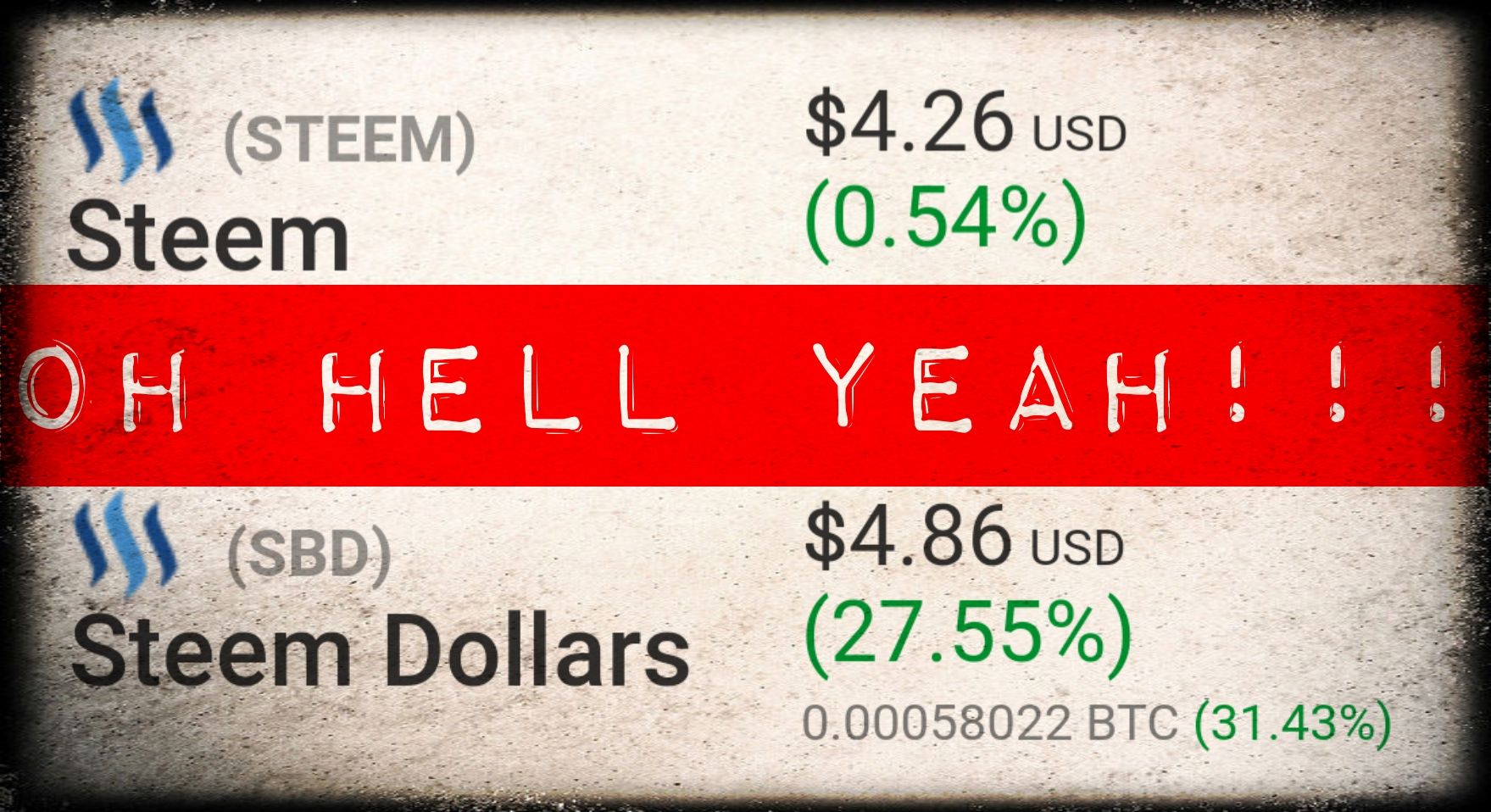 STEEM & SBD BACK UP!!! $5.25 HIGH TODAY!!! CHOO CHOO TO THE MOON!!!
---
That screenshot says it all! Just made that picture a few minutes ago so it's pretty accurate! But we saw a $4.48 high today in Steem and a $5.25 high in SBD!! Yes the rest of the markets are also up today thankfully, but all that really matters to me is Steemit and my Steem and SBD, kind of makes me want to speculate but I believe in all of this and I can't put that much on the line to try to make a couple bucks. Just figured I would update everybody if you haven't been watching! Rock on Steemit! <3 YOU CRAZY STEEMIANS!!!
---
Yours Truly,
The Crypto Alchemist
STEEMIT FTW!!! DON'T FORGET TO FOLLOW ME & UP-VOTE PLEASE IF YOU LIKE MY CONTENT!!! <3
☆☆☆☆☆☆☆☆☆☆
Other Posts By Me:
The Great Victor Hugo - An idea whose time has come cannot be stopped by any man or any army! Crypto IS that idea! Bitcoin - Currency? Or Monetary Jesus!
EXECUTIVE ORDER: National Defense Resources Preparedness - The most disturbing legislation written into law in my lifetime
TODAY IN CRYPTO - Library of Babel predicts BITCOIN'S FUTURE!! THE FEBRUARY 8TH BITCOIN PROPHECY!!
CNBC - 6 HOURS AGO: "Cryptocurrency market could hit $1 trillion this year with bitcoin surging to $50,000, experts say"
2013 - My romance with Bitcoin!
Be prepared to buy BTC & ALTS! In about a week-10 days, we could see $5000-$5800 BTC!
The Bitcoin Apocalypse is Upon Us!!!
ORIGINAL MUSIC from WGM: - Ice - The Promise