Hey Bitcoin Maximalists
Bitcoin introduced us to the blockchain and the possibilities it could bring us as we reboot the world economy. As the protocal was open source, it has been forked and replicated and inspired a 1000s of altcoin projects with the most significant competitor being Ethereum.
Every crypto holder has their preferences and the cryptocurrency they believe in that they think will thrive. There is nothing wrong with backing several horses in this race as we never know which one will receive widespread adoption.
Like it or not Bitcoin is the first, most well known and is the still the gateway for many or rather most users in and out of the cryptocurrency ecosystem. It is the reserve currency of crypto as the dollar is to commodities and there is always liquidity for Bitcoin, cryptocurrency owners all want Bitcoin.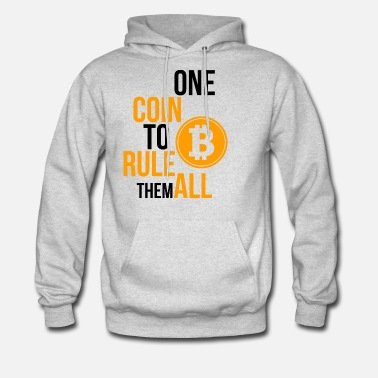 Image source: -www.spreadshirt.com
Adoption rates
At the time of writing this Bitcoin currently has 42 million wallets with a current rate of a million new wallets joining the network per month. The system is only ten years old, and while it is pretty slow and archaic by modern blockchain standards, it continues to grow at a rapid rate.
The amount of wallets and growth rate of Bitcoin far exceeds the collective growth of all other altcoins combined. Having this level of adoption will only continue to rise thanks to the Lindy effect, the halving and possible price increase from the new scarcity creation rate as well as investors piling in as they look to diversify their portfolios.
Protocal preference
In any technological race, there is one protocal that wins and becomes universally adopted we saw this with things like VHS over Betamax, Blu-ray over HD DVD, Querty keyboards vs the six other versions, SMTP for email vs say MAPI or QMTP.
We as a society decide over time by poring our resources, be it time and money into one protocal we feel works and is not necessarily the best. Still, because of adoption, it becomes hard to pivot so applications are simply built on top of it, and continuous support is provided for these protocols.
I mean HTTP the protocal that webpages run on was launched in 1991 and was only upgraded about four years ago in 2015, so we run the web on the same protocal for 24 years and look at all that was built on top of that old technology. Again now that HTTP3 is coming into play, it still took a good four years to upgrade the technology yet again.
I think the same will happen with Bitcoin and we will find ways to support it continuously instead of all defecting to another chain as the main chain.
Improvements
We know Bitcoin cannot handle significant worldwide transaction volume and due to its cost of transfer makes micropayments costly to do, but that is being handled with the deployment of the lightning network which will significantly reduce costs and improve the speed of transactions.
We know Bitcoin's fungibility is under threat with governments wanting to taint Bitcoin by associating it with an illegal activity which can be covered by the introduction of a confidential transaction layer such as MimbleWimble.
We know that blockchains are now looking to add interoperability between them which will make the transfer of value and information seamless. There will be no need for things like exchanges making the cost and speed between chains even easier and who will be the main chain that feeds amount in and out?
Most likely Bitcoin is the Satoshi will become the benchmark for value measurement in the space if it hasn't already established itself as one.
All hail the king
So what do you think? Will Bitcoin be dethroned? Or will it be the one coin to rule them all?
Let's connect
If you liked this post sprinkle it with an upvote or resteem and if you don't already, consider following me @chekohler


---
| Buy & sell STEEM | Donate LikeCoin For Free | Earn Interest On Crypto |
| --- | --- | --- |
| | | |