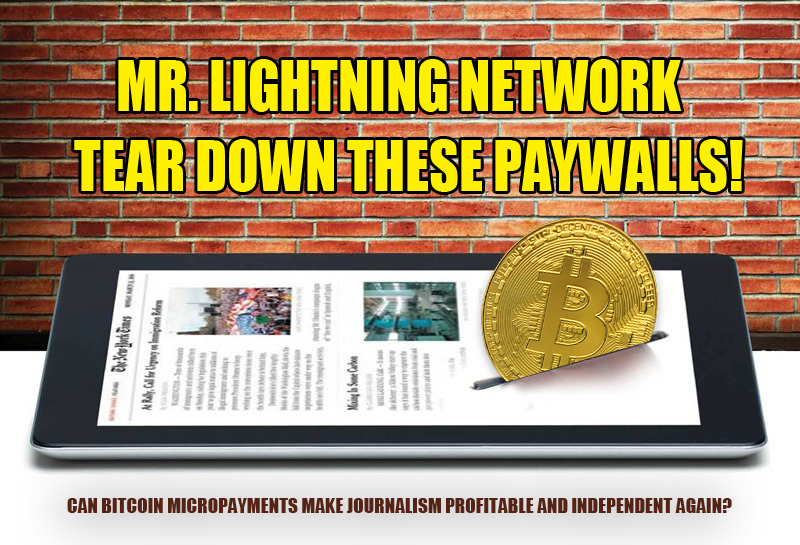 Hello fellow Steemians and Crypto Investors,
The following is a combined version of the letters I sent to the most circulated newspapers that are currently behind paywalls asking for Lightning Network micro-payments.
Subject: Implement Lightning Network micro-payments and tear down these walls!
Hello Wall Street Journal, Financial Times, New York Times and many others,
I'm not going to pay $15 to $30 dollars a month for a subscription! These subscriptions add up and I'm only interested in a few of the articles anyway, not a full subscription. I would be way more likely to pay a few cents for a particular article I'm interested in.
Why don't you implement Lightning Network micro-payments? You will get a lot more revenue, a lot of hype from the crypto and millennial communities and, most importantly, look cool and like keeping up with the times. You can always maintain the old subscriptions, just give an option for advanced users to micro-pay for articles.
It's frustrating whenever an interesting article from your website appears on my Flipboard feed but you can only get to the paywall. I have Eclair wallet installed and ready to micro-pay for it but the option is not yet available.
Conversion rates on the subscription pages are likely very low. If you could capture even a small percent of all those readers you are currently losing revenues would increase dramatically and you can do it without removing the current subscription model. It could be as simple as a link saying "Buy this article for 20 cents", something like that. 20 cents doesn't sound like much but when they add up, especially because your paywall rejects are way more numerous than subscribers. You could also charge more for Breaking News and Exclusives.
I'd love to see journalism return to high profitability and thus be able to afford the investigative teams and resources it badly needs and also cryptocurrency micro-payments take off. I believe it's a match made in heaven!
Get in touch with Coingate, they are piloting a gateway for these kinds of micro-payments. (I'm not affiliated in any way with them. I just think micro-payments are cool and use them for other services such as Satoshis Place and Lightning Spin)
100 Merchants Can Now Trial Bitcoin's Lightning Network Risk Free
My best regards.
---
Their responses so far:
Washington Post (help@washpost.com):
"We have sent the comments to relevant departments"
Wall Street Journal (support@wsj.com):
"We have taken the liberty of forwarding your comments to upper management"
Financial Times (help@ft.com):
"You have a good point in suggesting Lightning Network micro-payments in which customers can use if they want to read an interesting article on ft.com. We take onboard your suggestion and hopefully one of the things that our marketing teams would consider."

You can help by sending your own letters to their following public customer service emails addresses: help@washpost.com, support@wsj.com and help@ft.com
Have you sent similar letters to other online service providers asking for Micro-Payments? Which ones?
Do you believe micropayments can save journalism by making it profitable again without controlling sponsors, ads, and dreaded paywalls?
Feel free to share your thoughts on this post with the crypto community in the comments below!

What have you been doing this crypto winter?
Accumulating patiently like a professional hodler.

Panic selling like a hopeless noob.
If you answered 1, go ahead and download Crypto Millionaire from the link below. This app will help you diversify in a smart way, especially right now that' it's such a good time to buy the millionth of supply of top coins on the cheap.
If you answered 2, sell everything and become a pimp. It's the only way you will be able to keep selling bottoms, haha!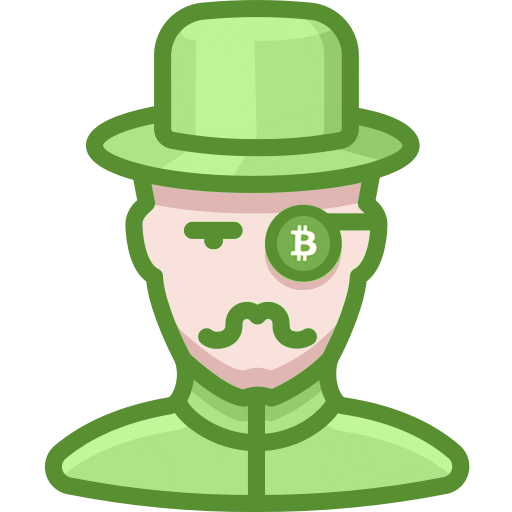 INVEST SMARTLY!
DOWNLOAD CRYPTO MILLIONAIRE

CHECK OUT MY PREVIOUS POSTS:
Bitcoin is unstoppable - Change my mind
Dear SEC official - Letter to the SEC's Division of Investment Management
SEC Chairman: Bitcoin is NOT a security!
This indexing crypto strategy will make you a millionaire
Is Bitcoin Cash the Hallucigenia of Crypto? Do big blocks make sense?
How I'm using Bitcoin's Lightning Network in the real (third) world!
My first experience ever with BITCOINS's LIGHTNING NETWORK – PAINS and GLORY!
Discover your Crypto Portfolio Score and back it up with latest Crypto Millionaire updates
New Portfolio Diversification Score for Crypto Millionaire!
These new Crypto Millionaire filters will help you find the best ranked value coins
How to bring normies to Steemit in three easy steps
Quantum Doom for Crypto? It's all FUD and here's why
WOW! Crypto investing app hits #4 trending on Google Play Finance! Just below Paypal and Zelle!
"It's Been Dismal" - Gold Coin Sales Slump As 'Bugs' Bounce To Bitcoin
Why China (or governments) can't stop crypto
The case for a million dollar coin! - Cryptocurrency wallet users vs Facebook users. Where are we now?
Don't forget to tell the community what you think of this post in the comments below.
Follow me for updates news and commentary on "sane" crypto investing.
Happy crypto investing!