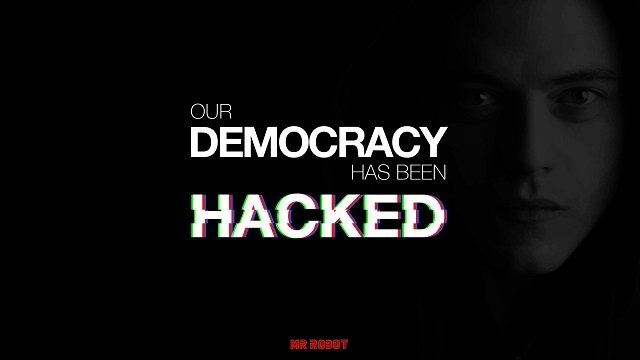 The Mr. Robot tv show is becoming more appreciated by Bitcoin and cryptocurrency enthusiasts so far. The second season is filled with clues to Bitcoin and other cryptocurrencies, which may be positive news for the entire ecosystem. However, tv shows do not have the best reputation when it comes to putting Bitcoin in a positive spotlight.
Mr. Robot Makes Mentions of Bitcoin Again
So far, the references to Bitcoin in this popular USA network TV show have been rather positive. Even though the season opener referred to CryptoWall – a popular Bitcoin ransomware – it wa used to bring down the financial ecosystem as we know. To most cryptocurrency enthusiasts, this was a mental victory, even though if this were to happen in the real world, things may not play out so positively.
That being said, the tv show is built on the hacker culture,and is doing a mighty fine job of showing the positive side of things. Without going into too many spoilers for the third episode, the new cryptocurrency references are showing the versatility of currencies such as bitcoin. When the financial system is failing and collapsing, consumers and investors are flocking to alternative solutions.
It has to be said, the scenario which was involved in Mr. Robot episode three draws some parallels to what happened to Mt. Gox back in 2014. Do not be mistaken in thinking this is a negative reference in any way, as there is an involvement with Bitcoins being stolen when a particular service is run by a developer.
In the early days of the Bitcoin ecosystem, a lot of people operated a business without understanding the code properly. This is why these Mr. Robot episodes are invaluable, as it goes to show that getting involved in cryptocurrency should not be taken lightly. To be more precise, running a business without understanding the technology can lead to financial losses.
It is positive to see cryptocurrency being referenced to in a tv show that is focusing on the hacking society. Many people assume hackers are only doing harm, but there is much more going on than just chaos and destruction. In fact the banking system is a real-life representation of Evil Corp, although financial experts may not necessarily agree with that statement.
---
Written by JP Buntuinx | Mr. Robot Keeps Stacking Positive Cryptocurrency References