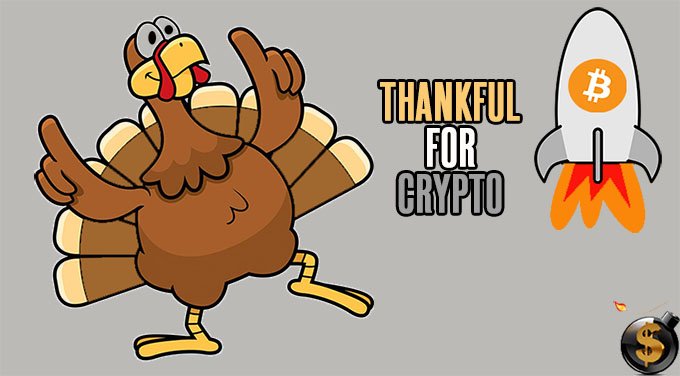 For some reason, most people are only thankful for a few days every year. Why they aren't thankful and grateful for everything they have every day is anyone's guess.
But, today is the day that most people celebrate a government mandated holiday based on mostly lies about how Europeans committed genocide on the North American continent.
In any case, cryptocurrency investors and speculators have much reason to give thanks today.
Within seconds of the clock turning over to November 23rd, or US Thanksgiving Day, cryptocurrencies broke through the $250 billion market capitalization for the first time ever.

Yes, that funny computer money that some people think is worthless <ahem, Peter Schill>, is now worth a total of over a quarter of a trillion dollars.
It was only $73 billion in July, meaning it has tripled since. And, it was only $18 billion to start 2017, meaning the cryptocurrency space is up 1,300% this year so far.
In this interview with Collin Kettell of Palisade Radio, I speculated on taking some profits from this spectacular gain and cycling some of them into incredibly undervalued gold & gold stocks.
In fact, we are just about to release the latest issue of the TDV newsletter today where I talked much more in detail about some strategies for furthering cryptocurrency profits and ideas on how and why to take some profits and move into the gold sector. You can subscribe HERE for immediate access to it.
The fact that many people in the comments section of the above video think I am crazy for taking some profits and moving into gold and gold stocks is actually all the proof I need that I am probably right.
We'll find out soon enough.
In the meantime, if today is the one day of the year you take to be thankful for all the wonderful things in your life, enjoy it. And, consider doing it everyday. I began becoming grateful daily a few months ago and it has really changed my life.
In fact, the more grateful I am, the more great things seem to come my way. The cryptocurrency space is just one example!