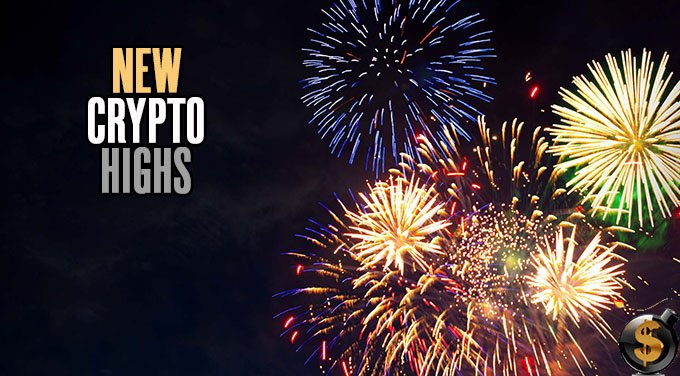 Cryptocurrencies have blasted off to new all-time highs at the start of 2018.
Cryptocurrencies have just rocketed through $700 billion easily surpassing the last all-time high near $640 billion in mid-December before the last "crash".

Most cryptocurrencies have been soaring with the exception of bitcoin which continues to wallow near $15,000 as its transaction speeds and fees render it nearly unusable.
Bitcoin's "dominance" which stood over 60% in early December, is no longer dominant as it hits all-time lows near 37%.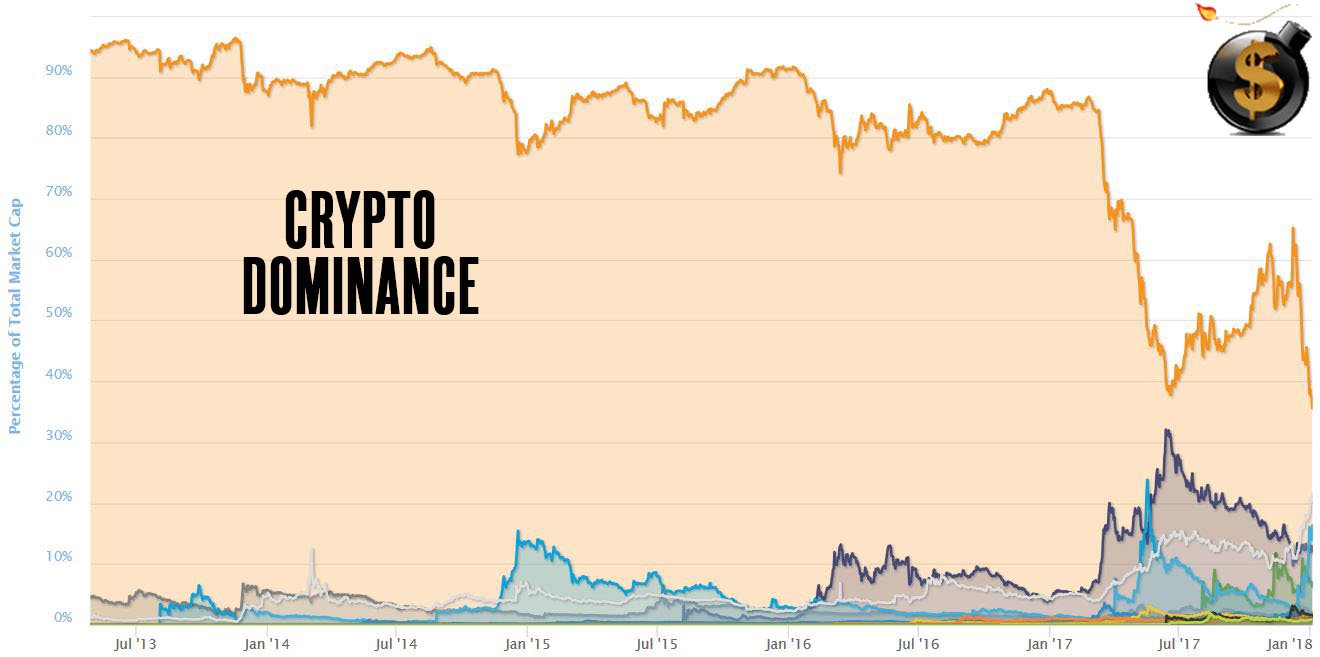 Some of the big winners have been quasi-cryptocurrency, bankercoin Ripple (XRP) which skyrocketed 1,000% in the last month and surpassed Ethereum for second place on the cryptocurrency market capitalization chart.

Not that Ethereum has been a laggard having risen more than 100% in the last month.

STEEM, which I've been a fan of since its inception, has also skyrocketed and is up 600% in the last month to over $8.

In fact, this is just the continuation of an incredible rise in most cryptocurrencies.
Here are the top 10 cryptocurrency gainers in the last year:
1.) Verge (XVG) 1,156,605%
2.)Triggers (TRIG) 105,924%
3.)ReddCoin (RDD) 69,460.19%
4.)NEO (NEO) 53,875.38%
5.)MonaCoin (MONA) 41,940.99%
6.)Blocknet (BLOCK) 40,134.96%
7.)Ripple (XRP) 31,328.57%
8.)NEM (XEM) 29,932.71%
9.)DigiByte (DGB) 28,159.99%
10.)ZCoin (XZC) 21,331.11%
While many wave their arms and say that this is all clearly just a bubble, one thing gets lost in the mix.
We now, all in the span of 2-3 years, have billions of dollars traded worldwide daily completely outside of the central bank and governmental controlled money and banking system!
This is absolutely massive. This is the game changer.
The total amount of bitcoin alone that trades daily is around 150,000… or about $2 billion worth.

When you add up Ripple, Ethereum, Bitcoin Cash, Litecoin, Dash and hundreds of others the numbers likely easily get into the tens of billions of dollars trading outside the system daily.
And the total value of all cryptocurrencies continues to surge closer to $1 trillion. That's real money.
Sooner or later crypto will humble you by its greatness.
Its vastness is accompanied by a madness that is breathtaking because you quickly realize that there is no stopping crypto from taking over the world. The moment you think you have everything figured out, is the moment the market will surprise you.
We are for the first time living and witnessing the birth of the first worldwide free market.
Throughout this rampage of innovation, we all are implicitly aiming for the best means of harnessing consensus. As we enter 2018, it is important for us to meditate and appreciate the progress we have made in transforming the world through the decentralization of consensus. It is also important to reflect on the changes in consensus building we have partaken in and those yet to come.
Consensus is the agreement that states "this is what has occurred, and this is what hasn't happened."
Throughout the vastness of history, we humans have only really had access to centralized means for consensus building.
In the centralized world, consensus has been determined by banks, states, and all kinds of central planners. As our readers know, any centralized party can misuse their power, and their consensus ruling can become unfair. In spite of this, many individuals still praise the effectiveness of consensus building of centralized systems.
People from antiquity have had no other option but to trust these central planners.
These systems of control have created still-water markets where only a few are allowed to compete. This lack of competition resulted in what we now can objectively view as slow innovation.
For many, centralized consensus building is preferred under the pretense of security and comfort. Unfortunately, these same individuals are in for a whole lot of discomfort now that the world is innovating on top of the first decentralized consensus building technology, the blockchain.
Everything that has occurred since the inception of bitcoin has shocked central planners because for the first time in history they are lost; they no longer hold power. We now vote with our money. That's true democracy. We choose what we find best as different technologies compete for our money.
What we are witnessing when we see the volatility in crypto is nothing more than natural human motion through price. The innovation and volatility of the crypto market may seem unorthodox to some because it is.
You may hear some analysts, like Peter Schill, say that cryptocurrency is too volatile to be a real currency.
You're damn right it is! This is next level shit. Where we're going, we've never been before.
For the first time in history we are in a true free market. The true free market connects you to everybody and for this reason alone the market shouldn't surprise us for feeling "crazy." Volatility is a sign of your connection to a market that is alive. Radical innovation is a sign of a market that is in its infancy still discovering itself.
We are entering a brand new world as we enter into 2018. Stick with us here at The Dollar Vigilante where we cover every facet of perhaps the greatest paradigm shift in world history.