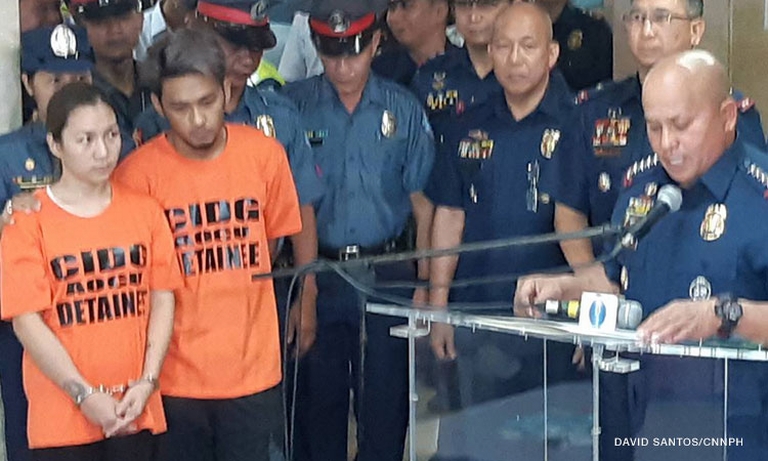 If you are not aware yet on what happened on biggest bitcoin scam in the Philippines here it is .
Metro Manila (CNN Philippines, April 10) - The Philippine National Police (PNP) arrested a couple who allegedly amassed wealth worth nearly P1 billion through popular digital currency Bitcoin.
Arnel Ordonio, 27, and his wife Leonady, were presented before some 50 victims in Camp Crame on Tuesday, all demanding for the return of their money. The suspects were captured in an entrapment operation on April 4 in Vigan City,
Police said the couple lured people to to invest in the Ordonios' business, promising investors easy money, while riding on the popularity of Bitcoin.
Valued at USD$168 billion, Bitcoin has dominated headlines on investment. Bitcoin is a digital currency used as a payment system that works without a central bank or single administrator.
PNP described the scam as similar to the pyramid scheme, but with the use of electronic money.
Under the scheme, investors were promised of at least 30 percent profit in about half a month for a minimum bankrolled capital of P90 thousand. Some of the investments went as a high as P29 million.
For me people can't scam you if you are able to know what bitcoin is . Having a knowledge that bitcoin is a digital currency and it price increase dramatically is not only the basis for you to think that you can always get profit . Most important is you don't need to invest to other people for you to get profit . Further research is what you usually need to do in this kind of cases so you can create your own account , do the trading , invest on other crypto and earn .
My idea about scam in the Philippines : At first investment they will give you what they promised then you will be glad and thinking that the bigger you invest the higher profit you get ( easy money ) . So you go ahead and invest all money that you have , while you are waiting for the return the person who managed your investment "RUN" .
Lesson here : Though bitcoin can be profitable and so popular now also think that scammers are everywhere when it comes to money . " No con-men will thrive where everyone is smart. "