Introduction: The blockchain technology and cryptocurrency attracting more participants for capitalization in the digital market. These two inventions make the business system more attractive. Nowadays, the business makes their economy based on the cryptocurrency. Every day, we meet with several cryptocurrencies but we don't know the proper way to use them. Sometimes, it becomes more complicated for the new users to get appropriate solutions through using traditional web and platforms. The Tradelize brings unique and most attractive solution for this problem. This platform was designed to facilitate the traders, investors/crypto-holders and lay user. The ProTraders will able to share their strategies and the investors can meet their expected traders to get the best suitable strategies from them. They lay users will get easiest access to the overall services from this platform. The Tradelize is combined with the most innovative technologies such as blockchain technology, smart contracts, and artificial intelligence and so on. The demand of Tradelize services is increasing around the world because it is the first choice to the crypto-holders and traders. When you will become one of the participants of this platform, you will get all kinds of entryways for enjoying their services. This platform helps you to understand them first before investing. They have launched their whitepaper and official website. I want to suggest you to visit their website first, to understand their key features and gateways. Website link: https://tradelize.com/

Why should you choose Tradelize?
The Tradelize is powered by the blockchain technology and governed by the smart contracts that brings innovative solutions for traders, investors and lay users. Here, I am giving you a short description about the benefit of using this platform.
The Tradelize platform is performing multiple trades with multiple cryptocurrencies and monitoring the statistics and overall profit in one screen.
They are using one seamless interface for different exchanges instead of using multiple web browser tabs.
There are no hotkeys in the traditional platform. The Tradelize is not same as traditional platforms as they have customizable hotkeys on the Tradelize.terminal
They will implement positions monitor in order to enhance the ability to watch all details such trades, balances, profits and so on in a desired currency.
The traders will able to see crypto price pairs on all exchanges through using arbitrage finder and they will have an excellent opportunity to process instant tools.
The Tradelize will customize full interface and set multiple features for risk management for individual and corporate usage.
They will implement smart order routing to pick the best execution price by the users and will increase the liquidity for major crypto exchanges.
The overall participants will get instant email, sound and text notifications about prices, orders and positions and they will allowable to see the comparative tables for prices on all exchanges.
The Tradelize is a complete platform with having all of functionalities for cryptocurrency trading that connect accounts from different crypto exchanges.
They are using most innovative technologies such as blockchain technology, smart contracts, artificial intelligences and many things. Their blockchain network is spreading throughout the world through connecting millions of smartphones and local computers by their apps.
All the transactions in this platform will run in a fast and secure way and the cost per transaction is very limited and affordable for all players.
When you will be considered as one of the users of this platform you will get multiple accesses to enlarge your profits within short time. They have several reward engines and they will provide rewards to their users based on their performances.
I am one of the users of the Tradelize platform and I am highly satisfied with their servicing system. So, now I am recommending you for investing in this platform as soon as possible. If you want to know more details about the benefits and their servicing system, you should read through their informative whitepaper. Here the link: https://tradelize.com/files/tradelize_wp_eng.pdf
Company roadmap: The Tradelize is a strategic platform and run their overall activities in a strategic way. They have pre-plan of their activities. Recently, they have launched their roadmap. Now, I am giving you a short description about their roadmap.
2017: They have started their journey from 2017. They had concept their formulation and start their architecture development. They closed testing trading terminal alpha version and beta version within 2017.
2018: They launched the demo for trading terminal to make their service understandable to the peoples during the first quarter of this year. During 2nd quarter they implemented brokerage and started public ICO Tradelize solution commercialization. They have started their token presale recently and implement DMA trading terminal for download and use. At the same time, they implement their brokerage. They have planned to establish their company branches by the end of this running year.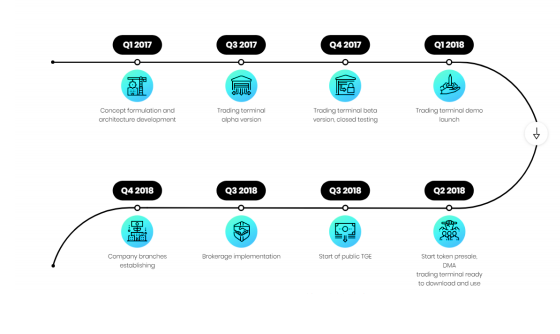 New plans will be included into the roadmap by the time. If you want to know more details, you should visit their website. Here the link: https://tradelize.com/
Team: The Tradelize has included talented and gifted minds into their team from all over the world. The team members are highly educative and graduated from the world's renewable institutions. They have right blend of business experience. They have proven record on the finance, management, crypto trading, business and many things in the digital market. They have practical knowledge on using blockchain technology, smart contracts, artificial intelligence, and virtual reality and so on. The Tradelize team is working together from the beginning of the platform and they have good relationships with each other. They also included world-famous advisors into the platform. There are no disputes between the advisors and the team members. The advisors have helping hand to the team members and provide them unique guidelines about the marketing strategies. The team members will provide top priority to the customers and provide them quick responsive service. The team members are very hardworking and continuously working to develop the service quality. All the team members and advisors are highly experienced and hardworking.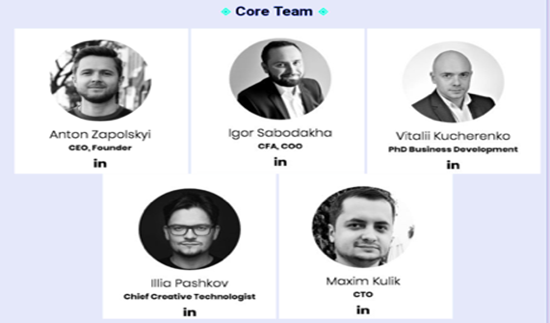 This platform will allow you to know every detail about their team members and advisors. Click on this link https://tradelize.com/ to get direct access on the Tradelize website and get detailed information.
Conclusion: The Tradelize is famous for its transparent and accurate services. This platform provides guarantee of their services with using multiple strategies. The investors will be considered as the heart of the platform. They will provide 24/7 nonstop service and you can request for services at any time. You should rely on the Tradelize platform, if you really want to become a beneficiary within short period.
Few additional links have given below:
• Whitepaper Link: https://tradelize.com/files/tradelize_wp_eng.pdf
• Medium Blog Link: https://medium.com/@tradelize
• Youtubue Channel Link: https://www.youtube.com/channel/UC03nmOZnSHcE70Xt36-U3DA
• Steemit Blog Link: https://steemit.com/@tradelize
• Company Website: https://tradelize.com/
• Twitter Pages: https://twitter.com/tradelize
• Facebook Page Link: https://www.facebook.com/tradelize/
• Linkedin Profile Link: https://www.linkedin.com/company/tradelize/
• BitcoinTalk User Name: freelancer.zakir
• BitcoinTalk Profile Link: https://bitcointalk.org/index.php?action=profile;u=1296290