Get started by visiting https://hubtoken.org/airdrop.
Earn Hub Points!
The Hub team is excited to announce the launch of our airdrop to encourage more people to become part of our community and to ultimately be a part of Hub's long-term success. The more points you earn, the more Hub tokens you'll get once they become available.
Here's how it works in a nutshell:
Upon joining the Hub Telegram group you will earn 10 points for becoming a part of our community. There's an opportunity to be awarded more points when you invite other users to join the group as a referral bonus. A leaderboard will periodically be posted in the group to show a list of users with the most points.
Eventually, these points will convert into Hub tokens which you'll be able to use on Human Trust Protocol-enabled services, or to exchange with others. Soon, you'll also be able to use these points that you've accumulated on ICOHub when it launches, through which you'll have the chance to earn even more points by participating in the system. (Users who are already part of our community channel will receive 10 points as well.)
Throughout this airdrop, our Telegram airdrop bot will be keeping track of your activity in the channel and will be notifying you of the rewards you've received inside the Telegram group. We'll publish a landing page on which you'll be able to check your point balance at any time.
Additionally, to be considered for a reward, you must directly invite people into the Hub Telegram group; currently, we cannot keep track of who joins the group from the invite link.
Keep in mind though: you might not always earn points for every person whom you invite — but the more people you invite, the more points you will certainly earn. This point structure is based off a variable reward system that is inspired by our shared vision of growing our community of trust seeking change makers. And, please invite only people who would be interested in this sort of thing — for you to earn points, newly-added users need to stay in the group!
Here's a simplified workflow showing how to participate in the airdrop:
Join our Telegram Channel and you will receive 10 points. If you have already joined, you will automatically receive 10.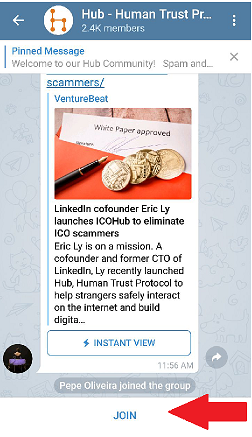 For each new member you invite to the group, you have a chance to earn 10 more points! (Keep in mind that you won't always be rewarded for adding a new member each time.)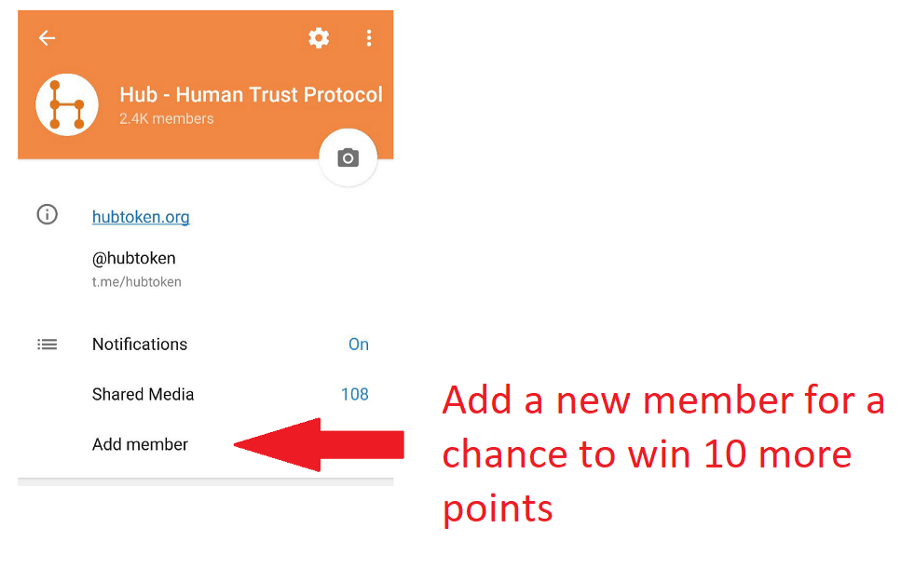 The Hub airdrop is now live! Instantly earn Hub Tokens by joining our telegram group.
For more info, join the HubToken Telegram Community: https://t.me/hubtoken