From a little over $3K to less than $1.8K in just a few weeks time, bitcoin has taken a bit of a beating as of late, but should we be concerned about it?
Well, I'm far more excited than I am worried, and no, I'm not a bitcoin bear. I've been bullish since I bought in for the first time at around $220/ BTC and I remain bullish on bitcoin and the crypto-currency market as a whole.
Why?
Good question!
Let's Have a Look at a Chart, eh?
---
Logarithmic Chart of BTC/USD (BITSTAMP), 3-Day Candles: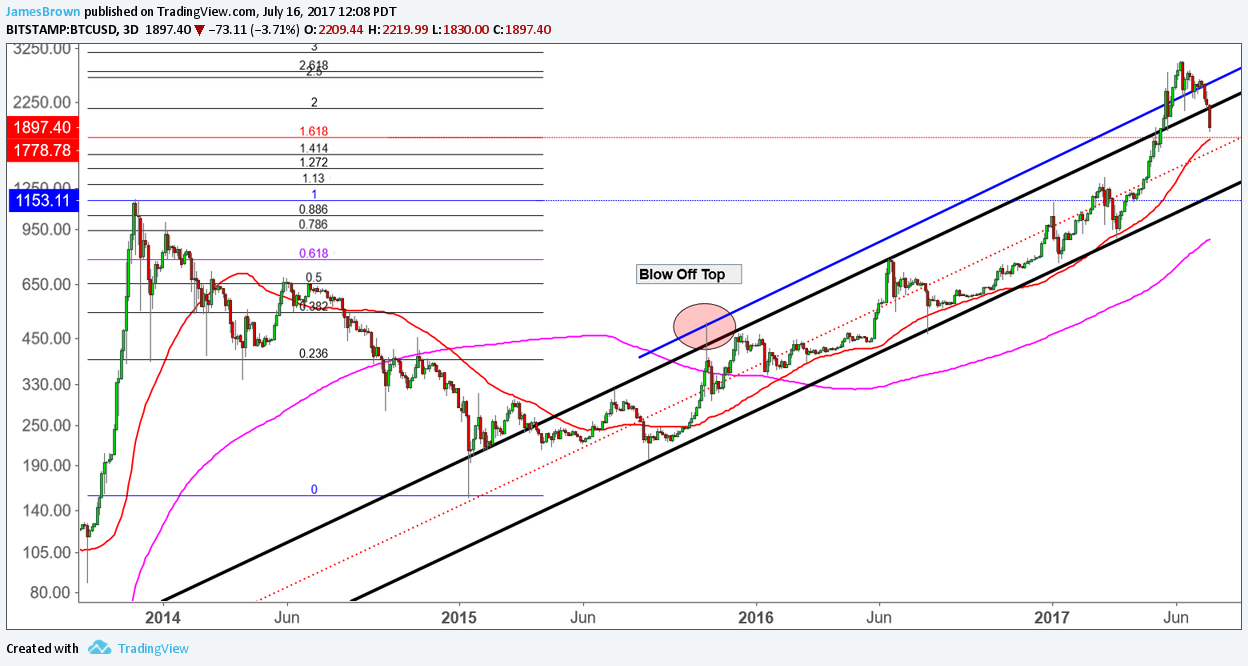 ---
As you can see from the chart, bitcoin was WAYYYYYYYYYYYYYYY overdo for a deep pull-back (price correction). It traded well above the long-standing (numerously tested) upper price channel and above even the "blow off top" level of that channel. It was only a matter of time before price would have to come back to test the median line (red dotted line of the price channel).
This is actually HEALTHY!
Bitcoin and the crypto-currency market was in dire need of this correction; this opportunity for old bulls to change hands with the new bulls and, more so than that, the "smart money" (big players). Of course, this is only my opinion, I am bullish after all, but the technical analysis (TA), as I see it, backs up my position.
For as long as the bottom price channel holds closes, this market is still a bull in my eyes.
FYI, the median to the price channel is sitting at around $1650 at the moment. The bottom of the price channel is around $1,200.