Everyone, I've been a member of Earn.co for over around a year now. It's a pretty cool project that utilises the power of blockchains. People, companies, whoever will contact you directly with the questions they would normally ask as market research. They will then pay you directly to answer these!
This money would normally go to some middle-man marketing agency so I am absolutely psyched this is no longer the case! Each survey takes around1-2 minutes to complete and you usually get paid a minimum of $3.
The best thing?
The rise of cryptocurrency means that even $1 can easily grow to equal $10. In the time I've been using the platform I've managed ti withdraw not far off $200 to my personal wallet! All of this and I can genuinely say I have invested less than 2 hours of my time OVER A YEAR.
The rate of return is incredible! Now I'll be honest with you, I would tell people about this site anyway and I have gotten both my girlfriend and best friend involved, but my main motivation for writing this post is financial. They are currently running a referal scheme where I earn $1 for each person who signs up using my link. So even if you aren't interested I would love it if you created an account using this link:
https://www.earn.com/yellowpenguins1/referral/?a=2w1co9abittf9vtf
Here's proof of the $15 I have earned in the last few weeks :)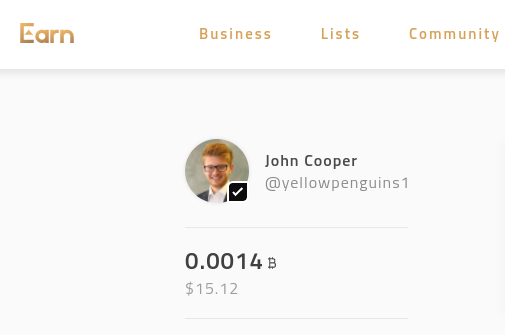 https://www.earn.com/yellowpenguins1/referral/?a=2w1co9abittf9vtf